After many years of having the likes of Stephen Colbert, Conan O'Brien, and Jimmy Kimmel host the White House Correspondents' Dinner, a young man who has perfected the art of comedy finally got his chance to host the dinner during Donald Trump's first year as America's President. His name is Hasan Minhaj. Apart from being a comedian, he is also a writer, political commentator, actor, and television host.
The Indian-American comedian and actor did not only become famous as a senior correspondent of The Daily Show but also as a strong critic of President Trump's policies, especially the proposed Muslim ban and eventual two travel bans.
Who Is Hasan Minhaj?
Hasan Minhaj was born on September 23, 1985, in Davis, California, US. He studied political science major at the University of California, Davis, and developed an interest in comedy after watching for the very first time, a stand-up special, Never Scared by Chris Rock. He began building himself towards becoming a stand-up comedian and soon started traveling to San Francisco to perform.
In 2008, he competed in Wild 94.9's "Best Comic Standing" and won. This gave him an opportunity to work as an opening act for Katt Williams, Pablo Francisco, and Gabriel Iglesias, in addition to working part-time for the website Ning. He later wrote a comedy skit based on the experience.
In search of greener pasture, Hasan Minhaj moved to Los Angeles in 2009 to participate in NBC's Stand-up for Diversity and emerged as one of the finalists. Two years later, he started making appearances on TV, recurring on the sitcom State of Georgia as Seth. He also featured on the MTV hidden camera show, Disaster Date, and acted different roles. As a result of his videos which he posted on Youtube, Hasan landed a role on MTV's Failosophy. In 2013, he featured on Arrested Development, Getting On, and also served as a host for Stand Up Planet.
The year after, he hosted a web series titled The Truth with Hasan Minhaj and on November 19, 2014, Minhaj became part of The Daily Show as a correspondent. He was also a voice actor in the video game Far Cry 4 Rabi, acting as Ray Rana. For his role in the video game, Hasan Minhaj was nominated for a Behind the Voice Actors Award for Best Vocal Ensemble in a Video Game in 2015. Still, in 2015, the talented young man debuted his one-man comedy show, Homecoming King, Off-Broadway.
The comedian presented the annual Radio and Television Correspondents' Dinner in 2016 and on April 29, 2017, he hosted the 2017 White House Correspondents' Association dinner in Washington, D.C. Hasan later turned his show, Homecoming King, into his first-ever stand-up special, Hasan Minhaj: Homecoming King. The special was premiered on Netflix on May 23, 2017, and subsequently won a television Peabody Award in 2018.
Having gained the confidence of Netflix, he started hosting his own weekly show titled Patriot Act with Hasan Minhaj on the platform. It premiered on October 28, 2018. Meanwhile, he abandoned The Daily Show in August 2018 in favor of his show on Netflix.
Net Worth
Hasan Minhaj has an estimated net worth of $3 million. This came from his multiple TV and comedy shows as well as his movies. Considering the rate at which his career is progressing, he's bound to increase his wealth in the nearest future.
What to know about his wife, sister and parents
Hasan Minhaj is married to a beautiful lady named Beena Patel. They met and started dating at the University of California, Los Angeles, Davis, where she was studying to become a medical doctor. She graduated from the college in 2013 as a qualified Doctor of Public Health. She also holds a doctorate in medical administration. Beena worked with homeless patients in Los Angeles before joining MedAmerica as a management consultant.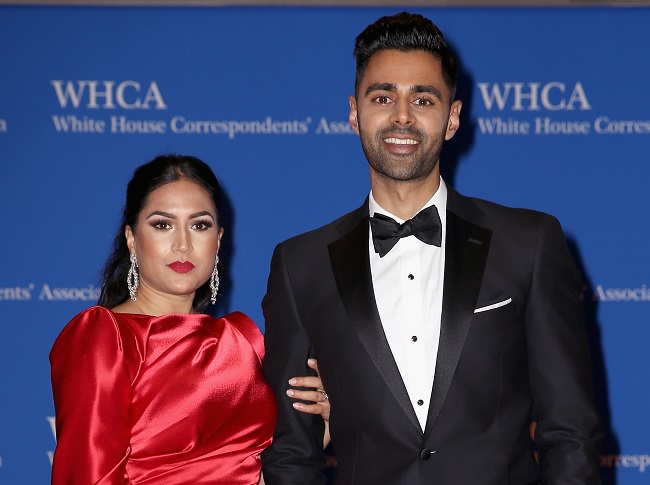 According to Beena's profile on CEP America's website, she is a researcher and her dissertation on the implementation of the West Los Angeles HPACT has been recognized nationally and replicated as a best practice across the country.
Despite the fact that Beena comes from a Hindu family while Hasan was a Muslim, they broke the stereotype of marrying from the same faith as they got married on 2nd January 2015, after dating for a long time. They had a very traditional relationship and never moved in together until after marriage.
The couple is still very much in love and is not ashamed to express it before people. Their pictures which are often posted on Instagram is proof of this. Hasan and his wife became parents on April 22, 2018, following the birth of their first child, a beautiful baby girl.
Hasan is the first child of Najme Minhaj, a chemist and Seema Minhaj (née Usmani), a medical doctor. He is of Indian ethnicity and belongs to a Muslim family originally from Aligarh, Uttar Pradesh, India. He was born and raised in the United States after his parents immigrated to Davis, California, thus becoming an American citizen.
The comedian's mother was studying to become a doctor before his birth so after he was born, she went back to India to complete medical school while he and his dad remained in the US. She was in India for a few years after her son's birth but visited in 1989 to have Hasan's sister, Ayesha Minhaj.
After Hasan's mother had his younger sister, she went back to India, taking the baby with her and as such, he never saw his sister until his mother returned to the States permanently. He made a joke about how they met on Stand Up Planet, saying "they brought her in like it was Maury for immigrants." His father then brought out a card for sibling status and said, "Hasan, the results are in…you are the brother!"
While Hasan is making waves is his chosen career, his sister Ayesha is also enjoying a successful legal career. She attended the University of California, Los Angeles from where she graduated with a degree in political science (2007-2010). Afterward, she worked for a year with NBC News as a news associate at the Bay Area station before going back to school to study law in 2012. In 2015, Ayesha graduated with a Doctor of Law from the University of Pennsylvania Law School and was admitted to the State Bar of California on 12th March 2015.
Meanwhile, as a law student, she had summer internships as a Legal Intern at NBC Universal Media, LLC, from June to August 2013 at General Counsel's Office in Greater Los Angeles Area. She is now a Litigation Associate at Skadden, Arps, Slate, Meagher & Flom LLP and Affiliates, a top international firm based in New York City.