The lovely Hazel Moder is the only daughter of Julia Roberts and Daniel Moder. By the virtue of her birth, she was already adopted into fame. At the moment, she already has a few acting credits, thanks to a couple of her cameo appearances in 2006 and 2016.
The young blonde has lived a sheltered life away from the prying eyes of the public and media for a long time. Here's what we know about this beautiful damsel that is looking every bit like her famous mother, Julia Roberts every day.
Who Is Hazel Moder?
Hazel Moder is one half of Julia Roberts and Daniel Moder twin children. Her mom is one of the big names in the entertainment industry. Julia Roberts is one of the most talented and award-winning actresses of her generation with a few produced works to her credit. She has many awards for her artistry in the movie industry while her father is an amazing cinematographic and cameraman.
She (Hazel) has a twin brother and she is a big sister to Henry Daniel Moder who was birthed three years after her in June 2007. Hazel Moder comes from a celebrity family, her parents, uncle (Eric Roberts), aunt (Lisa Roberts) and cousin (Emma Roberts) are star actors in the glamorous industry.
Hazel herself also had fun during her early years as she made her first television cameo appearance in 2006 at the age of 2 in an episode of VH1 All Access alongside her twin brother. They both featured with other celebrity kids such as Suri Cruise, Shiloh Jolie Pitt, Jill Dobson, Brian Donovan among others.
Fast forward to 2016, the all grown twins played minor roles as cartwheel kids in the rom-com titled Mother's Day with their mother who portrayed the character, Miranda Collins. Other big weights like Kate Hudson, Jennifer Aniston, and Jason Sudeikis were also featured in the movie.
The smart kids may have enjoyed their time on the set but it is not clear if they would want to pursue a career in the entertainment industry like their talented parents or they would rather choose a different career path.
Whatever Hazel Moder and her siblings decide to do, they have capable hands to guide them through that journey. Thanks to the supportive and loving family that has done a thorough job of sparing her and siblings from the pressures associated with the media.
Her parents groomed them away from public attention and the flashes of paparazzi photographers. They are rarely exposed to the public except for important family functions or school events.  Thus, many have wondered how the damsel is growing.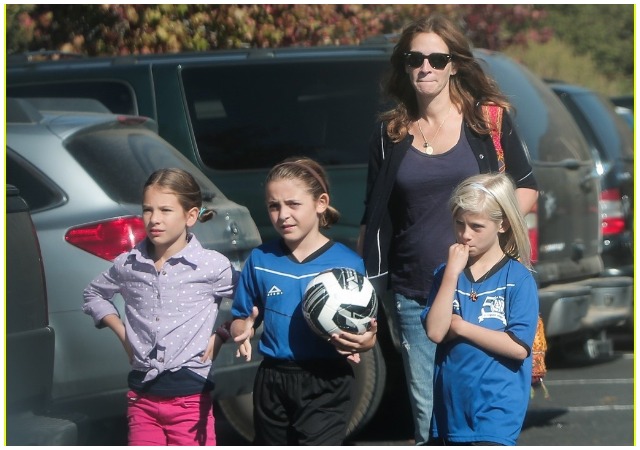 Hazel Moder enrolled in Our Lady of Mercy Catholic School, Los Angeles, where she is tutored. She has not only shown interest in acting but also in athletics; she has been actively participating in her school sporting activities, which no doubt makes her famous parents proud.
How Old Is Julia Roberts' Daughter?
The blondie Hazel Patricia Moder was birthed on the 28th November 2004 alongside her fraternal twin brother called Phinnaeus Walter Moder (fondly called Finn) in Los Angeles, California.
Julia Roberts during an interview admitted she took lessons from other powerful celebrity parents and their children before she set about grooming her kids. So far we can tell the lessons have been helpful as her daughter is growing into a wonderful young lady, looking every day like Julia.
How Did Her Parents Meet?
We will not have known the adorable Hazel Patricia Moder today if her celebrity parents had not met in the year 2000. The couple met on the job during the shooting of The Mexican; although they were both with their respective partners they kept their friendship going.
Daniel Moder was with his first wife Vera Steimberg while Julia was dating the Peruvian-American actor, Benjamin Bratt after her divorce from first husband, Lyle Pearce Lovett.
A few months after Moder divorce, Julia who had broken up with Bratt, united with Daniel Moder then they were wedded in Roberts Ranch in Taos, New Mexico on 4th July 2002 and ever since the couple has been waxing stronger together.
Read Also: Does Orlando Bloom Have A Son With Miranda Kerr, Where Is He Now?
What Is Her Net Worth?
Although the charming blondie has earned a few bucks owing to her few minor cameos as a child actress. However, we know that money was not her motivation for starring in them as she is from a wealthy home. Her mom's worth has been pegged at $200 million while her father's net worth is estimated to be about $10 million. Thanks to their works on hit and big movie projects.
Hazel Moder and siblings indeed have nothing to worry about as their needs are completely covered by her hard-working and wealthy parents.
Hazel Moder Social Life
The Los Angeles born child star does not have an open social life. She and her family traveled together to India on September 2009, where she was christened with a Hindus name Laxmi. Her mom Julia practices the Hindu religion. The young Hazel does not currently operate any social media account. So you wish to catch some glimpse of her, the mom's Instagram handle might be your best bet.