Daymond John is an American businessman, author, venture capitalist, TV personality, and motivational speaker who is popular for founding and currently presiding over the successful clothing company, FUBU – a venture he started with the help of his mum and has now grossed over $6 billion in earnings. In recent years he has become known for his sustained appearances as an investor on the ABC reality TV series Shark Tank. He is also the founder of the New York City-based Shark Group. While there's so much to tell about the Brooklyn born, so little is known about his wife/partner, Heather Taras. Since she said "Yes" to the fashion mogul back in September 2016, and has since been the subject of multiple online searches. If you're rooting to know more about her, look nowhere else. This post brings you lesser known details and facts about Damond John's wife. Voila!
Heather Taras's Bio, Age
Although Daymond John has not held back in professing his love for his brunette beauty, when he went down on one knee back in September 2016 with a custom-designed 9.5-carat emerald-cut diamond ring, he was again reechoing his long intent. That event threw her into the spotlight but regardless, Heather Taras has managed to stay undercover with details like her age, early childhood, education, siblings, parents hidden from the general public.
About Her Husband
Daymond John was born Daymond Garfield John in Brooklyn, New York City, on February 23, 1969. However, he spent much of his formative years in Queens. It wasn't all roses for young John, who resorted to working to support his family at the age of ten, following the divorce of his parents. One of those jobs required the lad to hand out flyers for a $2 per work hour. However, he managed to attend high school where he enrolled in a much flexible program that allowed him to work full-time and attend school on an alternating weekly. As he later recalls, the experience instilled in him an entrepreneurial spirit. Following graduation from high school, it wasn't college time for John who began waiting tables at Red Lobster eatery and also worked in a commuter van service.
However, things changed when John got a sudden spark of genius. At the time, Wool ski hats with their tops tied off with a fishing line were in vogue, and they were sold for $20, but John thought that they should have been sold for much lower. From his mother's house in Hollis, Queens, he sewed around 90 hats with the help of his next-door neighbor. John's mom had taught him to sew. Their homemade hats were sold for $10 each and what followed was an $800 sale the same day.
Those were the earliest start of what would become the FUBU clothing company. John was working as a waiter at Red Lobster while working on his FUBU business. Decades down the line, the company has made over $6 billion in sales worldwide. John himself has numerous properties to his name. One of those is a 6-bedroom mansion based in Southampton; estimated to be worth $7 million. The posh building reportedly features a large swimming pool, antique fireplaces and a brick patio.
Away from business, Daymond John is a husband and father of three beautiful daughters. His first marriage produced two while his relationship with Heather Taras has produced a daughter.
Facts About Daymond John's Wife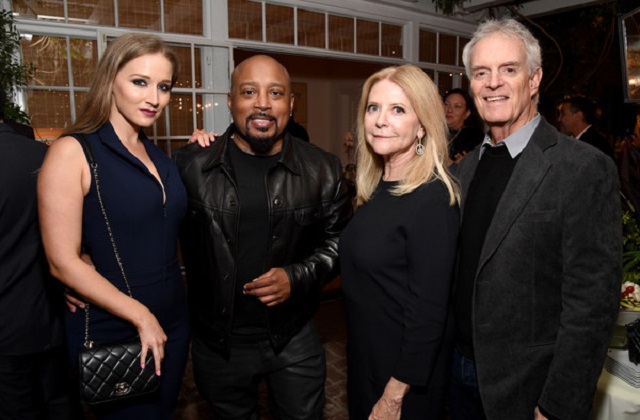 1. Net Worth
As of 2019, there are no known sources revealing Heather Taras' net worth. However, if marriage is anything to go by, it's safe to attribute her partner's $250 million fortune to her also. His wealth has come from his business, speaking/consulting career, books, and numerous investment portfolios.
2. Mother of Three
On March 2, 2016, Daymond John and Heather Taras welcomed their first child together, a girl they christened Minka Jagger John. Following their engagement months later, it's safe to say Taras also plays mom to John's two daughters, Yasmeen, and Destiny from a previous relationship.
3. She Almost Choked While John Popped the Question
It was a show of nervousness that night on live TV on one of the episodes of Shark Tank, when John got on one knee to ask Heather Taras to be his wife. He had created a speech but despite that, the nervousness spilling out of his voice told viewers how much of a rookie John was at this. Admitting his "rookieness" he said it was his first time on the carpet pitching to someone. Although Heather Taras gave him a yes, she only did so after carefully braking herself away from choking.
4. Wedding Date
Well, as of this writing, the Johns haven't let out any date when they'll finally say I do to each other.
See also: Gelila Bekele – Bio, Son, Age, Parents, All About Tyler Perry's Wife/ Partner
5. Height and Body Measurement
As far as specifics go, we have no details how tall this slim beauty stands. However, we know she's a bit taller than her partner who stands 5 Feet 7 Inches (1.7 meters) tall. She has dark brown hair and blue eyes.