Heidi Cruz is a Harvard trained investment manager who became popular for achieving a thriving career in the public and banking sector. She is known as the wife of the current United States senator, Ted Cruz. Presently, she is the Southwest United States regional head of a wealth management institution, Goldman Sachs & Co Houston office.
Prior to working with Goldman Sachs, Heidi Cruz had worked in several capacities under the George W. Bush administration including working at the National Security Council as the Western Hemisphere's economic director, Latin America office director of US Treasury Department, United States Trade Representative Robert B. Zoellick's Special Assistant as well as Bush's presidential campaign's economic policy adviser. Find more background details about the biography, net worth and children of Ted Cruz's wife below.
Biography
Heidi Cruz was born as Heidi Suzanne Nelson in San Luis Obispo, California, USA on 7th of August 1972 to her parents Peter Christian Nelson, who is a dentist and Suzanne Jane who works as a dental hygienist. She had her childhood experiences in different countries including Nigeria, Kenya, and Asia as a result of joining her parents' missionary work with the Seventh-day Adventist protestant denomination. Heidi Cruz has a brother named Scott Nelson and is an alumna of Valley View Adventist Academy, Arroyo Grande, California before completing her basic education at Monterey Bay Academy, La Selva Beach, California in the year 1990.
Soon after her graduation from Monterey Bay Academy, she enlisted into Claremont McKenna College where she graduated Phi Beta Kappa with a Bachelor of Arts degree in Economics and International Relations in the year 1994. While in college, Cruz also attended the University of Strasbourg. More so, she furthered her studies by enrolling into Solvay Brussels School of Economics and Management, Brussels, Belgium. There, she obtained a Masters of European Business degree before receiving another post-graduate degree in Business from Harvard Business School in the year 2000.
In the same year, Heidi Cruz became the economic policy director of George W. Bush's presidential campaign, where she first got acquainted with Ted Cruz. Following Bush's victory at the general election, the Harvard trained investment manager assumed many positions during George Bush's regime. She started as a Special Assistant on economic policy to Robert Zoellick, a US Trade Representative in 2001 before serving in the US Treasury Department as the director of Latin America office in 2002. In addition, Ted Cruz's wife later became the Western Hemisphere's director on the National Security Council.
Few years after her marriage to Ted Cruz, the current United States Senator from Texas, Heidi Cruz relocated to Texas to be close to her husband and likewise to foster his political aspirations. It was not an easy decision to abandon her dream job in Washington DC and move to Texas to start what looked like building her career from scratch, but she was determined to see it through. She overcame the period of depression through her never-say-die attitude and her husband's love and affection. Before becoming the Vice President of Goldman Sachs and Co., a wealth management institution in 2005, Cruz has worked for two other investment banks namely; JP Morgan Chase and Merrill Lynch.
Later on, she was promoted to the position of the regional head of the Southwest United States, Houston office in 2013 due to her great work ethic and dedication after working for seven years at the wealth management institution. Furthermore, she was an active fellow of two notable organizations namely; The Council on Foreign Relations and Independent Task Force on North America from 2005 to 2011.
Coming to her participation in her husband's presidential campaigns in 2015 and 2016, Heidi Cruz has been a supportive wife to her husband such that she obtained leave of absence without salary so as to fully partake in her husband's presidential rallies. She even went ahead to make multiple single appearances on behalf of her husband during the campaigns.
Heidi Cruz's Family: Meet Her Husband And Children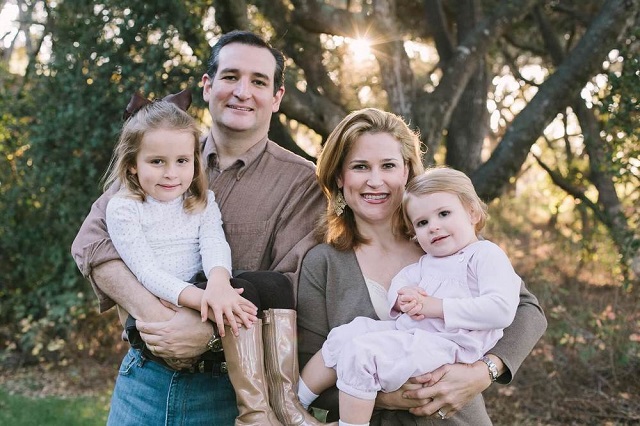 Heidi Cruz got acquainted with her husband, Ted Cruz in what looked like love at first sight while working as a part of George W. Bush's presidential campaign in 2000. The couple sealed their love with a nuptial bond on 27th May 2001. The marriage is blessed with two daughters namely; Catherine and Caroline Cruz and there is no sign of controversies in the couple's lasting union.
Net Worth
Having served in several positions in government, specifically during George W. Bush's administration in addition to being an eminent investment manager for many financial institutions, Heidi Cruz has garnered a huge fortune for herself which is estimated to be about $4.5 million.