She is not the loud fame-seeking type, but Australian-Canadian actress Helene Joy has been busy over the years building a lasting reputation for herself in the Australian and Canadian film industries. Most popular for her roles on Durham County and Murdoch Mysteries, Helene has been on a steady rise in her acting career since after debuting the screens in the 1990s.
So far in her career, Joy's outstanding performances have earned her the 2005 Leo Awards Best Lead Performance by a Female in a Feature Length Drama for Desolation Sound, as well as the 2008 Gemini Awards Best Performance by an Actress in a Continuing Leading Dramatic Role for Durham County. Here is her biography and other interesting facts you need to know about the actress.
Helene Joy Biography
Helene Joy was born on October 27, 1978, in Perth, Australia. Joy holds both Australian and Canadian citizenship. She is the youngest of her siblings and was raised by a single mother who was a real estate agent. She grew up in her native country where she attended the Kewdale Senior High School.
Helene Joy started acting while still a student at Kewdale Senior High. On finishing high school, she joined a youth theatre company on a tour across Europe. Following this, Joy enrolled at the Curtin University in Australia to study Theater. She, however, spent only a year at the university as she won a scholarship to the Western Australian Academy of Performing Arts (WAAPA), graduating in 1995 with a Diploma in Acting. On her graduation, Joy won WAAPA's Leslie Anderson Award for Best Performer.
Professional Career
Helene Joy started off her professional acting career in 1996, with a minor role in an episode of the adventure television series, The Man from Snowy River. After this, she earned more minor roles in other TV series including, G.P., Water Rats, Big Sky, Stingers and so on.
Joy debuted both her television film and movie roles in 1997, starring as Shelley and Helen Desareé in Fable and The Beneficiary respectively. She later landed her first major role in the CBC TV sitcom, An American in Canada which ran from 2002 to 2003.
Helene later gained widespread popularity when she began portraying the major role of Audrey Sweeney in the television drama series, Durham County (2007-2010). The exposure from Durham opened wider doors of opportunities for Helene. While still appearing on the series, she landed another main role in the 2008 CBC series, M.V.P. as well as in the TV film, An Old-Fashioned Thanksgiving (2008). Within the same period, Joy landed her television big break in the 2008 drama series, Murdoch Mysteries where she portrays the role of the main character Dr. Julia Ogden.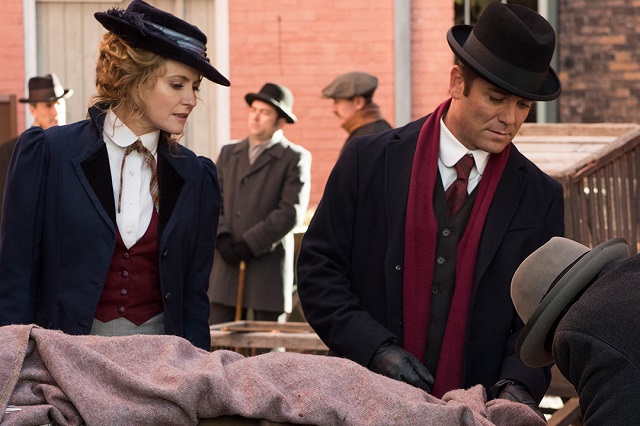 In addition to her television and film career, Helene Joy is also a stage/theatre performer. She has worked for a number of theatre companies including the Bell Shakespeare Company and Melbourne Theatre Company where she portrayed the roles of Ophelia, Lady Macbeth and Juliet in the Shakespearean plays Hamlet, Macbeth, and Romeo and Juliet respectively. She later moved to Canada and joined The Company Theatre in Toronto, starring in Speaking in Tongues as Jane.
Helene also played voice roles in a number of films and TV series. They include The Eggs (2004), Faireez (2005), The Secret World of Og (2006), Pearlie (2009), and Detentionaire (2012).
See Also: Shanna Riley Bio and 5 Facts About Roman Atwood's Ex-Wife
5 Interesting Facts You Need To Know
1. Her Boyfriend Made Her Leave Australia
Joy has lived in Australia all her life until her boyfriend, also an actor requested that she joins him. Helene therefore left Australia for her boyfriend's native town, Vancouver in British Columbia, Canada. That was about three years into her professional acting career, precisely in 1999. Helene once revealed in an interview that her relationship with the guy turned her life upside down. She has however, since broken ties with the guy.
2. Joy Almost Quit Acting for Real Estate
Aside from acting, Helene Joy makes her living more worthwhile by investing in real estate. She is currently a certified real estate agent in her home country, Australia. She also acquires property and does a lot of renovation in different parts of the globe in the course of her numerous travels.
Owing to her quest for a financially secure future, Helene, a few years ago started wondering whether she should quit acting altogether and go into real estate full time. She gave it a try and went home to join her mother in the business, but after just a week, Joy discovered that acting is who she is, and she has ever remained committed to it. She now describes property development as her number one passion outside acting.
3. She Loves Clothes – and HATS!
Although Helene says she is not a fashionista, she admits to having a love for wears – clothes, jewelry, bags, shoes, and then – hats. She once said in an interview that she collects and has hats "like you wouldn't believe". She is in love with all types – fedoras, sun hats, woolen ones, and so on.
Her role in Murdoch Mysteries has also informed and influenced her fashion sense, giving it a bit of that Victorian modesty taste – vintage jewelry, high neck blouses, and things like that – minus the long skirts though!
4. Joy is a Vegan
Helene Joy lives on a vegan diet. Owing to how religious she has been with her diet, she has a delicious meat-free burger named after her – the "MissJoy" at the BQM Burger Shoppe at Ossington Riverside, Toronto.
5. Helene Joy is a very Low Key and Thrifty Personality
Despite earning a six-figure salary in her acting career, as well as making fortunes from real estate, Helene Joy says she has continued to live the way she does when she had nothing! She is not that celebrity that would plunge into prodigious spending just because she's got the cash. The actress says she saves like "a madwoman" to secure a financial free future for herself. Her aim is also geared towards being able to continue acting no matter what becomes of the industry and the country economically in the future.
Owing to her frugal lifestyle, Helene Joy is not a big designer person. She shops in the local markets and doesn't go for famous labels. Despite having spent long years in the entertainment industry, Helene is yet to make it to media headlines owing to her close-to-anonymity mode of living, but she doesn't really care.