She is undoubtedly one of the best when it comes to Russia's finest models. Helga Lovekaty always has her over 4 million Instagram followers wanting more of her exquisite model photos. She is also popular on Twitter and other social media platforms with a massive following on each of them. Helga exudes an enigmatic aura which often creates contrasting perceptions pertaining to her persona. This had led to several questions being raised about her personality. To dwell on these questions would mean to dig deeper into the life of the social media star and model. Starting with the frequently asked question:
Who is Helga Lovekaty? Bio, Age
The Instagram star and model from St. Petersburg, Russia was born Olga Korobitsyna on May 7, 1992. Helga was always inclined to the sparkly kind of life even as she grew up in Khabarovsk. In 2013, she was linked up by Pavel Durv, a business tycoon who invited her to his birthday party that year. Her modeling career soon kicked off after Pavel partnered with Alexsandr Mavrin to launch a network which flooded social media platforms with her sophisticated photos, garnering followers for Lovekaty. The Instagram star has worked with notable brands and has featured on several magazines on enviable endorsement contracts. Rosekaty is said to be the brand ambassador for Philip Plein as well as different designer clothing lines. She has featured on adult modeling platforms and has also modeled for Manomy sports brand. She is reportedly signed to the modeling agency Marvin Models Management.
Helga is known for her subtle, curvaceous body which she says has never been under the knife. This has attracted more following to her status as many are intrigued by her perfectly carved natural body. What's more? Fans also flood her timelines to get a glimpse of her behind-the-camera scenes, which are mostly natural and alluring. She never ceases to feed her followers with nice shoots from her on bikinis, Pyjamas, to the very exquisite outfits. Lovekaty tested waters in the movie industry in 2015 when she appeared in the movie Hardcore Henry.
Family – Parents, Sister
Not much is known about the model's parents who reportedly gave birth to her in Khabarovsk. But Helga Lovekaty has posted photos of her sister named Daria Korobitsyna, who is the only family she publicizes on social media.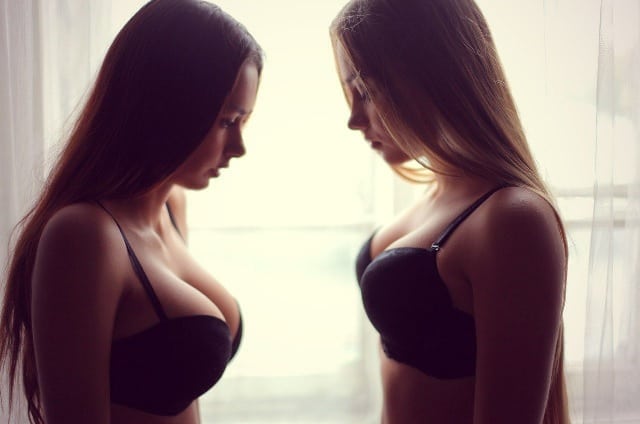 Is She James Rodriguez's Girlfriend?
Helga Lovekaty made the news in the early part of 2018, following rumors of her relationship with Real Madrid and Colombian international James Rodriguez. Despite her large following and patronage, she may have made the news for the wrong reasons to many; as fans of Rodriguez were still saddened by his break up with ex-wife Daniela Ospina. Helga was seen as the devil that came between the couple who went their separate ways in July 2017.
James Rodriquez married Daniela Ospina in 2010 when she was 18, and the couple who have a daughter stayed together since then until 2017, when they officially called it quits. Daniela who is a sister to Arsenal star David Ospina is a former professional volleyball player. She is said to be working for BrandFit, a Colombian fashion label. Daniela first took to her Instagram handle to announce their break up stating that the parties would maintain an 'extraordinary relationship' for the interest of Salome their only daughter, who was born in March 2013.
See Also: Eva Marcille Daughter, Husband, Baby Father, Age, Height, Net Worth
Although they reportedly broke up on mutual grounds; especially with regards to their respective careers, fans of the couple who were already saddened by the split, went even sourer when Rodriguez moved on with Helga Lovekaty. Lovekaty was greeted with hate comments whenever she posted photos on social media. But the Instagram superstar has remained tenacious as well as committed to her relationship with the sportsman.
Body Measurements – Height, Weight
To the part that really excites the men and even the women; Brown-eyed Helga Lovekaty has got a killer body that perfectly suits her career. She leaves men craving and women wishing to have a body like hers, whenever she posts photos of herself.
Helga stands at a height of 5ft 9inches (1.79m) which is quite proportional to her weight of 54 kg or 119 lbs. We're not forgetting her distinctive body features which give her a sultry appeal. Her unique body stats of 33-27-24 perfectly fit into size 6, for her dresses.