AB de Villiers is a former South African international cricketer with a net worth of over $20 million. He earned legendary status in his country and worldwide after delivering some memorable performances in major games.
Villers started his international career as a wicket-keeper-batsman but made a name as a sole batsman. He was good at cricket, and the sport was very good to him as he accumulated a substantial net worth over his playing career. It enabled him to retire from an international career at a relatively young age to focus on franchise cricket. He has earned significant salaries from the clubs he has played for and endorsement deals with numerous companies.
AB de Villiers has Accumulated a Net Worth of Over $20 Million
AB de Villiers began his cricketing career in 2003, and he must have never imagined the amount of success he would enjoy. He enjoyed as much success on the cricket field as he did off it. One such achievement is the financial reward that came with being a world-class cricketer.
He also earned financial gains from other ventures. As a result of his popularity as a cricketer, he bagged substantial endorsement deals with some notable companies. He has also shown himself to be a relatively shrewd businessman, as proven by his interest and investment in real estate.
His primary source of income, though, remains his first love and the one sport that gave him everything. As of 2020, AB de Villiers has an estimated net worth between $20 million – $23 million, and this translates to over 300 million rands. He is one of the richest cricketers in the world and earned the ninth spot on the top 10 richest South African sportsmen in 2020.
His Major Source of Wealth Remains Cricket
It is perhaps understating it to say AB de Villiers is pretty good at cricket. He is one of the most innovative and destructive batsmen of the modern era. It is, therefore, logical to expect that a man with such elite skill levels will get compensated substantially. That has been the case with AB de Villiers, as he has accrued over $20 million in his cricketing career. Throughout his playing career, he has earned substantial salaries and continues to do so.
When he retired from international cricket at the age of 34, it limited his earning potential. Still, as he continues to play T20 cricket around the world, he continues to earn more impressive remuneration.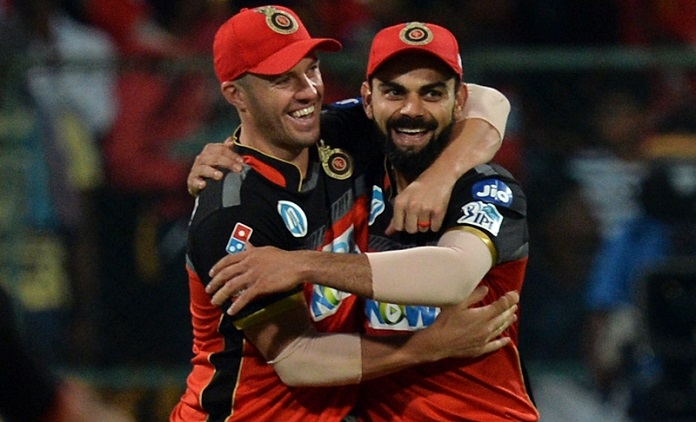 His net annual income is reportedly in the region of $3 million. His yearly cricket salary makes up a substantial part of this as he rakes in $2.1 million. He is one of the best paid foreign players in the Indian Premier League, where he turns out for the Royal Challengers Bangalore. His income has seen over a 170% increase in the last few years.
Since he began playing in India in 2008 for the Delhi Daredevils, his salary has continued to witness a significant and steady rise:
2008 Delhi Daredevils – 12, 048, 000 rupees
2009 Delhi Daredevils – 14, 738, 000 rupees
2010 Delhi Daredevils – 13, 887, 000 rupees
2011 Royal Challengers Bangalore – 50, 600, 000 rupees
2012 Royal Challengers Bangalore – 55, 297, 000 rupees
2013 Royal Challengers Bangalore – 58, 597, 000 rupees
In 2014, he received yet another substantial salary increase as he began earning 95 000 000 rupees. He made this amount until 2018, when he received yet another salary boost, and his new salary was 110 000, 000 rupees ($1.55 million). It remains his current salary as of 2020.
AB de Villiers Has Endorsement Deals with Some Notable Companies
When you are one of the most recognizable faces in the world of sports, it is only normal to draw brand attention. As a result of AB de Villiers's iconic status in the sport, he has managed to bag endorsement deals with a few companies.
His earnings from these endorsements have, in turn,  contributed to his growing net worth. As he shows no signs of slowing down, one expects more brands to seek out partnerships with him. He has endorsement deals with the following companies:
Audi – AB de Villiers became a brand ambassador for the German automobile manufacturing company in December 2014. He joined Indian and Australian captains Virat Kohli and Steve Smith, who are also associated with the renowned car brand.
Montblanc – Yet another German brand decided to plum for AB de Villiers as its brand ambassador. Montblanc, renowned for luxury watches and jewelry, added ADB to its ambassadorial list when he was appointed to the role in 2017. A classy sportsman for a classy brand.
MRF – The renowned Indian tire manufacturing company signed a deal with AB de Villiers in 2017. The deal is reportedly worth 28 million rupees (approximately $378,480). The Indian company has sponsored some legendary batsmen in the past, including Sachin Tendulkar and Steve Waugh. It is yet another endorsement that AB de Villiers shares with India's current captain, Virat Kohli.
Puma – This remains AB de Villiers' oldest endorsement partnership. He originally joined forces with the footwear giants back in 2006, and after numerous renewals, it remains active. AB de Villiers frequently promotes Puma wears on his social media platforms. It is the third German brand in its endorsement portfolio.
Wrogn – In March 2020, AB de Villiers signed an endorsement deal with Wrogn, a fashion brand co-owned by the aforementioned Virat Kohli, a teammate of de Villiers' at Royal Challengers Bangalore.
https://www.instagram.com/p/CGZVXiigCtm/?utm_source=ig_web_copy_link
He was to endorse and promote the brand's active collection wears, including joggers, sweatshirts, and hoodies.
AB de Villiers Loves a Vacation to an Exotic Location with His Family
When you are worth over $20 million, you might have more money than you know what to do with. AB de Villiers does not have such problems, though. Having retired from international cricket, he has enough time to embark on luxurious vacations with his family. His Instagram page is home to enough photos showing exotic locations he has visited in recent times.
The legendary cricketer visited Australia, Mauritius, Barbados, and enjoyed some time in the Mosi-oa-Tunya National Park in Zambia with his wife, Danielle. They went to the park to celebrate the couple's fifth anniversary. As he continues to earn substantial money from cricket, it is expected that he will continue to splurge on vacations to more exotic places.
He Has a Humble Collection of Impressive Cars
Part of AB de Villiers' wealth has gone towards acquiring a decent collection of vehicles. It is commonplace for rich people to collect the most sophisticated and flashiest cars in the market, and AB de Villiers is no exception.
Whilst he has some impressive toys, he has certainly not gone overboard with things. In his possession include an Audi Q7, BMX X5, a Mercedes Benz, Range Rover. A Lamborghini completes his impressive but relatively modest collection.
Perhaps he is not the biggest fan of automobiles, or maybe he believes one can only acquire so many expensive vehicles. Either way, AB de Villiers has shelled out a few dollars for some impressive automobiles.
AB de Villiers has not Splurged on Housing Properties
Despite being a man of wealth, AB de Villiers has spent frugally. It reflects in the fact that he has not gone on a splurge when it comes to attaining housing properties. He possesses personal properties worth a significant $6 million and amongst this is a house located around prime Durban. The house is said to be worth a modest $270,449. So far, It is the most notable known housing property he has.
He is Also a Notable Philanthropist
AB de Villiers has ensured he continues to give back to society. He has been involved in some charity causes and never shies away from opening his large purse to donate to a worthy cause. AB de Villiers is most renowned for actively working with Make a Difference Foundation, a charity that seeks to provide education to the underprivileged.
He also joined the All in Africa movement to help make a difference in the lives of less fortunate folks. ABD joined the campaign by donating one of his T20 jerseys for an auction to raise funds.