Since pastor Chris and Anita Oyakhilome 's divorce was concluded, the ex-wife of the Nigerian preacher has been quite visible through her blog and Facebook page. Through these online channels, the woman of God keeps in touch with her parishioners as she never abandoned the work of the ministry. Even though her separation and ultimate divorce led the mother of two to sever all ties with Christ Embassy Church, AKA Believers Loveworld, she has stayed true to evangelism by working as a full-time pastor. This means that being the pastor's wife wasn't all she had to offer when she was still with her ex.
Her social media pages are instrumental in letting on what the former wife of Pastor Chris is currently doing with her life apart from continuing her work in the vineyard of the lord. The blog site led people to believe that she already has another man in her life when she signed a blog post with the name Anita Ebhodaghe Schafer. People are specifically interested in her love life due to the manner in which her first marriage, which most people looked up to, ended in a divorce, a nasty one at that. But did Reverend Anita really remarry? Find the full details as you keep reading.
Life As A Single Woman For Reverend Anita Oyakhilome
Between 2014 and 2015, Reverend Anita Oyakhilome had to face a very complicated divorce case, suffer the weight of tons of hateful comments hurled in her direction and had to face other hardships associated with divorcing a husband in the African setting. However, since she managed to pull through with the divorce, the mother of two has seen some changes in her life. According to Anita, she is now leaving life as an independent woman, happy, and fulfilled.
Even though the divorce led her to cut all existing ties with the Believers Loveworld Church, Anita did not deem it necessary to step away from Christianity and has continued to participate in pastoral work. In London where she lives, the ex-wife of Pastor Chris Oyakhilome is still a full-time pastor who has stayed true to evangelism.
Also, she ensured that her parishioners were not entirely abandoned. Even though she is no longer a member of the Christ Embassy church, Anita Oyakhilome has leveraged social media to continue spreading her love and ideas. Her blog can be accessed @ pastoranita.org and her Facebook page is @ facebook.com/pastoranita.org.
According to her bio page, she is simply Anita and represents a woman who has overcome all her difficulties, emerged on the other side a victor, and what's more, the pastor is now ready and willing to share her deep knowledge with people in need. In all, unlike what many people speculated at the time of her separation from Pastor Chris, Pastor Anita is not finding it difficult to live outside her marriage. In fact, she has gone through a lot of self-discovery processes to get to the best side of her life. Looking at the things she has been able to accomplish, life after divorce has been refreshing for the former wife of Pastor Chris.
Truths About Rumors That Anita Found Love Again
Following the conclusion of her divorce from Pastor Chris, Anita Oyakhilome decided to drop her last name and go for her father's name, Ebhodaghe. This development barely raised any dust until the woman signed a blog post of hers as Anita Ebhodaghe Schafer. Speculations immediately caught fire as people came to the conclusion that she already remarried. They also concluded that the new man in her life must be a European to bear that kind of name.
As expected, a rumor of this magnitude threw the tabloids into a wild frenzy as different versions of the story started surfacing in the news. The frenzy got to a level that even the most reclusive of men would be smoked out of his hole in self-defense and needless to say, Anita who would rarely go public with personal matters came all out to dispel the rumors. According to the mother of two, Schäfer happens to be her mum's last name. Throwing more light, Anita said she took both her parents' names in a bid to honor them. People just had to conclude she was saying the truth since nothing has been heard about her supposed new spouse since then. For the most part, Anita is just comfortable with being single and doing God's work but what exactly does she do these days? A little insight into her background details will shed more light on that.
Who Exactly is Anita Oyakhilome?
There is a dearth of information on the early life and family background of Reverend Anita Oyakhilome. The ex-wife of Pastor Chris has never mentioned her date of birth, neither has she let on where she was born. The only part of her early life that is in the public arena is the fact that she is of mixed ethnicity; the offspring of a mother with Swiss roots and an Edo indigene, John Ebhodaghe who earned a living as the chief executive officer of the Nigerian Deposit Insurance Corporation.
Anita is not her parents' only child, the mother of two spent her growing up years alongside four siblings whose identities are not known. However, from the facts available, she and her siblings identified with their father's side of the family and she spent a greater part of her early life in Nigeria, graduating from one of the private universities in the country.
We don't have info on her early educational history but according to kept records, she achieved her university education in her native Edo State, attending Ambrose Alli University (then called Edo State University). Anita majored in the English Language, graduating with a Bachelor of Arts degree.
Chronicling Pastor Chris and Reverend Anita Oyakhilome's Journey Together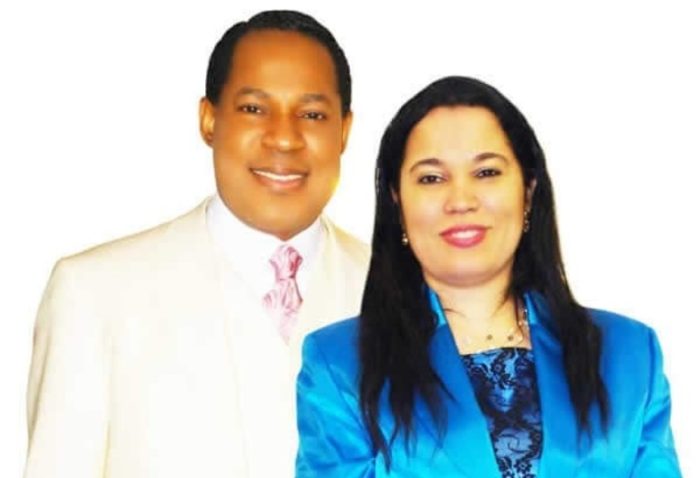 As expected, the former couple met in the line of ministry work and this was during their days in the university. It was while Anita Oyakhilome was studying at the university that her path crossed with Pastor Chris Oyakhilome. It all started in the '80s when the young Chris functioned as the pastor of the Believers Loveworld fellowship on campus. After Anita started attending the fellowship, she gave her life to Christ, and becoming a born-again Christian was instrumental in bringing them together.
Chris found the right spirit in her and saw the great things they could do together. He took advantage of this by bringing her closer and even though they weren't yet married at the time, they accomplished a lot together. Indeed, their union started on a great note with both working hard in God's vineyard, and in 1990, Chris and Anita created what is known today as Christ Embassy – a megachurch that formed part of the Neo-charismatic movement in Evangelicalism. Anita eventually took charge of the church's International Office as its director, taking care of their dealings in the UK. The church's Central Executive Council also had her on its governing body as a member.
Their Union Birthed Two Daughters
Anita and Chris eventually exchanged the forever commitment vows in 1991 with their wedding ceremony hosted in Lagos Nigeria. Though things later fell apart, the couple's marriage endured for over two decades and is blessed with two daughters Sharon and Charlyn Oyakhilome.
Though her date of birth is not known, Sharon is a gospel musician who celebrates her birthday every 11th of August. She is apparently keeping up with the family legacy but not as a preacher, Instead, she uses her music to spread the word. She recently married Dutch-born Ghanaian entrepreneur, Phillip Frimpong with whom she has a daughter, Arielle Rachelle-Marise. Though Sharone got married in Nigeria, she had to hold a second wedding in the UK in honor of her mum.
Pastor Chris and Anita Oyakhilome's second daughter, Charlyn was born in 1995 and is currently single. She is living with her mother in the United Kingdom and has not surfaced in the media space for any major event.
Chris and Anita's Marriage Began To Crack Up In 2014 But The Divorce Was Finalised in 2016
From 1991 to 2013, it was all nice and tranquil in the matrimonial home of the Oyakhilomes as they created a semblance of enjoying marital bliss and people even started regarding them as a golden couple in Christendom. However, the year 2014 opened on a rather sad note. A marriage that was viewed as nothing short of perfect actually had cracks that were fast developing into gaping fissures.
The last straw was when Anita Oyakhilome allegedly discovered her husband's infidelity. Convinced that Chris cheated on her, Anita filed for divorce on the 9th of April 2014. The reason Anita cited for the dissolution of their marriage was "unreasonable behavior", including "inappropriate relationships with staff members". Needless to say, this was vehemently denied by Chris Oyakhilome. The divorce proceedings were not just messy but were highly publicized because of the caliber of the couple involved. After two long years of legal tussle, Anita finally became her own woman on the 8th of February 2016.
Their marriage that lasted for over two decades notwithstanding, the ex-wife of Pastor Chris took to her personal blog to tell readers how disrespectful and abusive the man of God was. This particular claim is evident in one of the pastor's works where he mentioned that men are "masters" to be served and waited on by women. Whoever has read that work would believe that the man of God applied the same rhetoric in his matrimonial home. Thus, it must have been quite challenging for a feminist like Anita Oyakhilome to survive in that type of relationship for over two decades.
There Were Hints That Their Marriage Was Shaking Before The Final Crash
Even before the news of their impending divorce hit the airwaves, the public already started getting hints that all was not well with the couple. However, it was difficult for many to grasp the fact that what seemed like a perfect couple could be heading for divorce. First, the mother of two stopped ministering at Christ Embassy's London headquarters where she has always been the presiding pastor alongside other branches in Europe.
Her pictures and contributions to Rhapsody of Realities suddenly ceased and her name disappeared from the devotional which has always been a major income source for the couple. With these developments, people naturally started putting two and two together, however, everything became clear after the news of their divorce went public. According to what a UK member of Believer's Loveworld told TheCable, Anita Oyakhilome supported the removal of her pictures from the devotional as retaining them there will mislead people that she was still a contributor to it.
Anita Oyakhilome Laid Her Grievances Bare
As their divorce proceedings progressed, several things about their marriage started coming to light. For one, Anita Oyakhilome revealed that they drifted apart in over 16 years of living separately; while Chris was based in Nigeria and South Africa, Anita made her home in the UK. She revealed how the pastor would only come to the UK for church programs and not to be with his family. In fact, she tagged him as an absentee father that was unavailable to his kids during their formative years.
Anita described Pastor Chris as a man who was more devoted to his ministry than his family. They rarely have quality family time and special occasions like birthdays, Christmas, and other celebrations would never bring him down to spend time with his family. She said the pressure of their work was the major reason their marriage had to suffer.
Speaking further, Anita said she was just an instrument through which pastor Chris's image was portrayed and boosted as a family man when in reality, they don't even have any existing relationship. Her husband she said, only ever needed her for official functions, just for his own convenience and nothing more. His staff just copy her into his itinerary and present it to him. Most of the time, his itinerary will be publicly announced every January and in it, there will be no provision for the family. He usually travels with staff members who take charge of organizing both his professional and personal life and no input is expected from the wife. All these contributed to making her feel like an intruder in matters concerning her spouse.
In conclusion, Anita Oyakhilome's feeling is that of physical, mental, and emotional deprivation of the experiences associated with marital relationships. She felt persistently judged by Pastor Chris who was always unduly harsh in his exchange with her. Describing the pastor, Anita labeled him as extremely critical and hard to please. Nonetheless, this is not the picture Pastor Chris shows his congregation and the rest of the world.
Some Post Divorce Revelations Threw More Light On The Issues
With their divorce done and dusted, the couple still made headlines a while longer as people found it hard to fathom how a man of God of Pastor Chris Oyakhilome's caliber would be embroiled in infidelity and cheating rumors. Besides, the fact that he came out to repudiate his wife's claims of infidelity and maltreatment only whetted people's appetite to get to the roots.
Before long, what was tagged the exact facts of Chris and Anita Oyakhilome's divorce surfaced in the news.
Going by the reports, the mother of two never used the word "adultery", her claims were that the pastor keeps 'inappropriate relationships with some female church members.
Secondly, Pastor Chris humiliates Anita in the presence of these women; whenever his close female staff is around, she feels humiliated by the treatment he metes out to her.
This automatically changed the grounds of the divorce from "infidelity" to "unreasonable behaviors" that suggest Anita cannot 'logically be expected to continue living with him. The statement they said has no indication of adultery allegation as it was completely devoid of co-respondent to the petition; besides, it didn't mention any names.
According to Anita, she has severally let her husband know about her feelings towards his conduct with his female staff but Pastor Chris never paid any heed to her complaints and thus, didn't do anything towards alleviating her grievances, he only called her carnal and has remained insensitive to her needs and feelings.
Pastor Chris Oyakhilome Allegedly Starved Anita Oyakhilome of Funds Post Divorce
Around the globe, people know pastor Chris Oyakhilome is one of the most affluent and influential men of God in Nigeria. With his ex-wife, Anita Oyakhilome, the duo co-authors Rhapsody of Realities – one of the fastest-selling Christian daily devotionals. However, as the strain on the marriage gained ground, Anita complained to a few close friends that Chris put a stop to her own share of the royalties from the devotional literature.
Going by what she revealed, her ex-husband is deliberately starving her of funds and his reason may not be farfetched. The mother of two concluded that it might be a plot to humble her and eventually get her back into her marriage to mend things. This was revealed to the TheCable in The United Kingdom by a church member. In his response, Pastor Chris Oyakhilome said, despite his ex-wife's supposed lack of access to funds, he was shocked to his bones when she donated the sum of $1 million at a fundraiser.
On the 13th day of July 2014 which was a Sunday, the whole issue got to a head when Anita's relatives placed the London branch of Christ Embassy under lock and key as they staged a serious protest against the humiliating treatment their sister has been receiving at the hands of Pastor Chris. According to them, Anita Oyakhilome has not had the opportunity of overseeing services at the church branch since November 2013.
On the 10th of May 2014, some church members launched a Facebook campaign with the loud request "Where is Rev. Anita Oyakhilome?". Tabling their grievances, the campaigning members said Anita and Chris must have to unite for the gospel, the church, and their children. Quoting Malachi 2:16, the members reiterated that God hates divorce and the pastor just needs to do what he preaches. The Facebook page ended up with over 3,300 likes.
Pastor Chris Finally Opens Up
After Anita's allegations against Pastor Chris went public in August 2014, he refused to comment for over a week before he finally broke his silence. Tagging what the Nigerian tabloids were printing about his marriage as "stupid" and "crazy" the man of God dismissed them as frivolous charges. This statement was made on the 8th of September during the church's monthly global communion service.
Speaking further on the issue, Pastor Chris said people don't understand what it means to be a man of God. According to him, a man of God isn't just a person that preaches God or worships him, a man of God he said, is one who is handpicked by the almighty who also sets him on course. In the bible, no man of God deliberately went against God or sinned against him, he said.
Linking himself to the scriptures, pastor Chris said he would never go in the direction of the things they were associating him with. Besides, he was never even accused of committing those crimes and would never stoop so low to commit them. Comparing himself to Jesus Christ, the pastor said heaping tons of accusations on our lord Jesus never changed his identity, and inasmuch as some people are wishing those stupid accusations to be true, it will never be.
As a man of God, the pastor said he only goes where he is directed to go which may not go down well with some people. As for his wife Reverend Anita, he encouraged the congregation to pray for her. He stated that being the wife of a man of God does not automatically make one a woman of God and you cannot be on the same level with your spouse. Citing the Bible as an example, he said we only heard about great men of God like Peter, but no mention was made of his wife. Likewise others like John and the other apostles.