Hlomla Dandala (born 22nd of September 1974, Age: 49) is a famous South African personality known for his roles as an actor, movie director, and TV presenter.
Dandala came to public attention after he depicted the part of Derek Nyathi in four seasons of the most-watched SA soapie, Isidingo. Breathing life into the character of Jacob Makhubu on the set of Jacob's Cross took him to another level of fame and today, the movie star has become quite prolific, appearing on the sets of several movies and television dramas.
The 49 year old Hlomla, a native of Mdantsane, Eastern Cape in South Africa, started his entertainment career as early as 2005 and has become a force to reckon with in the world of showbiz.
From all indications, Dandala's professional life seems to be moving on oiled wheels, but the same cannot be said for his love life.
Hlomla Dandala is obviously unlucky in love as he has passed through two marriages with a record of two messy divorces. The movie star sired several children both within and out of wedlock, which has marked another chapter of his life – child maintenance fee. He is currently in court with his first wife battling to reduce the amount payable per child and the drama gets more interesting as it unfolds.
Profile Summary Of Hlomla Dandala
Full Name: Hlomla Dandala
Date of Birth: 22nd of September 1974
Nationality: South African
Education: Sacred Heart College in Johannesburg and The University of Witwatersrand
Parents: Mvume Dandala (father)
Height: 1.80 m
Occupation: Actor, Movie Director, TV Presenter
Years Active: 2005 to date
Net Worth: $570,000
Hlomla Dandala Was Born 49 Years Ago
Hlomla Dandala was born on the 22nd of September 1974 in Mdantsane, Eastern Cape, South Africa where he also spent most of his growing up years. There is a dearth of information on his family members but the records revealed that he was born to a politician and South African Methodist Church Bishop who goes by the name Mvume Dandala. However, his mum's name has never been mentioned in the public space. Hlomla is obviously not the only child of parents as he shared his childhood with a sister called Gqibelo.
Far from a "run off the mill" kind of actor, Dandala is well educated. The star of Jacob's Cross is an alum of Sacred Heart College in Johannesburg where he completed his secondary education. The entertainer's academic history revealed that he graduated from the University of Witwatersrand with a degree in Drama.
During his days in secondary school, Hlomla Dandala was good at both the sciences and arts but he knew in his mind that his destiny lies in the entertainment world, both behind the camera and in front of it. This was what informed his decision to opt for Drama as a course of study in the University. The SA native is multi-lingual with competency in five different languages, including English, SeSotho, Afrikaans, Zulu, and Xhosa.
Dandala Has Achieved Impressive Career Milestones in His Late Forties
Hlomla Dandala was just 21 years old in 1995 when he appeared on television for the first time, joining Channel O. He was with the station for a period of three years, from 1995 – 1998. Dandala was also part of All You Need Is Love; this has remained one of his best-known roles to date. From what is obvious, the actor's gigs in reality TV were just the beginning of his exploits in the entertainment world as he would go on to score roles on both the big screen and the small screen.
Dandala was 23 When He Made His Debut In The Movies
Joining the movie world two years after debuting on reality TV, Dandala made an appearance in Fools in 1997. His next movie role would come four years later on the set of 2004's Red Dust. In 2005, Hlomla joined the cast of the film, Lord Of War and 2006 was when he was seen in Coup! Following this, the actor disappeared from the movie scene for five years before surfacing again in 2011.
This time, Hlomla Dandala was featured in Winnie as Oliver Tambo. The South African native's other movie roles were achieved in Contract where he shared the screen with Joseph Benjamin and Yvonne Okoro, Honeymoon Hotel – starring Martha Ankhoma and Beverly Naya, and Momentum where he breathed life into the character of Mr. Madison. In 2016, Dandala joined the cast of Happiness Is a Four-Letter Word, appearing alongside Chris Attoh.
His First Major Appearance On The Television Series Occurred in 1998
When the most watched South African TV series, Isidingo had its pilot on the 7th of July 1998, Hlomla Dandala was part of the cast and he was featured from season one to four, depicting the character of Derek Nyathi. Isidingo marked one of his best-known roles alongside Jacob's Cross where the SA movie star played the title character Jacob Makhubu/ Jacob Abayomi right from the first season. Dandala was seen in the third season of Rockville as Gomorrah, in the fourth season of Tsha Tsha playing the role of Lungi, and in the third to fourth season of Gaz'lam as Coltrane.
Hlomla played roles in both Interrogation Room and Scout's Safari, and during the second season of Zero Tolerance, he started depicting the character of Majola Tindleni. In addition to functioning as the director of the television series Scandal, the SA star also doubled as a cast member, playing the role of Siseko Langa that lasted for three years from 2016 to 2019. Dandala played Dr. Sipho Ramthalileon the set of Jozi-H, was featured as Commissioner Zweli Dikana – the husband of Sindi Dlathu's character in The River, and we saw him in The Republic as Deputy President.
Hlomla Dandala has equally been spotted in three miniseries; he played Khanyiso Phalo in Land of Thirst and was part of the casts of The Triangle and Madiba.
His Gig As A Movie Director
Away from his acting roles in front of the camera, the Eastern Cape-born entertainer has also proved his worth behind the camera as a director. His directorial portfolio includes the South African soapie The River where he played a major role. The movie star also formed part of the crew of the SA series, Hard Copy; he directed three episodes. Hlomla contributed to seven episodes of the TV drama Gaz'lam as a director and he is equally credited with directing some episodes of soap operas like Backstage and Generations. The movie actor is also good at tutoring the younger generation who wish to join the entertainment industry.
Hlomla Dandala Has Been Married and Divorced Twice
Since his onscreen debut, the South African actor has always given out the impression of being a lady's man and true to expectations, he became the fantasy of the SA female population. While he is seen as everywoman's heartthrob on TV, Hlomla Dandala is not lucky with his love life in reality. The movie actor, director, and TV presenter has tested the waters of matrimony twice, and both occasions proved to be bad experiences.
Candy Litchfield was His First Wife
Dandala first exchanged marriage vows with Candy Litchfield – a popular South African television presenter who goes by the stage name Miss Candy. She presented Idols SA in 2002 alongside Matthew Stewardson and later Sami Sabiti. Though we cannot get hold of the details of their dating period and wedding, it is common knowledge that the celeb duo tied the connubial knot in 2001. While the couple lived together as husband and wife, nothing much was heard from their end until their marriage started heading for the rocks early in 2004 after the birth of their first child.
A confirmation of their separation came from Hlomla Dandala in March 2005. He also confirmed that legal proceedings were yet to be set into motion. This confirmation surfaced after the movie star was spotted with Nkele Motsomi – a one-time Miss South Africa finalist on Friday 4th of March 2005 at the Sunday Times/ ELLE TV Style Awards. In his speech, Dandala said they have not been living as husband and wife for the past one year as Candy moved out of their home since the later part of 2004.
When the SA actor, who maintained that there was no secret in his dealings with Candy Litchfield, was quizzed about the role of Nkele Motsomi in his life, Dandala was quick to explain it away, saying he requested the former beauty pageant's company for the award ceremony.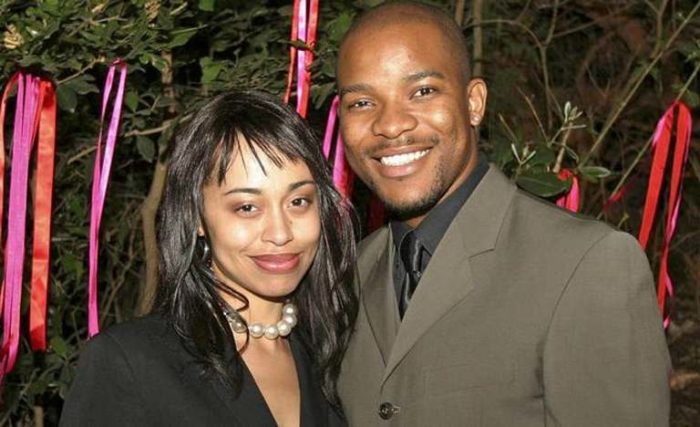 Hlomla Dandala and Candy Litchfield Mended Fences Only To Finally Divorce in 2013
In the long run, Hlomla Dandala and his wife Candy sorted out their differences and on coming back together, they had their second child. However, speculations started running rife in 2013 that the couple has finally called it quits for the last time. City Press carried the news in November 2013 and according to them, the stroke that finally broke the camel's back was the actor's extramarital affairs which led him to father three kids with three different ladies, including Nkele Motsomi, Brenda Nyakudya – a magazine employee, and Sisanda Gqirhana – an air hostess. An insider who pleaded for anonymity revealed the couple's Fourways house is already sold, including all household furniture and automobiles. The person also said Dandala already relinquished custody of their two children and is ok with visitation rights.
On his own part, the Isidingo star came open with confirmation that they are no longer man and wife for a long while but was quick to deny that their marriage ended because he had kids with other women. According to Hlomla, the allegations that he fathered children while still married to Candy were all false; they were already separated and living apart when he had those kids. With that said, the Isidingo star bluntly refused to let on the real reason behind their split, saying it is the failure to find common ground as is the case with every other divorced couple.
The Couple Are Engaged in a Legal Suit Over Child Support
In March 2014, Hlomla Dandala's ex-wife filed a lawsuit against the movie star at Randburg Magistrate Court for his failure to come up with child maintenance for their kids. From the documents submitted by Candy at the court, her ex hasn't coughed up for the past seven months and is owing arrears of R56,000. An insider revealed that the couple previously agreed for Hlomla to be paying the sum of R4,200 per child and when he started defaulting, Candy initially pleaded with him to pay up and only resorted to the lawsuit after her pleas were ignored. When the SA actor appeared at the maintenance court, his mission was to challenge the suit but he ended up requesting that the court slash down maintenance fee per child to R1,200.
Dandala's reason for the slash was poverty which has made it impossible for him to afford more than R2,200 for the two children. However, Candy was all out to battle it to the end. Even during the hearing, both sat far apart from each other while exchanging eloquent looks. Coming to an amicable settlement out of court was completely out of the question for the couple which led to the postponement of the case.
His Second Marriage to Brenda Nyakudya Equally Ended In Divorce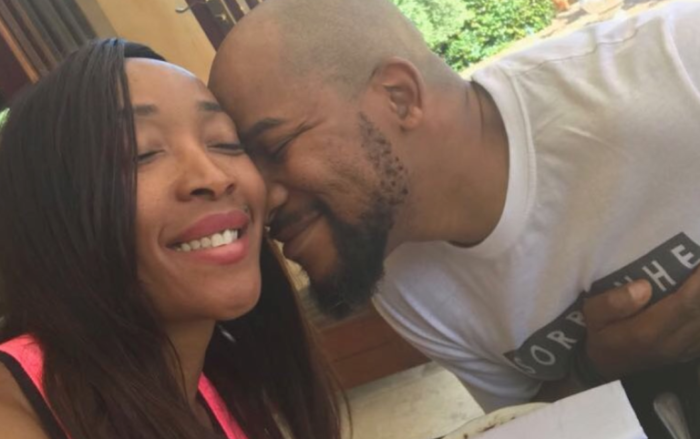 A couple of years after his divorce from Candy became official, Hlomla Dandala moved on with his life by tying the nuptials for the second time with Brenda Nyakudya. According to her LinkedIn profile, Nyakudya is a writer, communicator, speaker, marketer, counselor, presenter, coach, and podcaster.
The actual date of their wedding was never captured but the couple didn't last long as their union also ended like the first one. This time around, the tears and heartbreak were even worse and one interesting aspect of the drama was that it was Dandala who did the weeping. According to the star of Jacob's Cross, Brenda messed up their marriage, cheating on him with a man identified as Chiksop.
Hlomla took the drama to the internet space where he shared photos of his wife and Chiksop claiming that he comes to his house to sleep with his wife with their children inside. Within a very short time, his post began to trend on Twitter which led him to make his personal handle private. People had, however, already had their say. Those who are close to the couple confirmed that the incident only took place after the couple's split and that Hlomla Dandala was just acting up the role of a scorned lover.
After he has been burnt by the fire twice, the actor seems to have learned his lessons and from what is perceivable, he seems to be single at the moment.
Reactions From Fans To His Accusations Against Brenda
When Hlomla Dandala exposed his second wife Brenda on the internet space for cheating on him with Chiksop, many labeled it karma for his infidelity with Candy. Another tweep lamented the unfairness of the African culture on the female gender. The user said "it is fine when a man is unfaithful but in the case of a woman, it becomes a big issue".
Someone reminded the actor of impregnating three women while still in his first marriage and another was just happy that a woman finally gave a guy "a taste of his own medicine."
Hlomla Dandala children
Following his first marriage with Candy Litchfield in December 2001, the couple waited till 2003 before they had their first child – a beautiful daughter who goes by the name Ziyanda Dandala. After he mended fence with Candy following their first split, they became second-time parents before finally calling it quits with their union.
However, when you factor in the reason behind his final split from Candy, it will bring the number of the actor's children to five – two within marriage and three out of wedlock. To date, the names of all his children are not known. Apart from Ziyanda, we have only heard about Tao Dandala and Sam Dandala.