Holiday Reinhorn is a talented writer who has built a successful career from writing short fictional stories. She became publicly known in 2005 when she published her first book titled Big Cats. The book, which is of the fictional genre, fetched her several accolades and also gained publications on multiple literary journals, including Gulf Coast and Northwest Review.
In addition to being a famous writer, Reinhorn is also better known as the wife of actor and filmmaker Rainn Wilson, who became popular for playing the role of Dwight Schrute in the American version of the TV show, The Office. Reinhorn and her husband have been together for about two decades now and their union is going stronger than ever.
Holiday Reinhorn Spent Her Childhood Years in Different Parts of Asia and the United States
On March 12th, 1964, Holiday Reinhorn was born in Portland, Oregon, USA. Her father was a trained dentist who enlisted in the United States Army while her mother, Mary Putka, worked as a school instructor.
As a result of her father's profession, Reinhorn and her younger sibling were raised in many Asian countries, including Thailand and Hong Kong. The family eventually settled down in Portland and she completed her high school diploma before furthering her education at several institutions.
Holiday Reinhorn first attended a college situated in Boulder, Colorado. She spent one year there before heading to Seattle, Washington where she enrolled at the University of Washington to study acting. Later on, she took part in a writers workshop held at the University of Iowa. She subsequently graduated with a Masters of Arts degree from the Institution.
The Love Story That Has Lasted Over Two Decades
As earlier stated, Holiday Reinhorn is married to actor and filmmaker Rainn Wilson who has starred in multiple TV shows and movies such as Juno, America's Sweethearts, The Expendables, and Charmed among others. He became quite famous for playing the role of Dwight Schrute in the American version of The Office. The iconic role fetched him three consecutive nominations for Outstanding Supporting Actor in a Comedy Series at the Emmy Awards (2007 – 2009).
Reinhorn and Wilson first ran into each other while they were taking the same acting class at the University of Washington in the mid-80s. They became friends and eventually turned to lovers a few years later. The couple's nuptials followed on the 30th of June, 1995. They had an unconventional Baha'i wedding ceremony held at Kalama River in Washington. The bride arrived on a raft decorated with flowers and guests got to throw their written wishes into a fire built by the couple. The two love birds later ended the ceremony by wading into the river.
The entire ceremony was certainly unusual but the couple are better for it. Their love has stood the test of time and they have helped each other soar in their respective careers. Reinhorn was with her husband while he was working as a caterer/truck driver and attempting to break into Hollywood. She believed in him even more than he believed in himself and told him that he would be a big star someday. Her predictions would later come true several years down the line.
Their Life Together is Filled with Pets, Their Shared Baha'i Faith and a Son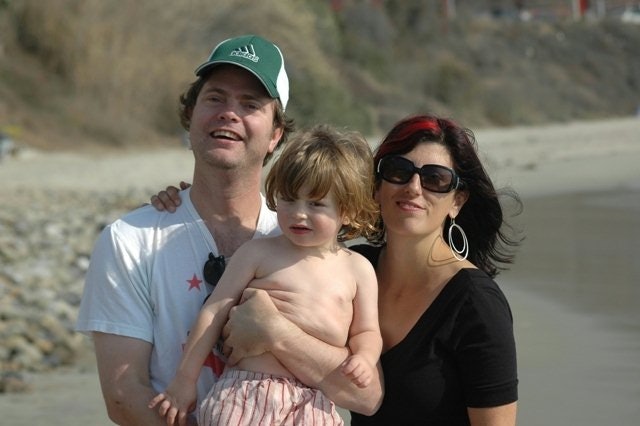 Holiday Reinhorn and her husband make their home in Los Angeles and have a son named Walter McKenzie Wilson (born in 2004). The couple shares several mutual interests, including the Baha'i Faith, a dynamic world religion with several million adherents. The Baha'i Faith grew out of Iran and emphasizes the coming of a new messenger of God who would overturn old beliefs and usher in a new era.
Another thing that the couple has in common is a love for animals. This fact has made them adopt a vegan diet. They also have a good number of pets in their possession, including Pit Bulls, Vietnamese pigs, and a Zonkey (a crossbreed of a zebra and donkey).
Reinhorn and her husband also share a passion for helping others and this motivated them to co-find the Lide Haiti, a nonprofit which uses arts and literacy programs to empower adolescent girls in rural Haiti. It was established in the aftermath of the devastating 2010 earthquake in the Caribbean country.
Given all these mutual interests, it is not surprising to see that the couple's marriage is thriving. They have been together for about 24 years and in 2019, Wilson shared a series of throwback pics to commemorate the anniversary. He described his wife as a radiant, beautiful, strange Danish flower and stated that he was beyond grateful to be on this poetic journey with her.
Holiday Reinhorn's First Published Collection of Short Stories – Big Cats
Holiday Reinhorn kick-started her career as a stage actress and performed in theatre productions for a little while. Along the line, she realized that she can do much better in writing. As a result of that, she moved on to participate in the Writers Workshop held at the University of Iowa. The workshop imbued her with creative writing skills and she published her first book, Big Cats, in 2005.
Big Cats is an anthology of several diverse short stories ranging from two bickering adolescent girls (Big Cats) to a lonely pregnant woman who depends on a teen for companionship (Fuck You). Other stories in the book feature an alcoholic bank manager who has to deal with an earthquake and a dead customer (Get Away From Me) as well as a Vietnam vet who works in a care home and takes care of a woman with a severe psychiatric condition (My Name).
Big Cats was a huge success as it was critically lauded by many of Reinhorn's peers. It also made her a force to be reckoned with in the short story genre and since then, she has never looked back. She has penned several more fictional short stories that have gained spots on many literary journals such as Ploughshares, Other Voices, Tin House, Gulf Coast, and Northwest Review, etc.
Her work has also earned her a Tobias Wolff Award for fiction. Holiday Reinhorn has additionally been nominated for the Pushcart Prize as well as the PEN/Amazon.com short story award.
She Has Done Some Work as a Screenwriter in a Few Hollywood Productions
Interestingly, Holiday Reinhorn's short stories have served as a storyline for several movies, most notably Last Seen, a 2002 film that revolves around the mysterious disappearance of a high school volleyball player named Leah. The disappearance predictably shocks the whole town and a reporter decides to find out how Leah's friends and family are coping. Last Seen featured the likes of Joe Minjares, Sally Wingert, Michael Tezla, and Amanda Detmer. It was directed by Eva Ilona Brzeski and Reinhorn penned the script. The film received less than favorable reviews from the few people that commented on it.
Another one of Reinhorn's screenwriting credits is the 2017 short drama, PUSH. Based on one of the short stories in her debut book, PUSH revolves around a restless, bored, pregnant woman who coerces a defiant 12-year-old boy across a totally unexpected line. PUSH was directed by Justine Bateman, who also played the lead role of the pregnant woman. Other cast members include Nolan Gross and Nicole Gabriella Scipione. The short film holds a decent rating of 5.6 on IMDb.