Holiday Reinhorn is a talented writer who has built a successful career from writing short fictional stories. She became publicly known in 2005 when she published her first book entitled Big Cats which is of the fictional genre. As a result of her creative writings, most of Reinhorn's works have gained publications on multiple literary journals which includes Gulf Coast and Northwest Review.
In addition to being a famous writer, Holiday Reinhorn has also been known as the wife of the notable actor and filmmaker, Rainn Wilson who became popular for playing the role of Dwight Schrute in the American version of the TV show, The Office. Now let's delve into the biography and other facts about Rainn Wilson's wife.
Biography
On March 12th 1964, Holiday Reinhorn was born in Portland, Oregon, United States. Her father graduated with a degree in Dentistry before enlisting in the United States Army while her mother worked as a school instructor. As a result of her father's profession, Reinhorn had her childhood experiences in many Asian countries including Thailand and Hong Kong. She has one sibling, a younger brother. The talented author attended many higher institutions after graduating from high school.
She first attended a college situated in Boulder, Colorado before heading to Seattle, Washington after one year of studies. There, she enrolled at the University of Washington and studied acting. Later on, she took part in a writers workshop held at the University of Iowa. The Iowa Writers Workshop inculcates unique creative writing skills in its participants and has produced many best authors in America. Reinhorn further graduated with a Masters of Arts degree from the University of Iowa.
Rainn Wilson's wife kick-started her career as a stage actress and performed in theatre productions and along the line, she realised that she can do much better in writing. As a result of that, she moved on to achieve a Carl Djerassi Fiction Fellowship from the University of Wisconsin which helped her to develop herself as a fictional writer.
Later in 2005, the adept writer published her first book entitled Big Cats after writing several stories while at the Wisconsin University. The book was a huge success as it was critically lauded and attributed to her more publicity. Following her unique creative writing, Reinhorn's works which are mainly short fictional stories have gained spots on many literary journals including Ploughshares and Other Voices.
Interestingly, Holiday Reinhorn's short stories have served as a storyline for several movies which includes Last Seen, released in 2002 and PUSH which had its debut in 2017.  Rainn Wilson's wife has done well for herself as one of the celebrated authors of short stories despite being the wife of a famous filmmaker.
Holiday Reinhorn's Family – Her Husband And Son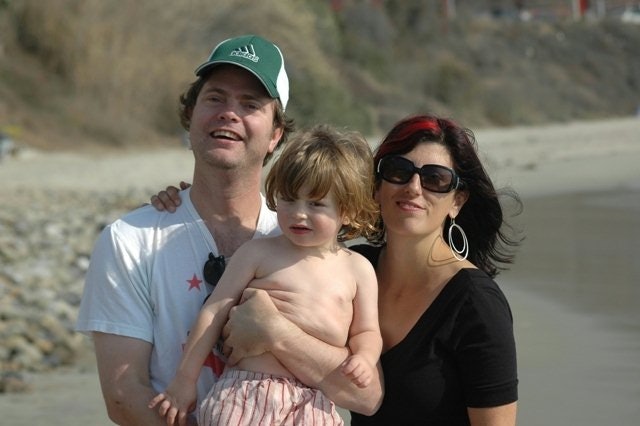 Reinhorn met her husband, Rainn Wilson while at the University of Washington where they kicked off their long lasted love affair which they finally sealed with a nuptial bond in 1995 at Kalama River, in a Bahai wedding ceremony. In 2004, the famous short story writer gave birth to their son, Walter McKenzie Wilson. The couple is still remaining together with no signs of any marital issue.
Her husband, Rainn Wilson is an actor and filmmaker who has starred in multiple TV shows and movies such as Juno, America's Sweethearts, The Expendables, Charmed, among others. He became quite famous for playing the character of Dwight Schrute in the American version of The Office.
Other Facts About Rainn Wilson's Wife
1. Holiday Reinhorn is a Member of Bahai Faith
Before marrying her husband, Reinhorn wasn't of the Bahai faith but after her marriage, she became converted to the faith in 2004. And as a result of the birth of her son which she believes is a miracle, Rainn Wilson's wife is now spiritually connected with the faith.
2. Her Husband is an Emmy Award Nominee
Following his extraordinary performances in the movie industry since his presence in 1989, Holiday Reinhorn's husband has claimed three nominations for the Outstanding Supporting Actor in a Comedy Series consecutively in the Emmy Awards.
See Also: Saroo Brierley – Biography, Wife, Brother, Is He Married?
3. Reinhorn has Received an Award
The skilled writer has been awarded a Tobias Wolff Award for fiction and has also earned a nomination for the Pushcart prize as a result of her incredible works.
4. Her Husband is also a Writer
Just like his wife, Rainn Wilson has penned down several books including an autobiographical book entitled The Bassoon King that he published in November 2015.
5. She is an Animal Lover
Reinhorn along with her husband are great animal lovers as they have in their possession a good number of pets which includes a Zonkey, Pit bulls and Vietnamese pigs.