Hearing or reading about the weather is not exactly the most exciting thing in the world. Still, it does do a whole lot of good when you are up to date on possible weather forecasts. It also helps a lot more if your weather forecaster is named Hollie Strano. She makes weather forecasting fun, more than you can ever imagine.
We took an interest and sought to know more about this outstanding television personality, including her transition from a professional meteorologist to a TV News star.
Hollie Strano's Humble Beginnings And Rise To A Vaunted Meteorologist
Hollie Strano comes from a family of five. Birthed on December 3, 1972, she is the first child of her parents and has two younger siblings, Stephanie and Mike. Born and raised in Lyndhurst, Cleveland, it did not come as a surprise to see her begin her education at Saint Clare Grade School, Lyndhurst.
She moved on to and finished high school from Notre Dame Cathedral High School. Afterwards, she pursued a degree in Communications from John Carroll University and also studied in the university's television program. Not one to rest on her laurels, she pushed on to complete a post-graduate degree in Meteorology from Mississippi State University.
More impressively, she secured her National Weather Association Seal certificate. This seal confirmed that she was proficient in basic on-air meteorology performance and bestowed upon her, license to practice on-air.
Early Career Years At WKYC-TV
Having fulfilled all academic requirements needed to be a meteorologist, Hollie Strano began her professional career. She joined the NBC-affiliate, WKYC-TV, in her Cleveland hometown. Hollie joined as a meteorologist on Channel 3 news, but also served as the morning show anchor on 3GO. Her morning show spanned 4 am to 7 am before she goes on to do weather and news cut-ins for The Today Show on the same channel.
She has since grown beyond just being a weather forecaster and has taken up additional roles as a correspondent and show host. She most notably co-hosts the midday talk show, Live on Lakeside, alongside fellow meteorologist, Michael Estime.
Her Accession To Fame And Regional Success
Over the years as a weather forecaster and TV personality, Hollie Strano has achieved considerable fame and success in her capacity. She is a huge favourite with audiences, thanks to her bubbly and cheerful personality. Coupled with her unconventional style of weather reporting, her worth and importance to WKYC-TV has continued to climb.
Her success most notably reflects in her show, Live on Lakeside. It is so well-loved and received that it competes with more established shows like ABC's The View and CBS's The Price is Right in terms of viewership figures and ratings.
This Emmy may have my name on it, but I dedicate it to YOU! Thank YOU for letting my voice be heard & open up about my anxiety & mental health. Thank YOU for sharing your stories. I find it really hard now during this pandemic. YOU ARE NOT ALONE. We have this! Love you! 🙏♥️ pic.twitter.com/2rSfwHghqD

— Hollie Strano (@holliesmiles) August 3, 2020
She has also been the recipient of numerous journalistic awards and was most notably included in Cleveland's most interesting people list compiled by Cleveland Magazine in 2005.
Sadly, Hollie Strano's Professional Success Hasn't Rubbed Off On Her Personal Life
Hollie Strano has tied the knots twice. Her first marriage was to her high school sweetheart, Brian Toohig. Brian and Hollie had met while schooling in Notre Dame Latin and Walsh Jesuit. They used to study together before a romance inevitably blossomed.
Unfortunately, in 2011, Hollie and Brian got divorced over personal issues that remain private. News of their divorce came as a massive surprise to avid fans who knew about their fairytale romance and had followed diligently.
Hollie Strano fell in love again after she met Alex Giangreco while on holiday in Florida. After exchanging their mobile numbers at the Casablanca, they went on a date to Aruba Beach. Following a few years of dating, she got engaged to Alex, a Buffalo native and a mixologist by profession.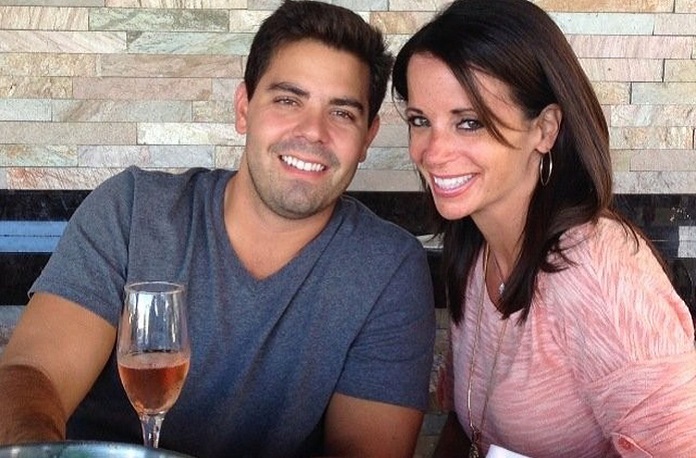 They got married in the year 2014, and she changed her surname by adopting her husband's last name, Giangreco. Hollie married Alex on the same Aruba beach they had gone to for their first date. Only a few close family members were present for the first wedding reception that took place as it was intentionally decided to follow that pattern.
They subsequently organized a bigger reception with over 200 members in attendance, including colleagues from WKYC. It was the perfect wedding, and all seemed well with the couple with frequent displays of affection and happiness emanating from them.
However, on July 15, 2017, Hollie dropped a bombshell via her Twitter account, announcing her divorce from Alex. With the end of her second marriage, it seemed safe to conclude that she's yet to find the right man for her. Coincidentally, both marriages to Brian Toohig and Alex Giangreco respectively spanned three years each. The former lasted from 2008 to 2011 and the latter from 2014 to 2017.
She Loves Being A Mother
Hollie Strano plays diverse roles on TV as part of her professional career and a lot of them have been fulfilling. One role she does treasure the most and holds dear to her heart is that of being a mom. She is a mother to two children, Jessica (born 2006) and Grady (born 2008) from her first marriage to Brian Toohig.
Hollie spends a lot of time with her children, being a mom to the best of her ability while still kicking ass professionally. Sharing joint custody of the kids with her ex-husband means there are times she is away from them. However, she makes up for it by spending quality time with them whenever they meet up again. Little wonder she confessed that being a mother is the most fulfilling role she has had to date.
Is Love On The Cards In Hollie Strano's Future? Maybe
After trying her hands at marital bliss twice and coming up short both times, things have gone quiet in the love life of Hollie Strano. A fact that is quite understandable. Between raising her children, her professional life, and the pain of her failed marriages, there is very little time to entertain a new relationship.
It is unclear if she will ever get married again. But Hollie will likely get back on the dating scene once more and see where the ride takes her. For now, fans can be assured that Hollie Strano will always be there to grace the beautiful part of their morning on TV.