A-Reece has an estimated net worth of $3m. He is a South African rapper, songwriter and record producer. 
As the music scene in Africa gains more global recognition and grows by the day, so does the number of A-list artists which has seen a significant rise over time. A-Reece is one of the rappers who has found footing in the South African rap scene and is managing to hold his own, lyrically and financially. A-Reece's net worth currently ensures his position among the richest rappers in his home country and we gathered the deets on how he landed the fortune.
This rapper's career began when he was still a child, but in the time that he has spent in the music industry, he has grown both physically and financially. A-Reece's net worth of $3m is proof that the youngster has graduated from being a neophyte to a man of his own.
How A-Reece Acquired His $3m Net Worth
Born on March 27th in 1997, A-Reece began his career as a professional rapper in 2013. In less than a decade, he has managed to successfully grow out of the poverty that motivated the work he put into his career and is now a wealthy person. The rapper once revealed that his childhood was not one of luxury and that was what drove him to put his best into the work he does.
The bulk of his financial success is a result of his career in the rap industry which began when the actor was a mere 18 years old.
Wealth From Music
Though his career started taking shape when he was just a kid, it took a while before he hit the spotlight. He officially became a rapper in 2013 but didn't make it to the mainstream until two years later.
In 2015, A-Reece released his first song "Couldn't", this was after years of writing music even while he was in primary school. The single which came from his first studio album was a success and features fellow South African rapper Emtee. A year after, he released his debut album "Paradise" and in less than a day after its release, it was the number one album on iTunes.
Without waiting for the dust to settle on his debut offering, A-Reece dropped his sophomore album – "From Me to You & Only You" in 2017. He dedicated this one to his fans and featured different artists, including FLVME, Zoocci Coke Dope, Rowlene, and more.
All of this happened while he was signed to Ambitiouz Entertainment, but there are no records of how much the label was supposed to pay him or how A-Reece's net worth appreciated through the contract with them.
But in 2018, when A-Reece made an exit from the label, he released a song "Loyal" which addressed the relationship he had with them. It would appear that Ambitiouz Entertainment was paying the rapper less than R20,000 monthly which was not what he had initially agreed on. He left the label with other artists – Fifi Cooper, Flame, and B3nchMarQ and later formed the Wrecking Crew with Mashbeatz.
As a free artist, he dropped more musical hits, including his 2019 album "Reece Effect" and numerous EPs such as "Gwan Big Up Urself" and "And I'm Only 21".
Commercial For A Bet Company
Have you seen our new TV Advert? Take a look & let us know what you think 🔥

We've put together a star-studded line-up including our Brand Ambassador @Jimmytau2, Guinness World Record holder @KhristoJuggler and one of the biggest talents in South African hip-hop @reece_youngking pic.twitter.com/MQfV7Iu9or

— Bet.co.za (@betcoza) August 14, 2018
One other way that this rapper has been able to garner his high net worth is with ad placements. In 2018, the rapper was a part of a Bet.co.za commercial which aired during a football match in the premier league.
A-Reece took to Twitter to post a recording of his TV where the ad was playing. His song "Gwan Big Up Yourself" served as the soundtrack of the ad while the entire commercial featured him at different points. Surely, this translates to a lot of money, though the nature of his contract with the company is not given.
He Has A Number Of Endorsements
Regardless of the failings of the record label which he was signed to, A-Reece's net worth continued on an upward movement and his star power was still enough for him to make waves. In 2020, a fan noted that the rapper was prone to wear a lot of shoes from the shoe brand Vans and was wondering when A-Reece would get an endorsement deal with the brand. Another fan revealed that the rapper actually had a deal with the shoe brand and had been an ambassador of the brand for a long time. That's probably why he was always seen sporting the brand.
A-Reece is also rumored to be a Hennessy Ambassador after the rapper posted a video of a bottle of Hennessy with an envelope of his name which led fans to believe that the rapper had snagged an endorsement deal with the beverage brand.
He Has An Interesting Relationship With Cars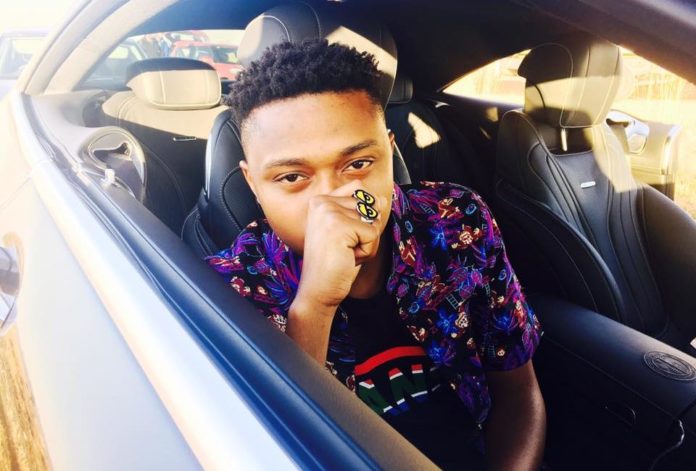 As expected of any star or people with a lot of money, fancy cars are things they love and would splurge on. For A-Reece, there are surely a lot of things to spend money on but cars are not part of them. We are yet to confirm what the rapper's garage looks like but at the beginning stage of his career, it looked like financial woes may have stopped him from owning a car.
When he left his first record label, he revealed that because of how little he was being paid, he did not have a car as he could not afford one. But later that year, the rapper was spotted with a white Ferrari. However, the details of his car collections cannot be verified as he is known to keep this part out of his life out of the spotlight.
A-Reece Owns a Mansion
A-Reece is part of the rap group and record label The Wrecking Crew which features three other members. Of the entire group, he is the most successful in the music industry and in 2019, the rapper bought a mansion for the entire group to live in.
It is rumored that the mansion was purchased for $1 million. The home is grand and has a number of balconies, it has been described as a luxury home in different quarters. His group members can be seen celebrating their new home in the video the rapper shared.