Kwesta's net worth is estimated at $2 million. He is a South African rapper and songwriter. Thanks to his successful career, he has several expensive cars, including a BMW M4 (2018 series), BMW 4 Convertible (2016 series), and an Audi RS Q3 (2016 Series).
Coming from a not so affluent background, South African rap artist Kwesta had good reasons to work assiduously towards achieving both fame and fortune in the world of showbiz. The celebrated musician didn't even wait to finish high school before he embarked on his journey to stardom, however, the little knowledge he acquired was enough catalyst to push him to the limelight. Today, the rapper is known as one of the most trending artists in South Africa and he is equally popular for his plush car collection.
Kwesta's Net Worth Comes From Multiple Sources
While a high school student, Kwesta picked a special interest in poetry. Though he couldn't complete high school, the aspiring rap artist spent his few years in Phumulani Secondary School and Alafang High school displaying a special interest in poetry. He was lucky to get some moral support from both teachers and fellow students which gave a lot of boost to his confidence to go ahead and conquer the music industry.
Kwesta is one artist that believes in diversifying his interest. While playing in the music scene, the South African rap artist also invested in other ventures, thus, increasing his horizon and boosting his sources of revenue.
He Began Earning from Special Deals and Endorsements 
After he called it quits with academics at age 16, Kwesta started earning money when he managed to get himself added to Buttabing Entertainment's roaster and in 2007, he joined Sprite Hip Hoop Tour on a judging gig. The rapper appeared in The Ventilation Street Tape and worked with some colleagues in the industry to compose the theme song for The Nokia Defend Your Street Campaign. He started doing his own thing before the end of 2007, releasing the song Sharp Fede which marked his debut. He would later collaborate with DJ C-Live in releasing a mixtape.
In 2010, some people were selected as Brand SA Ambassadors and Kwesta was among them. When South Africa hosted the 2010 FIFA World Cup, the rapper was among the select few that performed during the preceding roadshows and also put up a performance for the closing ceremony. He has contributed to MTN's Everywhere You Go anthem alongside Jozi, Kelly Rowland, and 2Face.
Releasing Full Studio Albums Boosted His Earning Power
In September 2010, Kwesta increased his earning powers when he dropped his first studio album titled Special Rekwest which featured hit singles like "Babhemi", "Stomp", "Flash It", and "Pump It". Almost all the tracks attracted lucrative deals as "Stomp" became a soundtrack for the American action film, Death Race 3. Both Redds and DStv further struck a synch-deal for "Pump It" and "Flava" as they were featured in an ad-campaign for Loeries TV in 2011 and also got a DStv synch-deal. The success recorded by his debut album made Kwesta the first SA rapper to have seven of his tracks ranked on several radio charts within one year. Special Rekwest as an album still went ahead to become a nominee for SAMA in 2011 in the category of Best Newcomer and Best Rap Album.
Kwesta's debut studio album was barely three years old when the rapper dropped DaKAR (Da King of Afrikan Rap), his second studio album which debuted at #3 on the SA iTunes Hip-Hop Chart. His third album DaKAR II, a sequel to DaKAR, was released in 2016, featuring some successful collaborations with other A-list musicians like Nomayini and Cassper Nyovest. DaKAR II was eventually certified seven times platinum by the South Africa Recording Industry, sweeping up a plethora of awards in the process. The awards include SAMA Best Male Artist of the Year, SAMARO Highest Airplay of the Year, SAMA Best Rap Album, SAMPRA Highest Airplay of the year, and SAMA Best Album of the Year.
Kwesta's 2017 album is titled Ngiyazifela Ngawe in collaboration with Thabsie. His latest release is 2 Skeif which hit the music stand in May 2020. "I came, I saw" is his latest single released with US rapper Rick Ross.
Kwesta has Diversified into Business
With so many successful singles and albums released under other people's record labels, it makes business sense that the rap artist should seek to launch his independent media company and release subsequent albums from there. Kwesta finally accomplished this when he launched RapLyf records with fellow artist Kid X.
Social Media has become a Viable Venture for the Artist
Needless to say that an artist of Kwesta's caliber has a presence on social media platforms especially Instagram where he bears a hashtag @kwestadakar. The account is majorly used to keep in touch with fans, notifying them of his gigs, launches, achievements, life, as well as to flaunt his car collection. More important is the fact that the artist has managed to turn his socials into viable ventures. On Instagram alone, he commands 744.4k followers, the rapper attracts a following by sharing videos and photos which draw reactions from fans.
Recap of All Sources of Kwesta's Net Worth
The "Ngud'" crooner's net worth of $2 million is generated from the following activities:
• Special Deals and Endorsements
• Album Release
• Business
• Social Media
Kwesta's Cars
Kwesta is one South African rapper whose love for luxury automobiles cannot be ignored. The musician has displayed exceptional taste in the choices he has made with regards to vehicles and they include two BMW cars and an Audi RS Q3.
A Blue Colored BMW 4 Convertible, 2016 Series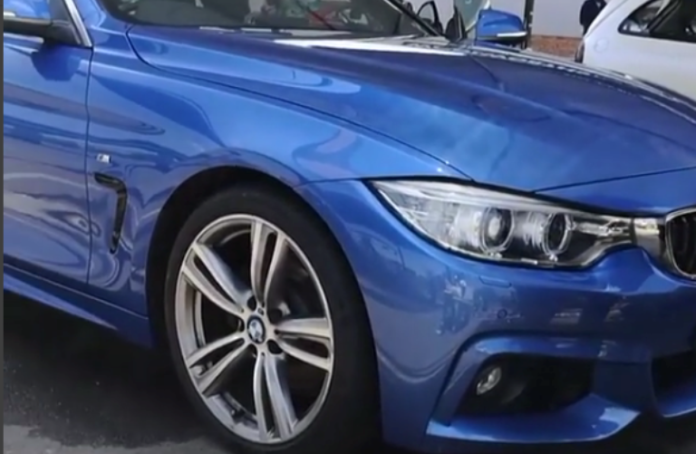 Fans first got to know about the car after Kwesta shared an Instagram video of the automobile in a carwash where it was a white servicewoman that was in charge of the washing. The car is quite plush and considered one of the best manual cars available. The rapper's IG post attracted the attention of DJ Bucks who sent him a congratulatory message, praising the car alongside thousands of other fans.
A White Colored Audi RS Q3 2016 Series
The Audi RS Q3 is an R350,500 automobile, equipped with a 7-speed S-Tronic transmission. It happens to be the foremost turbo model production among Q-Series. The design of the vehicle is unique in several ways.
1.  The luggage compartment houses the battery.
2.  The car's safety is enhanced by a special sport electronic stabilization control that functions to stabilize it whenever it veers off course; this aids in avoiding collisions.
3.  In addition, the automobile can boast of innovative steering technology that leverages a trouble-free operation mechanism.
4.  Interestingly to note that the Audi RS Q3 comes with a swift accelerate rate, taking only 5.5 seconds to speed up from 0 to 100km/h.
A Green BMW M4 2018 Series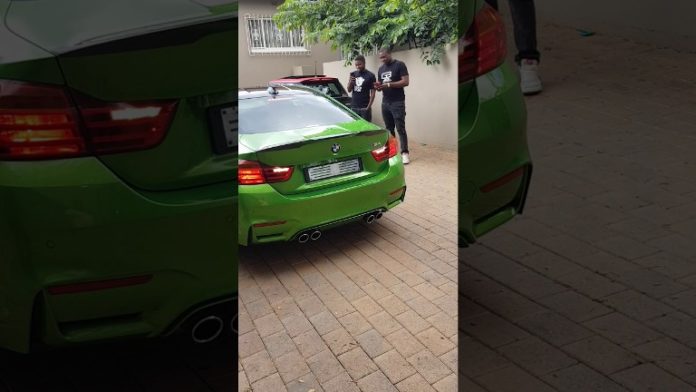 The M4 BMW happens to be an R963,174 prestigious vehicle, sporting 18 silver forged aluminum wheels. One of the best in the market, the vehicle can boast of a combination of an exceptional navigation system as well as a 1.6 twin-turbo in-line six engine. The two-door design of the car is so classy that it commands attention. Its uniqueness notwithstanding, the automobile is also known for its low fuel consumption, translating to lesser environmental effects.
Kwesta's First House Was Bought Before He Turned 30
Though a description of the South African artist's house is yet to surface on the internet, it is public knowledge that he was able to acquire his first house before the age of 30. A commendable feat for someone who came from a not so affluent background.
Kwesta enjoys the luxury of his Midrand house alongside his wife Yolanda and their daughter Khai. The family had a bad experience in 2018 when their home was burgled and valuables like speakers, a Play Station console, and a 55-inch smart television were carted away. All the items stolen from the rapper's house were estimated to be worth around R22,000.