Of all the women that the Tanzanian bongo flava musician ever dated, Tanasha Donna seems to be the only one he seriously wanted to tie the nuptial knot with. Tanasha is a Kenyan native who earns a living as a media personality and later added music to her portfolio. The duo started in 2018 and their relationship would last for a year before the cracks began showing. While they were together, Tanasha enjoyed the good life with the Tanzanian music icon, jetting to different places with him for performances and becoming the mother of his son. He even lent Tanasha a hand with her career, collaborating with her on the song Gere that hit one million views on YouTube 14 hours after its release.
In the same way that their relationship was conducted in the public eye, the couple's separation was also well-publicized, and messy is an understatement to begin to describe how their love ended. According to Tanasha, many things came to play in their breakup, notable among them is the issue of infidelity which has become second nature to the Tanzanian artist. The mother of one also cited other issues like Diamond's mother being too interfering in her son's life and a whole lot more.
Tanasha Donna's Relationship with Diamond Started In 2018
Reports said that Tanasha Donna and Diamond became an item sometime in November 2018 but met almost a year before then. Digging further, it was revealed that they made each other's acquaintances in a club and after they became lovers, the bongo artist quickly took to his socials to announce her presence in his life. The Tanzanian hitmaker was full of praises for Tanasha, dubbing her his dream woman, the only woman that trusts him a hundred percent and doesn't consider him a philanderer. He also said she is the woman he spent all his life waiting for.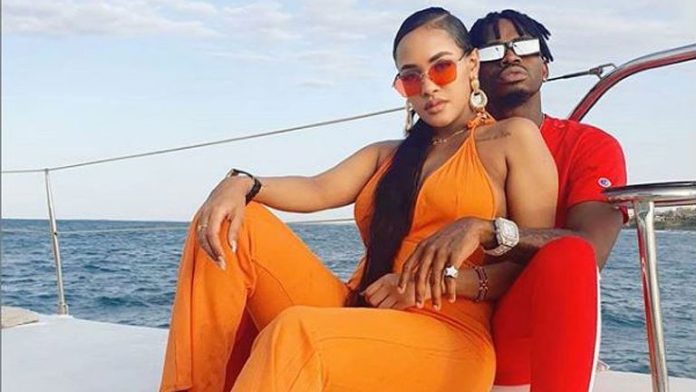 Even with all his eulogy about Tanasha, the Jeje crooner failed to reveal her name, but fans wasted no time in digging out the identity of the lady behind the artist's newfound happiness. With time, their search radar landed on Tanasha Donna and they were absolutely correct. While Diamond was on his way to Thika for a performance, the couple was spotted together at JKIA (Jomo Kenyatta International Airport), marking their first public appearance. At the airport, the Tanzanian vocalist mentioned that their nuptial was imminent, besides, he already took her to meet his mum Sandra in the same fashion as his past lovers.
What Happened Between Tanasha Donna and Diamond Platnumz?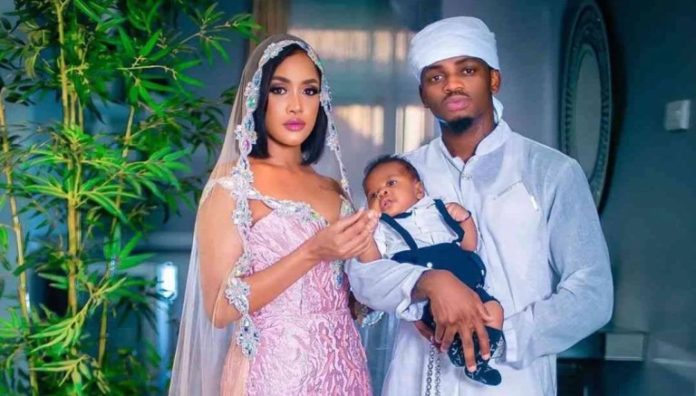 After Diamond spoke so passionately about the love he has for the Kenyan beauty, he left both fans and the general public wondering if Tanasha Donna was truly the woman that will make the difference where others failed. While they lasted, the couple really had a great time of it, jetting from place to place with Tanasha enjoying the clout that comes with dating an international superstar. Diamond actually gifted her with a plush car, she lived with him in his luxurious mansion, and the Jeje crooner took her along when going for performances, making people actually believe that theirs was different.
Even before the birth of their son, the duo made elaborate plans for a lavish wedding. More interesting is the fact that they scheduled their big day on the 14th of February 2019 which is a day for lovers all over the world. However, their Valentine never came to fruition as the wedding was eventually shifted.
It was later revealed by the two that they had so many differences concerning their future that were never resolved. Besides, in the midst of all the misunderstanding, their son Naseeb announced his entrance on the 2nd of October 2019. Barely four months after the birth of their son, the couple decided to call it quits with their relationship, going their separate ways in February 2020.
Diamond's Take On What went Wrong
Diamond was the first to speak up about what went wrong in the relationship. According to the Jeje crooner, their breakup happened because of irreconcilable differences about the future; the singer made this revelation on the 27th of April 2020, two months after they called it quits with their relationship.
He further opened up about the whole fiasco in a Wasafi's Good Morning Program when he narrated how he jettisoned his philandering ways because of Tanasha Donna. Diamond told the program's host that Tanasha never caught him red-handed with any woman as he dedicated all his attention to her.
The bongo artist revealed how serious he was about taking the Kenyan musician as his wife until they started having differences about the future to which they never attained an amicable solution. Thus, their separation occurred due to reasons beyond their control. Diamond later mentioned that their separation was to give themselves a break and ample time to sit back and have some sober reflections on the right path to follow. Besides, he saw it as God's plan for them and they may well come back together in the future.
Tanasha Talks About What Happened
Tanasha who is expected to grace the 2020 issue of the publication known as True Love magazine spoke about motherhood, including the heartbreak she experienced at the hands of Diamond Platnumz, as well as her healing process. In addition to that, she sat down to a YouTube interview session with Carole Mandi, the magazine's editor who quizzed her on the most recent happenings in her life. Tanasha mentioned quite a few contributing factors to their split.
Diamond's Loss of Interest
During the interview, Tanasha Donna was calm but vague as she delved into her affair with the bongo musician. In her own words, the mother of one said she finally left for the sake of her baby boy Naseeb after trying for six months to make their relationship work. The Kenyan artist hinted that she had the feelings Diamond's interest in the relationship was already waning or perhaps he completely lost interest and thus, didn't care about making things work out anymore. This left Tanasha fighting alone as she wanted Naseeb to grow up with both parents.
Even while fighting her solo fight, the Kenyan media personality still had her son's best interest at heart and hers' too. Within the last six months, the mother of one said things got really rocky but she still made efforts towards sustaining the relationship. However, it got to a point where she became convinced that her partner had completely lost interest
Diamond's Expectations From Tanasha were not Met
The Tanzanian singer's loss of interest is just one aspect of the issues they had to contend with. Tanasha also let on that she failed to meet her partner's expectations. She said the musician had certain expectations he wanted her to fulfill which she couldn't live up to. This contributed to his eventual loss of interest and that is exactly where the problem started from. According to the female artist, she wanted to be in the relationship and at the same time be her own person which didn't work at all; it was like having your cake and eating it.
Infidelity on Diamond's Part
People who really know the bongo flava artist will not be surprised at this particular allegation because the Tanzanian singer is an unrepentant womanizer who goes through women faster than the speed of a tornado. In fact, his reputation with the opposite sex is nothing short of legendary. It happened that Diamond later became unfaithful to Tanasha despite his initial commitments and avowals to stick with one woman and jettison his philandering ways.
Tanasha Donna, who earlier mentioned that she could fight anything had to throw in the towel and acknowledge defeat when it came to infidelity. Being unfaithful according to her was just the limit for the media personality especially when you consider the fact that she has been loyal to him throughout. The Kenyan beauty said she had to leave for the sake of her mental health and her son's safety.
Diamond's Mother was too Controlling
The Kenyan radio personality also mentioned Diamond's mother Sandra Kassim as one of the factors that contributed to their issues. In fact, Tanasha described her would-be mother-in-law as controlling and when she came to that realization, the Kenyan beauty had no choice but to leave her son alone, as she is someone that wants to be her own woman.
Besides, her tale portrayed Diamond as a mama's boy, completely incapable of protecting his woman from the controlling clutches of his mother. Natasha said she sees all mothers as people who deserve respect, however, when they cross the limit, you got to rise up and set your own boundaries; let the woman know that you are the wrong person to control. She spoke against showing disrespect to your boyfriend's mother and that setting the said boundaries should be done at the onset of the relationship and conducted in a respectful manner. On the flip side, Tanasha also expects her man to take initiative and protect his woman from such controlling mothers.
Speaking about motherhood and family, Tanasha Donna said her priority is her son and she wants him to have the best life has to offer as well as keep him protected from the prying eyes of the public. The female musician, it seems, has no plans of separating father and son because she mentioned that she was working on the best way to co-parent with her ex. She equally has no plans to separate the boy from his half-siblings; this became glaring when the Kenyan beauty revealed her wish to contact Diamond's other baby mamas Hamisa Mobetto and Zari Hassan in a bid to let young Naseeb get to know his half-siblings.
Where Is Tanasha Donna Since The Breakup From Diamond?
Completely heartbroken and devastated after it became glaring that their relationship has hit the rocks, Tanasha decided to expedite action for her son's sake. Her first move was to take Naseeb down to her home country Kenya where she believes would be safer for the boy. According to reports, Diamond's mother tried one last time to stop the Kenyan native from leaving the country with her grandson but didn't succeed.
What we gathered from the records indicates that the female singer succeeded in leaving Tanzania shortly after the celebration of 2020's Valentine's Day. She also remembered to let the world know the real situation of things through her socials, announcing the end of their relationship and promptly cutting off from her ex's family by deleting and unfollowing them, especially Diamond.
As the saying goes, there is no place to be compared with home, and as Tanasha and her son Naseeb landed in Kenya, she sure felt that spirit of homecoming. She was all fired up with passion as she made a declaration, pitching herself and the few months old baby boy against the world.
This is What Diamond's other Baby Mamas had to say About Tanasha
When Tanasha Donna surfaced in the Tanzanian musician's life, she gave him her all while deriding her countrymen as none, according to her, could measure up to her new lover. The Kenyan beauty even cast a slur on her immediate ex, as she compared his bedroom antics with Diamond's. Tanasha revealed all these via her tweeter handle, saying no Kenya man is capable of doing what Diamond can do in their bedroom.
While she was busy extolling the bongo artist, his ex-girlfriends and baby mamas who have had a first-hand experience of life with the artiste were watching the whole drama unfold. Zari Hassan for one couldn't keep quiet as she had already foreseen their breakup happening in no distant time. She started early to caution Tanasha, telling her to be prepared for events as they unfold. According to Zari, all the kids sired by Diamonds end up in their mother's custody who has no choice but to take full responsibility for their upkeep.
When Tanasha was pregnant, Hassan passed a congratulatory message to her, telling her it was quite beautiful and cool to be pregnant, however, she advised her to keep enough money in her bag as Diamond is not the kind of man that takes responsibility for his kids. Her exact words were that Tanasha should be prepared for the worst.
How Did Dating Diamond Platnumz Help Tanasha Donna's Music Career?
Tanasha Donna's acquaintance with Diamond Platnumz proved to be of great help to her music career. Before their relationship hit the rocks, the duo collaborated on releasing the single Gere. The track recorded a huge success, putting the Kenyan singer's music career on the right track to success. Within 14 hours of its release, Gere hit a milestone of 1 million views, this gave Tanasha pride of place as the first female singer of African origin to achieve such a feat.
The mother of one was highly ecstatic about her stellar achievement, thanking God and her fans for making it possible. The female artist has since dropped a new love song titled La Vie which is also doing well. Actress Jacqueline Wolper – Diamond's purported ex-lover was seen in an Instagram video singing and dancing to the tune of the track. Her action was rewarded with gratitude from Tanasha who re-shared the video on her socials, thanking the Tanzanian actress for her support.
On her own part, Tanasha has revealed her plans to release many other music videos in the nearest future but her hands are tied by the Coronavirus pandemic. The Kenyan artist has also done some collabo with a couple of Nigerian artists, all pointing to the fact that she is doing well in her career as a musician.