South African Instagram sensation, Khanyi Cele, used to live a life in the spotlight on social media. She and her ex-fiance Bongani Zungu did not leave any detail to chance as they publicized their relationship on their various social media platforms. However, things later went sour between the duo as she went from being the beautiful lady who thrills her fans with sizzling shots of herself beside her highly celebrated boyfriend to a single lady whose relationship status continues to be vague since the messy breakup.
Khanyi Cele's Highly Publicized Relationship with Bongani Zungu
Being in love can definitely be intoxicating and for the former lovebirds, theirs was one that got them a spot as one of the highly publicized celebrity hookups when they were together. According to reports, the couple had been an item since 2014, posting pictures of each other on Instagram, making heartwarming comments about each other, and so on. There was no doubt that they were just the perfect duo. They would even post each other's pictures and added one or two of those comments that make the heart melt – it was absolutely beautiful.
However, the couple did not entirely have it smooth as from time to time their fans could record momentary breakups from this perfect duo but like all couple fights, they eventually make up. More so, after every momentary breakup, they came back with more pictures and more notes to be taken down for those who saw them as a totem of modern romantic relationships.
Bongani, who was described by many as a romantic fellow, had gifts for his ex-fiancee pouring in like rain any time he was in the country, like in 2017 when he spent the festive season in South Africa. The couple would definitely not waste any time flaunting such moments on social media, giving their fans something to look forward to.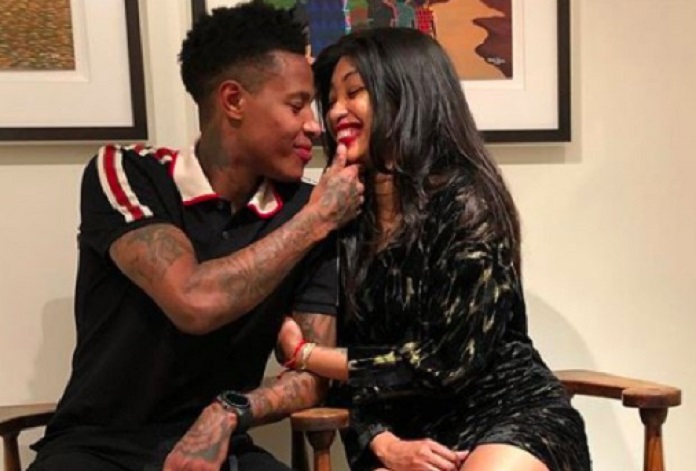 To most people, their love seemed to have survived the storm and weathered all odds as the years go by. In late 2018, Khanyi and her ex-beau reportedly went on a romantic trip to Paris and Bongani did the one-knee thing; where the guy goes on one knee and brings out a ring, and the rest was history as the celebration continued because Khanyi said yes to his proposal.
Why Did Khanyi Cele Eventually Breakup With Bongani Zungu?
After the public had gotten to know about the result of their romantic trip to Paris; that they got engaged, the announcement of a wedding date was hugely anticipated. However, different issues soon began to arise which dashed the possibility of a wedding happening anytime soon.
Rumors began to spread about Bongani's carefree life which was upsetting Khanyi. The footballer was literally spending a good part of his nights and early mornings going clubbing with other girls and leaving his fiancée behind at home. To worsen the situation, he also received erotic text messages from several girls and all hell broke loose when Khanyi caught him on the bed with another girl whose identity has not been revealed.
It was also reported that Bongani showed no remorse for what he did. He instead accused Khayani of doing the same. At this point, their romantic castle just came crashing down and rumors of a major breakup began to circulate in 2019 when they began to delete records of each other from their social media accounts – from pictures to comments, and so on.
The Breakup Got Messy After Khanyi Asked People To Try To Sleep with Bongani
Well, for a relationship that attracted a lot of attention because of the way the couple showcased their love for each other, it was only a matter of time before their fight became a public affair. The initial move was made by Khanyi Cele who could not take it anymore. As a result of the pain she was going through, she went live on Instagram to say a few things. From the video she uploaded, it was obvious that she was drunk.
Going on Instagram Live was definitely a spur-of-the-moment decision as Khanyi sent out an open request to the public in which she asked all the ladies who might be interested in her ex-beau to try to have sex with him. She claimed that he was an easy catch and all that he was capable to offer was sex and nothing more. She even went on to ask that the act should be videoed and sent to her using very distasteful words.
How Did Her Fans React?
Khanyi Cele's fans who got the chance to witness her outburst live on Instagram had several diverse opinions concerning the whole thing. While some were really sad about how the long-term relationship ended, another set actually saw the whole thing as hilarious and showed their emotions by reposting laughing emojis in the comment section while watching the video.
Khanyi eventually had the video taken down, but the sour taste of the episode can not be easily forgotten. However, there are still some of her fans who continue to believe that the couple would get back together like in the past but that might not be anytime soon as Bongani appears to be doing very fine after the split; he does not cease flaunting his new girlfriend on social media for all to see.
Has Khanyi Cele Found Love Again?
It appears that Khanyi Cele was the one hit really bad by the love gone sour between her and Bongani. This is because while the football player has moved on, the stunning lady is yet to announce that she is in another relationship. Khanyi has not made anything known to the public about another man in her life. She only seems to be concentrating on things that concern her finances.
Khanyi has a hair business that she began to promote on Instagram in January 2021. The name of her line of hair is "Hair for Life by Khanyicele", and judging from how popular her brand is becoming, she definitely knows her onions in the business.