In all the three teams he played for, Minnesota Timberwolves, Boston Celtics, Brooklyn Nets, and his second spell in Minnesota Timberwolves, he left indelible marks in each of these franchises that would immortalize his names in the years to come.
How Many NBA Rings Does Kevin Garnett Have?
Kevin Garnett won 1 championship in his career. So he has just one ring. He played for 21 seasons in the National Basketball Association (NBA).
With a record-breaking stellar professional career, Kevin Garnett exploits in the NBA has set many asking how many rings does Kevin Garnett really have? After years of tireless hard work making history in the NBA, luck finally smiled down on the star as he clinched his first NBA championship ring in 2008 with the Boston Celtics.
His NBA ring which would become his only one was earned while he played for the Boston Celtics. Prior to then, he had picked two gold medals with his team at the 1999 Fiba Championship and the summer Olympics of 2000.
The 6 ft 11 inches tall ex-basketball player was the NBA Most Valuable Player (2003, 2004), 5 times season leading league defensive rebounds from 2002 to 2003 and 2006 to 2007 but that record was broken by Dwight Howard in 2007 to 2008 and again in 2012 to 2013.
Interestingly, Kevin was also the first basketball player in NBA history to win player of the month award four times in a single season, this was later broken twice by LeBron James. Kevin was the NBA Defensive Player of the Year (2008), and 15-time NBA All-Star (1997 – 2011, 2013). Kevin Garret might have been able to get just one NBA ring, but his overall success at the game was able to earn him a net worth of over $320 million upon his retirement.
How Kevin Garnett's Basketball Career Started
Kevin Garnett's skills and passion for the hoop game developed while he was in Hillcrest Middle School. He enrolled at Mauldin High School in Mauldin, South Carolina where he played for the school basketball team. Following cases of racial abuse recorded in Mauldin High School, Kevin transferred to Farragut Career Academy in Chicago where he completed his High School education.
While at Farragut, Kevin played wonderfully well for the school's basketball team; his contribution in the team's 28-2 record earned him National High School Player of the Year by USA Today. His records in four years of high school career include 2,553 points, 1,809 rebounds, and 737 blocked shots.
The above records made Kevin declare himself eligible for the 1995 NBA draft. Kevin Garnett was equally honoured as one of the 35 Greatest McDonald's All-American High School Boys Basketball Game, a recognition that boosted his chances for the 1995 NBA draft even without playing college basketball.
Kevin Garnett's NBA Career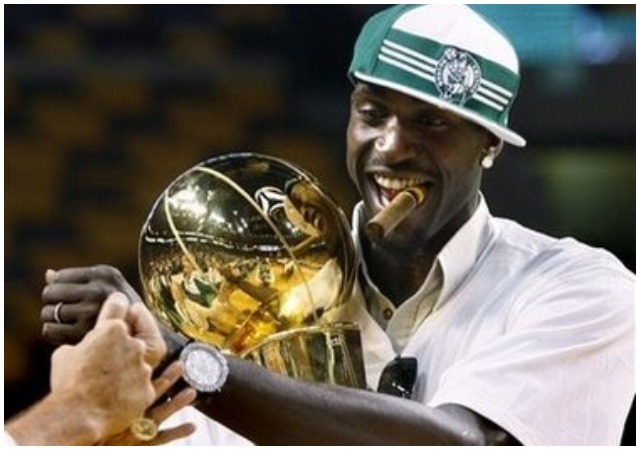 Kevin Garnett's professional career began after the 1995 NBA draft where was selected with the fifth overall pick by the Minnesota Timberwolves. Not only was he the youngest NBA player at the time, he ultimately became the first player to be drafted straight out of high school since 1975.
He picked up so early and recorded great stats that the team opted for a six-year contract extension during 1997-98 NBA season. The young chap agreed and penned down the contract worth $126 million. He gave his best to the franchise for almost twelve years before he joined Boston Celtics on July 31, 2007, in exchange for, Al Jefferson, Gerald Green, Sebastian Telfair, Ryan Gomes, and Theo Ratliff.
He made a remarkable debut recording 22 points and 20 rebounds. Seeing the potentials in the stylish player, the team offered him three years contract extension in 2012 worth $34 million. Precisely on February 7, 2013, he recorded his 25,000th point during his side's 116-95 victory match over the Los Angeles Lakers.
At the opening of 2013 NBA Draft, Kevin Garnett left Boston Celtics to join Brooklyn Nets based on the bilateral agreement reached by the two franchises which saw Jason Terry and Paul Pierce join Kevin Garnett. While Boston Celtics went for first-round picks in 2014, 2016, and 2018. The deal was completed on July 12, 2013, after which Kevin joined the new franchise and was assigned shirt number 2 to honour his former Minnesota Timberwolves teammate – Malik Sealy.
While at Brooklyn, the 15-time NBA All-star, surpassed 14,000 career rebounds. He had his best outing with the team on November 1, 2014, after he raked in 18 points and 14 rebounds in 35 minutes during his side's 102-90 triumph over the Detroit Pistons.
KG has he is fondly called by teammates and fans returned to Minnesota Timberwolves in 2015, owing to a series of injuries that hampered his flow in the court. From there, he announced his retirement on September 26, 2016, after putting up excellent 21 seasons in NBA.