Bimbo Akintola is a 51 year-old actress who gained fame acting in several Nollywood movies. Though the Nigerian native has been married once, she does not have biological children. However, she claims to have raised a lot of children who are now grown up and married, with their own families. Bimbo has made it known that she frowns at women who would rather sit and wait for Mr. Right to show up in their lives. Acknowledging that the world has changed, the actress advised such women to go ahead and have kids as far as they can cater for them.
Profile Summary of Bimbo Akintola
Full Name: Bimbo Akintola
Date of Birth: May 5th, 1970
Age: 51
Nationality: Nigerian
Education: University of Ibadan
Parents: A Yoruba Muslim cleric (father) and an Edo mother
Occupation: Acting
Years Active: 1995 to date
Bimbo Akintola was Born in the Golden Age of Nigerian Cinema
Bimbo Akintola was born in Ibadan, the hub of Nigeria's film industry in the Golden Age of Nigerian Cinema, on the 5th of May 1970. The daughter of an Oyo-born Muslim cleric and an Edo mother was the third child of the six children of her parents.
Growing up in the Maryland area of Lagos, her primary education was accomplished at Maryland Convent Private School. She subsequently attended Command Day Secondary School before moving back to the city of her birth to attend the University of Ibadan (UI). Bimbo studied Theatre Arts, graduating with a BA. While still a student of UI, the upcoming thespian started experimenting with acting. Every weekend, she would travel down to Lagos to perform at Divine on Allen Avenue alongside people like Jaiye Aboderin.
Her Professional Career Took Off in 1995
Bimbo Akintola was just 25 years of age when she scored her debut role as a professional in 1995; this happened on the set of the Nollywood movie, Owo Blow, where she shared the screen with the likes of Femi Adebayo. A couple of years down the line, she featured alongside Richard Mofe Damijo in the film entitled Out of Bounds. Her performance in the aforementioned movies was quite impressive, opening inroads into other successful movie roles.
Bimbo's break-out movie is not specified, but she started acting with the best of Nollywood right from inception. The actress's portrayal of late Dr. Stella Adadevoh in 93 Days (a movie centered on the Ebola outbreak in Nigeria) earned her the Best Actress Award at the 6th edition of AFIFF Globe Awards held at Eko Hotel and Suites in 2016.
Below is the list of her best movies.
 Owo Blow (1995)
Out of Bounds (1997)
Diamond Ring (1998)
The Gardner (1998)
Dangerous Twins (2004)
Beyond the Verdict (2007)
Smoke and Mirrors (2008)
Hoodrush (2012)
Ayitale (2013)
Heaven's Hell (2015)
93 Days (2016)
Husbands of Lagos (2015)
Circle of Three
Lady Buckit and the Motley Mopsters
Has Bimbo Akintola Ever Been Married?
It was recently revealed in an interview that the Nollywood actress has recorded one failed marriage. According to the movie star, her one and only marriage experience came to an end in 2014. Speaking about her experience as a wife, Bimbo Akintola described it as "no walk in the park". She also revealed that the marriage lasted for a short while totaling a year and four months. However, the University of Ibadan alum omitted to mention the name of her ex which as expected has left many wondering.
Bimbo is now middle-aged and from the way she speaks about marriage in interview sessions, one may not be far from the truth to surmise that the actress has long given up hope of finding the perfect life partner.
What Bimbo Has To Say About Marriage
Speaking on the Yoruba point of view that perceives a woman as incomplete without a man, the Nollywood star said we are just rooted in the past and need to change the way we think. Citing an example with the present situation where it has become so hard for all women to find husbands, Bimbo said such women shouldn't be discouraged from having kids if they so desire.
On those who pressure their daughters to get married, the movie star responded that such a question can only arise in a society like ours where they create an additional problem for people by pressurizing them into marriage. This according to her is why marriages no longer last long. Bimbo advised people to take marriage seriously and shouldn't resort to pressure just to push someone into marriage as whoever wants to go into matrimony should be allowed to make his or her own choice.
A Peek at All The Men Bimbo Akintola Dated in The Past
Dede Mabiaku
Afrobeat musician Dede Mabiaku is one man that been in Bimbo Akintola's life for a very long time. According to the musician, they have known each other right from their days at the University of Ibadan. However, they didn't start dating immediately after they met. Dede said they maintained a cordial friendship for a couple of years before taking their relationship a notch higher.
Dede also revealed how he dated other women alongside Bimbo but she was his number one as of then, unflinchingly standing by him as they weathered the storm with a united front. When quizzed about why he didn't make Bimbo Akintola his wife, Dede told a tale of how they sat down one day to take stock of their relationship and came to the conclusion that they were better off as friends than lovers. Since then, the former sweethearts have remained good friends who respect and value each other.
Talking further, Dede said the main reason why he never considered marriage with Bimbo Akintola was that he didn't consider himself ready for matrimony at that stage, revealing that he would have married the actress if he was ready. The Afrobeat star who has been through one failed marriage said he is not presently interested in getting married as his saxophone has become his sweetheart.
Bimbo has since confirmed that she was once an item with Dede Mabiaku, thus, it is no longer a rumor that they were former lovebirds.
Yemi Blaq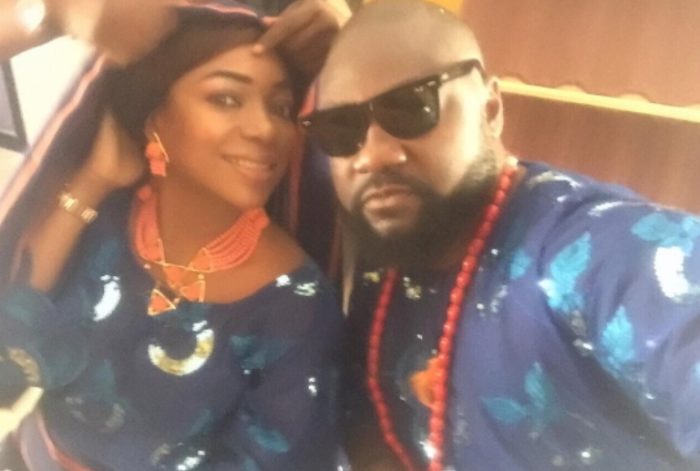 Social media was recently thrown into a frenzy when wedding pictures of celebrated Nigerian thespians Bimbo Akintola and Yemi Blaq surfaced on several platforms. This led several blogs to brandish screaming headlines like "Yemi Blaq and Bimbo Akintola wed Secretly". Before long, congratulatory messages started pouring in from friends and fans. However, on digging deeper, Saturday Tribune unearthed that the two entertainers were in fact doing what they know best. The issue of the publication which was dated June 8th, 2021 said the photos in question were taken at the scene of an upcoming movie.
Bimbo later took to Instagram to give explanations with some photos, reiterating that it actually happened on the set of a film that will soon hit the movie stand. In the photo captioned "on set in Ibadan", the actress was spotted decked in Aso-oke wrapper, complete with a lace blouse. She finished off the outfit with a studded Aso-oke headgear with yet another one adorning her shoulder. Her accessories include a coral necklace with matching earrings. On his part, Yemi's attire matched Bimbo's lace topped with an Aso-oke made Buba, accessorized with a lone coral necklace.
Abounce Fawole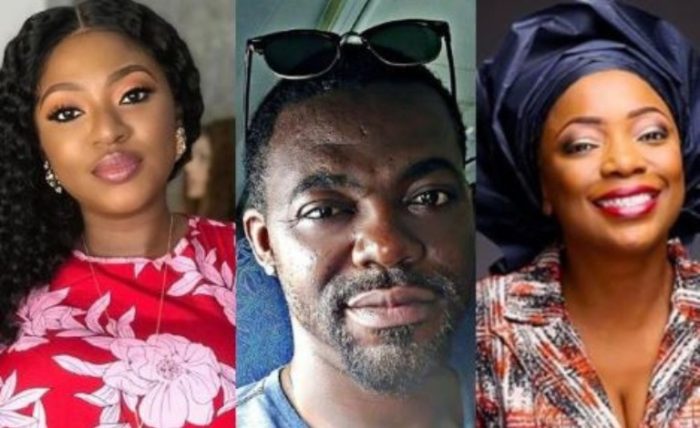 Fans started wondering whether Yvonne Jegede's ex-spouse, Abounce Fawole, and Bimbo Akintola were an item after he sent her a warm birthday message. In his post, Abounce referred to Bimbo as "Sweetheart" as he prayed that all her prayers come to pass.
The duo have been spotted out and about town on a few occasions and perhaps Fawole is trying to move on after Yvonne Jegede. However, neither of the two have come up with a confirmation or denial. Thus, it remains a rumor.
Jide Alabi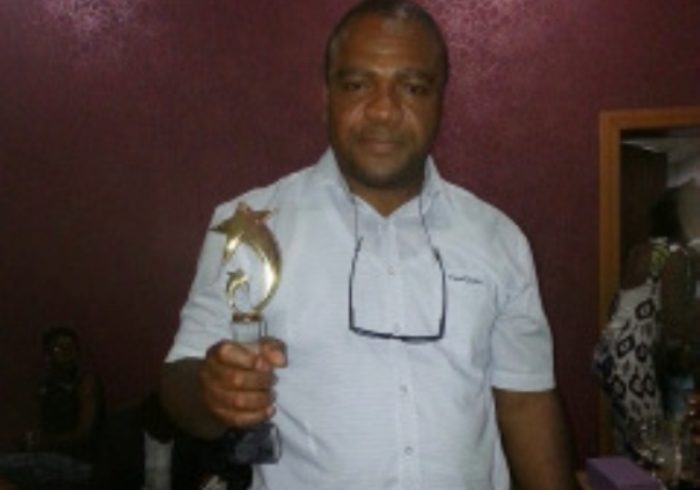 Bimbo was once on the verge of tying the knot with Silverbird's sports analyst and showbiz star, Jide Alabi, but their wedding plans were aborted mid-way. Since then, nothing has been heard from them and the reasons for their separation have remained shrouded in mystery to date.
The Actress Has No Biological Children But Has Raised Many
At the age of 51, there are no records of Bimbo Akintola having any biological children but according to the Nollywood movie star, she has taken care of several kids and most of them are now adults with their own families.
In an interview session, the actress said she can be a single mother in a society like ours as she does not perceive it as wrong. She went on to recount how the world has changed and is now filled with single mothers who are capable of taking care of their children without the support of a spouse. Besides, considering the biological clock, the Yoruba star approved of women who go into single parenthood rather than wait for a husband that may never materialize.