The name Emmanuella always brings about laughter amongst many Nigerian kids and adults alike. Emmanuella Samuel who is popularly known as Emmanuella is a famous Nigerian child comedy star who became the center of attraction for her comic role in Mark Angel's comedy skit. Emmanuella's debut appearance on the popular comedy skit was on episode 34, titled "This is Not My Real Face Oh" where she tried to prank a kid who tried to report her in school.
With the passage of each day, she gradually grew into a comedy sensation in the Nigerian entertainment industry. This promising and talented child comedienne had mouths agape in 2018 when she made an announcement on securing a role in a Disney film. Interestingly, at the tender age of 10, she had already become an award-winning star and celebrity who has gained much popularity in the Nigerian entertainment industry. 
Personal Profile
Full name: Emmanuella Samuel
Date of birth: 22 July 2010
Place of birth: Port Harcourt, Rivers State, Nigeria
State of origin: Imo state
Nationality: Nigerian
Parents: James and Cynthia Samuel
Education: Brighton Gate Academy School, Port Harcourt
Profession: Comedienne
Stage name: Emmanuella
Channel: YouTube MarkAngelComedy
Genre: Comedy
What Is Emmanuella's Real Age? 
The talented and young comedy icon Emmanuella is 13 years old. She was born on July 22, 2010, to parents James Samuel and Cynthia Samuel, in Port Harcourt, Rivers State, Nigeria.
She is an indigene of Imo state in the eastern part of Nigeria. Oblivious of the greatness that awaits her in the nearest future, the child star had a simple childhood.
Neither she nor her parents had the slightest clue that she would become so famous at such a tender age of 5 years when her rare comedy talent was discovered by Mark Angel. The popular comedy YouTuber with over 1.5 million subscribers is said to be her cousin; a fact that strongly suggests that comedy runs in their family. Despite the fact that Emmanuella has attained celebrity status, she still gives priority to her education; she is a student at Brighton Gate Academy in Port Harcourt.
Emmanuella Came To Limelight At The Age Of Five
Emmanuella has always been fun to be with since her childhood. Though she has been known for her innate comic traits by her family and friends, it wasn't known by the public until she became popular. Her journey to the limelight started when she was five years. She was on a holiday and in the company of her parents when she got the attention of Mark Angel the comedy YouTuber during one of his comedy auditions with a couple of children.  
At first, Mark Angel was quite reluctant to allow Emmanuella his cousin to feature in the audition exercise. This was probably due to the fact that he felt she was too young to understand the intricacies of memorizing and reciting the lines of her script aptly. But to his amazement, she out-shined all the other older kids in the audition as she succinctly delivered her roles seamlessly. Mark was completely impressed by her spectacular performance that he instantly decided to harness her great potentials. 
Due to this discovery, Mark Angel became determined to work with Emmanuella thus, he took the bold step of meeting her parents in an attempt to convince them into allowing him to tap into the great talent of their daughter. He convinced them of the fact that he can help her to build a great career in comedy with her comic talent. In the long run, her parents yielded to the request and gave him the green light to feature young Emmanuella in his comedy skit team.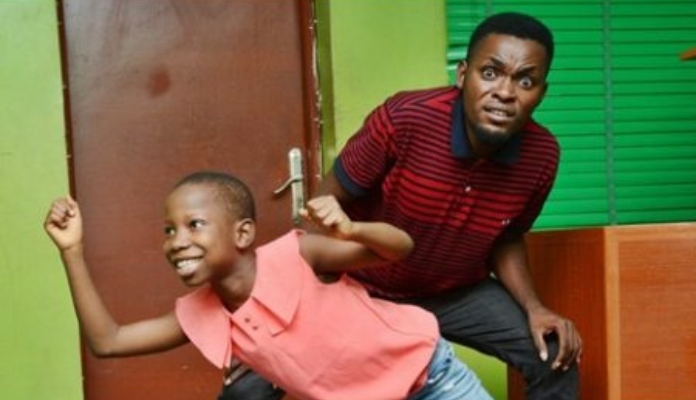 Her Success With Mark Angel
In this regard, the comedy star came into public admiration in 2016 when she made her debut in one of Mark Angel's comedy skit episodes 34 titled "This is not my real face Oh". The skit featured her cracking jokes about the headmistress of her school to her fellow students oblivious of the fact that the student was the son of the headmistress in question. This incredible script went viral online and it even got international recognition when it was featured on CNN's official Facebook page.
Emmanuella's inclusion to the Mark Angel Comedy team has enabled their YouTube challenge to reach over 1.5 million subscribers with millions of likes and views. After several funny skits, Emmanuella became a household name, and since then has remained a strong force of attraction on YouTube. Some of her popular appearances include: April fool, English test, Singular and plural, Too long and hard, My Daddy, My Uncle has HIV, Three of them, Kidney, Omini Knowest Stingy Uncle, etc. Her recent episodes in 2021 include Witch birth, Valentine part 2, Change part2, School protest, and many more.
Emmanuella Has Garnered Lots Of Awards And Recognitions At Her Young Age
Interestingly, at such a tender age, the comedy sensation has achieved so much in terms of awards and recognitions both locally and internationally. One of the giant strides of this young talented Nigerian child comedienne came in 2018 when she made history as the first Nigerian kid to secure a role in Disney film studio productions which she announced via her official Instagram handle. Following this remarkable achievement, she got invited to the National Assembly by the then-Senate President Bukola Saraki where she was duly congratulated and encouraged. 
Again the rising comedy princess bagged the award for Top Subscribed Creator from YouTube which was the inaugural edition of the Sub-Saharan African YouTube Awards. Meanwhile, Emmanuella also won the award of the Best New Comedienne & Princess of Comedy awards at the prestigious Afro-Australia Music & Movie Awards (AAMMA) which is an internationally recognized award. In 2015, Emmanuella won the G-Influence Niger Delta Special Talent Award and the Nigerian entertainment award for best comic Actress.  
In addition to all of these accolades, Emmanuel has also garnered some important endorsement deals with big brands across the country some of which are her endorsement as the brand ambassador of Indomie Noddles, Loya Milk, and many others. All of these contributed to her net worth which is currently placed at N25 million. This placed her among the top richest kid celebrities in Nigeria. 
Again Emmanuella recently made history as the first Nigerian child to have built a decent well-furnished, and classy house for her parents at the age of 10. The young comedienne proudly announced this awesome achievement on her Instagram handle in November 2020 as she showed off the pictures of the house. She also promised her mother whom she dedicated the new house to a Christmas gift, that she would build a bigger and befitting mansion for her in the coming years.