Pete Edochie (born 7 March 1947) is a 76 years old Nigerian actor considered to be one of the greatest ever. The multi-award-winning veteran started his career towards the end of the 1980s, playing Okonkwo in Things Fall Apart, an adaptation of Chinua Achebe's best-selling novel.
After the creation of Nollywood, he leveraged the platform to further his career. Today, Pete is known as one of the Godfathers of the movie world, thanks to his stellar contributions. His name is written in pure gold on the fabrics of the Nigerian entertainment industry.
Profile Summary of Pete Edochie
Full Name: Pete Edochie
Gender: Male
Date of Birth: March 7th, 1947
Pete Edochie's Age: 76 years old
Place of Birth: Enugu, Nigeria
Zodiac Sign: Pisces
Ethnicity: Igbo
Nationality: Nigerian
Education: St. Patrick's and St. James's Primary Schools, St. John's College, School of Journalism and Television in the United Kingdom
Religion: Christian
Sexual Orientation: Straight
Marital Status: Married
Pete Edochie's Wife: Josephine Edochie
Children: Six
Pete Edochie's Height in Inches: 5 feet 9 inches
Pete Edochie's Height in Centimeters: 175 cm
Pete Edochie's Net Worth: $4 million
Instagram: peteedochie
Pete Edochie Hails From The Oyi Local Government Area Of Anambra State
Records reveal that Pete Edochie spent his formative years in both the eastern and northern parts of Nigeria. The movie icon was born in Enugu State on the 7th of March 1947 but his family is originally from Nteje in Oyi Local Government Area of Anambra State. Details about his parents have never made it to the public space but we know for a fact that he grew up alongside a younger brother named Tony Edochie who is the husband of Nollywood actress, Rita Edochie. Even though he never mentioned his parent's names in public, the screen icon has let on that the Edochies are devout Catholics who trained their children in the Catholic faith.
The Edochie family moved to Zaria in Kaduna State where Pete commenced his basic education, attending St. Patrick's Primary School, Zaria. However, Pete later moved over to St. James Primary School, Zaria where he finished his elementary education. Proceeding to secondary school, the youngster joined St. John's College, graduating with a secondary school certificate. During his days at St. John's, Edochie discovered his passion for the performing arts, actively participating in his school's dramatic activities. The blossoming actor's quest for further academic qualifications found satisfaction in England where he went to study at the School of Journalism and Television. Pete also completed some courses abroad before coming back to Nigeria.
He Already Commenced Work Before Acquiring Tertiary Education
Pete Edochie's contemporaries during the 1960s and 70s never deemed it necessary to acquire a university education before joining the labor force and the same can be said for the Things Fall Apart Alum. Before traveling to England to acquire a higher academic qualification, the youngster was already working. He joined the Nigerian Railway Corporation where he put in some years before moving on with his life.
Pete Edochie Was Just 20 When He Ventured Into Radio Broadcasting
At the young age of 20, Pete Edochie was done with academics and ready to commence work at a professional level. Thus, in 1967, he made his foray into radio broadcasting. Joining Eastern Nigerian Broadcasting Corporation (ENBC) in 1967, he worked for three years before going for formal training with the British Broadcasting Corporation (BBC) where he honed his skills in broadcasting.
The promising star started off from the level of a junior programs assistant but in the long run, he climbed the corporate ladder to emerge as one of the station's directors. Though Pete was the director in charge of programs, he doubled as the Deputy Managing Director from time to time, and on some rare occasions, he was called up to wield the big stick as the acting Managing Director.
Important to note that Eastern Nigerian Broadcasting Corporation went through changes during the Biafran/Nigerian civil war which led to its name being changed to East Central State Broadcasting. At the end of the civil war, it went through another name change and is today known as ABS (Anambra Broadcasting Service); this happened after the creation of Imo and Anambra States in 1976.
Thus, when the powers that be started politicizing the affairs of ABS FM Station, Pete Edochie decided it was time to move on. Besides, the government interference resulted in the retrenchment of the entire management staff of the media outfit and although Pete was next in line to succeed the sitting Managing Director, he had to move out and later moved into the movie world.
Things Fall Apart Was His First Onscreen Role
Pete Edochie's first brush with acting happened during his days at St. John's College when the up-and-coming actor appeared on the stage for the first time in 1962 at the young age of 15. His school staged William Shakespeare's classic drama, Merchant of Venice where he was featured as a cast member. It was while Pete was a staff of ABS several years later that he was called up for his iconic role in Things Fall Apart. The 1980s NTA TV drama which was an adaptation of Chinua Achebe's prose of the same name was centered on Eastern Nigeria during the colonial era. Then, the Imperial Masters were on a mission to subdue the indigenous people and impose western culture on them.
Pete Edochie depicted the character of Okonkwo alias Ebube Dike, a son of the soil who played a big role in resisting British imperialism. His performance was hailed and it did wonders in his career. In addition to serving as his break-out role, it put his name on the lips of every single Nigerian and before long, his fame spread wide to other African countries and beyond. It even brought a world-famous media outfit like BBC down to Nigeria to interview the actor on his role in the TV drama.
After he was pushed into the limelight for his portrayal of Ebube Dike, Pete Edochie started earning a lot of prestige. Considering the fact that British Broadcasting Corporation deemed him fit to merit an interview session with them, it came as no surprise that the actor also bagged an international award.
Pete Edochie Has Since Made A Mark In Nollywood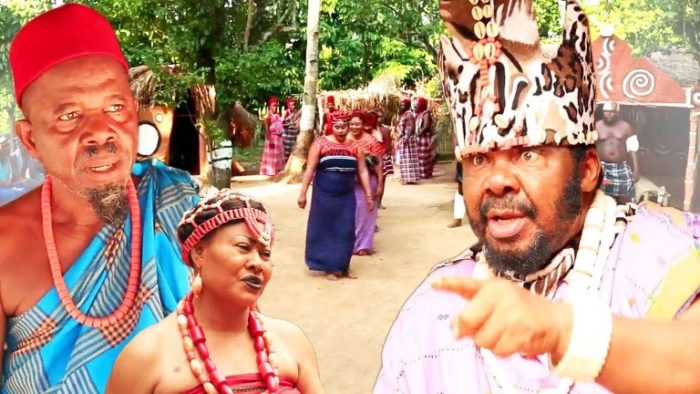 By the time the Nigerian home video industry which later became known as Nollywood took what can be aptly described as a dynamic turn with the advent of the film Living in Bondage in 1992, Pete Edochie was already a household name in the industry. Thus, when he eventually surfaced in Nollywood, the actor came as an experienced hand. He was soon featured in movies like Rituals in 1997 and in 1999, he showed up in a total of four movies, including Living in Darkness, Narrow Escape, Lost Kingdom, and Chain Reaction. The year 2000 was when he was featured in Oduduwa and Set-Up and in 2001, the legendary entertainer played roles in three movies: Greedy Genius, Holy Ghost Fire, and Terrible Sin.
Since the creation of Nollywood, there is hardly a year that will pass without the Nigerian movie star surfacing in more than one production. His most prolific years to date are considered to be 2003, 2004, and 2005. In 2003 alone, Pete depicted different roles on the sets of 15 different movies which is the highest so far. The next year being 2004, he graced the screen in a total of 11 productions, and in 2015, the legendary Nigerian actor was featured in another 11 movies.
In his acting career that has spanned for over 34 years, starting from his depiction of Ebube Dike on the set of Things Fall Apart, Pete Edochie has come to be known as one of the most prolific Nigerian actors. Even in his 70s, the screen legend is still very much active in the moving movie world. In 2016, he graced the screen in Mummy Why. The Genevieve Nnaji-produced blockbuster, Lionheart featured him in a prominent role in 2018. The latest of his roles was achieved on the sets of Unroyal and Fatal Arrogance in 2020.
Pete Edochie Distinguished Himself With A Unique Style in The Nigerian Acting Scene
Today, Pete Edochie is a name that needs no formal introduction in the contemporary Nigerian movie industry as his fame precedes the birth of Nollywood. He is not just among the best recognizable names in the world of showbiz, the actor is a man whose presence commands respect. Pete is placed on par with the likes of Yoruba movie star Olu Jacobs as the two heavyweights of the industry. In fact, they have been dubbed the figurative godfathers of Nollywood.
Often playing prestigious roles like a king, village head, chief, father, rich man, and Igbo titleholder, Pete Edochie has distinguished himself in the movies. He has scaled a notch higher with his symbolic use of proverbs in hitting his points homes; this has earned him the title, "King of African Proverbs". Also, his witty use of these proverbs went on to inspire a plethora of online memes which are quite interesting. Pete has won the hearts of millions with his roles in several movies and consequently, several young people who wish to venture into the movie industry see him as a role model.
Another distinguishing factor about the Nigerian movie star happens to be the signature beard that he has refused to shave off. The beard, which the actor began grooming at age 23, has also become a part of his onscreen character. According to reports, this beard makes him more appropriate for most of the roles he plays. Apart from his movie roles, Pete has also made other visible contributions to the industry. Presently, two of his sons; Linc Edochie and Yul Edochie, are already known names in Nollywood.
Pete Has Experienced Several Challenges In The Line Of Duty
Though Pete Edochie's career in the movie world has been a tale of resounding success, the legendary actor is no stranger to challenges. However, he has managed to surmount all the obstacles that came his way and has continued to wax strong in the industry.
The Famous G8
In 2005, he had a clash of interest with the Actors' Guild of Nigeria when he was listed among those A-list actors and actresses charging exorbitant fees from movie producers. Consequently, Edochie was placed on a one-year ban alongside other movie greats like Genevieve Nnaji, Nkem Owoh, Omotola Jalade Ekeinde, Stella Damasus Aboderin, Ramsey Nouah, and Richard Mofe Damijo.
The absence of these A-listers was immediately felt by the industry and soon it was predicted that their exemption from the movies spells doom for the Nigerian film business. Needless to say, they were reinstated without much ado and are now back in filming.
Fatal Arrogance
Pete Edochie generated a lot of controversies following his depiction of the lead character in the film Fatal Arrogance that hit the movie stands in 2020. The plot of the movie which touched on the Islamic religion and terrorism led the Islamic Movement in Nigeria to rise up in defense of their religious belief. The body, which is popularly known as Shiites, mounted an attack on the legendary actor over his new movie role, insisting that the storyline made a conscious attempt of portraying their union in the light of a terrorist group which they are not.
When Edochie got wind of IMN's allegations, the Nigerian movie star was quick to speak up in his own defense. According to Pete, he is not in a position to take responsibility for the issues generated by any movie he was featured in. He advised the IMN to channel their grievances to the producers as they are in a better position to address the issue.
Pete Edochie Has Won Several Prestigious Awards In His Career
Pete Edochie's journey in the Nigerian movie world is one that has seen him make huge contributions to the industry. His awards and accolades started piling up as far back as the late 1980s following his perfect depiction of Okonkwo in Things Fall Apart. As the years rolled by, the Anambra native kept sweeping awards in the movies and perhaps the peak of his acting career happened in 2003 with his induction into the Hall of Fame. Though shortly before this, the then president of the Federal Republic of Nigeria, President Olusegun Obasanjo, honored him with the title of "Member of the Order of the Niger".
Apart from Nigeria, Edochie also earned accolades at the international level, including the recognition he bagged from Things Fall Apart. The Guardian Newspapers aptly dubbed him "The Living Legend Of Nollywood." Below is a comprehensive list of all his awards to date.
In 1999, City People Magazine named him the Movie Personality of the Year
In 2001, Censors' Board voted him Best Actor in Africa
He won Best Actor in Africa from the Censors' Board for the second time in 2003
It was also 2003 that former Nigerian President Olusegun Obasanjo named him Member of the Order of the Niger
In 2013, Emmanuel Udaghan, the former governor of Delta State, bestowed the actor with Special Recognition Award, BON (Best of Nollywood)
Also in 2013, Africa Movie Academy Awards gave Pete a Lifetime Achievement Award
From the Africa Magic Viewers' Choice Awards, the screen legend bagged the Industry Merit Award, in 2014.
Edochie's latest accolade came from the Times Heroes Awards of 2017 when he was bestowed with Life Impact Awards.