Stonebwoy has an estimated net worth of $5.6 million. He is a Ghanaian Afropop, dancehall and reggae musician, and also the CEO of Burniton Music Group. 
Stonebwoy is one of the wealthiest artists in Ghana. He has steadily risen to the top of the music arena in Ghana and is also very well-known across the African continent. He has made a career out of releasing numerous hits and thrilling his fans with top-notch albums. Little wonder that he has managed to accrue significant wealth and lives lavishly. This comfort has not made Stonebwoy lazy or relaxed in any way. He continues to work hard and make music. He has also earned significant recognition from award shows both in Ghana and the international community.
His Breakthrough Under Samini Music
When Stonebwoy started his music career in 2009 and before he became a multimillionaire, he was an underground artiste with zero mainstream recognition but continued to work and strive hard. His efforts were eventually rewarded in 2012 when he was signed to Samini Music, a record label owned by Samini, another famous Ghanaian musician.
This signage ushered in Stonebwoy's breakthrough. His first hit single, 'Climax,' was released in that same year, featuring Samini. He backed it up with another hit song titled 'Ghetto Love' and featured Irene Logan. Both songs catapulted Stonebwoy into the mainstream and made him famous amongst many dancehall and reggae fans. He also earned nominations at the Ghana Music Award for both 'Climax' and 'Ghetto Love, an excellent recognition for his continued drive.
He capitalized on his new-found popularity to release his debut album, 'Grade 1 Album'. The seventeen-track album featured prominent Ghanaian artists like Tinny and Edem. The release of this album solidified Stonebwoy's presence as a household name in the music industry.
Stonebwoy Released Three More Albums in Eight Years
After releasing his debut album and his establishment as a household name, Stonebwoy went on to bigger exploits. It includes releasing three more albums within the space of eight years. In 2014, he released his sophomore album Necessary Evil. This album contained a whopping twenty-nine tracks. The most famous of these tracks was Baafira featuring Sarkodie. Necessary Evil won Stonebwoy three awards from six nominations at the Ghana Music Awards.
There was a three-year gap between his sophomore album and his next release. On December 12, 2017, Stonebwoy released Epistles of Mama, an album he dedicated to the memory of his late mother, Mrs. Catherine Lucy Aku Ametepe Satekla. This 24-track album had more international flavor to it as it featured international stars like Sean Paul and Burna Boy. The album hit over 10 million views on YouTube and peaked at No 13 on the Billboard top 200 albums chart.
There was another three-year wait before his next album dropped. On April 24, 2020, Stonebwoy blessed the world with his fourth studio album. This album was his most diverse yet. It featured artists from various countries, including Keri Hilson from the US, Nasty C from South Africa, Zlatan from Nigeria, and Diamond Platinumz from Tanzania. This album remains his last album to date.
He Has Amassed $5.6 Million Majorly From His Music Career
Stonebwoy has managed to work himself to the top as one of the richest musicians in Ghana. As of 2020, Stonebwoy's net worth estimate stands at about $5.6 million. It is a very healthy amount seeing as he burst onto the music scene in 2012.
The primary source of his wealth is the revenues he generates from his music and tours. Stonebwoy has released four studio albums and released numerous videos. The album Epistles of Mama generated a lot of money for the reggae star. The album hit ten million views on YouTube plus over a million streams on Spotify. All of these meant huge money for Stonebwoy.
The King of Reggae Also Earns From Tours and Brand Endorsements
A significant portion of Stonebwoy's net worth has also come via his world tours. He kicked off his world tour around the European zone in August 2014. He visited and performed in countries like Germany, Spain, Austria, and Italy. Stonebwoy then went on a tour of Canada and America in 2016, performing in New York, Ohio, and Ontario.
In 2016 still, he visited Australia and pleased fans in Perth, Sydney, Melbourne, and Brisbane. He went on a Nordic tour in the last quarter of 2017. The tour reportedly generated a lot of money for the king of reggae. He has also earned revenue from performing at festivals over the years. His festival appearances include the Reggae Sumfest, Afro Nation in Portugal, Rotterdam Reggae Festival, and Rototom Sunsplash.
Stonebwoy has also delved into acting and has two acting credits to his name. He appeared in the movies Happy Death Day and My Name is Ramadan. He is also the CEO of Burniton Music Group, which signed two youngsters, Kelvynboy and Okailey Verse.
Brands have recognized Stonebwoy's mass appeal and made him ambassadors of their products. In September 2019, he signed an endorsement deal with Voltic Natural Mineral Water in a contract up for renewal in two years. He is also the brand ambassador for Big Boss, a new energy drink that just hit the market, and the phone brand, Tecno. In 2015, he signed an endorsement deal with automobile giants, KIA.
To recap, the sources of Stonebwoy's net worth include:
International Music Tours
Musical Festivals
Song and Album sales
Endorsements (KIA, Big Boss, Voltic Natural Mineral Water)
CEO, Burniton Music Group
A List of Stonebwoy's Hit Songs and Accolades
The year 2015 proved to be one of the biggest in Stonebwoy's career, but he had been releasing hit tracks before 2015 happened. Below is a list of some of his best songs and the years they were released:
2012 – Climax, Ghetto Love. Both songs earned nominations at the Ghana Music Awards
2013 – Party Again, Pull Up
2014 – Baafira ft Sarkodie, So Real, Bhim Nation, More Gyal, Murderer
2015 – Go Higher
2016 – Come From Far, One Thing
2017 – Hero, My Name, Falling Again
2018 – Wame, Tomorrow, Skanka
2019 – Shuga, Ololo, Big Boss
2020 – African Idol, Journey, Nominate ft Keri Hilson, Good morning
In terms of accolades, Stonebwoy swept all before him in 2015 as he won the BET Award for Best International Act. He also won both Artist of the Year and Reggae Artist of the Year at the Vodafone Ghana Music Awards.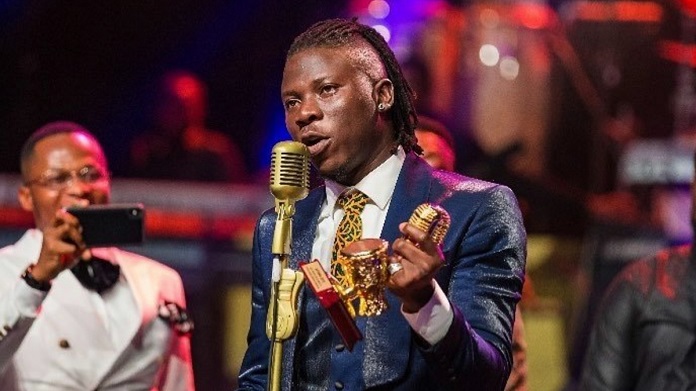 Stonebwoy was also named Best African Reggae Artist at the All Africa Music Awards (AFRIMA) in 2015. He was nominated once more for the BET Best International Act award in 2017. The Ghanaian singer won the Nickelodeon Kid's Choice Awards in 2018 for Favourite African Star. He remains the only Ghanaian act to receive two Billboard plaques from Billboard to date.