Established in 1992 and with a growing reputation for excellence, the University of Education, Winneba, is one of the leading academic institutions in Ghana. It has been tasked with training and producing the next professional educators to lead Ghana's new national vision when it comes to education. The Ghanaian government hopes that doing this will hasten social and economic development, which is why thousands of people apply for admission to UEW every year.
UEW is at the forefront of Ghana's resolve to produce world-class scholars whose knowledge base will reflect the country's contemporary nature. As a result of this mandate, the university receives applications from thousands of prospective students who desire to be the next group of well-trained teachers to join the Ghanaian education sector. The applications are not restricted to Ghanaians living in Ghana alone. Ghanaians abroad and even foreigners can also apply by following a relatively simple process.
How To Apply Online For Admission Into The University Of Education, Winneba (UEW)
Even though applying for admission into the University of Education, Winneba, has online and offline processes, prospective candidates are usually advised to take the online route. It is much faster, safer, and assured. To apply for admission online, follow the very simple steps below:
Obtain your application voucher from several locations (they will be named later in the article).
Once you have obtained your voucher, proceed to the website uew.edu.gh to begin the online process.
Click on 'Admissions' and select 'Apply Online'.
Proceed to log in with your voucher's serial number and PIN.
Fill the application form appropriately and accurately.
Submit online. Ensure the information you entered is all correct and satisfactory before you click on 'submit'.
Instructions to Note Before Starting Your Application Process
Before proceeding to fill the application form or even applying for admission to UEW at all, applicants should note the following information:
All applicants are encouraged to study the admissions brochure before completing their application forms properly.
Candidates that do not meet the competitive selection cut-off but satisfy the university's minimum requirements will have access to the fee-paying facility.
All certifications and results that are not from the West African Examinations Council, Polytechnics and Universities in Ghana, and/or institutions accredited by the National Accreditation Board, must be cleared with the National Accreditation Board. The evaluation report from the accreditation process should be submitted to the university along with these certificates.
Prospective applicants to the Physical Education and Sports Coaching degrees must not be more than forty (40) and fifty (50) respectively.
All successful Ghanaian Language applicants will be allowed to offer a second language in English, French, German, or Linguistics.
Special Education applicants must pass the entrance examination in their second program before they can be selected.
You will not be allowed to change programs after submitting your application form.
The Dean of the School of Graduate Studies must be immediately informed of any change of address situation.
Application Form Costs For Locals/Citizens And Foreigners
The application process for the University of Education, Winneba, is not free of charge. The amount you pay, though, depends on if you are local i.e. if you are a citizen of Ghana residing in Ghana or a foreigner/a citizen living in another country.
Direct Applicants – GHS 200
All Post-Diploma Applicants – GHS 200
International Applicants/Ghanaian Applicants from Other Countries – $100, which is roughly GHS 583.
Where To Purchase The University Of Education, Winneba (UEW) Application Form/Voucher
There are several places admission seekers can buy the form/voucher to apply to the University of Education, Winneba (UEW). The majority of these outlets are banks. Check them out below and choose the one most convenient for you.
Zenith Bank
Prudential Bank
Agricultural Development Bank (ADB)
Ghana Post Offices
UEW Campuses Cash Offices
Ecobank
GCB Bank
CBG
E-Voucher Service (Mobile Money)
For those that desire to use the E-Voucher, here are the steps you need to follow:
Dial *887*18# from your mobile phone (valid for all networks).
Input 'UEW'.
Select your preferred form type.
Confirm the payment.
If payment is successful, an SMS containing your voucher will be sent to you.
Documents Needed For The Application Process For Local And Foreign Applicants
Before starting your application process, it is essential to note that there are several documents you need to have with you. These documents are necessary at different phases of your application process. You cannot complete your application form and submit it if you do not upload and submit these documents.
Therefore, gathering these documents, scanning them, and putting them in place before starting your application is very much advisable. For applicants who are unaware of the required documents, take a look at them below:
Copies of all your certificates – academic and professional.
Transcripts of academic records.
One recent passport-size photograph of yourself.
Three referees' reports. These reports must be submitted directly by the referees to The Dean, School of Graduate Studies, UEW with the P.O Box address P.O Box 25, Winneba.
Birth certificate.
National Identification Card.
All documents should be in either .png, .jpg, or .pdf format. Don't hesitate to include any other document you are convinced will help with your application.
Admission Requirements For Different Programs At The University Of Education, Winneba (UEW)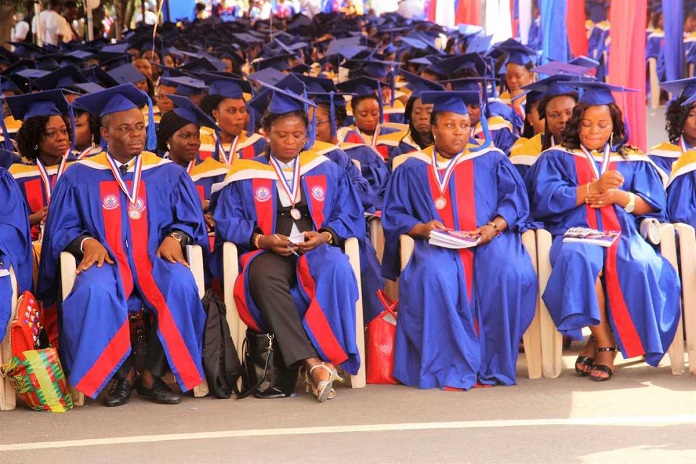 One of the things to take cognizance of before applying to UEW is the entry requirements for the program you seek admission for. There is no point in applying for a program in which you do not meet the minimum entry requirements.
Only proceed to purchase your application voucher once you are certain you meet the entry requirements. This will ensure that your application is processed. Below are the entry requirements for different programs at UEW.
Note that each course has its specific entry requirement that must be met, in addition to these general program requirements.
Bachelor Programs
Senior High School (SHS) Certificate Holders:
Must possess a minimum of six WASSCE passes, including three core subjects in English, Mathematics, and Integrated Science or Social Studies.
Three electives in relevant subjects with total aggregates of 36 or more.
Satisfy special program requirements of the program chosen by the applicant.
School Certificate/GCE Holders
Five credits at GCE' O' Level, including English and Mathematics.
Two 'A' Level passes other than General Paper in relevant subjects.
 Diploma Holders
Must possess a higher national diploma or equivalent from the previous area of study.
Full-time applicants must pass an interview.
Other Requirements
Candidates applying for French as the second area must possess at least C6.
Candidates applying for English as the second area must possess at least C6.
Candidates applying for another Ghanaian Language as a second area must possess at least C6.
Candidates applying for German and Linguistics need no prerequisites.
Diploma Programs
Aspiring diploma students who wish to gain admission into the institution must possess the following:
1. Diploma in Basic Education
WASSCE Entry Requirement – Applicants must have a credit pass (A1 – C6) in five subjects, including three core subjects in English, Mathematics, and two elective subjects relevant to the program of study.
SSCE Entry Requirement – Applicants must have credits (A – D) in five subjects, including three subjects in English and Mathematics, and two electives relevant to the program of study.
2. Other Diploma Programs Entry Requirement
WASSCE Entry Requirement – Six passes (A1 – D7) in all subjects, including English and Mathematics. Also, a minimum of C6 in any of the three subjects relevant to the area of specialization.
SSCE Entry Requirement – At least six passes (A-D) in all subjects, including English and Mathematics along with three passes in at least three subjects relevant to the area of specialization.
PhD. Programs
Applicants should possess the following:
A researched Master's Degree in the relevant field of study from an accredited institution.
A minimum cumulative grade point average of 3.0 in the course offered at the Master's level.
A minimum grade level of 'B' in the dissertation presented for the Master's Degree.
Things That Can Stop an Applicant From Getting Admitted
It must be noted that not every applicant who applies for admission INto UEW will get admitted. It is simply impossible. Certain factors can deny an applicant of admission.
Failure to meet entry requirements is a major factor. If an applicant does not possess the required qualifications stipulated by the university, their application will be unsuccessful and they will not get admitted.
An applicant failing to send in a proper application will also deny them admission. Inputting the wrong information or not attaching the appropriate documents might lead to a failed application process. This means you will not get admitted into the university.
Failure to meet the cut-off mark provided by the department for your program of study can also deny you admission. Cut-off marks are used to determine who gets admitted into the UEW and for what course. Failure to match or surpass the cut-off mark means no admission for that course. If an applicant's grade is close to the cut-off mark or matches cut-off marks of other related courses, they might get an offer in those courses in place of their preferred course.