Guaranty Trust Bank (GTBank) is a Nigerian multinational bank that ranks among the best 10 Nigerian banks. Just like most banks, the financial institution offers what they call GTBank internet banking services. It is a bank that many people rely on when it comes to international transactions, collection and clearance of foreign cheques.
GTBank Internet Banking
GTBank internet banking or GTBank online banking is a service that eases and conveniently allows its customers to bank from the comfort of their home, at work or abroad and shop online with ease. Customers can practically perform almost all the actions that would entail going to any bank branch from their comfort zone.
The Online banking option allows customers to check their account balance in real time, transfer funds and make payments to anyone locally or internationally. (Note that international transactions might require a customer to have a domiciliary account). You can also convert your foreign currency to local currency and print your statement from the GTBank Internet banking platform. In addition to all the above-mentioned benefits of GTBank's internet banking, customers can also pay their utility bills, request, confirm and stop cheques as well as book flight tickets on the following Airlines; British Airways, Lufthansa German Airlines, Aviareps-Afriqiyah Airways, Delta Air Lines, and Alitalia Airline through the platform.
The opportunities are quite enormous. It allows 24/7 access to accounts anywhere you are in the world so long as you have got internet.
See Also: How To Open a GTBank Non-Resident Nigeria NRN Account
How To Apply For GTBank Internet Banking And Login
There are various options available when you want to apply for GTBank Online Banking Service
1. If you have internet access, you can click here to download GTBank internet banking and token request form which you are to carefully fill and take to any GTBank branch near you. If you don't have internet access, simply walk into any of their branches to request for and fill the Internet Banking Form. A token is a small electronic device that helps secure your online banking.
2. The form can also be scanned and e-mailed to [email protected] if you are indisposed to walk into the bank.
3. Contact GTConnect (GTB Contact Center) to obtain your log-in details (Username and Password) or wait at the bank for them to set it up and give you your login details.
To maximize the benefits of internet banking, you should apply for a token at the same time.
4. After you have received your login details, visit https://ibank.gtbank.com/ibank3/login.aspx and type in your Username and Password (issued by Guaranty Trust Bank). You should be able to see a web page like the image below.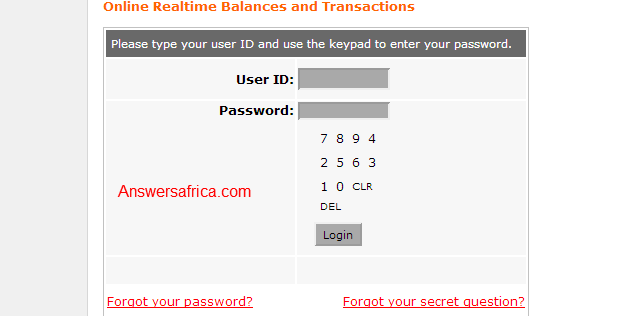 5. This should be able to take you into your account to perform any action you would like.
Note that your password should be guarded in the same way as your ATM card pin.
Bonus: How To Operate Your GTBank Account From Your Mobile Phone
After you have successfully logged on to your account, it would be wise for you to get the activation code for your card. The enables more levels of security especially if you are interested in engaging in online shopping with your bank card.
Also on the left sidebar, you should be able to see where to select services. Open the page and go through the listed services and add any other ones you think may apply to you as not all of the services are selected by default. You would be required to use your token at this stage after which your Internet banking account is 100% ready for any form of transaction.
See Also: How To Open a GTBank Account in Nigeria
Customer Care
If you are finding it difficult to open your account or have other questions such as the loss of Internet Banking Login details, the maximum amount to withdraw per request, Corporate accounts being opened for Non-Resident Nigerians, etc.
You can contact GTB by phone through the GTB contact center on 0700 GTCONNECT (0700 482666328) 01-4480000, 08029002900, 08039003900 and follow the voice prompt or press 2 and 0 to speak to an Agent.
You can also mail your queries or request to [email protected].
Topics you might be interested in: map of African countries, richest actors, East African countries, richest woman in the world