Founded in 1973, the National Service Scheme mandates graduating students from recognized tertiary institutions in Ghana to serve the country with a one-year national service. NSS Ghana incorporates graduating students from all tertiary institutions, including universities, technical colleges, and polytechnics who receive postings to various establishments to serve.
This scheme aims to provide fresh graduates with practical experience in professional settings, either within the public or private sector. It is considered the civic responsibility of every Ghanaian graduate to undergo this mandatory scheme. Postings for the NSS are usually released online. It is then up to the new graduate to verify where they have been posted and take the necessary steps to validate it.
How to Check Your National Service Scheme (NSS) Posting Online
The NSS posting is usually released online by the National Service Board (NSB). The NSS posting is known to take place in September every year, therefore, all prospective service personnel should become more attentive in the months leading to September.
It is important to note that before you can check your NSS posting, you must have completed the registration process accurately and secured your unique NSS code. The NSS alphanumeric code is crucial for identification purposes during the post-registration process.
Along with your NSS code, you must have also secured your NSS dashboard after registration. The dashboard will keep you updated regarding information concerning your postings and other news from NSS Ghana.
Once you have all of these, you can now await your posting. When news arrives that postings are now available, proceed to take the following steps:
Visit the portal.
Click on the 'Check Posting' option.
Proceed to enter your national service number and you should see your posting details.
Your details should contain the following – national service number, name, name of institution graduated from, your course of study, degree awarded, year of enrollment, posting, and status of your appointment.
There will be an option to print your posting notification or save it as a pdf file.
Note that you will be met with the 'record not found' feedback if your posting is not out. Give it a day or two for it to be updated then try again. If you are still being shown the 'record not found' feedback after three days, get in touch with your head of department at the institution you finished from to get it resolved.
Book an Appointment for National Service Validation After Checking Placement
After you have checked your NSS Ghana posting to know where you are going to serve, it is essential to secure an appointment for regional validation and acceptance. To do this, follow the process below:
Visit the website to sign in as personnel.
Enter the email you used for your registration as your username and use the aforementioned alphanumeric code as your default password.
You should see your dashboard after signing in. Click on 'Book Appointment' to book your appointment.
Booking the actual appointment takes place in three easy steps. The first is to select your preferred appointment date before clicking the 'find available slot' button. The next step is to select a preferred time slot from the options available for your preferred date. Click on the 'schedule appointment' button to complete your booking.
You are required to print your appointment form and take it along to the regional office when your appointment date arrives.
NSS Ghana Postings Is Strictly For Fresh Graduates From Accredited Tertiary Institutions
The National Service Scheme (NSS) is only open to new graduates from accredited and recognized tertiary institutions. Ghanaians who studied in foreign tertiary institutions are not exempted from the NSS and are also mandated to carry out their one-year national service.
However, there are instances where a graduate may not receive posting for the NSS, and they include:
The graduate has attained or will attain the age of forty by the time the national service for the year begins.
The individual had earlier undergone the national service and was pursuing another degree.
These individuals have to provide the necessary documents that back up their claims before they can be exempted from the NSS and not receive a posting. Also, there are instances where individuals can defer their posting until a later date and this includes:
An individual that is seriously plagued by health issues.
A graduate who has carried over some courses cannot accept the National Service Secretariat's posting until they have passed those courses.
As with the previous instances, these cases require documents that ascertain their claims to be true. Application for deferment should be made to the National Service Board through the executive or regional director. You should also note that you can assume that the plea for deferment has not been accepted without an official approval notice from the board.
Checking For NSS Allowance Can Equally Be Done Online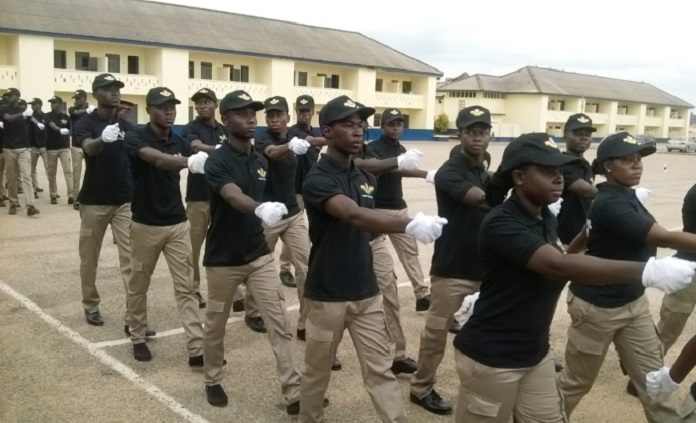 One of the conditions of the National Service Scheme (NSS) is that all service personnel, with the exemption of study leave graduates, shall be entitled to a monthly non-taxable allowance. This allowance is determined by the Ministry of Finance and stated in all service personnel's appointment letter.
The allowance is calculated from the first day of resumption of the service personnel at their workplace. Where the allowance for different NSS Ghana service personnel comes from is dependent on their postings as explained below:
Service personnel posted to schools and colleges under the Ghana Education Service, Ministries, Agencies, and Government Departments are paid by the government.
National service personnel posted to statutory boards, churches, and quasi-churches are to be paid by the establishments using their financial resources.
National service personnel posted to private companies are expected to be paid an allowance by those companies. Additionally, these companies pay 20% of their basic service allowance to the national service secretariat as a service charge. However, private educational institutions are exempted from this payment. Private companies have to accept these conditions before any service personnel can be posted to their organization.
All service personnel can check for their NSS allowance. They can do so online by following these steps:
Access your NSS dashboard using the portal.
Input your email and password.
Click on 'Your Allawa' from the drop-down menu option and all information concerning your allowance will be promptly displayed.
If your payment is yet to be made, you will get 'processing' feedback.
The NSS Monthly Allowance is GHC 599 and Hasn't Been Increased
Since 2017, the NSS monthly allowance has been GHC 599. It previously stood at GHC 350 until the recent increase. In October 2020, there were rumors that fresh graduates who receive NSS Ghana postings will get GHC 699 as a monthly allowance. However, this was swiftly debunked by the Public Relations Officer of the NSS, Mr Armstrong Esaah. He declared the Scheme had not considered increasing the allowance again for service personnel.
In November 2020, a group of NSS personnel referred to as Concerned National Service Personnel, raised a petition for the Ghanaian president, Nana Akufo-Adoo, and the National Service Secretariat, to increase the current monthly allowance. According to them, the standard of living in Ghana had increased and made things difficult for them. As a result, some personnel members had to resort to borrowing money to get to their place of work. They called on the NSS and the president to look favorably on their petition and act accordingly.
Presently, the allowance remains the same, and it looks like the petition has fallen on deaf ears. It is unclear if the NSS will review the monthly allowance and increase it in the nearest future.