The National Identity Management Commission (NIMC) which was launched in 2007 has been mandated to carry out several identity management programs in the country. However, a major task they have been working on for a couple of years now is the NIMC Tracking ID and since 2012, there has been ongoing mass registration of both citizens and legal residents in Nigeria to get their NIN. Although there is still a sizeable part of the country's population that is yet to be enrolled, tremendous progress has been recorded so far.
What Is A NIMC Tracking ID?
The National Identity Management Commission (NIMC) tracking ID which is popularly known as National Identification Number (NIN) is a Nigerian identity card issued by NIMC – a statutory organization that has been mandated by the government to handle the country's national identity management system.
This identity card helps the commission to integrate all the information of all Nigerians as well as legal residents into a database known as the National Identity Database (NIDB) to enable the easy identification of all those residing in the country. This has also been attainable because of the unique nature of every NIN that is, no 2 persons can have the came NIN. More so, it is only on the basis of a person's demise that his/her NIN is erased from the database and this is done upon the presentation of the death certificate to the commission who would have to verify that the person is actually dead before proceeding with the termination of his/her NIN from the database.
The Operations Of The National Identity Management Commission
The National Identity Management Commission (NIMC) came into existence by the NIMC Act No. 23 of 2007. This act mandates and empowers NIMC to manage, operate and coordinate everything pertaining to the identity of both Nigerian citizens and legal residents.
In accordance with their mandate, the NIMC commenced its mass registration process back in 2012. This registration process was also linked to the provision of National e-ID Cards which eligible persons can get once they have their NIN.
How Do I Check For My Tracking ID?
The National Identity Management Commission has made it very easy for individuals to check for their tracking ID. For those who have successfully enrolled for the NIN, an initial  Transaction Slip is usually issued and all the applicant need to do is to follow the steps below to get their NIN:
After 1 to 5 working days, return to the NIMC office or outlet where you had already commenced your enrollment process and present your Transaction Slip.
It will be processed and the main slip containing your National Identification Number (NIN) will be issued to you.
This NIN Slip has 11 eligible digits situated at the top left corner usually at the second row – that is your NIN.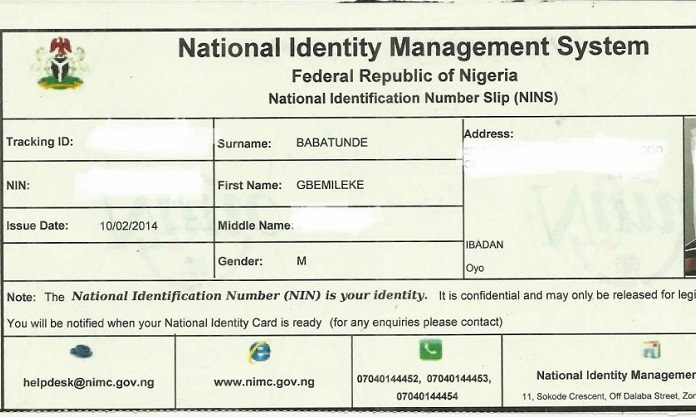 However, in cases where individuals have already been issued with the NIN slip but for one reason or the other misplaced it, do not fret because you can still retrieve the number. To get started on the retrieval process follow the steps below:
Dial the USSD code *346# – works on all the telecommunications networks in Nigeria and it will attract a service charge of N20.
Wait a few seconds and various options will be displayed on your screen from which you should choose: "NIN Retrieval", by pressing '1'
In less than a minute, your NIN will be displayed on your phone's screen. Simply copy the number or screenshot it and save it on your phone.
What Are The Different Things That The Tracking ID Can Be Used For?
The tracking number or National Identification Number (NIN) which the Nigerian government is issuing to persons is a unique number that links your biometric data to other details about you that are stored in the National Identity Database. Therefore upon verification and authentication, your NIN becomes more than a number but your identity in the country and it can be used for various things. Some of the occasions your NIN comes in handy are outlined below:
It's needed for you to get your National e-ID card
It's with your NIN that you obtain an international passport
Is used for opening bank accounts
NIN helps you get your driver's license
For those without a Permanent Voters' Card, your NIN is now needed to obtain one
Health providers will request for your NIN to participate in the National Health Insurance Scheme
It can be used to pay your taxes
It's needed for transactions that relate to any contributory pension scheme you are involved in.
With your NIN, you can have access to welfare packages and other services from the government
It is used to checkmate any transactions that may have social security implications
Land transactions as stated in the Nigerian Land Use Act can be carried out with the NIN
How Do I Check The Status Of My National ID Card?
After the successful enrollment for your NIN, it is possible to use the 11-digit NIN to check whether your National Electronic Identity Card (e-ID card) is ready for pick up as well. However, unlike the NIN, the National e-ID Card is only issued to Nigerian citizens and legal residents who are 16 years old and above.
Eligible persons with verifiable NINs will hereby receive an SMS from NIMC to inform them that their National e-ID Card is ready for pickup after which they can follow the steps below to get it:
Visit the NIMC Collection Centre which was indicated in the message you receive and take along your NIN or Transaction slip
Once you get to the Collection Centre, show them the Batch ID as indicated on the SMS
As soon as the verification process is concluded, you will be given an envelope containing your National e-ID Card. Remove the card from the envelope and sign on the indicated space at the back
Ensure that you do the Biometric Verification in order to that the card was printed properly and it belongs to you
After the biometric verification, you can activate your card by entering a 4 digit number
You can also proceed to load cash on your activated National Identit e-ID Card via any UBA branch nationwide
Other FAQs About The Tracking ID
The answers to some frequently asked questions about the NIMC tracking ID have been provided below to help you understand how the commission works:
Question 1: How many working days does it take for my NIN to be ready upon successful enrollment?
Answer: It will take a maximum of 5 working days for your NIN to be ready for use
Question 2: Do I need to reapply for a new NIN when I forget the old one?
Answer: You do not have to reapply for a new NIN all you have to do is to retrieve the one you already have by using the USSD code *346#  or visit the closest ERC where you will provide your phone number, DOB, or your fingerprints and your NIN will be retrieved.
Question 3: Can I showcase my NIN on social media platforms?
Answer: Your NIN should not be displayed on any public platform. It is a very important number that should be protected like the PIN to your ATM/Debit/Credit card.
Question 4: Can My NIN be revoked?
Answer: You can only be removed from the NIMC database upon verification of demise. Apart from that, as long as you have been given a NIN, the only change that can be done is to update your details but not to revoke the NIN.
Question 5: Where can I find a NIMC center to register for my NIN?
Answers: NIMC registration centers can be found in the capital of the 36 states as well as the FCT. The 774 local governments also have enrolment centers and to know them, go to the NIMC page.