WhatsApp is an instant messaging application for android, windows, blackberry, iPhone and Nokia smartphones. It allows the users to send messages to any smartphone without having to necessarily pay for the sent text. In addition to mobile phones, there a growing need for WhatsApp for PC. All the smartphones can send messages to each other, share audio, images and videos. The popularity of WhatsApp is rising at an alarming rate following the increased usage of smartphones. Recent statistics show that WhatsApp handles more than ten billion text messages daily, on an average basis with more than a hundred thousands new users joining each day.
How WhatsApp Works?
WhatsApp is being adopted all over the world with its popularity growing tremendously among the youth who are fond of chatting via text messages. The service comes with no special charges and all a user needs is a smartphone with a 3G internet connection or wi-fi. International charges for sending text messages are exempted too, making it easier for the users to enjoy exchanging messages with other users all over the world irrespective of location. The sent message is received instantly despite the distance and the zero charges. There is no need to add a friend on as it automatically gets access to your phone book making an instant connection together with displaying the list of all your friends who are also signed in to WhatsApp.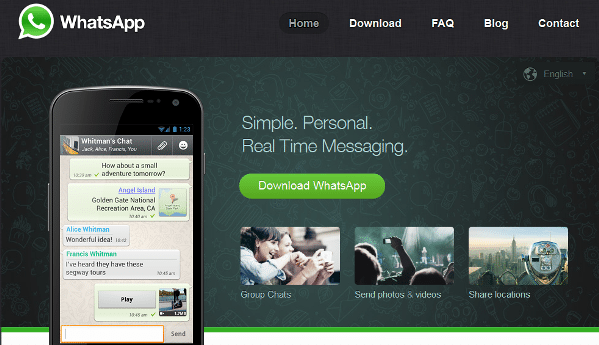 WhatsApp shows messages in minute text bubbles, allowing you to stamp the text message and proceeds to notify you if the text has been read by the recipient. You are also able to include audio, images and videos amid your conversations. This also comes with the ability to personalize your platform including changing your background together with sending your GPS location to a more active and interactive map. In addition, you can also send quick notes such as 'I am busy', 'My phone battery is going low', 'I'm sick' among myriads of such quick texts which are already typed.
If you are interested in having a group chat, then WhatsApp will give you the thrill of enjoying the messaging blast. You can use the message broadcast feature to bring your entire contact list to chat or simply click the radio button to select who you want to have in your chat list.
Blocking a contact is not an intricate task and you don't have to put up with those annoying characters in your chat list. You can also send contact information to anyone without necessarily leaving the chat platform.
Downloading the WhatsApp application is the easiest of all; however, the download steps vary depending on the device you want to use.
Officially, there is no WhatsApp for PC directly from WhatsApp however, there are emulators that you can use to relay and use Whatsapp on PC. Follow the steps below to get started on using WhatsApp on PC:
Download an emulator called Bluestacks
Install Bluestacks after it is downloaded
Open the Bluestacks app and search for "WhatsApp" by typing it in the search bar.
When the search is completed, install WhatsApp by clicking on it and at this stage
WhatsApp messenger for PC will be downloaded and be auto-installed on your computer
You have completed the installation of WhatsApp for PC
Downloading and using WhatsApp on a mobile phone is a pretty easy thing to do. You simply click on this link to visit official Whatsapp website with your mobile device. Your mobile phone will be automatically detected.
WhatsApp Messenger exists for various mobile devices available in the market.
Whatsapp messenger for iPhone
Whatsapp messenger for Android Phones
Whatsapp messenger for BlackBerry
Whatsapp messenger for Nokia Symbian
Whatsapp messenger for Nokia S40
Whatsapp messenger for Windows Phone
After you have clicked on the link above, select the "download" button and save it where you can have an easy access. What follows is for you to sign up for the application. The details for signing up will be presented to you when you open the already installed application. The signing up only requires your name, country, email and the logging address and you are set to go.
With WhatsApp, there is no need to log in or out in as you are always connected. The messages can be sent in any instance and you will be notified whether you are on or off. This service is aptly integrated into your phone system and you can communicate just like the normal short message service (SMS) with no need to get yourself a user-name or any other logging information.