We all need and value our privacy. The need to keep our phones from being used by unauthorized persons leads us to create security codes or pins in our phones. Away with the notion that using a password for your devices means you have something to hide. This is because in our world today, sensitive data like banking and account details, social security details, corporate email information, and so on are stored on our devices, and it is only in our best interest that we keep that information safe.
Every SIM card comes with its default security codes, and it remains that way until you decide to change or edit it. Changing it means you input your personal code, which no one else except you knows. However, there are times when we tend to forget these codes. Unfortunately, we are given only three chances to try to have the phone or SIM unlocked, after which we are completely blocked from accessing our phones (except, of course, for emergency calls) until you provide a PUK (Pin Unblocking Key). Trying to get back your phone at this period could be quite challenging. Fortunately, the case may be completely different for Vodacom sim users. So, before you sound the alarm and go into panic mode, take a minute to 'Keep calm, and let's show you how to use your Vodacom PUK number.
What is a PUK Number, and When do You Need It?
The Pin Unblocking Key (PUK) is a security feature of all modern SIM cards used to unblock a SIM card if a user enters the wrong PIN three times. There is nothing worse than that helpless feeling of being locked out of your phone after entering your PIN incorrectly for the third time and being locked out. The PUK code is unique to each SIM card, and entering it incorrectly too many times (usually ten) can get your SIM disabled, so it's important to use the correct one.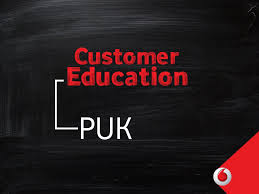 How Do I Differentiate A PUK Code From A PIN Code?
The PIN (Personal Identification Number) code is intended to protect your SIM Card from unauthorized use. A pin code has a set of four codes, usually in default of 1234. Once you buy a SIM, it is advised that you change the default pin to a secrete code you can easily memorize and use. No one can ever find out you changed your PIN.
The PUK (Personal Unblocking Key) code is a code consisting of 8 digits. It is used to unblock your SIM card when you enter the wrong PIN code 3 times. A SIM blocked by the PUK code cannot be unblocked; it cannot be used any further, and you have to replace it.
Difference Between Unlocking Phone and SIM Unlocking
Phone unlocking means you are unlocking your phone's security screen so that you can use your device. This is mistakenly referred to as SIM card unlocking, unlocking a SIM to gain access to your service provider. You might also see the term phone unblocking – this is used to differentiate between clearing security blocks and removing network restrictions clearly.
Another confusion that sometimes occurs is between PUK codes – used for unlocking – and PAC codes, which let you keep your mobile number when you change your network. You can get PAC codes from your provider.
Where Can I Find My PUK Code?
Vodacom has several ways to help its customers retrieve their PUK number. You can retrieve your PUK number via the Vodacom app, Messaging (SMS), and USSD code. You would use the My Vodacom App once you have downloaded the app onto your phone from the app store. Use one of the methods below and enter your phone's unique PUK number.
To Find Your PUK Number Using My Vodacom App
Log into the My Vodacom App
From the balance overview page, open the main menu.
Tap on the "My Account" menu item
From the drop-down menu, select "Account details."
You will then be required to log into the app to access this secured information.
The USSD Code method
Dial *135#
Select 'Services'
Select 'PUK Number'
SMS Method
SMS 'VPP' to 31050 from the cellphone number that you need the PUK for.
Can I Get My Vodacom PUK Number Online?
The answer to that is YES. This is considered the simplest method you can use to retrieve your PUK number. Follow this guideline to get your PUK code.
Log in to My Vodacom online,
Select 'Manage my profile.'
Select the tab 'Price plan and phone,' and you will see your PUK number displayed.
Other Means:
You can find the PUK code on the little card from which you broke your SIM Card out. Rub off the grey field carefully.
You can also dial 082 135, FREE from a Vodacom cellphone, and follow the voice prompts.

Note:
After having entered the PUK code, the telephone will ask you to enter a new PIN. We suggest choosing a PIN code other than 1234. Subsequently, you will have to enter the new PIN once more for verification
You have 10 attempts to enter the correct PUK code. After that, the card will be blocked entirely, and you will no longer be able to use it.
How To Avoid Getting Locked Out Of Your phone
When you repeatedly find yourself needing a PUK code after keying your passcode wrongly, consider one of the following for smartphone users:
Use a security pattern instead of a number: You might find it easier to use this method than one based on numbers if you are more of a visual person. This, however, doesn't mean you'll never enter the wrong pattern.

Keep your PUK code: Now that you know what a PUK code is and its use, Keeping your future SIM card pack is necessary. The PUK code printed on it will let you easily unlock your phone if it becomes blocked.

Always unlock your phone yourself: Do not allow anyone to help you unlock your phone or sim. In any case, if you let someone else use your phone, stay close by so you can unlock it again if need be.

Turn off the Phone/ SIM security: If you're heading somewhere where you know there's a good chance that you'll enter your code incorrectly, you can turn off your security completely.