Have you recently joined the growing list of more than 54 million people who use the Globacom network? Want to know how to load a Glo recharge card? You will need to know a ton of information as the newest member of one of Nigeria's indigenous telecom companies. This article will cover a significant part of them, especially those related to airtime, a necessity for mobile phone users. Here, you will learn how to load a Glo card, take advantage of its Borrow Me Credit service, and the recharge codes to enjoy its plethora of bonuses.
The Two Easy Ways to Load a Glo Recharge Card
Assuming your Glo sim is not your first mobile number, you probably know that you can recharge by buying the traditional paper card. It comes with a recharge pin that gives you the value on the card. However, with bank recharges on the rise, Glo also has an easy step for every user to recharge their lines, irrespective of their bank.
1. Recharging Via Bank Account
With Glo, there is no need to download your bank app or learn your bank's dedicated USSD code to load a card on your line. All you have to do is use the universal Glo shortcode – *805#. To use it, follow these steps:
Dial the code *805# from a registered Glo line
Select your bank
Choose the amount of airtime you want
Follow the prompt
That's it, in less than five steps, you have recharged your Glo line, all from the comfort of your home. Reminder, the code supports every bank, and thus, you do not need to download your bank app or even need a smartphone to use it.
Another advantage of this method is you can recharge for someone else directly, without having to load first on your phone and transfer airtime to them.
2. Recharging via a Glo Card
If the USSD route is too new school for you, and you prefer the golden days of walking to a vendor to buy a recharge card, that option exists for you also. Once you have the card, you can load your Glo in three short steps.
Scratch out the 15-digit pin
Type in the shortcode: *123*PIN# (E.g: *123*123456789876543#)
Hit "Send"
Just like that, you have the equivalent credit on your line to call your friends and family. If you want to double-check your airtime balance, just dial #124#. You can also use this after every call or text to see how much you have left.
What to Do When You Over Scratch Your Recharge Card
We are humans, and mistakes do happen. Maybe in haste, while trying to load your Glo card, you mistakenly scratched off a number or more in your 15-digit PIN. Before you throw out the card away in frustration and disappointment, you can undo this mistake in a couple of steps.
Write down the serial number of the card
Call the Glo Customer Care at 121 or 200 (Use 2348050020200 if you are calling with other networks)
With the serial number, the customer care agent will be able to identify the card and dictate the correct PIN to you.
Step by Step Procedure to Borrow Airtime on Glo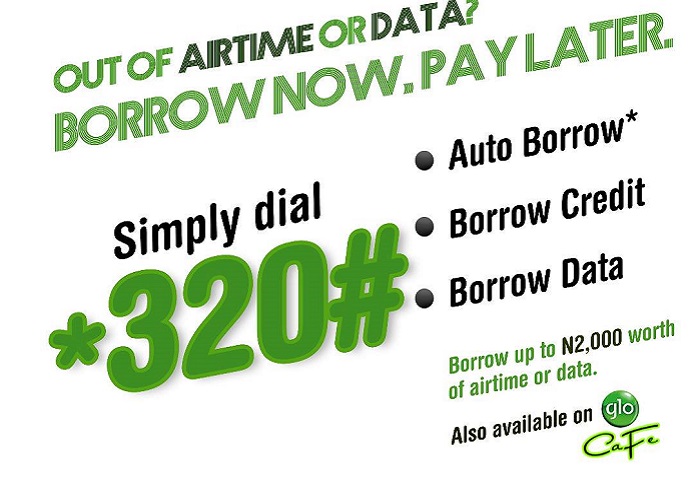 The evolution of the telecom industry in Nigeria has made it possible for active users to borrow airtime to complete their calls when they are out of money. Glo users are not exempt, and after meeting specific requirements, customers of the network can borrow airtime when they need it using these steps.
Dial *321# to create a 4-digit pin that protects your line
Dial *321# to open the Borrow Me Credit portal
You will see a list of credit amounts you qualify for
Select the amount you need
Alternatively, if you are a frequent airtime user and are confident that you have a good credit rating, you can request the amount you need directly by using any of the following shortcodes.
N50 – *321*PIN*50#
N100 – *321*PIN*100#
N200 – *321*PIN*200#
N500 – *321*PIN*500#
N1000 – *321*PIN*1000#
Suppose you are technologically savvy and prefer to borrow online. In that case, Glo also offers online recharge, which you can access by clicking this link.
To pay back the loan, all you have to do is load a Glo card with an amount higher or equivalent to what you borrowed. Most people go with the former. We also advise you do this because when you recharge, the deduction is made immediately, and an equivalent recharge will leave you with zero airtime.
Things You Should Know Before Borrowing Glo Airtime
Before you go on a borrowing spree with your Glo line, there are a few key details you need to know about the service.
1. Using the Glo Borrow Me Credit service is not free. Every transaction attracts a percentage service fee deducted from the borrowed amount.
2. You must be an active Glo user for at least three (3) months to borrow any amount. The minimum required active period increases as the amount increases. For instance, you need 12 months of active usage to borrow N1000.
3. Regular recharging is also necessary. You must recharge a healthy amount on average every month to qualify for the service. Also, each amount has different monthly recharge requirements. The table below is a full breakdown of the above rules.
| | | | | |
| --- | --- | --- | --- | --- |
| Amount | Time on Network (Months) | Average Monthly Refills | Service Charge Amount (Naira) | Airtime Credited |
| 50 | 2 | 4 | 7.5 | 42.5 |
| 100 | 2 | 4 | 15 | 85 |
| 200 | 2 | 4 | 30 | 170 |
| 500 | 2 | 4 | 75 | 425 |
| 1000 | 2 | 4 | 150 | 850 |
| 2000 | 2 | 4 | 300 | 1700 |
4. The borrowed airtime has a validity period. Smaller amounts have a shorter validity period, and higher amounts have a more extended period. Usually, the default payback period is 72 hours.
5. Failure to pay back within the validity period will adversely affect your credit rating.
6. You must repay a loan before you can borrow another.
7. While other networks require a minimum amount in your airtime balance before you can borrow credit, Glo allows you to borrow credit with any amount in your main account.
Recharge Codes You Can Use to Load Your Glo Card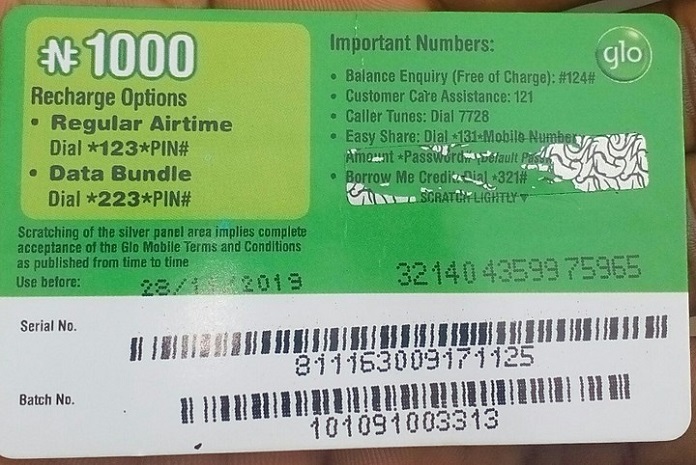 We have discussed the traditional and direct way to load Glo cards, using codes *805# for banks and *123*PIN# for card vouchers. However, those are not the only ways to load a Glo card. The telecommunications giant offers alternative methods, one of which gives customers extra value for their recharge.
Glo 4X
This is a special offer by Glo that allows customers to receive up to four times the value of their recharge card. Use the code *323*PIN# rather than the regular *123*PIN# stated earlier to enjoy this bonus.
If you are recharging electronically, you can still take advantage of this code by topping up these specific amounts.
N125
N175
N225
N525
N725
N1025
Glo Amebo
Another special offer you can take advantage of when loading your Glo card, giving you five times the value of your airtime. It is available to new and existing prepaid customers and accessible by dialing *555*PIN#.
You cannot use the bonus airtime to purchase data, but you can use it to call any network. Also, except for N100 and N200 amounts, which expire after 14 days, all bonuses are valid for 30 days. To check the balance for your Glo Amebo, use #555*5#.
If you are recharging electronically, recharge the following amounts to take advantage of the offer: N120, N220, N320, N420, N520, N620, N720, N820, N920, N1020, N1120, and N1220.
Bank Recharge Codes
If you would rather load a card using your bank's recharge shortcode instead of Glo's, here is a list of every bank connected to the service.
Access Bank – *901#
Ecobank – *326#
Polaris Bank – *833#
Union Bank – *826#
Jaiz Bank – *389*301#
FCMB – *329#
Sterling Bank – *822#
First Bank – *894#
Zenith Bank – *966#
GT Bank – *737#
Unity Bank – *7799#
UBA – *919#
Wema Bank – *945#
Fidelity Bank – *770#
Keystone Bank – *7111#
If you can't find your bank, you can either dial 121/200 with your registered Glo line for free. An agent will assist you with other options to load your Glo card.