Telkom is one of South Africa's leading telecommunication companies and it has expanded its services to over 38 other countries in the African continent. This communication giant also boasts of a massive customer base and to ensure optimum customer satisfaction, Telkom has been developing simple and efficient ways for its teeming customers to access their services. A major platform the company has been able to integrate a lot of its services on is the My Telkom app.
How To Access Your Account Via The Telkom Mobile App
Apart from going online to access your Telkom via their official web page, you can still do so via the Telkom mobile app. If you already have the Telkom mobile app, all you need to do is just launch the app on your phone then input your username and password. After this, click on the login button and your Telkom account will open immediately for you to access.
However, if you are yet to get the app, this can be done either by using the Google play store or the Apple play store by following the steps below:
Open Google Play Store (if you use an Android phone) or Apple Play Store (if you use an Apple phone) and download the Telkom app.
Select the install button to install the app on your phone.
Then click the allow permission button to give the app permission to your mobile device.
After the app has been installed on your phone, you would be required as a new user to register your details. To do so use the guide below:
Click on registration when you open the Telkom app.
Fill in the details that will be required of you alongside your email address and password.
Select agree on terms and click on the Next button.
You will receive an OTP at the email address you provided.
Go to your email copy the OTP and input it in the required section on the registration page.
Once all the information you have provided is verified, your Telkom account will be created and ready for use.
Steps To Login In To Your Telkom Account On Web
Once you are a Telkom user and you have completed the necessary registration process, you will be given a personal Telkom account which you can log into by following the steps below:
Visit My Telkom Login page.
Navigate to the part that says Registration/Login below.
Enter your username or email address which can also serve as your username.
Enter your password in the next row immediately after your username.
Click on the login button and your Telkom account will be displayed on the screen.
How Do I Rectify Wrong Password Or Username Issues?
Although using the Telkom app is easy, you can still face some challenges. A very common one is when users forget either their password or username which means they will automatically be denied access to their account. To rectify this, follow the steps below:
Go to My Telkom login page.
Navigate to the registration section and under it, you will find the statement: "I forgot my username or password."
If it's your username that you forgot, click on it and a dialog box requesting for your ID/Passport type as well as the numbers will pop up. Fill in the details and proceed to the next page to retrieve your username.
If it's your password that has issues, just select "password" and a dialog box will pop up.
Enter your email address in it and an OTP will be sent to your mail for you to RESET your password.
The Different Things One Can Do On The Telkom App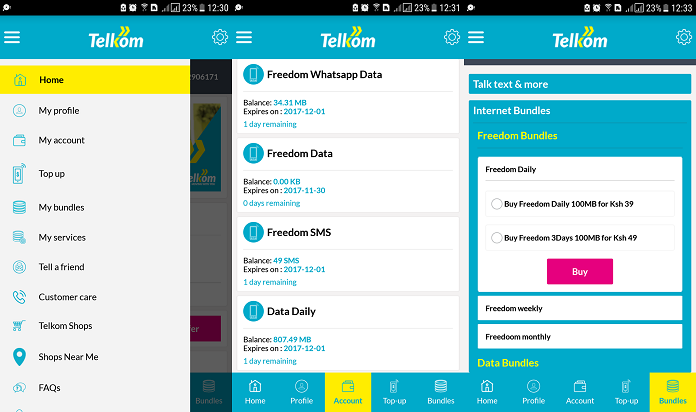 With the Telkom app, uses have a wide range of services they can benefit from that is just a click away. All you have to do is launch the app and once you have been given access after keying in your username and password you can start resolving any issues you have with ease.
Here is a look at several things Telkom users can do on the app:
1. Top-Up Airtime On The Telkom App
Buying airtime is one of the commonest things people do on the Telkom app and it can be done via the following simple steps:
Launch and log in to the Telkom app on your mobile device.
Navigate to the section on the far right.
Once there, you will see an icon with Topup click on it.
Enter/select the required amount and send.
2. Check Your Airtime Balance
If you are not sure of how much airtime you have in your Telkom account, you can confirm the figure by using the Telkom app. The steps to help you get started include:
Open the app on your mobile device and log in with your details.
Go to the accounts tab.
Once there, you can view how much airtime you have in your account.
3. Purchase Any Data Subscription Plan
For users who wish to purchase data bundles from the Telkom app, here are the steps to follow:
Go to your Telkom App and open it.
Enter your username and password to gain access to the platform.
On the main dashboard, select My Bundles.
Select the bundle/amount you wish to buy from the list of options in the section.
Select the type of bundle; whether it is LTE or LTE-A Once Off.
Select your payment method and confirm what you have entered.
Your account will be credited once your payment has been verified/processed.
4. Check Your Data Balance
Telkom users can also check their data balance on the Telkom app by following these simple steps:
Launch the app on your phone and log in with your username and password.
On the dashboard of the platform, go to Accounts to view your data balance.
5. View and Make Payments Of Outstanding Telkom Bills
On your Telkom app, you can easily see any outstanding Telkom bill and make payment. To do so:
First, open the app and log in.
Then navigate to accounts to see the available balances there.
Go to manage accounts and if you want to make payments, you can do so here.
Other Things You Can Do On The App include:
Apart from the above usually done on the Telkom app, here are more services that can be accessed on the app:
Transfer airtime to family and friends.
2. Send a message to a Telkom agent to get assistance with troubleshooting.
3. Easily log a fault.
4. Cancel any ongoing Telkom services.