Safaricom is Kenya's leading mobile network, thanks to the media outfit's innovative products and services that have been ingrained into the country's telecommunication industry. Over the years, people who favor the network have attested to the efficacy of the Safaricom Selfcare service which gives users the freedom to manage their accounts online, as well as boost accessibility. For this write-up, we are going to explain the steps involved in logging on to your Safaricom Selfcare portal.
Safaricom Selfcare Registration Can be Done in Three Ways
Before proceeding to register for your Safaricom Selfcare service, it is important to note that it can be done in three different ways namely;
Individual registration
Corporate registration
Non-safaricom registration
These are the Steps to Take While Registering For Safaricom Selfcare
The steps listed below should be completed before one can successfully access their account via the Safaricom login.
Enter the Safaricom URL www.safaricom.co.ke
Click on the "Selfcare" button
Select your preferred kind of registration – individual, corporate, and non-Safaricom
If you are registering for personal use, select "individual"
Enter your username and mobile number.
You will receive an activation number after agreeing to the terms and conditions
When you get the activation number, enter it to complete the process.
Whenever you wish to log on to the Safaricom portal, you will be required to enter the username and password used during the registration process, thus, it must be kept safe for later use.
Safaricom created customer care online chat to address the needs of users experiencing difficulties and technical issues in any of the company's products and services.
How Do I Log Into My Safaricom Selfcare Portal After Registration?
After users have successfully completed their registration on the Safaricom Selfcare portal, they can easily log on at convenience to effect transactions like bill payment, check their balance, and many more. Logging into the portal entails entering the Safaricom URL www.safaricom.co.ke then proceed to key in the login details created at the point of registration; this includes your username and password, your mobile number can also suffice. Once you have entered all these in the right boxes, click on the "Login" button and you are on.
Things You Can Do On the Safaricom Selfcare Portal
1. SIM Swap
People whose SIM cards are lost, those that wish to upgrade to 4G, or need to replace their SIM cards for one reason or the other can now leverage the Safaricom Selfcare portal. Before now, it would have involved a trip to the Safaricom shop in your vicinity or any authorized outlet such as M-Pesa outlets, but now, users can easily accomplish this on their own. Just visit selfcare.safaricom.co.ke from your mobile or desktop browser and everything will be sorted out in a jiffy.
2. Checking Your Top-up History
The Safaricom Selfcare portal has simplified the process of checking how much users are spending on airtime recharge at any given time.
3. Setting up Roaming Alerts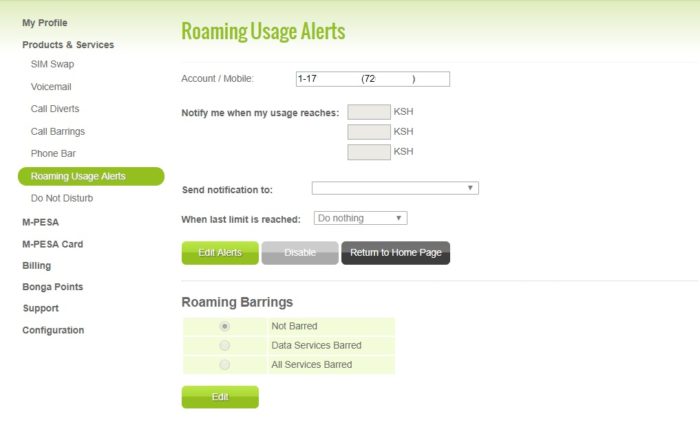 This service is for the benefit of users who are continuously on the move. The selfcare portal will always come in handy for people who constantly find themselves outside the shores of Kenya. With it, users can activate period alerts; this will notify them if they are about to exceed their set usage limit, thus prevent them from burning up all their airtime.  In the case of those using postpaid plans, their roaming bills will be kept under check, reducing expenses to the barest minimum and the culmination will not be too high at month-end.
4. Bar or Unbar the Phones You Are Using
Users who alternate between different devices daily can now enjoy better services with Safaricom as the communication outfit keeps a comprehensive log of all their used devices. The essence is that at any given point, users can log into their Selfcare portal to view where and where (which devices) they have used their Safaricom SIM. From there, users will be in a better position to bar or unbar their Safaricom SIM from being used on any of their devices.
5. Checking Bonga Points
It is true that users can leverage the shortcodes (*124# or *126#) or mySafaricom application for checking their Bonga points, but you can still do the same through your selfcare portal.
6. Your M-Pesa Transaction Charges Can Be Checked On The Selfcare Portal
Users are just spoilt for choice on mobile devices. They can leverage the MySafaricom app to check transaction charges before even completing the transaction. The Safaricom's M-Ledger application (with an in-built "M-Pesa cost calculator) is at their disposal to view a complete breakdown of likely charges in the event that they proceed with a transaction. Users can still accomplish all these via their mobiles or desktop, all thanks to the Safaricom Selfcare portal.
7. You can Create Service Request on the Safaricom Selfcare Portal and Keep Track of Them
For Safaricom users, they can make service requests at the closest retail outlets, vial calls, text messages, or online through different social media channels. Users experiencing problems with their billing process can leverage any of the social media channels to table a complaint to the Safaricom customer service team. The onus is now on the customer services rep to properly address the person's complaint by creating a service request on their system.
However, with the aid of the Selfcare portal, users can conveniently raise these service requests from any location without having to visit the outlets. The benefit of using the Selfcare portal here is that the concerned users can be more articulate about the issue and is at liberty to check on the portal from time to time to know how the issue is being handled.
8. Checking the PUK
It is true that users have been checking their PUK numbers through MySafaricom app or by making a request through another device (though, this calls for a valid national ID), but there is also the option of going through the Selfcare portal to check the PUK number.
9. Checking Your Tariff
Getting information on tariffs has been made easy with the maturity of the telecom market. For Safaricom users, they can get informed on demand through their Selfcare portal
10. Opting Out Of Promotional Messages
Sometimes, getting suffused with promotional messages can be annoying, especially if one prefers to get the kind of alert that says "your account has been credited with Kshs ……" The faces of people who after all the anticipation receive a mere promotional message tell their own tale. To put a cap on all the promotional message stuff, Safaricom users can just go to the Product and Service Menu and leverage the Do Not Disturb icon to get started