Since its establishment in 1962, the University of Cape Coast (UCC) has not lost its place when it comes to producing highly qualified and skilled manpower to the African economic hub. In addition to its earlier known function of producing graduate teachers, the global tertiary educational institution has gone on to produce health care professionals, legal professionals, administrators, and agriculturalists. The UCC is also best for bringing quality distance learning education to the doorstep of its students.
For every academic session, the UCC student portal remains pivotal for the administration of every eligible student of the institution (both formal and prospective students). Thanks to its fast and efficient services, users could easily gain access to some of the necessary services that would otherwise lead to long queues in the different concerned departments. These basic services it offers include
Admission online application
Examination and results checking
Academic Calendar and Time table
Fee and acceptance fees payment
Course registrations
Accommodation booking
Transcript
Extra credit Hours
Deferment of admission
However, before you can access any of these services, you are required to first register and own a UCC student portal account.
How Do I Create A UCC Student Portal Account?
Before going on to create your student account as a prospective student, you must ensure you have  a student reference/ID number (which was sent to your phone number via text message (SMS))
In case you did not receive any SMS from the University, simply visit the University's admission portal and click on the "registration number finder" link. Provide the information needed and click on the " submit button and wait for your registration number
Login to the UCC official student portal: https://portal.ucc.edu.gh/ and follow the prompts to provide your biographical information, complete fee payment, and print your confirmation of registration. Once your registration is completed, you will get a password and student ID which you will use to access other services the portal offers.
UCC Student Portal Login Guideline
1. Using an internet browser e.g. Internet Explorer, Chrome, Firefox, etc., visit the University of Cape Coast, UCC student portal link as shown above.
3. Enter your User ID as your Student Number and Password as National ID (default or whatever you change it to)
4. Upon successful login, you will be directed to your homepage.
5. Click the items as shown on your homepage/dashboard to monitor both your academic and fee payment progression at any point in time.
How To Recover Your Lost Or Forgotten UCC Student Portal Password
There are two available options you can use to reset your student portal once you've lost or forgotten your password. You can click on the password reset link to reset your password using either of these two options:
 SMS Password Reset Option
At the right hand of the portal, enter your student registration number and telephone number
Click on submit
You will receive a reset code on your registered phone number
Input the reset code received for verification
After your reset code is verified, your password will be reset and you can log in.
E-mail Option
Enter your student registration number and email address
Click submit
Sign in to your email account
Check your inbox/spam/junk mail for email received from Student Portal
Click on the link given to you to reset your password
You will be redirected to the student portal login page (portal.ucc.edu.gh).
How Do I Check My UCC Admission Status Online?
Admission status is made available for all successful applicants once the management of the institution releases and uploads the names and admission letters of its accepted applicants. All successful candidate for the various kinds of admission list can access their status by following the guidelines below: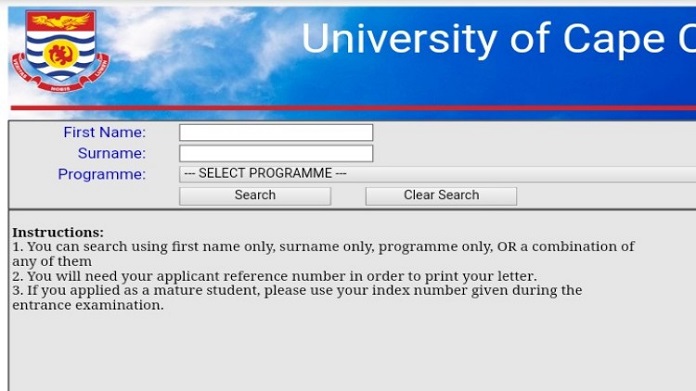 Enter your first name, surname, and program in the field provided,
Click the "search" button to access your admission status.
In areas whereby the applicant is not sure of the program he is offered, only the names can be used to search for the admission status
You were not given admission if your search result  says "SORRY, NO RECORDS MATCH YOUR SEARCH" for all combination of names
 After confirming your status, proceed to the University's admission portal or unit to obtain your admission letter
Kinds Of UCC Admission Lists
Admission list and status varies at the  University of Cape Coast (UCC) and each is accessed based on the program one applied for. The processes for checking the admission list remain the same for all kinds of admission lists. The list includes:
UCC regular undergraduate admission list – For regular applicants who have been offered provisional admission for each academic year
UCC Distance learning Admission List – For all successful applicants for distance learning undergraduate and postgraduate courses at the university
UCC Diploma Admission List – For applicants wishing to take a diploma program at the university
UCC Sandwich Admission List and Admission Status – For applicants wishing to take part-time courses
UCC Law Admission List And Admission Status – For all UCC law applicants
UCC Postgraduate Admission List and Admission Status – For all postgraduate applicants
How To Print Your UCC Admission Letter
Congratulations if your name is listed among those offered admission. However, you will still not be able to print your admission letter without your reference number which would be sent to you via text message(SMS).
1. Before you begin the admission letter printing procedure, you should have checked your
admission status on the UCC Admission list released on the UCC admission status checker
portal through the steps we have provided above.
2. After checking your admission status on the UCC admission status checker portal, you will find an option to print your admission letter, if the option to print the UCC admission letter is not available, visit the UCC Admission list and Admission Status checker portal: https://admissionlist.ucc.edu.gh/online_letters/admList.php
4. Enter your first name, surname, and program you applied for
5. You can search using the first name only, surname only, program only, but a combination
of all of them will make your search faster.
6. Afterwards, click on the "search button" to search for your name in the UCC admission list
7. You will then see the option to print out copies of the admission letter.
What You Must Do Before And After Printing Your UCC Admission Letter
You will need your application reference number in order to print your letter.
Applicants who have forgotten their application reference numbers should check the email account for a copy of the application forms which have the reference numbers on
them.
 If you applied as a mature student, please use your index number given during the
entrance examination.
Print a copy of your Admission Letter to be sent to the school
Pay your required fees at the designated bank(s) listed in your Admission
Letter to accept your offer.
Any further delay in paying the required fees on the stipulated date will lead to the cancellation of the admission
New students given admission can then print hospital examination forms from here.
Contact The Following For Help
In case you encounter challenges relating to admission letters, registration numbers, and accessing the students' portal should contact the Directorate of Academic Affairs on [email protected] or 0244774488, 0332132480
Fees inquiries (CoDe (College of Distance Education) Students only) call: 033-2092-044 / 033-2092-050
You could also contact the school through the following details: The Registrar, University of Cape Coast, Cape Coast, Ghana. Telephone: +233 [03321]32440, +233 [03321] 32480-9 Fax: +233 [03321] 32484 Email: [email protected]