The government of Ghana requires that all graduates of Ghana origin should complete a one-year national service in their country. This law is not only binding on those that underwent their tertiary programs in Ghana. People that went abroad to study are also required by law to go through the same process. At the successful completion of their national service year, enrollees become eligible to receive an NSS Ghana Certificate, and the National Service Secretariat which is the body empowered by the government to facilitate this scheme has devised means of requesting for the certificates.
To request for your Ghana NSS certificate, successful service personnel are directed to visit the website nsscertificate.com through which they can make a request for the delivery of their certificates. The procedure to follow is quite easy and all have been detailed below. It is, however, important to note that applicants for the National Service Scheme certificate are required to make payment before they can get their certificates delivered to their doorstep. The money involved is not much – only a token of 31.52 cedis is all that you need. Besides, those who cannot wait to have their certificates delivered can go ahead and save a PDF copy which can be printed at will or sent as a soft copy for job applications.
Who is Qualified to Apply for a Nationals Service Scheme Certificate?
Applying for the NSS Ghana certificate is not something that can be done by every enrollee. People become eligible to apply after completing 240hrs (120hrs X 2yrs) regular activities, in addition to seven days special camp which is carried out in adopted villages.
An NSS certificate is duly signed by several officials such as your Programme Officer, Programme Co-ordinator, Principal of the College, and Vice-Chancellor (VC) of the University where the institution/college is affiliated to.
Requirements Needed To Qualify for the National Service Scheme
Students of Ghanaian origin who are graduates of accredited tertiary institutions don't just move into the labor market upon graduation. This category of graduates are required by the law of the state to complete a compulsory one-year national service to Ghana. The government of Ghana empowered the National Service secretariat as the recognized agency authorized to formulate policies as well as structures for the National Service Scheme. Before anybody can join the National service scheme in Ghana, there are certain requirements that must be met for one to qualify for registration.
The enrollee should be a graduate from any Ghanaian tertiary institutions
Ghanaian graduates who pursued their tertiary course abroad are also qualified to register for the National Service Scheme.
People who graduated under the sponsorship of certain institutions are sent back to such institutions for their NSS.
The benefits and entitlements of service personnel shall remain frozen until service is completed.
Enrolment in the National Service Scheme is free of charge and students who have succeeded in completing their programs will receive a Certificate.
A seventh or eighth-grade student does not qualify for the scheme as it starts from the eleventh standard onwards.
Also qualified to go through national service are Ghanaian youths who have attained the age of 18 and above. Though presently, eligibility has been narrowed down to only Ghanaian students who attained 18 years and above upon obtaining or completing their first academic diploma or degree.
Details Needed To Apply For an NSS Certificate
A student who has successfully completed his or her National Service Scheme will receive a certificate showing when they started and when they completed. Upon the completion of your NSS, the details needed to access your NSS Ghana Certificate are your NSS Number, your current residential address, GPS Digital address (your Ghana post-digital address), area of residence, including its closest landmark, your city of residence, as well as region, and your signature.
Remember, as mentioned above, you also need to pay a token of 31.52 cedis for your certificate to be delivered right at your doorstep.
How To Get Your NSS Certificate?
Service personnel who have completed their national service year can start requesting for their national service certificate by visiting nsscertificate.com. The next step is to move to the text box labeled "Verify your NSS Number below". There, you are required to type in your number for national service (for instance NSSGEW123456). To proceed, hit the "Start Here" button. Those who cannot access their national service number can recover them from the text boxes labeled "Dont Know your NSS Number? Search Below". The required information for the search is your Surname, First Name, your Region, and Year of Service. Proceed by pressing the "Search" button. It is worthy of note that this field requires you to provide details that correspond with what is on your registration form for national service as conflicting information will not work.
With the right details provided, click on the "Search" button or the "Start Here" button. This puts the NSS Ghana Certificate request process underway and the first to appear on your screen is a pre-filled form with such details as your full name, national service number, institution attended, region of service, course of study, district of service, as well as your identity card. You will then see an address column where you enter your current residential address, GPS digital address (your Ghana post-digital address), area of residence, including its closest landmark, your city of residence, as well as region. Click on "Next" after you have filled out the field in the right order.
The next stage is called "Electronic Consent Authorization Confirmation". In this stage, you will be required to grant "Consent to Release Information from Education Records". What this simply means is that to give the required consent, you must append your signature and it goes on the lower left side of the page. People that have complex signatures may experience some difficulties as the mouse is not so apt in drawing signatures. However, they don't really need the exact match of your signature. Click the "Submit Consent" button when you are through with the signature.
With your signature submitted, the next stage that will show up is the details preview stage. This is where you get a preview of all the information you have entered, including such info as your full name, national service number, institution attended, region of service, course of study, district of service, residential address, identity card, GPS Digital address, residential area, plus its closest landmark, city of residence, region, your signature, and every other pre-filled details.
Now, your NSS Ghana Certificate request process takes you to the payment stage. Here, you are required to make payment for your national service certificate by selecting a payment platform. As of the 2019/2020 national service year, the cost for NSS certificate delivery is 31.52 cedis. You can only choose from two payment platforms and they include Express pay or MTN mobile money. In this guide, we will go the MTN mobile money way.
The drop-down menu from the MTN mobile money platform reveals the cost of the NSS certificate delivery service, and to proceed, it requires users to enter their MTN mobile money number. To continue, click on the button "Pay with MTN Mobile Money".
The "Pay with MTN Mobile Money" button brings up the payment approval page, requiring the user to access his or her mobile money wallet on their device to approve the transaction. This page remains until the transaction is approved on your mobile money and you click the "Verify" button. The "Verify" button may not always be on the page, though it is supposed to. In the absence of the "verify" button, users should just reload or refresh after the transaction has been approved and it takes effect.
The following simple steps should be taken while a user is approving transactions with mobile money:
• Dial *170# and select Option 7, My Wallet.
• For my "Approvals", select Option 3.
• Your PIN is required to get to your Pending Approval List
• To approve, select pending transaction
• To approve the transaction, select Option 1 YES
After you are done approving the transaction and verifying it by reloading or refreshing the page, you will be taken to the concluding stage of the NSS Ghana Certificate request procedure. This is the page that shows the user a congratulations message, alerting them that everything is in order. It comes with the message, "Your Payment for the delivery of your NSS Certificate has been received and your Request Order has been submitted successfully".
With this done, you are set to have your NSS certificate delivered at your doorstep.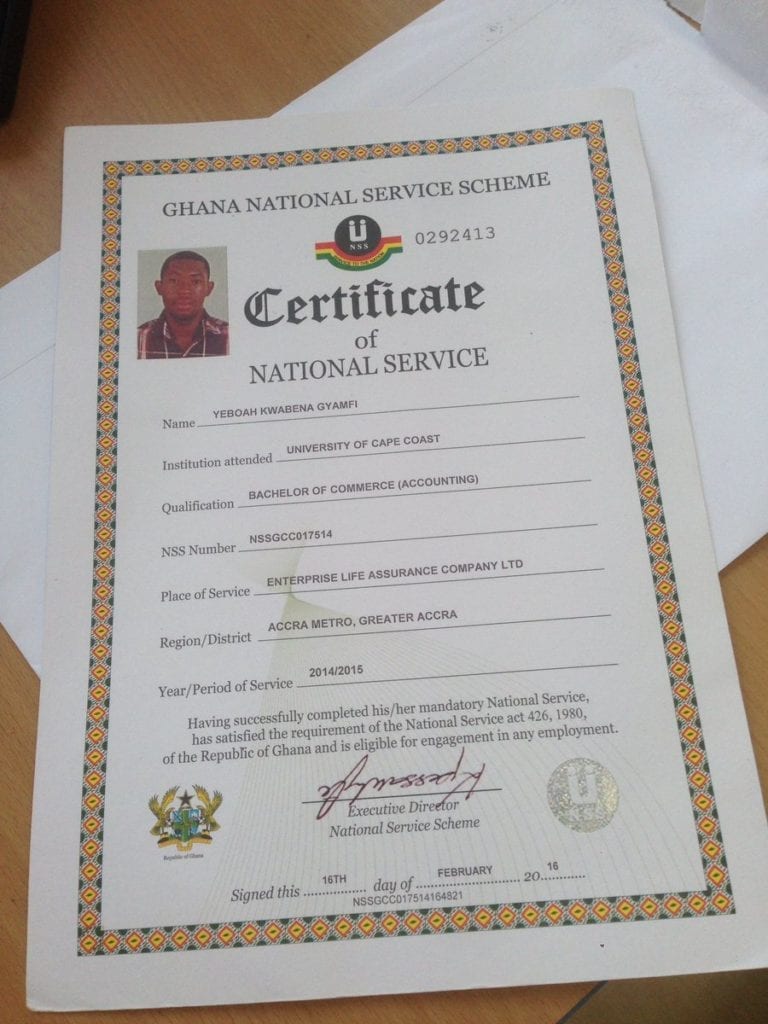 How To Get Your NSS Ghana Certificate Instantly
If you wish to get your NSS Ghana Certificate faster than the normal delivery process, then you can try getting a PDF copy of the certificate as it comes instantly. From the fifth stage above where you get to see a preview of your certificate, it can be printed as PDF. Those using the latest windows 10 will have the option "Print to PDF". It is done thus;
On the preview page click on "CTRL+ P". On your keyboard, press and hold the control key and press the "P" key. The shortcut for "Print" is activated and you get a printed copy of your National Service Certificate.
If you don't want to go through the shortcut, go to the print menu, and in the destination option, select "Microsoft Print To PDF".
Next, click print.
If you need to save, navigate to the particular folder where you wish to save a soft copy of your NSS certificate PDF and then click "Save".
Through this process, you save your certificate as a PDF where it will be easy for you to call it up as the need arises and use for online applications.
Those that don't have windows10 can still get their PDF copies; all they need to do is to install a print to PDF software for browsers. However, for this to become effective, the user needs to restart the computer. Your browser as well as the page will need to be closed, but there is no cause for alarm. The preview page will always be there for you to print anytime you log in.
Are There Any Benefits of Having an NSS Ghana Certificate?
The benefits of having an NSS certificate in Ghana are so numerous, and these benefits are not only enjoyed by students, it touches on society at large through various means.
NSS helps students in their individual growth and also affects them as a group.
It instills confidence in students.
By undergoing the National Service Scheme, these students develop leadership qualities and skills.
The scheme also exposes them to knowledge about people from all walks of life.
Students who have done and received their NSS Ghana Certificate develop a remarkable democratic attitude.
It works for the development of social and civic responsibility.
Through the scheme, students will be able to understand the roles they are expected to play in the community.
The National Service Scheme equips students with the capacity to handle things like natural disasters and emergency situations.
The scheme gives service personnel an opportunity to use their knowledge and skills in finding practical and lasting solutions to the problems of the community as well as individuals.
It is also effective in pointing out the community's needs and problems and proffer solutions to such needs.
By participating in the scheme, people get to know more about their communities.
Through the National Service Scheme, service personnel have the opportunity to practice things like national interrogation as well as social harmony.
Students also learn how to share responsibilities and they do better at group living by developing abilities that aid in better understanding.
They also gain organizational skills which help in organizing community participation when the need arises.
It teaches participants discipline, punctuality, teamwork, and hard work.
It develops your personality through community services.
Newly qualified graduates who went through the National Service Scheme will be provided with the opportunity of getting some practical exposure/experience on the job. This is possible in both the private and public sectors and constitutes part of the enrollee's civic responsibility to Ghana.