StarTimes, a Chinese electronics and media company is one of the brands dominating the African market, particularly in Kenya, where their decoders can be found in millions of homes. But StarTimes' ubiquitousness has not guaranteed widespread knowledge about its decoders. Questions about how it works, the kind of decoders they have, and how to reset one when the need arises have always aroused curiosity but they have all been answered here.
The Three Types Of Startimes Decoder And How They Work
StarTimes uses digital terrestrial signal transmission, i.e., Digital Video Broadcast Terrestrial (DVB) technology. It uses masts that are high towered transmitters to send signals within a particular area or region. To capture the transmission, an aerial antenna must be connected to a digital signal decoder with the same frequency as the propagated signal.
It is essential when choosing to purchase a StarTimes decoder that you know the different types that exist and their specific specialty. It helps to make a better-informed decision.
There are three types of StarTimes decoder, and they are:
StarTimes Combo Decoder
This works with a satellite dish instead of the external antenna associated with most StarTimes decoders. It also supports both digital terrestrial TV and satellite TV services offered by StarTimes. The Combo decoder also upgrades automatically and is relatively easy to use. It is the most expensive StarTimes decoder in the market.
StarTimes HD Decoder
If you have a beautiful HD TV and you need a decoder that will produce HD quality pictures in tandem with the TV, this is the perfect decoder for you. It is designed to provide the most pleasing viewing pleasure and is also weather friendly. It does not need a dish installation.
StarTimes SD Decoder
This is perhaps the most common StarTimes decoder amongst numerous households. It offers automatic and manual search capabilities, multi-language support, as well as a parental control option.
Resetting Your Startimes Kenya Decoder
Using these decoders might present issues for a lot of consumers. Sometimes, the decoder malfunctions or brings up numerous error messages, and you are stuck. Resetting your StarTimes Kenya decoder means bringing back its factory settings or default arrangement to clear any error code that might currently exist. There are numerous reasons why a decoder might need to be reset, and they could range from:
You forgot your password or pin, or you want to restore to the default pin.
Simply need to restore default settings.
There is a continuous loss of signal, and other solutions did not work.
Your decoder has misplaced some channels, and they have not returned despite other attempts.
You want to clear the memory of the decoder completely.
The most serious reason for a reset is when your decoder's software is grossly malfunctioning. If you do not reset, the decoder could get ruined completely.
How To Manually Reset Your Decoder
Before beginning the process of resetting your decoder, it is essential to ensure certain things are in place, including:
Understand the problem you are trying to solve.
Your connection must be appropriately set, and your antenna is in a great place to pick up a signal.
Your decoder must be powered on and should not go off during the process for whatever reason. It means you must ensure there is stable power before beginning the process of resetting.
Also, note that your default pin is 0000. You will need it during the resetting period. You cannot set a new password if you do not remember the default pin.
Once the conditions above are met, you can proceed to reset your decoder. Follow the steps below to reset your decoder manually:
Press the blue button on your remote control.
Click on default settings.
Press the right button beside the OK button.
When a prompt appears on the screen, select Yes.
Press OK on your remote button.
You are asked if you want to restore initial data with Yes or No options. Select Yes.
Press OK to confirm.
Your decoder resets then reboots. It then rescans the channel lists automatically.
After resetting, whatever issue you had prior should have been solved. If it, however, persists, contact the nearest StarTimes Kenya service center.
How To Reset The Password Of Your Decoder
Passwords exist to give you a sense of security and ensure your decoder is well guarded. When you purchase a StarTimes Kenya decoder, it usually comes with a default password or pin. This password or pin is usually 0000 (four zeros).
It is vital that after setting up your decoder, you reset this password. The reason is that this password is easily guessed, and setting a personalized password is more secure. Do you want to reset your decoder's password, but you do not know how? Follow the steps below:
Press the menu button on your remote.
Select the settings option (blue button).
Then select the F1 button (the red button).
Select 1 after.
Select the project menu.
Input the default pin.
When asked 'Yes or no,' select no and proceed to set your password.
You are all set, and your decoder's password has been reset.
Easy Steps To Restore Missing Channels On Your Startimes
You are all settled in to watch your favorite program on the channel it airs, tucked in with your snacks, drinks, and a comfortable chair. However, you cannot find the channel on your list. You scroll forward and backward, but it is not there.
You enter the channel number, and it produces nothing. The channel has vanished, or has it? You can restore channels on your StarTimes Kenya decoder when they go missing. It entails conducting an automatic search, and the steps are below:
Press the menu button on your remote.
Proceed to search for 'channel search' and click OK.
You are presented with the option of choosing between automatic search and manual search.
Select the automatic search option.
Wait until the search is completed and proceed to check if the missing channels are back.
Please note that you must have a strong signal before you embark on the automatic search as a low signal will ensure not all channels are picked up. If the issue persists after deploying this method, you may have to reset your decoder. The steps to do that can be found earlier in this article.
Caring For Your Decoder
Your decoder, as with any other gadget, requires care and maintenance. Consistent use of your decoder without maintaining it might lead to malfunction or, even worse, it could break down permanently. The positive news is that there is not much to be done in terms of upkeep. For maintenance:
Ensure you switch off the decoder in the proper manner. Switch it off with the remote before switching it off at the socket.
Do not switch off your decoder while it is conducting an automatic search or while it is resetting. It might lead to serious software malfunction.
Do not power your decoder on extremely low or high current. It might destroy the power plug or, even worse, the decoder itself.
Ensure you clear your decoder's memory from time to time by resetting it back to default settings. It gives the decoder a sort of fresh start.
Upgrade the decoder's software when it alerts you that there is an upgrade available. It keeps the decoder up to date and running smoothly.
How To Link Your Decoder To Your Mobile Phone Via Startimes Kenya App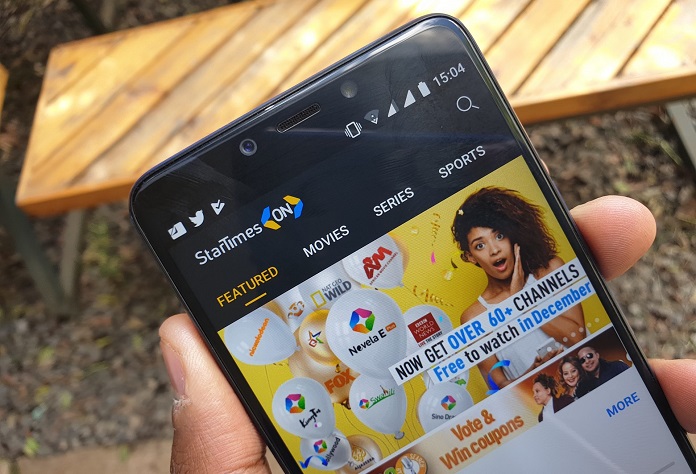 Smartphones are now rampant and can be used to do almost everything. Also, broadcasting has made a gradual move from analog to digital and with data prices becoming cheaper with time, it was only a matter of time before people could access satellite TV via their smartphones.
With StarTimes Kenya, you can stay tuned to your favorite channels, programs, and more on-the-go. StarTimes subscribers can access all channels on their phone by linking their decoder to their phone using the StarTimes ON App.
To begin, you need to download the app and install it on your phone. If you use an android phone, visit the play store or app store if your phone operates with iOS. Once you are done installing, follow the steps below:
Launch the StarTimes ON App and select the sign-in option.
After this, select the StarTimes Decoder Services option.
Select the link option after doing the above.
Input your smartcard number and the last six digits of your decoder number.
Accept the terms and conditions, then click on 'finish.'
You are done! You have successfully linked your decoder to your phone with the app.
Now, you can follow any channel on your StarTimes bouquet on your phone with ease, using your data or WiFi. The app works well on both the Android and iOS operating systems.
From your mobile, you can tune in to any channel of your choice and watch any program you desire. However, there are certain things you cannot do from your mobile:
You cannot reset your decoder from your mobile.
You cannot check for signal or restore missing channels from mobile.
For previous subscribers to StarTimes Kenya, you can view any channel on your subscribed bouquet for free. The app is also useful for non-subscribers who can view specific channels for free but will have to pay a fee to access the premium version.