With the advancement in technology, money can now be mobile as the cash in your hand and can get to anyone and anywhere – a service that is made possible by financial institutions which over the years have bridged the gap between customers. These financial institutions ensure that money moves about easily. Access bank is one of the notable financial institutions in Nigeria that has been keen on providing optimum services to its customers.
The bank currently holds the position as the largest bank in Africa, which is due to its merger with Diamond bank on the 1st of April 2019. Hence, for a bank as big as Access Bank with several branches all over the country, one can't help but wonder how they identify their branches domestically, on the international scene, and how they keep their customers' accounts protected while doing business on their platforms. But, as you might have guessed, the bank has tapped into the endless opportunities technology provides to get all these done with ease.
Using An Access Bank PIN To Fund Transfers
When an account holder is handed a debit card or creates an account with Access Bank, the person is required to create a PIN by the bank. This PIN must be at least 4 digits which would be used every time the person wants to withdraw money from the ATM. More so, when using merchant stores, Access Bank app, or Access Bank USSD (*901#), the PIN is required as the final step for payment or transaction. The card is slot in and the details of the purchase/transfer (transaction) are processed and finally, the PIN is required by the merchant to finalize the program.
With regards to existing customers who are already banking with Access Bank, you would have noticed that in using the ATM, your Access bank PIN is required immediately after slotting in your debit card. The machine will ask for your PIN before allowing access to the account. If the PIN happens to be wrong, the transaction would fail and you can try again up to 3 times. If on the third attempt, the PIN is still incorrect, the ATM-debit card will be blocked.
Is It Possible To Transfer Funds Without An Access Bank PIN?
Access Bank customers use their PINs for several things. In addition to completing the transfer of funds, they use it to complete POS, Access Bank app, and USSD transactions, including withdrawals using a debit card. Without your Access Bank PIN, these transactions will not be completed.
What Does PIN Actually Signify?
PIN stands for Personal Identification Number. It is a string of numbers of at least 4 digits or a numerical code that is used to unlock a bank account or card to which it has been assigned. They are usually used or given in association with debit or credit cards and are necessary to access the funds in a bank account.
These PINs are used to add more security to electronic transactions as they protect the user from identity theft as well as loss of money to thieves. That is, they generally provide confidence to the account holder that the funds in his/her account are accessible to only him/her.
It is hereby necessary to ensure that when you are about to set up your Access Bank PIN, use a combination of numbers that you can easily remember but which will be difficult for others to guess. You should also be keen about who you share your pin with because such a person will automatically have access to your account. So, to prevent unwanted access, do not disclose your PIN in public places or to persons you don't trust as it always requires the PIN to get your financial transactions done.
What's The Significance Of The Access Bank Sort Code?
Sort codes are 9 digit numbers that identify both the bank and the branch where an account is held. They represent each branch of a particular bank within a country. The digits are usually grouped in pairs. The first 3 digits are for the bank itself and for Access Bank these digits are 044. The 4th digit represents a branch's location while the last 5 digits represent each individual branch.
With the Access Bank sort codes, the bank is able to foster effective communication among branches. More so, these sort codes help make sure that the customers don't have to move from branch to branch or city to city just to get an issue fixed or resolved. They also come in handy for certain transactions which may require the use of sort code and with it, you can make a transaction anywhere and at any time.
How Do I Get An Access Bank Sort Code?
If you are already an Access Bank customer with a current account, the sort code can be found on the leaflets of your Access Bank cheque book. However, that's not the only number on your cheque leaflet as you will find 3 sets of numbers on it; the first is the cheque number, the second will be your sort code, and the third will be your account number.
For non-current account holders who may want to make use of the sort code, you can get your sort code from your local branch. All you have to do is simply walk into the nearest Access Bank office and speak with a customer care representative to help you retrieve your sort code. More so, Access Bank has a list of their sort codes on the internet which you can get by using the Google search engine. Just type in "sort code for Access Bank" followed by your desired region/state. This will help provide more specific answers and all you have to do is scroll through and find your desired branch (the one you opened an account in).
Do I Need A Sort Code For Fund Transfers?
Fund transfers within and outside Nigeria come with several requirements which should be met or information that should be provided to complete the transaction. However, the sort code on its own cannot be used for transfer purposes except for some transactions that involve large sums of money. For such, you should have the code handy. More so, several local transfers can be made without the use of sort codes.
What Is The Swift Code?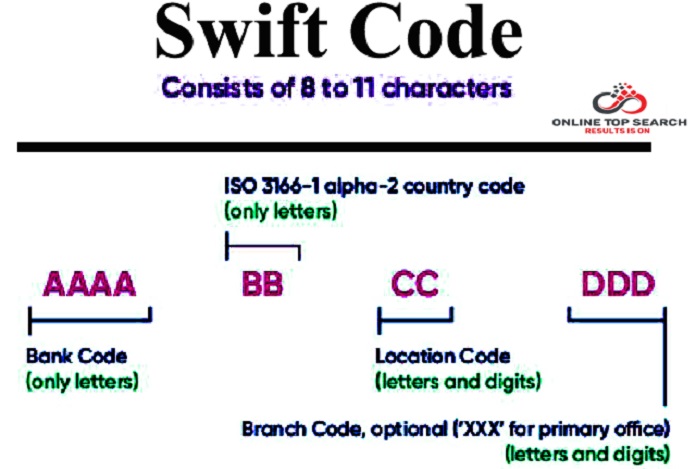 Swift codes are used when receiving or sending money between banks, particularly for international wire transfers. SWIFT, which stands for Society for Worldwide Interbank Financial Telecommunication, is a combination of 8 or 11 characters used to identify the branch codes of the banks and allow you to make international payments more securely. It is also known as Bank Identifier Code (BIC). All 11 digits of the code refer to specific branches while 8 digit codes (or those ending in 'XXX') refer to the head or primary branch.
More so, the components (11 digits) are grouped as:
The first 4 characters are used as the bank codes. Only letters are permitted
The next 2 characters represent the country code, and only letters are used
The next 2 characters are location-based codes, and they can be a mixture of both numbers and letters
The last 3 characters are optional codes used to give details about the branch code and they can be left out if the transaction is for the primary office.
How Do I Get Access Bank's SWIFT Code?
All customers of Access Bank can easily get the SWIFT code. All you have to do is to call your account officer and ask for the SWIFT code. You can also get it from your bank statement which is sent to you on a monthly basis or by placing a request for the statement. The details provided at the top of the bank statement will make the SWIFT code easy for you to spot.
Another quick way to get the Access Bank SWIFT code is by searching online using a SWIFT Code site. More so, by visiting your local branch, you can easily get your SWIFT code from the customer care section.
How To Use A SWIFT Code In A Transaction
As already mentioned, SWIFT Code can be used for international transactions. Its primary role is to secure international monetary transactions. Here are the steps for international money transfer:
Firstly, you must have access to internet banking from Access Bank. This will require you to set up your account for iBanking. This can be done on the Access Bank website.
Once you have an account on the online banking platform, you can proceed with the transactions by getting the recipient's details. This includes their bank swift code, account name, address, bank name, bank address, and account number
Then on your internet banking account, go to the international wire transfer section where you can set an online transfer limit. Most times, the limit is set at $5000, but you can call your bank to authorize the new limit for you, that is if the amount you wish to send is more than the set limit. The bank may go as far as sending you a special code to confirm your identity, through email or mobile number.
Enter the recipient's details, the ones you collected in step two. Please cross-check inputted details to avoid errors.
Enter the amount and specify the currency you want it to be received as. However, the recipient's currency should automatically be filled when you input the recipient's details, but you are also allowed to decide what currency you would desire it to be sent in. It is best advised to send the money in the recipient's currency, but when you are not certain, the US dollar is a good substitute.
Pay the transfer processing fee. Like all bank transactions, there is a fee attached to it, which is set at $40 -$50 and this does not take into consideration the minor extra charges that may occur from the individual banks.
Lastly, as a rule of thumb, find out how long it would take for the transfer to get to the recipient – usually between one to three working days. This will help keep you better informed and capable of following up on any issue or problem that may arise.
Can Money Be Transferred Outside Nigeria Without A SWIFT Code?
It is not possible to make international transfers without a SWIFT code as it is needed for all fund transfers outside Nigeria. A SWIFT code serves as an address to locate the particular account you want to send your money into. As it would not be proper to set out on a physical journey not knowing where you are heading to, so it is for financial transactions.
Financial transactions hereby need the SWIFT code to help pinpoint where money is moving to from the country. It will show which account of a particular bank the fund is moving to and the branch of the bank that would receive the funds.
Do I Need A Sort Code or SWIFT Code To Get A Loan From Access Bank?
Access Bank has a variety of loans it offers to its customers that cut across all sectors of the Nigerian economy. To obtain any of the available loans, you have to meet certain requirements which exclude the SWIFT or sort code as they are loaded directly from the bank since it is an internal affair.
More so, each of these loans (both personal and corporate) usually come with their own requirements that suit the type of loan a customer is applying for. However, a basic requirement after filling the application form is to provide your personal details which include your name, date of birth, place of birth, state of origin, and so on.
Another important piece of information that will facilitate your loan application is your BVN (Bank Verification Number). It is actually mandatory for all Access Bank account holders to own one because according to CBN guidelines on money transfer, all transactions must be vetted by the CBN and they will require each loan recipient to have a BVN to do so. This is also a crucial requirement for international transfers as its a major means of identifying those involved in a financial transaction both within and outside Nigeria.