United Bank for Africa (UBA) is the leading Nigerian pan-African financial institution that has its headquarters at No 57 Marina, Lagos State, Nigeria. With its subsidiaries in 20 African countries and offices in London, Paris, and New York, UBA was founded in 1949 and has enjoyed 72 years of uninterrupted banking operations. The bank makes provision for corporate, commercial, SME, consumer, and personal (retail) banking services to over 18 million customers, served through diverse channels.
Meanwhile, the emergence of e-banking has remained one of the most impressive innovations in the banking sector at large. Internet banking has long become the new norm as far as banking services are concerned and United Bank For Africa has not been left behind. In this post, we will reveal everything you need to know about how to make transfers from a UBA account to another UBA account, or other banks, and the different ways through which you can achieve that.
Different Ways to Transfer Money From a UBA Account To Any Bank
There are several ways to make money transfers from your UBA account. They include UBA Mobile App, USSD, ATM card, and going to the bank's branch.
Follow These Steps to Transfer Money Using Your UBA Mobile App
To use the UBA Mobile app, you will have to download the application with an internet connection. The UBA mobile banking app commonly called U-mobile lets you successfully do all banking transactions at your convenience without having to visit any physical banking hall. Go to google play store, type U-mobile, click on install, then follow these steps to open an account.
Click on the menu on the top-left corner of your app.
Select "Open an Account"
Choose your preferred account type. (savings, current, etc..)
Fill in your details (phone number, username, password, etc) and your login ID will be sent to you via an SMS.
Conclude your signup process.
Start banking
After you have successfully created an account, then below is how you will transfer money to another UBA account and/or other bank accounts.
Log in to the App using your mobile number or the username you used when creating the account, and password.
Click on the combined 3 short-dashed icons at the top left of your screen, then click on transfer money.
You will see a menu containing your account details, select the account you are transferring from (for people that have more than one account with UBA)
Select the bank destination you are transferring to, you will see options, "transfer to another UBA account" or" transfer to another bank".
Carefully fill in the needed information respectively and go ahead to click the transfer button below the page to confirm and complete the transaction.
You will receive a notification the moment the transaction is successful.
How to Use USSD For Money Transfers
With the UBA USSD code, you can transfer up to ₦50,000 on a one-time transaction with a daily limit of ₦500,000 either to a UBA account or any other bank. The UBA USSD code for making transfers is not an application or software but just a code you dial on the mobile phone that lets you gain access to banking services in your comfort zone. However, it's worthy to note that a transaction charge of ₦6.75 is applicable on each dial of the USSD.
To transfer money to a UBA account, dial *919*3*account number*amount#, and *919*4*account number*amount# to other banks. Follow the steps below to register activate, and create your USSD pin.
Dial the UBA magic banking code *919#.
A welcome message will appear on your mobile screen.
Select option 1 to sign-up for the UBA USSD code.
Then choose between registering with a Nuban account number or UBA Prepaid.
Select "Prepaid With PIN" if you are a UBA prepaid subscriber.
If you are not a prepaid subscriber, then Select "Account with PIN".
Enter your 10 digit account or prepaid numbers.
Here, you will need the last 4 digit numbers on your ATM card or BVN to create your magic banking pin
Type in your magic banking four-digit pin (advisably a combination of alphabets, letters, characters)
Confirm PIN to complete the registration.
Features and Benefits of UBA USSD
It works on all phone types
It is fast, easy, and convenient
The transaction does not require data connection on your phone
It allows you to send money to accounts in any Nigerian bank
It allows for a maximum transaction limit of ₦500,000 per day
How Can I Transfer Money From My UBA Account Using ATM Card?
This is one of the best and most convenient ways to transfer money, either to a UBA account or to another bank's account. It reduces the workload on bank staff and you avoid long queues in the banking hall. More importantly, it reduces human error as the ATM machines are already set up and would not make mistakes. Follow the steps below to transfer money to a UBA account or another bank with your ATM card.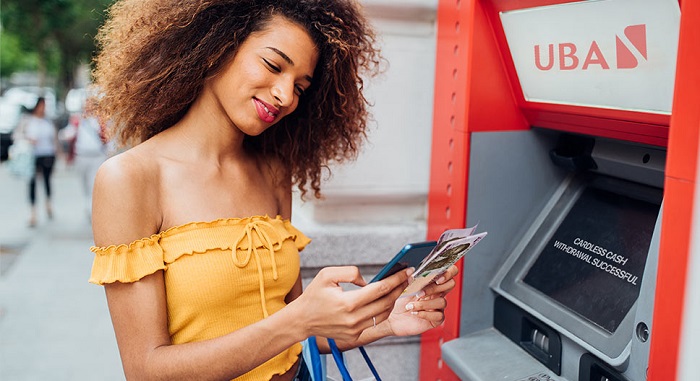 Go to an ATM machine (either UBA or other banks) and insert the ATM/debit card
Choose your preferred language
Enter your debit card personal identification number (PIN) and click OK to continue
Choose the Fund Transfer option provided at the bottom-most corner of the ATM screen
Enter the recipient's bank and account number
Choose the type of account – Savings Bank Account or Current Account
Enter the amount to be transferred, then click OK to confirm the amount entered
A notification will show on the ATM screen to say that the money has been transferred successfully. If the transaction is not successful within the time limit provided, then, time-out message will appear, and in such a case, the transfer has to be repeated
You Can Make Transfers by Visiting the Banking Hall
Customers can as well visit any UBA banking hall to transfer money to another UBA account by filling the fund transfer form and following the teller's further instructions. This is also applicable to other bank accounts that don't belong to UBA. Upon request, you will be given a form to provide the beneficiary's details which will include bank name, account name, account number, etc. After completing the form, hand it over to the customer agent and the money will be transferred from your UBA account to the beneficiary's bank account.