Generally, service providers always strive to enhance their customer experience and deliver value, and the banking sector isn't any different. Equity Bank Kenya is a financial institution that has strived to deliver quality service to its customers, which has further broadened its customer base. Asides from Kenya, the bank has subsidiaries in Tanzania, Uganda, the Democratic Republic of Congo, South Sudan, and Rwanda.
The bank also has customers flung across the Diaspora due to their efficient online services and Self-Service Portal. Equity Bank Kenya has been declared the biggest bank in Kenya and Africa regarding its humongous customer base, which has been estimated at over nine million. The bank, which was created with a vision to champion the socio-economic prosperity of Africans, has done quite well in fulfilling this dream. It also has its shares listed on both the Nairobi Securities Exchange and the Uganda Securities Exchange.
All You Need to Register On The Equity Bank Self Service Portal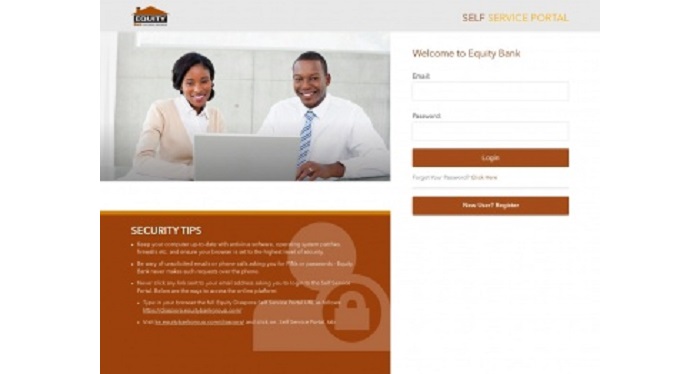 Equity Bank Kenya is known for its creative and innovative Self Service Portal, amongst other things, and this has contributed significantly to their ever-growing customer base. Banking has been made easier with this Self Service Portal as customers do not have to travel down to a physical bank and stand in long queues to make transfers, lodge complaints, check their balance or obtain their statements.
To have access to this Self Service Portal, below are the things you need;
You need to have an active account with Equity Bank.
You also need a secure internet connection
And a smartphone or a desktop/laptop
Steps To Register on the Self Service Portal
Connect to the internet: To access the portal, connect your phone or laptop to an active data connection. It is advisable to always use a private connection to avoid hackers who can hack into your account via public networks.
Go to your browser and type in https://selfservice.equitybankgroup.com/register
Once the website is fully loaded, you will be required to key in your details which include your first name, middle name, last name, gender, email address, mobile number, nationality, country of residence, national ID, Kenyan passport, and physical address.
After inputting all these details correctly, you can go ahead to click next to move on to the next stage of your registration.
Note: If you already have an active account with Equity Bank, it is pertinent to use the contact details linked to your account for easier access.
You will be required to provide your preferred password in the next step. Since this is your bank account and it has to do with funds, you have to be careful while choosing your password. While your password needs to be memorable, it also has to be strong. To have a strong password, endeavor to include some special characters, numbers, and capital letters.
After your password has been provided, you will be asked to input it again for confirmation, then click the next button to move to the next step.
A new window then pops up where you are expected to accept the terms and conditions. Even though most people don't take out time to read the terms and conditions they are consenting to, it is always important to read through so as to understand what is expected of you. After reading through it, you then tick the box at the end to show that you agree with the terms and conditions.
The next step to take is to click the register button
After this, you will be required to provide a one-time password which will be sent to your phone number. The registration process can't be complete without this step, and this is another way to ensure that it's really you setting up a profile.
After the code has been retrieved and inputted correctly, you will then go ahead to click on the complete registration button.
A new window then pops up with the message, "Your profile has been successfully created. Please login below". This means your profile has already been created you can now do your transactions online.
Note: You do not have to go through this registration process each time you want to use the Self-Service Portal. Once your profile has been successfully created, you go to https://selfservice.equitybankgroup.com/login to log in directly or visit https://diaspora.equitybankgroup.com/ or http://ke.equitybankgroup.com/diaspora/ and then click on the Self Service Portal tab.
Things You Can Do On The Equity Bank Kenya Self Service Portal
The Self Service Portal offers several values to bank users as there is nothing as important as taking charge of your finances and transactions by yourself.
Some of the benefits customers who use the Self Service Portal enjoy include
1. You have total control of all your accounts that are linked on the portal
2. You can access your account anywhere and anytime. This has been a selling point for Kenyans in the Diaspora who would like to maintain an account at home.
3. You can access the site on your mobile phone, laptop, tablet, or any browsing device.
4. You can view your statement of account.
5. You can conveniently carry out transactions without having to go to the bank or an ATM spot.
6. Should any issue arise, you have access to online customer service.
7. You can also make payments to other banks.
8. Ability to generate a one-time password (OTP) to verify your account.
How To Retrieve A Forgotten Password On The Self-Service Portal
It is possible for you to forget your password due to various reasons. If this is the case, there's no reason to panic as there is a way for you to retrieve your password on the Self Service Portal.
All you need to do is to:
Follow this link – https://selfservice.equitybankgroup.com/reset_password.
A new window then pops up
On the new window, type in your email address
Then type your Mobile number
Then click on Reset Password
A One-Time-Pin (OTP) will be sent to you via SMS
Once the OTP has been inserted, you can then access your account and reset your password to a new one.
How Do I Check My Equity Bank Account Balance Online?
Equity Bank Kenya has really made banking easy for all of its customers. It is now possible to sit in the comfort of your home and have unlimited access to your account, including checking your balance online and making transfers.
To check your balance online, the first step is to log in to your account. Equity Bank recently upgraded its online banking platform. The new platform is called EazzyNet. The platform is said to have improved features to give customers an enhanced online experience. It also has robust security to protect your banking transactions anywhere, anytime.
To access this platform, you will go through your browser to this site – https://online.equitybankgroup.com/
Input your details to login
Once you have logged in, your account balance and several other details are boldly displayed on your profile.
If you do not want to go through the hassle of logging in to the platform all the time you need to check your balance, you can download the Equity Mobile Application on your phone. You can download the app from the Google Playstore for android users or App Store for IOS users.
Once you have the Equitel App installed on your phone;
Go to Menu
Select My Money
Select Bank Balance
Depending on what you want, you either 'Select Account,' 'All Accounts,' 'Mini Statements,' or 'Statement by email.'
Select how you would want to receive your balance. Either 'Show on the screen' or 'Send by SMS.'
You will then be required to Enter your PIN.
Your account balance will then be shown on the screen or sent to you by SMS, depending on the option you chose.
Different Ways of Contacting Equity Bank Customer Care
Equity Bank Kenya has grown in leaps and bounds since it was founded in 1984. The bank has put several measures in place to further ensure security for their customers. It has a universal number for all outgoing calls, which is 0763 000 000. The number is the single line of contact from Equity to customers, so it is easily identifiable.
To further enhance their customer experience, they also have different customer service lines and email addresses for different countries and tackling different problems.
Kenya
Uganda
Rwanda
The Democratic Republic of the Congo (DRC)
South Sudan
Tanzania
EAZZY BANKING
If you have issues with your online banking platform. You can contact the eazzy banking dedicated customer care Hotline on +254 763 063 000
For customers in the Diaspora, here are the customer care lines to call should an issue arise:
Kenya: +254763063000
Uganda: +256312263422
Rwanda: +250788 190 202
DRC: +243818302700
South Sudan: +211916986000
Tanzania: +255768985555
Email:

[email protected]
Can I Contact Equity Bank Customer Care Via Chat?
Equity Bank Kenya does not have an active online chat system where customers can chat with someone in the customer service unit and get an immediate response. However, it is possible to fill out a complaint or customer service help form online, which will be responded to within 48 hours.