Over the years, banks and financial institutions in Nigeria have embraced innovative changes in the financial sector. Top on that list is the self-service channels through which bank customers can complete transactions from the comfort of their homes, offices, shops, and more. For First Bank Nigeria Limited, the list of their self-service channels is quite long and they keep revamping the old ones to reflect new features while creating brand new ones.
The USSD code 894 can do a whole lot of transactions, including account opening. First Bank's mobile application known as FirstMobile can even undertake more than what you will get from the code, and since the app was revamped, it offers a host of innovative and unimaginable services, including lifestyle management. Now, we are yet to factor in the First Bank Online banking system called FirstOnline which offers users the opportunity to complete several funds transfers in just a single transaction. But there is a whole lot more.
List OF first Bank Self-service Options
USSD Code
FirstMobile
FirstOnline
WhatsApp Banking
USSD Code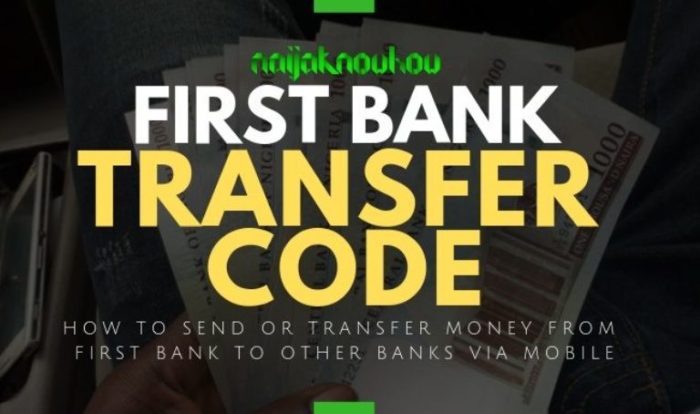 The three-digit code 894 has made banking with First Bank Nigeria an easy and seamless process that requires only the use of a mobile phone. Without an internet connection, customers of the bank can now transfer money from any location at any time and do several other transactions. No need to entertain fears with the use of the code as the service is secure, fast, convenient, and reliable.
Features Of First Bank USSD Code
It is quick
It is convenient
It is secure
It is one of the easiest ways of Banking
No need for an internet connection
It can be used for funds transfer
To check account balance
For airtime purchase
For the settlement of bills
For account opening
Requirements For The FBN USSD Code
To be able to use the FBN USSD code, you must meet the following requirements:
Be a First Bank Account Holder
Have a functional phone number
Have a mobile phone (this can be of any type, including the one referred to as "kpalasa" in the Nigerian slang
Your phone number must be linked to your account number.
You have to profile your phone number for receiving SMS alerts
The code is effective on all mobile networks – MTN, Glo, 9mobile, and Airtel
How Do I Activate My FBN USSD Code Banking
To activate the USSD code for First Bank, just follow the simple steps below
Dial *894*0#
If your account has multiple debit cards linked to it, then, all the linked card numbers are going to be displayed but masked.
Pick the debit card you prefer
For the card you choose, impute your five-digit PIN
Complete the process by creating a brand new 5-digit PIN
Your USSD code registration with FBN is done and dusted
Get Started!
The completion of your USSD code registration with First Bank Nigeria brings banking to your doorstep. Irrespective of your location – home, office, shop, on the road, you can conveniently perform basic banking transactions, including a balance inquiry, airtime purchase, funds transfer, PIN reset, and more.
How To Use FBN USSD Code
After the USSD code registration, you are now at liberty to do all the aforementioned transactions. However, customers must note that there is a daily limit to how much they can transfer with the code. Airtime recharge must not exceed N10,000 and funds transfers are pegged at a daily limit of N100,000.00
Using the USSD Code To Do In-house Funds Transfer
To do in-house funds transfer (from one FBN account to another) in First Bank with the USSD code takes five simple steps;
Dial *894*Amount*Account Number#
Confirm that the imputed amount for the transfer is correct
Your five-digit PIN should always be handy and should be imputed at this stage
If you have multiple accounts with FBN, select the one you wish to debit from
Click on send
Transferring Funds From First Bank To Other Banks (Inter-bank Transfers) Using The USSD Code
Dial the FBN shortcode *894#.
Next, enter the amount you are transferring
Enter the recipient's account number; this is the beneficiary
Select the beneficiary bank; this is the bank or financial institution where the recipient's account is domiciled
Confirm the amount you are transferring.
Enter receiver's/beneficiary's name.
Your five-digit PIN should be imputed at this stage
Select the particular account you are debiting the funds from
Before you hit the send button, ensure that all the provided fields are populated with correct information.
Cancel the transaction if a mistake is detected
Hit on the send button if everything is in order
You will get an SMS with the message, "Your Transaction is Successful"
With these easy steps, customers can transfer funds at will. However, while you enjoy the services, you should also be conscious of the devices of fraudsters that have been on the increase. Thus, First Bank customers should endeavor to know the necessary measures that can be used in thwarting the fraudsters – this can be achieved through blocking your USSD code.
So, in the case of lost or misplaced mobile phone, the code *894*911# should be dialed immediately; you can do this from any location, using any available phone number.
Next, input the phone number connected to the account you are deactivating and it is a done deal.
Unblocking a First Bank USSD code cannot be done through self-service. Customers will have to visit the nearest branch of the bank and talk to the customer service person.
The First Bank USSD Code Can Be Used For Balance Inquiry
Gone are the days when you will need to rush to the nearest branch of First Bank just to check the balance in your account. With the recent technological advancement, this can now be done through the bank's USSD code. Just dial *894*00# and the details of your account balance will be displayed on the screen of your phone.
Using the USSD Code To Open New Accounts
The process of account opening at FBN used to be a stressful process that required customers to visit any branch of the bank in their vicinity to fill out a long AOF (Account Opening Form) and provide all required documents to get their accounts opened.
However, this cumbersome process has been simplified with the USSD code. Just dial *894*0# and then follow the ensuing onscreen prompts. In the end, you will be issued with an account number that becomes effective immediately.
Purchasing Airtime for Self First Bank Transfer Code
One of our day-to-day needs includes topping up airtime on our phones lines. This can be seamlessly achieved through the First Bank USSD code within a twinkle of an eye.
To top up airtime for self, dial *894*Amount#.
This must be done using your registered phone line with FBN
To complete your airtime recharge, enter your 5-digit PIN
Using The Code To Purchase Airtime For A Third Party
Dial *894*Amount*Phone Number# – the phone number to input is that of your intended beneficiary
Now, enter your 5-digit PIN, the beneficiary receives the top-up
And the transaction is completed.
While purchasing airtime with the USSD code, customers of First Bank must bear in mind that they can only buy up to N10,000 in a day.
Your Mini-Account Statement Can be Viewed With FBN USSD Code
Among the things that the USSD code can do for the customers of First Bank Nigeria is generate their mini account statement.
To achieve this, dial *894*Account Number#.
This will quickly generate a summary of the customer's transaction statement and is received via SMS.
Useful FBN USSD Codes
| | |
| --- | --- |
| Transactions | USSD Codes |
| Register for FBN USSD Banking | *894*0# |
| Airtime Recharge for Self | *894*Amount# |
| Airtime Recharge for Others | *894*Amount*Phone Number# |
| For Transfer | *894*Amount*Account Number# |
| For Mini-Statement | *894*Account Number# |
| To Check Balance | *894*00# |
| For Account Opening | *894*0# |
| To Deactivate  your linked Mobile Number | *894*911# |
FirstMobile
The official mobile banking app from FBN is referred to as FirstMobile and it is a tested and trusted means of providing the bank's teeming customers with financial services, including non-financial ones leveraging their mobile devices. It is convenient and sleek as the enrolment process can be achieved through a DIY process without having to visit any branch of the bank. The prerequisite to using FirstMobile is having the FBN Verve Card or Naira MasterCard.
The mobile application is designed to offer customers a more convenient and more reliable overall digital banking experience. Important to note that FirstMobile used to have a N500,000 cap on daily transactions. However, the daily transaction limit was recently moved to N1 million which is a plus for customers who do bulk transactions. The real-time mobile banking services that can be enjoyed on FirstMobile include
Domestic funds transfer – This can be in-house (from one account in FBN to another) or Inter-bank from First Bank to other banks in Nigeria
QR payments
Quick airtime top-up for self or third party. You can quickly select phone numbers to top up from your phone contact
Bills payments
Cheque services; to confirm cheque or to stop cheque
Flight and cinema booking
Account balance inquiry
Statement viewing
Debit card request; FirstMobile can be leveraged to make requests for debit cards for those whose cards have expired or first-time requests
Virtual Card, Limit enhancement; Customers can enhance the current limit on their cards.
Airtime top-up can be boosted from N10,000 to N50,000.
With FirstMobile, customers who wish to travel abroad can do Debit Card enablement to make it usable in the country they are going to.
Registration for FirstMobile
To be able to use the FBN mobile banking app, customers have to first register. To do this, you should:
Go to Google play store/Blackberry App Market/iOS Appstore.
From any of the above mentioned, the app can be installed on your mobile phone.
Your ATM card and PIN will be needed for the registration.
Following this, an OTP (One Time Password) will be sent to your mobile number via SMS for the purpose of account verification.
The mobile app has an indicated field where the OTP will be entered, then click on "Next"; The main purpose of the OTP is authentication.
The customer's mobile App login pin or m-pin code will be entered at this stage.
Next comes the customer's four-digit pin security which should be kept safe as it will be required for future transactions.
Now, your FirstMobile is ready for all kinds of banking transactions.
Using FirstMoibile for Funds Transfers
With your FBN mobile app downloaded, activated, and running, it is time to start making funds transfers. The under-listed steps will help
Open the FBN mobile app on your device
Enter your username
Enter your Password
Different options will be displayed – click on transfers
Input recipient's account number.
Input the amount to be transferred.
Verify to ensure you inputted the correct details
Now it is time for authentication which can be achieved with your secure PIN code.
Click on the "Submit" button and wait for the ensuing congratulatory message.
Check Account Balance With FirstMobile
If you wish to access your account balance through the First Bank mobile app;
Simply log into your FirstMobie by entering your Username and password
Click on check balance and the balance in your account will be displayed in a jiffy.
Several Improvements Has Been Done On The Features of First Money with New Ones Added
Lifestyle Banking
With your First Bank mobile app, customers can have access to non-transaction services like lifestyle banking. All you need is a few clicks, and you can book your favorite shows and events. The lifestyle banking app also offers FBN customers exclusive access to things like latest articles, videos of different categories, including technology/gadgets, life and travel, local news, the economy, business, luxury goods, health, entertainment, sports, shopping, and a whole lot more. The application is free and available for download to customers of FirstBank.
Card Protection Services
FirstMobile is equipped with a card protection service through which users can disable their cards. They can also carry out other transactions such as account switch off, second-factor authentication, device registration, and more.
Security of Funds
FirstMobile took further steps in securing customer's funds through biometric for transactions which is an innovative security upgrade carried out on the app to validate transactions. This feature allows fingerprints for transactions
Frequent Transactions
This is a newly added feature that smartly cumulates the most frequent transactions of a customer (funds transfers, purchase, airtime top-ups, payment of bills) based on historical data. It then presents it in a user-friendly manner, all for the user's benefit. With this in place, a user can easily access his or her frequently completed transactions – what's more, a few clicks will re-initiate such transactions!
Top-up From Contact
This is a feature that allows a user of FirstMobile to select from their phone's contact list while completing transactions for airtime recharge.
Favorites/Beneficiary Management
First Bank Added this feature to FirstMobile to afford users the room to add beneficiaries for transfers, payment of bills, and airtime top-ups. From the beneficiary list, a user can then pick favorites contacts. With this, transactions on the mobile app can be done with the lowest number of clicks since all you need is now accessible on FirstMobile transaction home page.
Dashboard Flexibility
FBN effected major improvement on the FirstMobile dashboard to afford users a more customizable as well as a personalized experience. This is what to expect from the revamped dashboard;
Personalization of your FirstMobile dashboard is now possible – customers can now take pictures or choose from available icons in personalizing their dashboard plus beneficiaries for things like money transfer, airtime top-up, bills payments, and the likes. This can be achieved by uploading photos to associate with each beneficiary, especially the ones that are more frequent.
The new design of the FirstMobile dashboard reflects a user's lifestyle and social pattern and you may decide to customize yours by adding profile pictures.
The revamped dashboard allows a customer to monitor his or her spending pattern over a long period of time as it shows both inflow and outflow. This puts customers in a better position to make better and informed decisions about their finances.
With the new FirsMobile dashboard, users are afforded the opportunity to book for things like airline tickets, movie tickets, and transport tickets ahead of time.
Easy Access To Loan
The New FirstMobile caters to the needs of payroll customers who need a soft loan to meet urgent needs before their salary drops. This category of users can take advantage of FBN's FirstAdvance. It also offers Nano Loan features.
Users who have experienced all these features of FirstMobile have attested to the fact that it is indeed a useful and exciting application that ensures a customer's financial happiness.
FirstOnline
FirstOnline is FBN's internet banking platform through which the bank's customers can carry out different transactions like money transfers, airtime purchases, bills payment, and the likes. This can be done from anywhere in the world. FirstOnline provides its users with secure and unrestricted access to their accounts 24/7, irrespective of location. All you need is an internet-enabled device and you are on. The First bank online platform comes complete with classy features, convenience, and impeccable user experience. What's more, it is easy to use.
First Bank provides its customers with different forms/types of internet banking, they include;
All Retail/Individual Customers
SMEs
All Corporate Customers
FBN Personal Internet Banking
Personal internet banking is obviously designed for the management of personal/individual accounts. Users on the platform can consummate a lot of transactions, including:
Request for cheque books
Funds transfer
Payment of utility bills
Balance inquiry
Airtime recharge – for self and others
FBN Corporate Internet Banking
Corporate Internet Banking is targeted at corporate bodies and organizations that hold accounts with First Bank. With this platform, users are at an advantage in consummating their business transactions which include;
Making any kind of e-payments,
Monitor trades
Administer payroll
Stop cheques
Confirm cheques
Issue drafts
Make import duty payments
View and manage multi-bank accounts
Users have attested to the user-friendliness of the interface on FirstOnline as they encounter no hindrance in transacting with their customers around the globe. Distance or proximity has no effect on FBN's FirstOnline which puts every transaction at your fingertips.
The Features of FirstOnline
The under-listed features of FirstOnline are applicable to both corporate internet banking and personal internet banking;
Account balance can be viewed by customers in real-time.
Allows users to view all transactions in their account in real-time
Users on the corporate internet banking platform are permitted to schedule upload, process payroll, and pay their employees salary
On both personal and corporate internet banking platforms, users can carry out airtime recharge and bay bills
Tracking and viewing of trade, as well as finance transaction status, is enabled
Corporate banking allows users to transact with their accounts at any location on the globe.
Fund transfer is enabled.
Downloading and printing of bank statements is possible.
Card management like request and blocking of card
Token management like request, synchronization, and deactivation
Beneficiary management (add beneficiary, view beneficiary, delete beneficiary)
Multiple transfers in a single transaction
Recurrent Payment such as initiate standing orders
Approval workflow
Cheque Services – confirm cheque and stop cheque
Paypal registration
Enrollment Process for FirstOnline
The enrolment process for FirstOnline can be done for individual accounts and corporate accounts
For Retail Customers
Retail customers of First Bank who wish to come onboard the FirstOnline platform can either go through self-registration or In-branch Registration:
Self-Registration
The self-registration process will be completed when the customer provides his card PIN and PAN which triggers the release of an OTP that will be received by their registered mobile phone number. To be successfully enrolled on FirstOnline, the user needs to enter the OTP and their preferred User ID. Just follow the simple steps outlined below
Visit online portal: https://ibank.firstbanknigeria.com/corp/AuthenticationController?
Enter your Card Number
Input your Card PIN
Enter Preferred User ID
Verification Code
Confirm Verification Code
Click next
Then, complete your enrollment by following the on-screen information
In-branch Registration
Prospective users who prefer to do their enrolment in-branch can visit the nearest branch of First Bank Nigeria.
Corporate Customers
The only enrolment option open to corporate customers of FBN is to do in-branch registration.
Visit the nearest First Bank branch
Complete the form for Corporate Online Banking enrolment
Submit to customer service who will go ahead to register the user
Upon enrolment, the user receives their log in details which include User ID and Password
The login details are sent to the user's registered e-mails in two separate mails
Logging in on FirstOnline For The First Time
Once you have received your log-in details from the bank, your password needs to be changed at first login.
Log in with the username and password sent to your email
Change your password; the new password must have at least one letter, a space character, and a number.
Go to the questions field and answer four Password and Security Questions
Now, select a memorable word/ phrase and an accompanying image to create your own unique True Stamp which is a security feature allowing users to customize his or her login page. it also confirms that they are actually on the authentic/genuine FirstOnline website and not a clone website.
Confirmation of your contact email address follows and users have completed the process of setting up their FirstOnline platform.
Dealing With The Token
With Your FirstOnline completely set up, you should also know that it requires the use of a token to carry out some transaction. The token is accessible from any First Bank branch. Once you receive your token, be sure to synchronize it by logging in to the FirstOnline platform and follow these steps
Click on the Self Service tab
Navigate to the Token Management tab and under it, click on Synchronize Token.
input the two consecutive numbers that will be generated by your token.
Click Synchronize.
And that settles it, your token has been successfully synchronized.
Funds Transfer with FirstOnline
After enrolment, users are now at liberty to transfer funds, what's more, FirstOnline allows you to carry out multiple transfers in a single transaction. Follow the steps below
Visit first bank online portal https://ibank.firstbanknigeria.com/corp/AuthenticationController
Enter your username
Input Password
Click on transfers
Input the account number of the recipient
Enter the amount to be transferred
Verify to ensure all provided information is correct
 submit
WhatsApp Banking
WhatsApp Banking is another self-service channel offered by the First Bank of Nigeria. FBN has gone live on Chat Banking on WhatsApp. On FBN WhatsApp, customers can Chat Banking, keep in touch with family and friends, and also stay in constant connection with the bank, anywhere, anytime.
FBN WhatsApp Banking is reliable, secure, as well as convenient; customers are at liberty to generate their own WhatsApp banking PIN, and all transaction authentications are done using a safe link to ensure the security of their banking details.
The functions of FirstBank Whatsapp banking are quite diverse and they include;
Onboarding
Check Balance
Send money
Pay Bills
Airtime purchase
Data purchase
Generate your Mini-Statement (This feature will be added Soon)
How Do I Get Started on FirstBank Whatsapp Banking
Customers who wish to get started on FirstBank Whatsapp Banking only need to add
FirstBank on Whatsapp using the number 0812444400
After that, just say "Hi" to us.
Important to note that the WhatsApp number to use is the one registered with the Bank.
How can One Transact on FBN WhatsApp?
Accept the Terms and Conditions to opt-in
Provide your account number
Validate using your debit card
Setup your WhatsApp PIN
Do your first transaction
What Charges Do FirstBank WhatsApp Banking Attract
To check the balance on your account you will be charged N10.00 (Delivered via SMS)
 Sending money (Others) attract a charge of N52.50 (VAT Inclusive)
 Bills payment attracts from N52.50 – N105.00 (VAT Inclusive)
How Secure is FirstBank WhatsApp Banking?
WhatsApp Chat Banking with First Bank is secure and encrypted.
Customer's transactions are carried out over a secure link, guaranteeing privacy.
During onboarding, customers are required to set up his or her WhatsApp Chat Banking PIN; this is to securely confirm any transaction from the user
What are The Consequences of Forgetting My WhatsApp Chat Banking PIN?
Forgetting your FirstBank Whatsapp Chat Banking poses no serious problems for a customer
Select the setting option to reset your Personal Identification Number
Then select 'Reset PIN'
To carry out a PIN reset, a customer needs to use the debit card linked to their account
How Do I Go About Changing My WhatsApp Chat Banking PIN?
Changing your WhatsApp Chat Banking PIN is an easy process that requires a few steps;
Select the "Setting Option"
Select "Change PIN"
To change to a new Pin, the old one needs to be entered
However, if you can no longer get access to your old PIN, then, the "Pin Reset" option is the last resort.
The Importance of Knowing Your Bank Account Number
For every account holder, knowing the details of your account number is of utmost importance. For one, your NUBAN serves as your unique identifier at the bank and ensures that any funds you deposit hit your bottom line immediately. In addition, there are still a plethora of other transactions that require you to provide an account number before it can be consummated. For instance, when someone wants to transfer funds to you.
Three different ways To Check Your FBN Account Number
Your First Bank account number can be accessed through different means
Using the USSD Code
To use the First Bank USSD Code in getting your account number, use your registered mobile phone number with the bank to dial *894#
Enter your PIN
An option that reads "Account Number" comes up, select it
And you will receive your account number via SMS in no time at all.
Checking Your Account Number Via the Mobile App
Follow these steps to retrieve your account number with FirstMobile
Login to your FirstMobile
Navigate to manage account
Select account number
Your account number will be displayed on the page.
Retrieve Your Account Number Through The FBN Website
Contacting FBN customer care online to get your account number requires the use of an internet-enabled device
Visit FBN's official website (www.firstbank.com)
 Go to the personal banking section
Click on savings accounts
Request for your account number
And it will be sent to you in a jiffy.
Different Ways FBN Customers Can Check or Retrieve Their BVN
For customers of First Bank Nigeria who forgot their Bank Verification Numbers, there are different ways of retrieving it
Through the Code
Get your registered telephone number with First Bank and dial the code *565*0#
Press send and your BVN will be displayed on your screen
BVN can Be Retrieved Through FirstOnline
For customers that are enrolled on FirstOnline, they can log in with their username and password and get their BVN on the front page.
Getting Your BVN Through FirstMobile
Same as getting your Bank Verification Number through FirstOnline, customers who have enrolled on FirstMobile can do the same. Just log on and your BVN is there waiting for you.
Benefits Of Registering For The BVN
The Central Bank of Nigeria mandated all bank account holders in the country to enroll for their Bank Verification Numbers because of its benefits;
Bank Verification Number is not peculiar to a single bank or financial institution, it gives account holders a unique identity verifiable across the entire banking sector in Nigeria.
At the point of transaction, it is acceptable as a means of authentication of identity as it provides a bank's customer base with a uniform/standardized industrially accepted unique identity.
BVN protects customer's bank account from unauthorized access. This great initiative is targeted at reducing illegal banking transactions as well as boost national financial intelligence gathering. It places high importance on the interest of bank account holders, thereby, boosting their confidence in the entire banking system. This, in turn, enhances the financial standing of Nigerian banks
It reduces a bank's exposure to fraudulent activities by addressing issues relating to identity theft. When customers know that their identity and transactions are protected, they will use banks more
With BVN, every bank and financial institution will have better chances of fishing out blacklisted customers. In this light, loan defaulters that move from one bank to another, asking for fresh credits while still indebted elsewhere will be stopped. BVN exposes the financial history of such people and unsuspecting banks can now have access to privileged info.
With biometrics enrolment, people who can neither read nor write can now consummate transactions using their pictures and fingerprints as a form of signature.
What Transactions Can I Do With My BVN
Your Bank Verification Number alone cannot be used to consummate any transaction. However, in conjunction with your Personal Identification Number – PIN, it can be used at the point of transaction.
For customers who wish to secure facilities with banks, they are required to use their biometrics as a form of identification. In turn, the bank gets to the central database to match their BVN against their information.
Scammers know that it is not possible to steal funds from a person's account with just their BVN, this is why they will always make random calls asking for additional info from account holders.