The Vodacom Please Call Me service comes in handy for customers that want to talk to someone urgently about an issue but, for some reason, cannot make the call themselves. It could be because they do not have enough airtime or are saving the available airtime for something else. It could even be that they think the other person is not deserving of their calls. Whatever the reason, a customer should have access to such an essential service, and Vodacom has provided that platform.
Customers usually access this service with the use of a USSD. A USSD code is a quick code that enables subscribers to gain access to several services quickly. USSDs usually begin with the '*' sign and ends with a '#' sign and are accessible on any mobile phone.
How to Send Please Call Me on Vodacom
Unconfirmed belief suggests the Vodacom Please Call Me service is a creation of a certain Nkosana Makate in 2001. If you are stranded and want to reach out for help, but you have no airtime or talk time on your phone, his Please Call Me service can readily come to the rescue. Here is how to use the Please Call Me service on Vodacom:
Open your Call App
Dial *140*recipient's number#. The recipient's number is the number of the person you want to call your line.
Press Send
By doing this, an automatic Please Call Me SMS is sent from your Vodacom line to the recipient's line. It is a straightforward process with no complexity whatsoever. This service is open to everyone with a Vodacom line. It does not matter if you are a prepaid or contract customer.
Is there a Limitation to the Number of Please Call Me You Can Send?
As helpful and effective as the Vodacom Please Call Me service is, it is only usable for a limited number of times daily. It means that you have a limited amount of Please Call Me messages you can send from one particular line each day. For every Vodacom subscriber, the maximum amount of Please Call Me messages you can send from your line to a recipient is ten per day.
Once you reach that limit, you will not be able to send any more until the next day. Having ten messages to send daily means you have a wide range of people to send this message. If you have more than one person you wish to call you, you can send the Please Call Me message to all the people you want to call, provided they are not more than ten. You can also send more than one Please Call Me SMS to one particular recipient.
Does the Service Attract a Charge?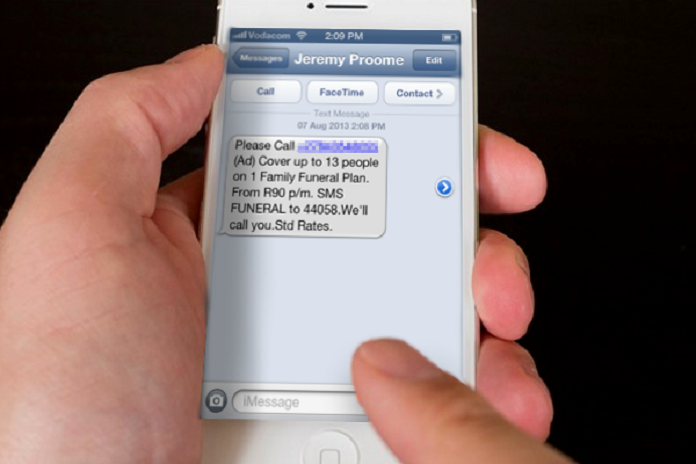 Some subscribers might think the Vodacom Please Call Me service attracts the same charge as regular SMS messages because it is an SMS message. However, customers should note that this service is free of charge and attracts zero cost.
It means whenever you make use of this service, you are not charged a dime for it. You can use the service on any Vodacom line if there is no airtime. Even if there is airtime and you use the service, no amount will be deducted from your airtime. Enjoy the Please Call Me service at your convenience with the knowledge that you are not paying anything for it.
How to Block and Customize the Please Call Me Service on Vodacom
Suppose you are a Vodacom subscriber, and you find the Please Call Me messages you receive quite intrusive and annoying. In that case, you have the option to block your line from receiving it. It means you can restrict your line from receiving any Please Call Me message sent to it.
To do this, simply follow the steps below
Dial *140# on your Vodacom line. You will be presented with a list of options, with no 1 being the option to block/unblock Call Me Messages.
Select option 1, and your line will be blocked from receiving any Please Call Me messages.
In the situation that you wish to unblock the service, just follow the same process. Your blocked line will get unblocked.
Another thing you can do with the Please Call Me service is to customize it. You can personalize this message with the name of the recipient you are sending the message. It adds a more personal feel to it instead of the uniform message it sends generally.
Due to every subscriber having access to 10 Please Call Me messages daily, you can customize ten character names daily too. To customize your Please Call Me messages, dial *140# on your Vodacom line and then select option 4 which states 'change name.'
Proceed to input the name of the recipient you wish to send your message to. The customization will reflect when they receive your sent message.
How Can I Get Free Data on Vodacom?
Every subscriber's dream is to be gifted with free data with which they can browse the internet. This dream looked like it had come to pass in April 2020 when some Vodacom subscribers received 5GB free data plus free night surfer data.
Some extra-lucky customers even went ahead to get the free 5GB data more than once. They eventually snapped out of that dream as Vodacom came out to present a statement that declared that the free data some customers had gotten were not free. Due to some technical issues, customers could access the night owl promotion for free, and it has been rectified.
Many Vodacom users accessed this 'free' data by using the code *135*419# and were awarded the 5GB data bundle for 30 days. When some customers later tried, they received the 'insufficient balance' error message proving the glitch had been fixed.
If this offer had been truly free, it would have been the first of its kind in South Africa. Vodacom would have been the first network to offer that much free data, especially during a pandemic. Customers had assumed this was Vodacom being generous due to the lockdown and pandemic with many people struggling. Sadly though, it was merely a technical glitch caused by high volume network usage.
So, in short, no. You cannot get free data on Vodacom, but that can always change in the nearest future.