Howard Stern is a legendary American radio host, who has also done some notable work as an actor, producer, author, as well as photographer. The radio personality achieved worldwide fame as a result of his self-titled radio program, The Howard Stern Show. As a professional radio personality, he has worked in different radio stations. Since 2006, however, Howard has called Sirius XM radio station his home.
His brilliance on-air has earned him numerous awards, most notably, multiple Billboard Nationally Syndicated Air Personality Awards. With all his achievements, Stern has nicknamed himself the "King of all Media," and there are so many interesting facts to know about this media giant.
He Started His Radio Career at Boston University
After Howard Stern joined Boston University in 1972, the emerging radio personality got his first taste of the business by volunteering at the BU radio station. He had his first program in Godzilla Goes to Harlem – a racially charged skit that was canceled by BU shortly after.
Graduating with a 3.8 GPA in communications, Howard found himself employed at a small Briarcliff Manor, New York radio station. While there, he started to experiment with new things upon the realization that he might end up being relegated to a life of mediocrity should he follow the path of a straight deejay.
According to the King of Media, talking on the phone and playing music were two things that were considered outrageous to mix; it was blasphemy, completely unheard of. However, that was exactly what stern planned to do, thus, he made the move to Hartford, Connecticut, and then to Detroit. He promptly fled to Washington, D.C when the Michigan station changed its format to western and country.
Howard Stern Achieved Significant Career Inroads In DC With his Shock Jock Formula
In DC, Stern met newswoman and former U.S. Air Force nurse, Robin Quivers, who joined the Stern radio team while he commenced developing a reputation for his wild antics. He relocated to New York after accepting a position at WNBC-AM in 1982. However, trouble surfaced in the person of his boss who handed him a long list of rules to be adhered to at the station. According to the list, Howard Stern was prohibited from leveraging tactics like jokes, slander, sketches relating to personal tragedies, personal attacks on organizations or private individuals, and defamation; he can only use them if the authorities have given their consent.
Initially, Howard played the nice guy, adhering to the rules; however, he openly waged war against the station within a short while. The deejay brought his shock jock formula to fore and started showcasing bits such as Mystery Whiz and Sexual Innuendo Wednesday, which left the listeners guessing who was on their way to the bathroom. This, no doubt, got him fired in 1985, leaving the disc jockey free to sign on with WXRK, better recognized as K-ROCK (a New York City-based station).
The Howard Stern Show Was Instrumental In His Rise to Fame
At WXRK, Howard Stern took his radio career to new, pioneering heights on the long-running self-titled radio show The Howard Stern Show. There, he was free to confront two of his favorite subjects, sex and race, controversially. The show, which ran between 1986 and 2005, was a great surprise to radio executives who witnessed Stern knock off Don Imus from WNBC to claim the rating mantle with his morning slot. Howard's step of syndicating his show a year later was quite unprecedented, giving him an inroad to break into other markets such as Washington D.C., Philadelphia, and in due course, New Orleans, Los Angeles, San Francisco, Las Vegas, Chicago, Boston, and Dallas.
Howard Stern's on-air team was quite talented and identifiable, populated by veterans like Quivers, writer Fred Norris, producer Gary "Baba Booey" Dell'Abate, as well as writer/stand-up comic Jackie "the Jokeman" Martling. With this ensemble, the radio personality proved to be a rating force, claiming 3 million daily listeners in 14 markets by 1993.
Private Parts and Miss America Took His Career To Greater Heights
The release of Howard Stern's autobiography, Private Parts, shot his career to new heights. The publication looked at Stern's life from a funny angle, as well as paid homage to his first wife, Alison, and the job she'd done in raising their three daughters. The first month of the publication saw Private Parts with over 500,000 copies in print, making it the fastest-selling book in the 70-year publishing history of Simon & Schuster. In October 1993, the book took the top spot on The New York Times best-seller list, remaining there for a whole month.
A second best-seller titled Miss America followed in 1995, and two years later, in 1997, a successful film starring Stern himself was produced from Private Parts. This gave rise to a huge boost in his annual income, and by 1995, he was raking in $8 million annually from the radio show alone. The shock Jock sparked so many controversies on-air like his nasty comment about Spanish people having the worst taste in music and the Columbine High School shootings where he asked why the killers didn't have carnal knowledge of the girls before killing them.
In May 2019, he released Howard Stern Comes Again – a memoir, which also contains collections of some of his best interviews through the course of his career, including the ones he had with  Donald Trump; this served as his third publication.
Howard Stern's Clash With Clear Channel
Howard Stern ran into problems with the largest radio station chain in the country Clear Channel when the media chain pulled the plug on him. This happened after Stern's contentious show that saw one of his call-in listeners use a racial slur, featuring Paris Hilton's ex-boyfriend Rick Solomon and the man in her notorious sex video, which described in detail his relationship with the famous socialite.
Consequently, the owners of the radio station were fined, and there ensued further fights with the FCC (Federal Communications Commission) over control of his show, setting the stage for Howard Stern to exit from terrestrial radio for good. On the 9th of January 2006, the radio expert commenced broadcasting exclusively on the subscription-based radio service.
He Achieved Unprecedented Success With Satellite Radio
On the 6th of October 2004, Stern inked a five-year deal with a subscription-based satellite radio service named Sirius Satellite Radio. Sirius is completely free from the FCC's regulations. Now with the constraints of the FCC behind him, Howard Stern was free to unleash his shock jock formula in a new territory, which boosted his fortune to a great extent. Besides, he was instrumental in catapulting the popularity of satellite radio.
A year later, in 2005, the disc jockey was able to boost 2.2 million new subscribers, which if compared to the 2004 figure, was a 190 percent increase. This unprecedented figure netted the radio personality an estimate of $200 million in Sirius stock. Though he inked another five-year deal with Sirius in 2010, the shock jock's run with the company is far from a smooth sail. He even engaged in a legal battle with them, which he sadly lost when the suit was thrown out. Nevertheless, Howard Stern has remained with Sirius to date. He has shared several of his studio photos on Instagram.
The radio icon further went ahead to become a judge on America's Got Talent Show, a position he held from 2012 to 2015. He also served as host and producer of numerous mid-night television shows.
His First Marriage To Alison Berns Ended Thanks To His Workaholic Nature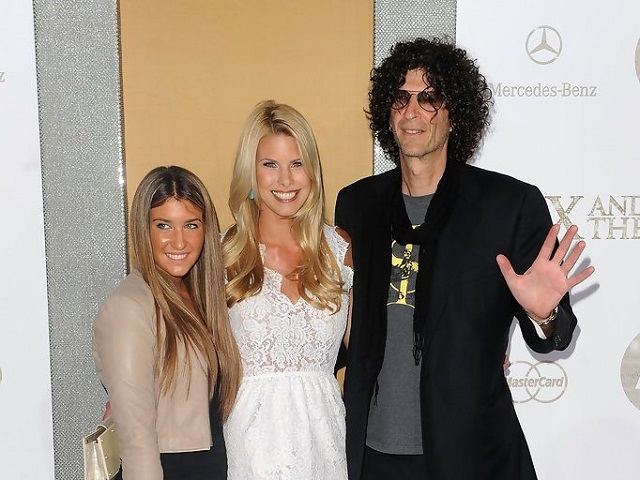 Regarding his marriages, Stern first got to know his now ex-wife, Alison Berns, when they were undergraduates at Boston University. During their college days, Howard Stern chose to cast her in a student film on transcendental meditation. The couple spent their first date at a screening of Dustin Hoffman movie Lenny, which was centered on the comedian Lenny Bruce.
They got married at the age of 24 and went on to have three daughters, Emily Beth (born in 1983), Debra Jennifer, who joined the family in 1986, and Ashley Jade, who was born seven years later in 1993. The couple got divorced in 2001, after 21years in marriage. Stern's workaholic ways were responsible for their split, according to the DJ, the end of his first marriage remains a painful experience for him as he failed his ex-wife and daughters. Stern went further to say that he still finds it difficult to figure out what went wrong between him and Alison. Alison has since exchanged marriage vows with Businessman David Scott Simon.
His Second Marriage Followed Seven Years Later In 2008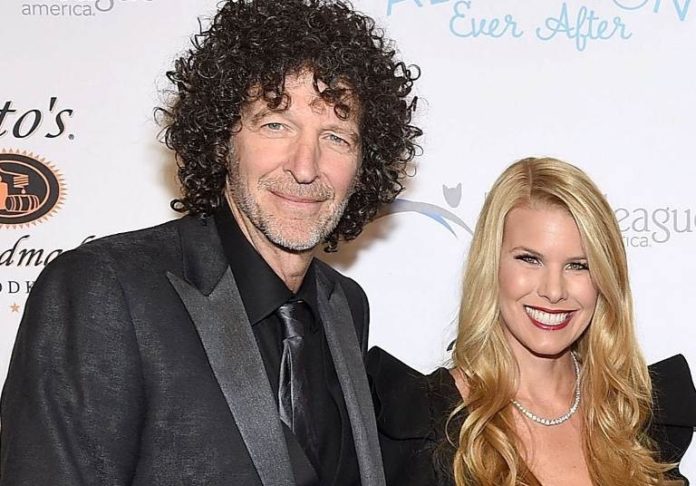 After his first marriage packed up, Howard Stern began dating TV host and model Beth Ostrosky. Following a seven-year relationship, the radio show host announced on his radio station on Valentine's day 2007 that he and Ostrosky had gotten engaged. Later in the next year, on the 3rd of October, they got married at Le Cirque restaurant, New York.
The guest list for the wedding includes big names like Sarah Silverman, Billy Joel, Barbara Walters, Joan Rivers, John Stamos, and Donald Trump, who are long time friends of the couple. Eleven years into their marriage, in October 2019, the shock jock and his wife remarried on an episode of Ellen DeGeneres Show; officiating at the ceremony was Colton Underwood of The Bachelor.