Howard Stern is a legendary American radio host, who has also done some work as an actor, producer, author, and photographer. He achieved worldwide fame as a result of his self-titled radio program; The Howard Stern Show.
As a professional radio personality, he has worked in different radio stations. Since 2006, however, he has called Sirius XM radio station his home. His brilliance on air has earned him numerous awards, most notably multiple Billboard Nationally Syndicated Air Personality Awards. With all his achievement, Stern has nicknamed himself the King of all Media. Read on to find out more interesting facts that you need to know about his early life, career, and personal relationships.
Howard Stern Biography (Age)
Howard Stern was born on 12th January 1954 in New York City, United States, into the family of Ben and Ray Stern. His father rendered brief service to the US Army before he worked as a radio Engineer while his mother was an administrator before she eventually got a job as a health officer. He has an elder sister named Ellen who he was brought up alongside in the Queen's neighborhood of Jackson Heights. His family is Jewish.
About a year after his birth, Stern's family relocated to Roosevelt, New York. There he attended Washington-Rose Elementary School and Roosevelt Junior-Senior High School before enrolling at Boston University, where he pursued a degree in Communications. Later on, in 1975, he attended the Radio Engineering Institute of Electronics in Fredericksburg, Virginia and earned a first class radio-telephone operator license.
Career
Howard Stern got his first job as an on-air radio personality when he was still an undergraduate at Boston University. Thereafter, he got morning shift jobs at many radio stations such as WWDC in Washington DC, WRNW in Briarcliff Manor, New York, WWWW in Detroit, Michigan. By 1982, he moved to New York to take an afternoon show at WNBC. This role lasted for three years before he was fired.
Stern reached the peak of his career when his talk show; Howard Stern talk show was aired in up to 60 radio stations across the country. As a result of that, he gained more than 20 million frequent listeners of his program as he further bagged a number of awards. Interestingly, he clinched Billboard's Nationally Syndicated TV Personality of the year, back-to-back for 8 years. During this time, he went on to become the highest paid radio personality in the United States.
The radio icon further went ahead to become a judge on America's Got Talent Show, a position he held from 2012 to 2015. He has also written quite a few books, like Miss America and Private parts, and served as host and producer of numerous mid-night television shows.
Family – Parents, Wife, Daughters, and Divorce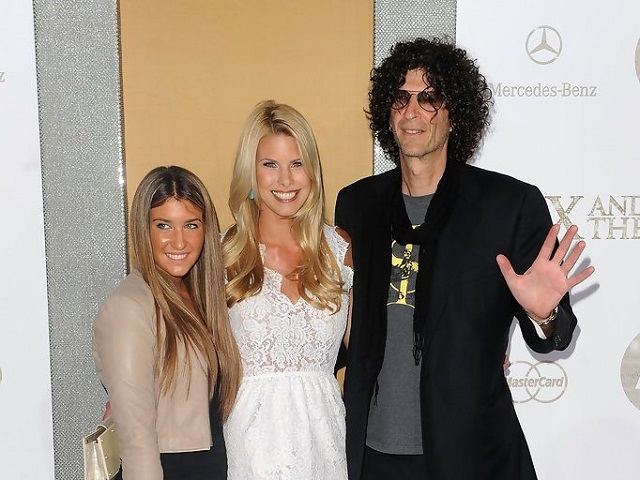 As mentioned earlier, Howard Stern's parents are Ben and Ray Stern. His father was a former member of the US Army before he got to work as a radio Engineer. He was among the founders of a recording studio named Aura Recording Inc. His mother, on the other hand, found work as a health officer.
In regards to his marriages, Stern first got to know his now ex-wife, Alison Berns, when they were undergraduates at Boston University. They got married at the age of 24 and went on to have three daughters; Emily Beth, Debra Jennifer, and Asley Jade, before divorcing in 2001. After that, Stern began dating TV host and model Beth Ostrosky. Following a seven-year relationship, the radio show host announced on his radio station on Valentine's day 2007 that he and Ostrosky had gotten engaged. Later the next year, on the 3rd of October, they got married at Le Cirque restaurant, New York.
See Also: John Oliver Wife, Son, Height, Age, Salary, Net Worth, Family
Net Worth
Howard Stern's success seems to have no bounds, as his books have made The New York Best Seller list while his show is listened to by millions of people. He also sold about a million copies of his Biographical film soundtrack. With all that, it obvious to see why the radio show host has been able to live a luxury lifestyle. This is thanks to his huge net worth, which as of 2019 is estimated to be about $650 million.