Very few rappers transition successfully from the music game to acting and even less remain as relevant as Ice Cube has throughout the years. The Los Angeles born rapper rose to fame as a member of the critically acclaimed and notoriously popular rap group – N.W.A. He went on to have a successful career as a solo artist which effectively earned him a place in hip-hop's legendary book. These days, Ice Cube is more known for his role in movies like Boyz n The Hood, Friday, Next Friday, Barbershop, 21 Jump Street, Lottery Ticket, and Ride Along.
How Ice Cube Came up with His Stage Name
Ice Cube was born O'Shea Jackson on the 15th of June, 1969 in Baldwin Hills, South Central Los Angeles. The rapper once revealed that he got his stage name from his brother, during one of the times he threatened him. As it happened, his brother threatened to slam him into a freezer and only bring him out when he's an Ice Cube. Interestingly, O'Shea started using the phrase as his name and it caught on.
His mother, Doris, was a hospital clerk and custodian while his father, Hosea was a machinist who also worked as a groundskeeper at UCLA. He has an older brother and also had a half-sister who died when he was 12.
He Began His Music Career in His Teens
Ice Cube developed a love for hip-hop music in his early teens and that's when he began writing rap songs. He wrote his first song in the ninth grade after a friend challenged him. He nurtured his love for music until it grew into a successful career. He became a member of the trio music group C. I. A. when he was sixteen years old and a year later, he joined N.W. A., a pioneering gangsta rap group that he formed alongside Dr. Dre and Eazy-E.
O'Shea was the brain behind most of the lyrics of the group's debut album 'Straight Outta Compton'. The album became the N. W. A.'s best-selling album as it peaked at No. 9 on Billboard Top R&B/Hip-Hop Albums chart and No. 37 on the Billboard 200. As of November 2015, the album was certified triple-platinum by the Recording Industry Association of America (RIAA), having sold about 3 million copies in the US.
It was inducted into the Grammy Hall of Fame in 2016, and it emerged as the first rap album to attain such feat. Later in 1990, Ice Cube left the group over monetary issues and began his solo career by establishing his own record label called Street Knowledge.
He Has Released Commercially Successfully Albums
Ice Cube dropped his first solo album 'AmeriKKKa's Most Wanted' in the year 1990. Although his lyrics were controversial as they were framed from ideas of black nationalism, the album became a massive hit. It debuted at No. 19 on the Billboard 200 and recorded sales of 3 million copies in the US as of 2015. His second album titled 'Death Certificate' was also commercially successful. The album was released in October 1991 and two months later, it was certified platinum.
Death Certificate debuted at No. 1 on US Top R&B Hip-Hop Albums Chart and No. 2 on the US Billboard 200. The album has hit singles such as 'Steady Mobbin' and 'True to the Game'. 'Death Certificate' has recorded so far, a global sales of over five million copies and more than two million sales in the United States. It is considered one of the greatest rap/hip-hop albums of all time.
Subsequently, Ice Cube enjoyed huge success with his third album 'The Predator' which debuted atop on the Billboard 200 in November 1992 and is widely regarded as his best-selling album so far, as more than three million copies were sold in the United States. Surprisingly, his latter albums didn't record huge success like his first three. These other albums include 'Lethal Injection' (1993), War & Peace Vol. 1 & 2′ (1998 & 2000), 'Laugh Now, Cry Later' (2006), 'Raw Footage' (2008), 'I Am the West' (2010), and 'Everythang's Corrupt' (2012-2018).
Over the course of his musical career, Ice Cube has collaborated with other artists such as Dr. Dre, Lil Jon & the East Side Boyz, The Game, MC Ren, and  DJ Paul Oakenfold. He is a recipient of BET Hip-Hop Award.
Making a Big Leap into the Acting Scene
Soon after becoming a soloist, Ice Cube ventured into acting and made his acting debut in the 1991 film, Boyz n The Hood. In the next year, he was cast as Savon in the action thriller, Trespass, and later starred in The Glass Shield, Higher Learning, Friday, Dangerous Ground, and Anaconda between 1994 and 1997. He additionally wrote, directed, produced, and featured in The Players Club in 1998. O'Shea Jackson then gained prominence in the movie industry with his role as Sgt. Chief Elgin in Three Kings starring George Clooney and Mark Wahlberg in the year 1999.
He further reprised his role of Craig Jones in the 2000 film, Next Friday before portraying Calvin Palmer in the first release of Barbershop film series in the year 2002. Ice Cube moved on to reprise the aforementioned role in Barbershop 2: Back in Business (2004), and Barbershop 3: The Next Cut (2016). He has also made a few appearances on the small screen as his main TV role came in 2010 when he began portraying the character of Terrence Kingston in Are We There Yet? He played a recurring role in 20 episodes of the TV series.
In 2014, the eminent rapper starred alongside Kevin Hart in Ride Along, as well as its sequel Ride Along 2 (2015), portraying Detective James Payton. Three years later, he featured as Darius Stone/XXX on the film XXX: Return of Xander Cage and equally scored the role of Strickland in Fist Fight. He also played Jack Robertson in the 2020 film, The high Note and is set to appear in upcoming movies, Flint Strong and Last Friday. Following his contributions to the film industry, O'Shea Jackson received a Star on Hollywood Walk of Fame in the year 2017.
O'Shea is a Box Office Star
Ice Cube is currently one of the most bankable Hollywood movie stars as his movies have consistently been successful, making millions on the box office. His movie, Boyz n The Hood made $57.5 million on the box office against a budget of $6.5 million. Friday earned $27.5 million against a budget of $3.5 million. This was back in the 90s; by the time the 2000s rolled in, his movies were making much more.
21 Jump Street made $201.5 million against a budget of $55 million; the sequel, 22 Jump Street went on to make even more – $331.3 million. His movie with Kevin Hart, Ride Along made $154.5 million against a $25 million budget and the sequel proved to be just as successful. Other box office hit movies he has starred in include Anaconda, Are We There Yet?, Barbershop franchise, The Book of Life and XXX: Return of Xander Cage, with the latter grossing on the box office $346.1 million against a budget of $85 million.
Having starred in many commercially successful films and equally released hit albums, it's no surprise that Ice Cube has accumulated a staggering net worth of $160 million according to Celebrity Net Worth.
His Marital Bliss with Kimberly Woodruff
Ice Cube is a married man and a father of four. The gifted actor as reports have it, first came in contact with his now-wife, Kimberly Woodruff while she was in college in 1988. Although he was attracted to her at their first meeting, Kim didn't show any interest in him. Then fate brought them together six months later and they immediately hit things off. The two eventually got engaged in 1991 and exchanged vows on the 26th of April, 1992.
Together, they have four kids – O'Shea Jr, Darrell, Kareema, and Shareef Jackson. Not much is known about Ice Cube's wife as she is only known as the matriarch of his family and has been supportive of her husband's career over the years. The Barbershop star is a devoted family man; having been married to his wife for more than two decades. He is celebrated as one of the few rappers without baby mamas or side chicks.
Meet the Children of the Rap Icon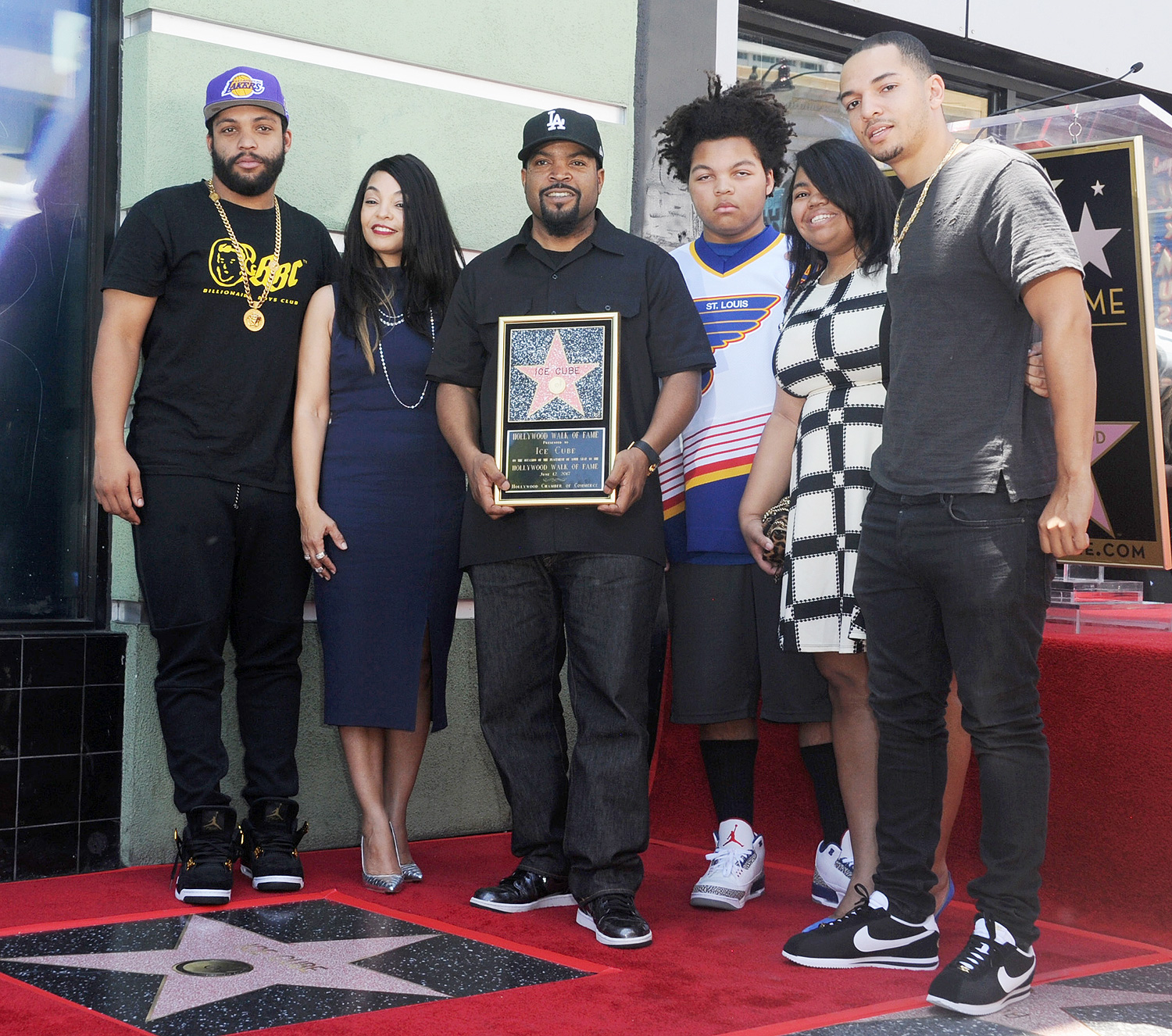 O'Shea Jackson Jr.
Ice Cube's first son, O'Shea Jackson Jr. (born Feb 24, 1991) is a graduate of Southern California University where he earned a degree in Screenwriting. He has followed in his father's footsteps and is making waves as an actor and rapper. In 2015, he portrayed his father in the N.W.A biopic movie, Straight Outta Compton. The movie was a critical and commercial success, launching his acting career.
O'Shea Jr, after Straight Outta Compton's success, later starred in Ingrid Goes West, Den of Thieves, Godzilla sequel, Godzilla: King of Monsters, Long Shot, and Just Mercy. He is currently among the cast of upcoming TV series, The Now, as well as Swagger! As a musician, Ice Cube's son is widely known as OMG and he released his mixtape 'Jackin' for Beats' in 2012. His singles include 'OMG' (2014) and 'Ain't No Place' (2015).
Darrell Jackson
Darrell is also a rap artist who goes by the stage name Doughboy. He was born on December 29th, 1992. Along with his elder brother, he featured in his father's album 'I Am the West' as they collaborated on singles 'Y'all Know How I Am' and 'She Couldn't Make It On Her Own'. He is reportedly co-managing his dad's record label called Lench Mob Records.
Kareema Jackson
Ice Cube's only daughter, Kareema was born on February 17th, 1994. She earned a Bachelor's degree in Sociology from Rutgers University, New Brunswick, and also bagged a master's degree in Public Administration from the same institution. She currently works at the university as a research assistant. In 2014, she established Organize Change, Inc., a non-profit organization.
Shareef Jackson
On the other hand, the youngest in the family, Shareef Jackson was born on November 17th, 1995. He is an ardent sports lover as he is often seen with his dad attending NBA and NFL games.