Hollywood big shot Idris Elba has one of the most inspiring stories with regards to his humble beginnings. The actor who is an only child of his parents had no idea he would end up on the big screens while he was still working with his father in a car factory in East London. Being of African descent, who could have thought that the Hollywood star of today will ever make it big in the industry?. There is a whole lot to know about the actor apart from his showbiz endeavours. Here are lesser-known facts about his personal life.
Early Life & Career
He was born Idrissa Akuna Elba on September 6, 1972, to his Sierra Leonean father Winston, and Ghanaian mother Eve; in  Hackney, London. The only child of his parents whose inclination to entertainment started at a young age, shortened his name to Idris when he got involved in acting in his school in Canning Town. Determined to pursue his dreams, Idris soon left school in 1988 and enrolled at the National Youth Music Theatre. At the time, he began getting small roles in productions like Crimewatch, and The Boot Street Band; and still worked in a car factory with his father to increase his little income. He soon started making appearances on various British TV series. He played a role in the British TV series Bramwell in 1995 before moving on to other significant roles in series like The Bill and The Ruth Rendell Mysteries.
Wanting to intensify his scoutings he soon moved to the US and settled in Brooklyn, New York. Elba got his major movie role in HBO drama The Wire, where he starred as a crime boss. In 2007, he was the face of Tyler Perry's movie Daddy's Little Girls where he starred as a mechanic; and soon, became a hot cake in the industry. Also in the same year, he starred in the movie 28 Weeks Later (2007) and in 2009, he starred opposite pop singer Beyoncé Knowles in Obsession.
Elba made a major appearance in Ghost Rider: Spirit of Vengeance (2011). He landed a major role in 2012 as Nelson Mandela in Mandela: Long Walk to Freedom, which was an adaptation of his autobiography. It was raining roles indeed for the actor in the 2000s. In 2012 he played another major role in the movie Prometheus and in the following year, was cast in Pacific Rim (2013). This was followed by another role in No Good Deed (2014). 2015 was the year he landed a role in the popular superhero movie The Avengers: Age of Ultron. This was followed by his remarkable role in Beast of No Nation alongside Ghanaian actor Abraham Attah. The movie had earned him BAFTA nomination for 'Supporting Actor in the Film category' and also a Golden Globe nomination for 'Best Performance by an Actor in a Supporting Role'. This was followed by a series of other movies.
Who Are His Wife, Son & Daughter
Idris Elba has quite an interesting but a little bit complicated personal life and he is that celebrity who is never ashamed of his personal endeavours. Marrying twice may not be good enough to justify the notion but Elba seems like a real bad guy with regards to his private life. He was first married to Hanne "Kim" Nørgaard a Danish celebrity make-up artist in 1999. The two met in the UK whilst still trying to build their career. Three years after their marriage they welcomed a daughter Isan Elba in 2002.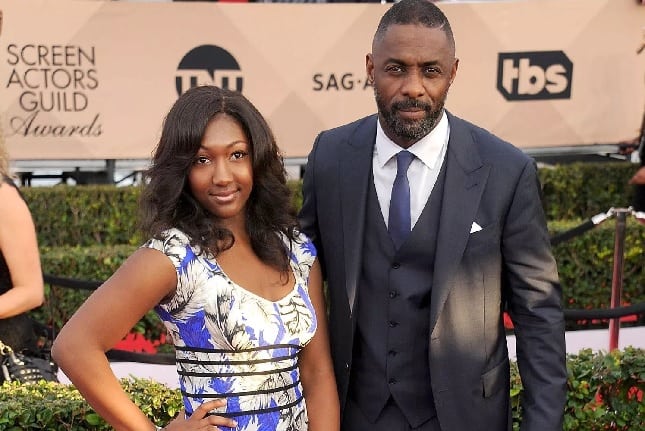 However, the following year, the couple filed for divorce and soon went their separate ways after the five-year marriage.
In 2006, Idris got married to US lawyer Sonya Nicole Hamlin, three years after his divorce with Kim. The two who were in a relationship at the time secretly wedded in Las Vegas at the Little White Wedding Chapel. The marriage lasted for four months only and the couple soon got a divorce that same year. Reports had it that the two were so entangled in their career that neither could adjust to suit the other's life.
Naiyana Garth was Elba's girlfriend for over two years. It was confirmed that the two started dating in 2013 after they reportedly started making appearances together. They had their son Winston in 2014, and in 2016, they parted ways under circumstances revolving around infidelity on Elba's part.
Does He Have A Girlfriend or Fiancé?
The 'Beast of No Nation' actor is dating model and former Miss Vancouver, Sabrina Dhowre. The couple was first spotted in August 2017 in Manchester, sparking relationship rumours. It was indeed a pleasant surprise to fans of the actor when he proposed to Sabrina in February 2018. All eyes are on the now engaged couple as the public looks forward to hearing the wedding bells.
See Also: Terrence Howard Spouse (Wife), Kids, Parents, Height, Net Worth, Biography
What Are His Height and Weight?
The sizzling hot actor is not only famous for his movies but also for his sturdy masculinity. Idris Elba has got the ladies on his side with his sexy body build which is sometimes a centre for attraction in his movies. One starts to wonder how the actor has managed to maintain such a healthy and physically fit body.
First off he's got the perfect height of 6ft 3inches (190 cm) which perfectly suits his movie roles. We're not forgetting his proportional weight of 86 kg (190 pounds). His waist which measures 34 inches strongly supports his broad chest of 43 inches and strong biceps of 16 inches, which spread to a wide wingspan. He wears a size 10 (US) for his shoes.