iDubbbz is one YouTuber who has made a career out of courting controversy. Renowned for his absurdist channels and comedy video series, the Los Angeles based personality is the owner of two channels, iDubbzTV, and iDubbzTV2, as well as the brains behind comedy video series such as Content Cop, Kickstarter Crap, Gaming News Crap, and Bad Unboxing.
These series basically scrutinize the quality of other YouTubers' work and have proved quite popular with the public; his channel now has more than 6.6 million subscribers and has been viewed 897 million times. It has however set him on the warpath with fellow YouTubers and many have been looking for a chance to take their own shot at him. That chance finally presented itself in March 2020 courtesy of an act embarked upon, not by the YouTuber, but his long-time girlfriend.
The Nudes Controversy Involving His Long-time Girlfriend
Anybody who keeps up with happenings in the YouTube community will know that iDubbbz has been in a long-term relationship with a YouTuber/Twitch personality named Anisa Jomha. Jomha is a native of Edmonton, Canada, and was born in 1993, making her three years younger than her boyfriend. She hails from a multicultural background, her mother is Irish catholic while her father is a Lebanese Muslim, and has two siblings, brother – Muhammad, and Iman.
Anisa grew up in Edmonton and studied fine and studio art education at the University of Alberta. She obtained her degree in 2014 and a year later, she joined Twitch where she now streams video games for numerous fans. iDubbbz and Anisa first crossed paths when she attended Twitch Con in San Diego in 2011. They began by chatting online and eventually met up in person. They later commenced a relationship and the young lady moved out to Los Angeles to be with her man.
The couple has been living together blissfully and Amisa has featured in some of her man's videos. They however found themselves under scrutiny following the revelation in March 2020 that the Canadian native had joined OnlyFans (a subscriber-based social media platform used for adult entertainment videos). This did not go down well in several quarters and many started generating memes describing her boyfriend as a simp i.e. a man that subjects himself to a woman with hopes of winning her affections.
At first, iDubbbz found the whole thing funny and even tweeted jokes of his own about it. He however got tired of all the bashing and dropped a video on the 28th of March, 2020, expressing his dissatisfaction. He maintained that he was along for the jokes but urged those who were taking the entire thing too personal, and saying they felt devastated and betrayed by their idol, to back off. According to him, he never asked them to look up to him as a role model in the first place and as such, he is okay with them not doing so anymore.
Dissing and Beefing with fellow YouTubers
Some people may describe the whole situation surrounding iDubbbz and his girlfriend as karmic given that the YouTuber has made a habit of courting controversies and critiquing other channels. At first, he was uploading gaming videos and later gained popularity with his Gaming News Crap series. He then switched to series such as Bad Unboxing, Kickstarter Crap, and Content Cop. Each episode of Content Cop highlights and critiques YouTube contents and this has garnered him critical appraisal from some YouTube personalities.
It has however made him unpopular in some quarters, especially creators that lost a significant number of followers or subscribers after he beamed the searchlight on them. Media personalities who have come under Content Cop scrutiny include RiceGum, Keemstar, Tana Mongeau, LeafyIsHere, Toy channels, and Techrax. His episode on Mongeau was particularly notable as the N**** word was used during the feud. Mongeau criticized iDubbbz via Twitter, for using the "n-word" and "retard" while enjoying the benefit of having 3 million subscribers. She tweeted she'd be genuinely happy if he lost all his subscribers.
In retaliation, iDubbz confronted Mongeau at a VIP networking session in San Francisco, shouting the words, "say, nigger! instead of "say cheese." He was escorted out of the premises by security and the storytime YouTuber uploaded a video of the incident titled "N-Word." iDubbbz pointed out her hypocrisy by sharing an old video where Mongeau used the n-word. It later boiled down to her apologizing for using the word, saying she feared for her life, but not after the Content Cop video received 4.2 million views in the first two days.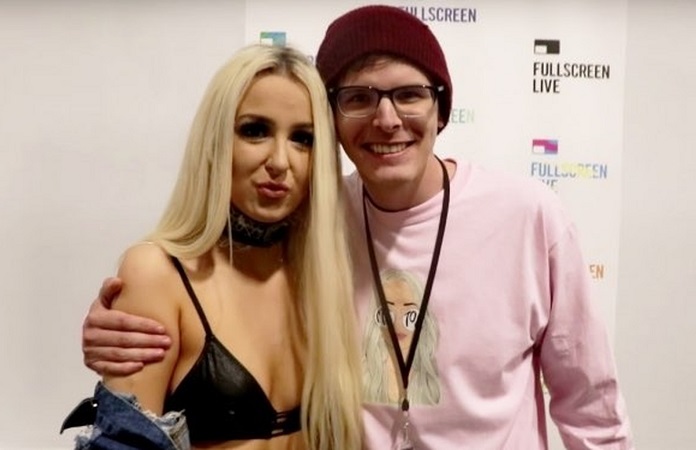 That Time When He Said He Was Gay
It is a bit ironic that someone who has been in a steady relationship with the same lady for nearly a decade would be surrounded by gay rumors but that is the case with iDubbbz and it is somewhat his fault. Back in May 2016, specifically the 19th, his frequent collaborator, MaxMoeFoe, asked him to appear in his video titled Edward Watermelon-Hands, and scream some "gay shit". iDubbbz of course obliged and screamed "I am gay" while jumping down a table.
The whole video was subsequently posted online and of course, the internet ran with it. It accumulated about a million views and thousands of comments, with most of them bearing on iDubbbz's sexuality. The truth remains that the L.A. native is not gay but only said that as part of a stunt. This fact has however not stopped the online community from utilizing it effectively.
See Also:  LaurDIY – Biography: 5 Facts You Need To Know About The YouTuber
https://www.youtube.com/watch?v=mAPBm_0ftAY
Does iDubbbz have Cancer?
Much like the gay rumors, the cancer speculation about iDubbbz equally stems from a video that he did for a fellow YouTuber, named, FilthyFrank. On the 13th of November 2015, iDubbbz, joined other YouTube personalities such as HowToBasic and MaxMoeFoe for an episode of the Filthy Frank Show titled Hair Cake. The task was to make a culinary masterpiece that would put celebrity chefs, such as Ramsay Gordon and Paula Deen to shame, and the trio got the idea of making a hair cake. They therefore forcedly shaved off iDubbbz's hair and subsequently added it to the cake batter.
The cake predictably turned out to be inedible but the episode served its purpose of going viral. It even won an award at the 2015 AVN awards. Frank later revealed that it was some sort of twisted public service announcement for cancer and asked his fans to donate money to the St Jude Children's Research Hospital. It should be revealed that this is not the first time that Filthy Frank is getting up to such adventures. He previously did an episode of his show in which the goal was to make, wait for it, a vomit cake!