Women are not funny, that is the parroted stereotype for women who try to express themselves comically. The exact origin and reason for this belief is unknown and we are sure there are researchers who are stuck under a desk somewhere working on it, but we are willing to throw our hat in the ring and say it is just another part of the misogynistic circle of things women supposedly cannot do because men simply said so. Iliza Shlesinger is one of many female comedians who is proving that this stereotype is incredibly wrong.
Over the years, the stereotype above has created an atmosphere of blatant discrimination against aspiring female comics, making it a male-dominated profession. Due to this reality, a casual look would suggest that women are, indeed not funny after all.
But even apart from gender discrimination, being a professional comedian comes with some professional requirements that are terribly incompatible with the traditional female gender roles, from tours to late night club performances. These have been a discouragement to aspiring female comics who wish to have it all. Some women, however, have chosen to defy the odds and serve as inspirations to other aspiring comics. One of such women is Iliza Shlesinger.
Iliza Shlesinger Bio
Iliza was born on the 22nd of February 1983 to Jewish parents in Manhattan, New York. Though a New Yorker by birth, Iliza was raised in one of the United States most populous cities, Dallas. For her education, she attended and joined the improvisation team at Greenhill School, suggesting an early interest in performance art.
As a growing teenager, Shlesinger was never shy to express her funny bone, performing at ComedySportz in Dallas. After high school, she moved to Kansas where she attended the University of Kansas for her freshman year before she transferred to Emerson College, Boston, and studied film. Between Kansas and Boston, Iliza took a semester at Sea program.
As she moved from one environment to the other, she never lost touch of her interest in comedy and continued at Emerson where she became a member of the school's comedy sketch group, writing and producing comedy skits. After graduation, Iliza was finally ready to take her knowledge and talents to the real world, moving to Los Angeles in pursuit of a stand-up comedy career.
When she got to Los Angeles, Iliza found a group to be a part of. She joined the Whiteboy Comedy group and quickly became one of its popular members. From dominating the local scene of comedy, Iliza took her excellence to the digital space and won Myspace's So You Think You Are Funny Contest.
In 2008, the biggest win of Iliza's budding career came in the sixth season of Last Comic Standing. She became the first woman and the youngest to win the competition. She really rose to prominence after she won the competition and it is easy to trace her comedic career take off to that point.
Since getting her big break, she has featured in comedy and television shows like John Oliver's New York Stand Up Show, America's Next Top Producer, Comedy Central Presents, and Byron Allen's Comics Unleashed, among others. She has her own show on the GOTV mobile network.
Shlesinger is also a writer and author who has written for Heavy.com and has a published book, Girl Logic: The Genius and the Absurdity. She is also the host of a late-night show, Truth & Iliza. Just like other comedians who record and release specials, Shlesinger has four comedy specials which have all been released on Netflix.
Her Net Worth
Iliza Shlesinger's successful career as a comedian, author, and television host has helped her build a net worth of $1 million. The comedian is one of the success stories of women who have defied the odds to pursue a career in the male-dominated industry.
See Also: Who Is AnneMunition? Her Girlfriend, Boyfriend, Real Name Ethnicity
Fiance, Boyfriend or Husband – Noah Galuten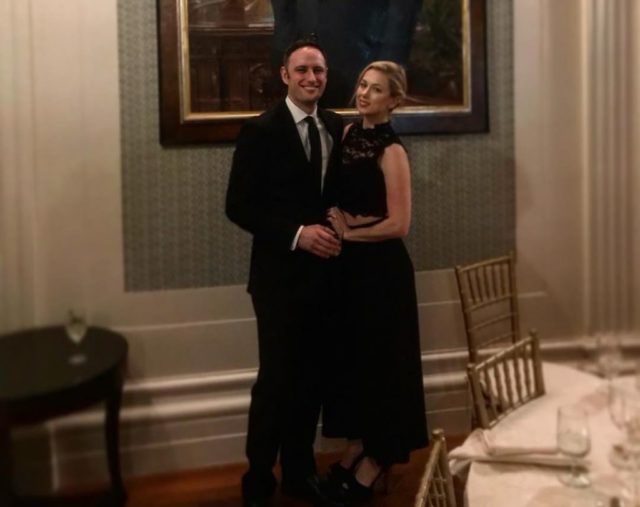 On the 12th of May 2018, Iliza decided to have it all when she married her long-term boyfriend and fiance, Noah Galuten. Iliza married the celebrated chef in front of friends and family.
Before Galuten, Iliza was reportedly in a relationship with Bret Ernst, but that obviously did not last.