There are currently many celebrity unions in Nigeria that have caught the attention of fans all over the country and Banky W's marriage to Adesua Etomi is one of the highly talked about over the years. From the time it became obvious that they were in love to the time they actually tied the knot as husband and wife, Banky W, a popular Nigerian singer and actor, and Adesua Etomi, a Nollywood superstar, have become the toast of music and movie lovers who have come to admire the relationship they now share.
Adesua Etomi's incredibly stunning beauty has excited so many fans since she burst into the limelight and people have hailed Banky W's 'sharp eyes' which they claimed helped him sort out a gorgeous beauty like Adesua to be his wife. Their marriage has always been in the limelight because of the constant love messages they send to each other on social media. Today, they are regarded as one of Nigeria's most influential celebrity couples.
How Banky W Met Adesua Etomi
The story of how Banky W and Adesua Etomi met and fell in love is quite an interesting one. Talking about this in a post he made on Instagram, Banky explained that his path had crossed Adesua's two or three times since 2012, however, he did not really pay serious attention to her or made serious effort to know her well until June 2015 when they met again at a party in Lagos.
At the party, he took careful note of Adesua and was smitten by her this time. In fact, he was so smitten that he confided in his best friend, Tunde Demuren that he was going to make her his woman. Thereafter, he asked a few people about Adesua and made his own research about her. He also started stalking her Instagram page and fell more deeply in love with her.
It Began In The DM
After some days of making his research about her, Banky W decided to approach Adesua by sliding into her DM and messaging her. He introduced himself to her and tried to make her laugh by telling jokes. They eventually became close friends.
According to Banky, they got so close that he could not go the whole day without talking to her. At first, Adesua just wanted them to be friends but Banky hoped she would agree to have something more deep with him. Meanwhile, their friendship made them realize they shared a lot in common and that they had so much chemistry.
Their Work On The Wedding Party Raised Eyebrows
Interestingly, while they were still friends, Banky W and Adesua Etomi were cast to play husband and wife in the popular Nigerian romantic comedy-drama film, The Wedding Party, in 2016. While on the set of the movie, the couple really clicked and finally got on the same page romantically. Of course, the public never knew anything about this.
However, their chemistry on camera as they played husband and wife was so glaring and so true that fans suspected they had something romantic in real life. No one was sure about this and only speculations flew about. It was about a year and a half after they started talking that Banky W and Adesua Etomi began dating for real.
Their Engagement Came As A Surprise
In February 2017, Banky W proposed to Adesua Etomi and she said yes. However, no one knew about this except for their very close friends and family members. Eventually, in May 2017, Banky W announced on his Instagram page that he was engaged to the actress. He made the revelation in a lengthy and very passionate post where he expressed his undying love and deep admiration for his woman. Adesua also confirmed the development in a post of her own.
The announcement took fans by surprise because not many knew they were even dating at the time. There had been some really exciting speculations and rumors about them dating but nothing was confirmed, so the engagement came as a pleasant surprise to the public. When the couple announced their engagement, it broke the internet and the news remained a trending topic for days in Nigeria.
How Lavish Was Banky W's Wedding to Adesua Etomi?
Banky W's wedding to Adesua Etomi was the most talked-about Nigerian celebrity marriage in 2017. This was because of the huge anticipation that had been built already since the couple announced their engagement. The event itself lived up to its bidding in terms of glamour and pure splendor.
The couple first had their traditional wedding on the 19th of November, 2017. The event was held at the popular Landmark Event Centre in Lagos and was every inch the glitzy ceremony people expected it to be. So many A-list celebrities and other influential persons showed up for the wedding which had popular Nigerian comedian, Basketmouth as the master of ceremony. Top music acts like 2Baba Idibia, Falz, and Tiwa Savage performed at the event.
Other stars who stormed the wedding in their glamourous outfits include Toyin Abraham, Bovi, Sola Sobowale, Ireti Doyle, Simi, Rita Dominic, Toke Makinwa, Juliet Ibrahim, Somkele Iyamah, Cobhams Asuquo, Mai Atafo, Rukky Sanda, Ufuoma McDermott, Mo Abudu, Iceberg Slim, Eku Edewor, Richard Mofe Damijo, Lilian Esoro, Liz John Black, and many more.
Their White Wedding Was Held In Cape Town
Banky W and Adesua Etomi's traditional was awesome but their white wedding was something else. The event was held in Cape Town, South Africa, and was dubbed the 'wedding of the year' by many. The theme of the wedding #BAAD2017 trended for days on social media.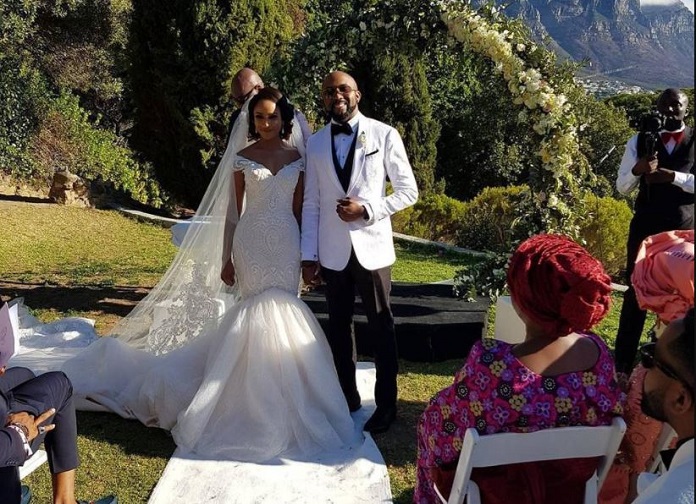 Just like the traditional wedding, the couple's white wedding was graced by several celebrities and was massively followed by Nigerians on social media who made the event one of the most searched topics on Google.
The bride was clad in her stunning white dress as the groom looked glamorous in his suit. Photos from the event flew all over the internet as media houses jostled to be the first to post them. Banky W's marriage was truly one of the most memorable weddings for many Nigerians.
The Little Incident That Nearly Ruined Their Honeymoon
While Banky W's marriage to Adesua Etomi was generally a glorious affair, a little incident nearly ruined their honeymoon. So, after their eventful wedding in Cape Town, South Africa, Banky W, and his wife, Adesua decided to remain in the country for some time and have their honeymoon there. This was, of course, a perfectly normal decision to make.
While enjoying their honeymoon, the newly wedded couple made sure they sent out pictures and videos of themselves having a great time on social media to the delight of their many fans. This was also a perfectly normal decision since theirs was an unbelievably popular wedding that shook the internet. However, some days after their wedding, Banky W caused an uproar on social media when he mistakenly showed off his wife's backside to the world while making a Snapchat video to show off their honeymoon experience.
In the video, Adesua was seen undressing while Banky was making his video. In the process, he showed her with her bare back to the camera. Realizing his mistake, he quickly stopped recording and went offline but the video had already made its way to the internet, having been captured by people who were watching while Banky was filming.
As expected, the video quickly went viral on social media and caused quite a stir with many people accusing Banky W of doing too much. According to them, he should have learned to keep his marriage off social media to avoid mistakes like that. The couple trended online for a few more days because of this error.
But, despite the uproar which the unfortunate incident caused, neither Banky W nor Adesua Etomi said anything about it but simply continued professing love for each other. The uproar died down eventually.
Their Marriage Has Been Exemplary
Since they had their powerfully loud wedding in South Africa, Banky W's marriage to Adesua Etomi has been peaceful and love-filled from what we can tell. The couple has lived an exemplary life so far, becoming a yardstick for what a successful celebrity marriage should look like. Banky W and Adesua have been head over heels in love with each other and it is so glaring from what we have seen them do online.
Occasionally, the couple expresses their mind-blowing admiration for each other in heartfelt posts on their individual social media accounts, especially during their anniversary, birthdays, and at other random times, blowing away fans each time they do this.
At other times, they show up under the comment sections of each other's posts and leave mouth-watering comments about each other.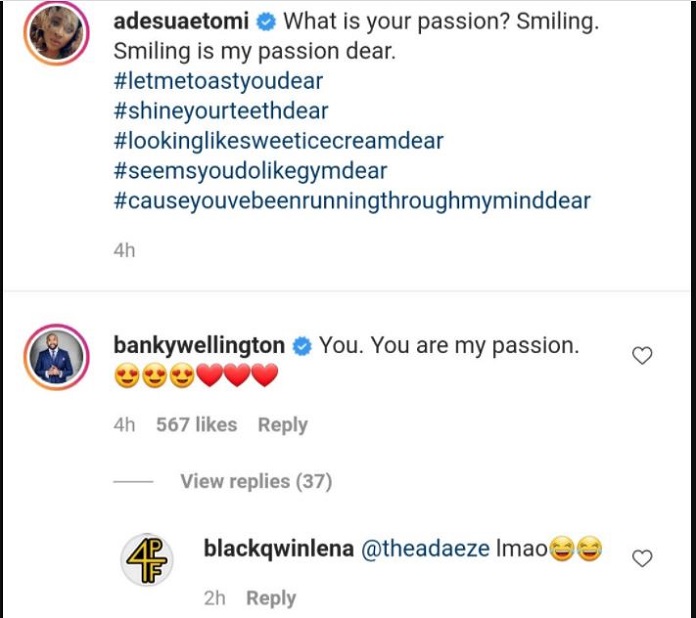 They have also been playful at times where Banky W or Adesua would poke fun at the other while, at the same time, use the opportunity to expressly state their undying love for each other.
So far, there is no sign at all that Banky W's marriage to Adesua marriage may be in trouble of any kind.
Did Banky W Really Cheat on Adesua?
In March 2020, a very shocking rumor began to spread on the internet, claiming that Banky W cheated on his wife. The truly horrifying rumor began to spread after a story was shared by a popular gossip blog on Instagram, @gistlovers.blog1, claiming that Banky W was having an affair with another woman.
The blog did not specifically mention Banky W's name when it made the allegations but it gave pointers, including mentioning that the person in the cheating story was an important part of popular singer, Wizkid's success story. Everyone knew that Banky W was the one who helped Wizkid achieve initial success as a breakout star so all fingers pointed at him.
To make matters worse, the blog claimed that Banky W cheated on his beautiful actress wife with none other than Adebanke, the lovely wife of the handsome Nollywood actor, Gabriel Afolayan. The gist spread like wildfire on the internet, especially because Banky W and Adesua have always been a model couple.
When the rumor spread, some people immediately started attacking Banky W online, claiming that they were disappointed in him. However, others defended him, stating that the story was only a rumor which had not been confirmed to be true.
How The Couple Handled The Rumour
The cheating allegation against Banky W has never been confirmed since it was reported, mainly because neither Banky W nor Adesua Etomi has talked about it. The couple handled the whole issue with poise and calm. Both Banky and Adesua simply ignored the negative vibes and just continued with their lives. In fact, while the rumor was spreading like wildfire, Banky W and Adesua were busy showering each other with kind words online.
Banky W also made a post on Twitter, while the allegation was trending, encouraging people to donate to charity to celebrate his upcoming birthday and Adesua promptly commented on the post, cheering him up and saying she is proud of him.
Ayyyyeeee. Community service coming up again 💃💃💃. Well done Bubz. Proud of ya. https://t.co/iPeqaqCeRO

— Adesua Etomi-Wellington (@AdesuaEtomiW) March 16, 2020
This helped to calm the rumors down as people realized the couple was not even bothered by what was being said about them. Banky W's marriage to Adesua was not shaken at all by these rumors.
Does Banky W Have A Child With Another Woman?
Apart from the allegations that he cheated on his wife, another rumor which emerged about Banky W is that he had a child with another woman long before meeting Adesua Etomi. The woman who was reported to have had an affair with Banky is Uche Odoh, a beautiful Nigerian model.
According to unconfirmed reports, Banky W had an affair with Uche Odoh around 2013 and 2014 and the woman was head over heels in love with him. However, after some time, Uche disappeared from the internet but returned later, tagging Banky W as her baby daddy, meaning that they have a child together.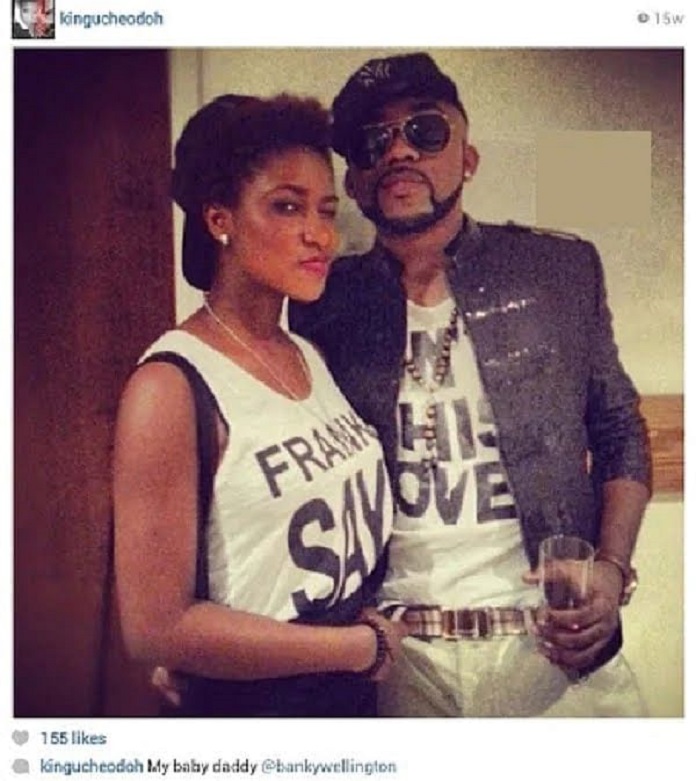 Uche continued doing this for some time before she disappeared again. She was later photographed with a baby and reports claimed that the child was the product of the relationship she had with Banky W. Some people claimed that Banky W had struck a deal with Uche to keep the baby from the public eye.
However, all these have been speculations so far and there has never been an official confirmation from Banky W's camp or any other credible second party. At this moment, it is not certain that Banky W had any child with Uche Odoh.