Blade Nzimande whose full name is Bonginkosi Emmanuel Nzimande has indeed acquired multiple portfolios over the course of his career. He is a South African politician, sociologist, philosopher, educator, anti-apartheid activist, Minister of Higher Education; Science and Technology, and the General Secretary of the South African Communist Party since 1998. He is a former Minister of Transport from 2018 to 2019, and Minister for Higher Education and Training from 2009 to 2017.
Beyond politics and service to his country, Blade Nzimande is a loving husband to his wife, Phumelele Ntombela-Nzimande, and the father of their two children. Despite the fact that he is a man of many portfolios at the career front, Blade has carefully maintained warmth at the home front. Get to know more about his family life with his loving wife and the children they share.
How Long Has The Couple Been Together?
Against some opinions that the South African politician has married before, Phumelele is the first and only wife of Blade Nzimande and their marriage has continued to thrive over the years. Phumelele is not just Blade's wife but also his very close friend who is usually spotted with him on many occasions.
Whenever Blade describes his family in terms of success, he usually says that both of them are from humble backgrounds and it's only God who has brought them this far. There are no details to lay hands on regarding where and when Balde met his wife or got married. However, from the look of things, and considering the extent their children have grown, it might be safe to say that the couple has been together for almost three decades.
Meet Blade Nzimande's Wife, Phumelele Ntombela-Nzimande
Phumelele Ntombela-Nzimande, the wife of the Higher Education Minister was an executive member of the South African Broadcasting Commission (SABC). She has been in the office for many years but was recently roped in a scandal when she was retrenched. She was reportedly terminated in an effort to cut costs during the year's restructuring strategy.
Before the unfortunate incident, Phumelele who has made an indelible impact on SABC over the course of her career was known to be diligent in her duties and was among the top earners at the SABC. She is career-focused, yet puts in a lot of time for her family in order to strike a balance between the two.
Officially, she was told her services were no longer needed at the 2011 annual public broadcaster's strategy meeting. However, she was dismissed with a retrenchment package of about R1.8 million which includes the 14 months left on her contract plus other benefits. A senior SABC official while reporting the news added that no other position could be made available for her due to her high salary scale. Since then, there has been no reliable information regarding if she has ventured into another career path.
The Real Reason Behind Phumelele Ntombela-Nzimande's Retrenchment
Many people, especially South Africans were totally astonished by the news, even more so because the actual reason for removing her was not made public, it was simply tagged a restructuring strategy aimed at cutting costs. However, the truth behind her termination was later let out by some SABC insiders.
According to the reports, Phumelele was making secret plans to disband the SABC board because of some selfish reasons. She was reportedly the one behind the four SABC members who resigned sometime in the previous year. On her side, Phumelele refused to say a word even when she was approached to make a comment at the meeting and since then has not yet said anything in response to the whole saga.
Blade Nzimande And His Wife, Phumelele Have Two Children
Blade Nzimande has two children with his long-term wife, Phumelele. Both of them are male and their names are Lunga Nzimande and Nkululeko Nzimande. There is little information about Blade's children in the public arena which also made it difficult to know their birth years. Even though they are all grown up, they are not active on any social media space, and their parents keep most aspects of their personal life away from the media.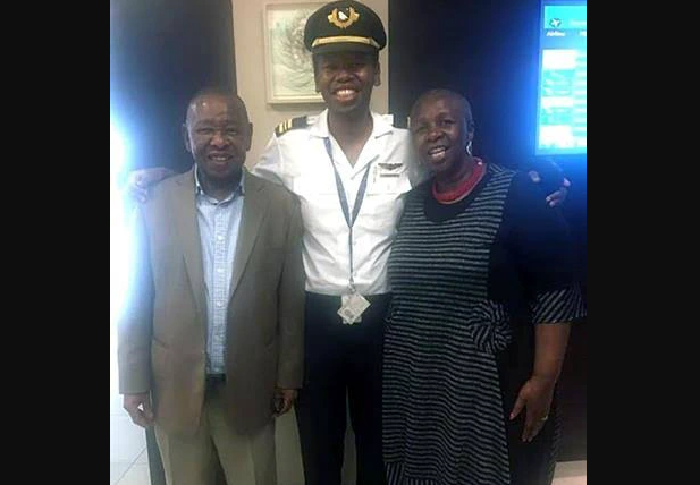 However, Lunga Nzimande who is the first son made headlines when he became a pilot. Lunga has long aspired to be a pilot and eventually achieved his dream. Blade and his wife are very supportive parents to their children and in turn, Lunga and his brother Nkululeko have never ceased to make them proud. Lunga went on to make headlines when he booked his parents a flight and flew them by himself. In their own words, Blade and his wife said that they were thrilled because it was actually a well-planned surprise package by their pilot son.
On the other hand, there are no other facts about Nkululeko Nzimande, except that he is known to be an employee in an undisclosed prestigious company in South Africa. None of them is married but it might be soon, knowing that they are already thriving in their different career paths.
Blade Nzimande Has Been Involved In A Cheating Scandal
Blade Nzimande's marriage had been without scandals until 2017 when a news site took to its Facebook page to claim that he was caught with his mistress whose name was not disclosed in a hotel room. The rumor-mongers even went to the extent of claiming that the alleged mistress shared Blade's photos with her on the internet in a bid to call him out and probably tarnish his image. This rumor came up in 2017 after he was relieved of his position as the minister for higher education and training by the then president, Jacob Zuma.
The report generated many reactions and comments from Facebook users. Most people dragged him using derogative names while some were not even bothered about it, terming it a usual thing for men to cheat whereby his own will not be different. However, neither Blade nor his wife has made any effort to debunk the rumor or at least respond to it. Rather, they both kept calm and did not make any comment about it, and since then, nothing else has been heard about the matter. Hence, all attention has been refixed on his political position in the country and his efforts at being a doting husband and father at home.