Tumi Morake and Mpho Osei Tutu have been married since 2009. They have two sons named Bonsu and Lesedi, and one daughter, Althea. 
Tumi Morake, a popular South African comedian who is also an actress, TV personality, and writer lives an inspiring life especially when it comes to how she balances professional life and her family. The actress and media personality has consistently displayed her remarkable ability for putting her family first in everything while also efficiently completing envious projects in film and comedy.
Apparently, Morake is a successful actress. The movie star is known for her roles in highly talked-about films such as Skin, Soul Buddyz, and Kota Life Crisis, and many others and has established herself as one of the most exciting South African actresses of note. Over the years, she has built a large fan-base, garnering so many followers, and has gained wide respect for her craft. However, this has not stopped her from maintaining an incredibly sweet relationship with her family.
How Tumi Morake Gets Single Fans Wishing They Were Married
There is no gainsaying that Tumi Morake is a happily married woman and the evidence of this is so glaring. The actress has often talked about how she focuses on her family a lot in interviews. She is also is known to love showing off her husband and children on social media occasionally. She often follows up her posts about her family with soothing words that express just completely awed she is by them and how much she loves them.
On many occasions, when Morake posts about her husband, expressing her admiration for him and how he makes her feel good, her fans (especially the female ones) take over her comment section, gushing over her 'perfect' love life and family before expressing their wish to find a husband that treats them the way Morake's husband treats her.
Who Is Tumi Morake's Husband?
Incidentally, Tumi Morake is married to a fellow movie star. Her husband is Mpho Osei Tutu, a French-born South African star actor and voice artist who is also of Ghanaian-Mosotho descent. Just like his wife, Osei Tutu is a very successful actor and is known for his work on films and series like Mrs. Right Guy, Seriously Single, and The Jakes Are Missing.
Having started acting in dramas since he was just 8 years old, Osei Tutu has grown to become a versatile role-interpreter and is also now a screenwriter, director, and producer. Osei Tutu and Morake have shown they have incredible chemistry. The actor also loves showing off his wife on social media.
Morake And Osei-Tutu Tied Have Been Married For More Than A Decade
Tumi Morake and Mpho Osei Tutu share a really heart-warming love story. They have been married for more than a decade now and there does not appear to be a crack in their romance at all. In an interview with DEFINING, Osei Tutu revealed that he and Morake met at Wits University in South Africa where they were both studying Drama. They fell in love with each other and never looked back since then.
The couple dated for an amazing seven years after their first meeting at Wits University before they tied the knot as husband and wife. Morake and Osei Tutu became a legally married couple on the 28th of November 2009 and they have been together ever since more than a decade later.
Every year, the couple celebrate their wedding anniversary by posting about themselves on social media. On their 11th anniversary, Morake took to Instagram to post a photo of herself and Osei Tutu together, calling him her best buddy and expressing her joy at how they have continued building their lives together.
The Movie Stars Are Three-Time Parents
Tumi Morake and Mpho Osei Tutu are proud parents to three children. They have two sons called Bonsu and Lesedi, and one daughter called Althea. The details about when and where the kids were born remain quite scarce however, we know that Morake and Osei Tutu take pride in caring for their children.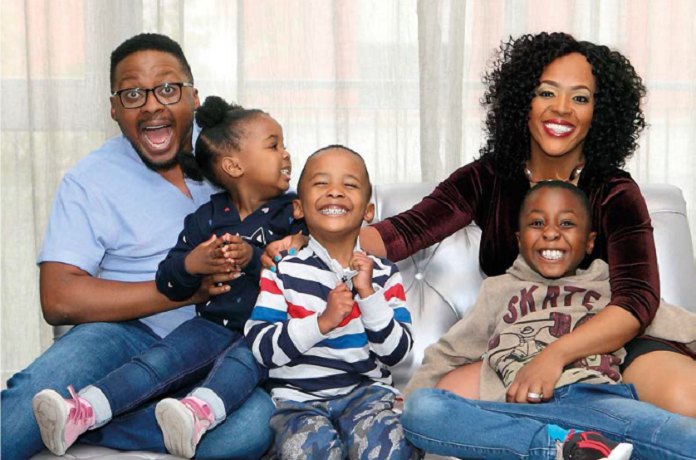 Morake does not play with caring for her kids and puts parenting over her work in the entertainment industry. The comedian works so hard to make her kids happy that one of her children hailed her saying that even when she is not home, he knows she is there because she works so hard for them. He also promised to buy her a Bugatti when he grows up. This statement made her cry tears of joy.
Morake also credits her husband with helping her find balance in juggling between work and parenting. This is because, according to her, their roles are fluid in the family and she is constantly on the same page with him, This makes the parenting very easy for her.
The Horrible Accident That Nearly Wiped Out Tumi Morake's Family
The happy life that Tumi Morake and Mpho Osei Tutu enjoyed with their kids was almost destroyed completely in December 2017 when they were involved in a horrific accident. The incident happened on Friday, 29th December 2017. Morake and her family were traveling to Sun City for a holiday when their car which was being driven by Osei Tutu collided with another vehicle.
Morake and nine other persons including her children were taken to the hospital and checked. They were found out to have suffered minor injuries. However, while her children and her husband were discharged, Morake was admitted briefly because she had hurt her back. Eventually, she returned home after one night.
The comedian, while reflecting on the accident, told DRUM that when she returned home from the hospital, she broke down in tears and wondered if this was how she would have died before enjoying the house she was trying to build with her husband. Of course, she has since put that incident behind her and moved on with her life again.
Tumi Morake Has Had An Experience With Police Harassment
Tumi Morake has also had her own share of police harassment in the past. The comedian revealed this on Twitter in June 2020 when replying to another tweet by songstress Simphiwe Dana during the heat of the Black Lives Matter movement following the death of George Floyd.
Morake revealed that one day, while she was 7 months pregnant, she had rifles pointed at her while in Cape Town with her husband. She did not reveal the circumstances behind the incident, however.
Yup. I've had rifles pointed at me, 7 months pregnant wondering how threatening I looked. Hubby in his shorts and golf shirt – in Cape Town. I see these reports and wonder if I should be grateful we weren't hurt or pissed off we didn't escalate the matter. No apology.

— 𝓣𝓾𝓶𝓲 𝓜𝓸𝓻𝓪𝓴𝓮 🌈✊🏾🇿🇦💖 (@tumi_morake) June 1, 2020
Morake also said no apology was ever offered afterward. Apparently, cases of police brutality are not only in America but all over the world including African countries.
At the moment, the comedian and her superstar husband continue to enjoy a very happy family life with their three children.