John Okafor is currently married to Stella Maris Chinyere Okafor. The actor has a total of 13 children but only 4 (one deceased) with his current wife. They are Chelsea Okafor, Jay Jay Okafor, and Emmanuel Mandela Okafor.
Known for his funny performances in movies, the man widely known as Mr. Ibu has been bringing smiles to the faces of Nigerians for decades. He is also a writer and producer who continuously brings in new performers to get you rolling on the floor. The legendary actor is the brain behind notable movie scripts like Ibu in London, Police Recruit, 9 Wives, Honeymoon Guys, Ngozi: Abeg Marry Us, and many others.
It's intriguing to know that this prolific actor used to be interested in martial arts and has worked as a hairstylist, photographer, and other capacities to keep himself afloat before he decided to pursue a career in acting.
Mr. Ibu Found Marital Bliss With His Second Wife Stella Maris
Mr. Ibu is married to Stella Maris Chinyere Okafor, whom he affectionately refers to as "Chibest" or "First Class". Not much is known about her early life or background but it is gathered that she hails from Mbaise in Imo State.
The couple got married on May 25th, 2010 by performing the Igbo-traditional wedding ceremony. In 2015, 5 years after the traditional wedding, they held their white wedding.
The humorous actor sees his current wife as a gift from God. In May 2021, John Okafor took to social media to commemorate 11 years of marriage to his second wife, sharing various family photos on his Instagram profile.
Based on her husband's appraisal of her cooking abilities, Stella Maris is also thought to be a fantastic cook. He said that she came up with the recipe for "Ibu stew" on her own.
The recipe, according to him, is now popular in Enugu, Awka, Lagos, and other parts of Nigeria.
How John Okafor Met His Current Wife
John Okafor claimed that he met his new wife in a heartbreaking circumstance. The actor stated that he met her crying because she had received a rumored break-up text message from her lover at the time. Being familiar with a relationship gone sour, he tried to talk her out of crying over the breakup citing that there are many men who would want to be with a beautiful woman like her. They became acquaintances from that time and as fate would have it, their paths crossed again in the city of Port Harcourt.
Their friendship moved on to become a serious relationship and everything went on quite well between them. The comedian then took the bold step to propose to his newly found sweetheart in a humorous and dramatic manner, which caught her off guard and the rest as they say is history.
The Unfortunate Incident of John Okafor's Family Kidnap Saga
On January 4, 2011, John Okafor's wife and one-year-old son were kidnapped. During an interview with the actor, he confessed that at first, all of his family members were taken.
The remaining members were released after the kidnappers learned the Police Force was on their tail, but his wife and 1-year-old son were held captive.
Mr. Ibu said the kidnappers first sought a ransom of N50 million naira, but after four days of persistent pleadings and haggling, the price was dropped to N6 million naira. After considerable haggling, he agreed to pay the sum of N4 million naira, and his wife alongside his 1-year-old son was released after 10 days.
John Okafor also revealed that he learned about his estranged wife's involvement in the kidnapping during his conversation with the kidnappers. Unfortunately, the actor's kidnapped son died a year after the incident, and his death was later attributed to food poisoning.
John Okafor's First Marriage Was Chaotic
John Okafor married his first wife sometime in 1998 but he had quite a bad experience in the marriage which led to their separation. The comedian does not mince words when it comes to his experience as he had called his first marriage 'a disaster' and because of the hard times he went through with his first wife, he was forced to keep away from women for 6 years after the relationship ended. He did not, however, reveal all of the circumstances of his suffering in the marriage to the public.
More so, with regards to the woman he married as of then, there is no information about who she was, how they met, or what she does for a living. The only detail available about the lady is that she hails from Enugu which happens to be Mr. Ibu's hometown as well. The comedian has also admitted that he married her because his mother and sisters insisted that he marry a woman from his hometown.
Unfortunately, his family's judgment about who he married ended up being wrong as John Okafor made it clear that the woman was not the perfect match for him, and they had to part ways due to their incompatibility. More so, the actor/producer has even claimed that his estranged wife was behind the kidnapping of his new wife and late son in 2011. However, this suspicion has not been ven right and the accused lady is yet to be nabbed by the authorities.
How Many Children Does Mr. Ibu Have?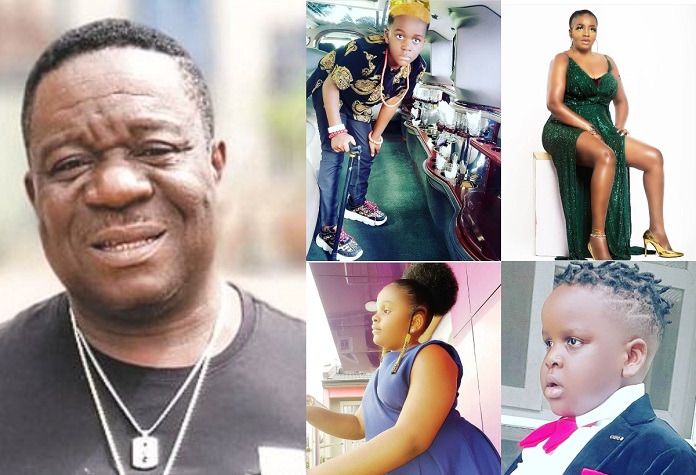 According to reports, John Okafor has 13 children, one of whom is deceased. The actor revealed that he fathered several of the children before marrying his new wife, Stella. However, there is no information about those children, including those he had with his first wife. The only known fact is that he has about 10 boys and 2 girls. It is also believed that he has a grown son who is married but his identity is not revealed.
More so, among his many kids, it remains unknown whether any one of them would pick interest in acting. As of now, his children tend to live very private lives off the public radar.
His Kids With Stella Maris
Mr. Ibu and his present wife, Stella Maris Chinyere Okafor, have 4 children. As mentioned already, one of the kids is late, leaving her with 3 children; 1 girl and 2 boys. They are the 12 year-old Chelsea Okafor born on September 30th, 2011, 10 year-old Jay Jay Okafor born in 2013 and 7 year-old Emmanuel Mandela Okafor born on February 4th, 2016.
Chelsea Okafor, Mr. Ibu's first daughter, is believed to bear a strong likeness to him, while Emmanuel Mandela Okafor, Mr. Ibu's second son, was named after his first son, who died in 2012.