Khaligraph Jones is one of the most popular hip-hop artists in Kenya. He came to the limelight at the age of 19 after emerging victorious at the Kenyan edition of the Channel O Emcee Africa contest. Since his emergence to the limelight, there has been extended interest in the artist's life, both personal and professional. More interesting is the fact that he has three kids from two different women.
Papa Jones, as he is sometimes referred to as, had his last two children; Amali and Lu with his current partner Georgina Muteti. We cannot categorically say when they became an item, but the duo's relationship has endured for quite a long while. The couple currently live a happy life together with their two adorable children, but there is still a whole lot more to learn about them.
Khaligraph Jones and Georgina Muteti are Believed to Have Started Dating in 2017
We cannot place our fingers on the exact time the couple met, however, Georgina Muteti surfaced in the news after Khaligraph Jones shared her picture while she was expecting. Besides, the Kenyan rapper never deemed it necessary to publicize their dalliance at the onset, thus, they started dating secretly. Even when he finally decided to let fans know about the woman in his life, Jones ensured that Georgina's face was well hidden behind an emoji before sharing.
When Khaligraph's girlfriend finally appeared on the public scene, she threw more light on when they could have met with her explanation that the throwback photo he shared was taken in 2017. This gave fans some idea of when they might have started dating and how long their dalliance might have lasted.
Have the Two Gotten Married as Widely Speculated?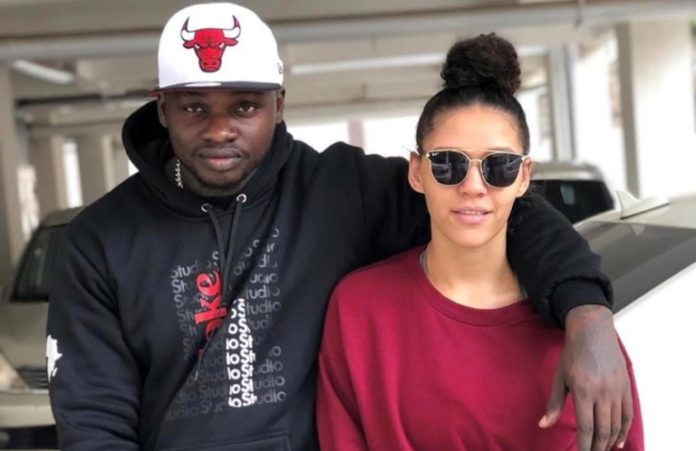 Going by what we have gathered from existing records, there is no indication that the couple ever exchanged marital vows – pointing to the fact that they may just be partners but are not legally wedded. Reports have it that the duo started cohabiting after Jones and his former girlfriend and baby mama, Karimi Muriungi aka Cashy, went their separate ways. It would appear that with the arrival of their first child, the couple decided to bring everything out in the open, sharing special family moments with fans and the general public. A good example was Muteti's recent Mombasa vacation with the renowned rapper where she shared several photos, including the one of her sister who came to join in the fun.
Khaligraph Jones, who once advised that bringing your partner to the public arena is the biggest mistake a man could make in life, now seems comfortable with being frequently photographed with Georgina. In fact, the mother of his children seems to have become a big fixture in his life and he seems to be satisfied with the development.
What We Know About Georgina Muteti
Since Georgina Muteti is not a celebrity, nothing much is known about her. The mother of two only became popular thanks to her association with the rapper. However, we have managed to gather quite a few pieces of information about Khaligraph's partner.
We understand that the beauty is half Kenyan, half Italian; her dad is a native of the Kamba ethnic group of Kenya while her mother is of Italian origins. Georgina spent a better part of her growing up years in the Coastal Region of Kenya, acquiring her early academic qualifications from Loreto Convent School in Mombasa before proceeding to attend Memoni High School for her O Levels.
The young mother has been able to make some life achievements of her own. For one, she is a good hair-stylist in addition to being a trained and certified lifesaver. In 2012, while representing her alma mater Loreto Convent School in the National Beach Lifesaving Competition organized by the Kenya Lifesaving Federation, she earned first place.
Though her date of birth is not captured, Georgina appears to still be very young. She was probably in her late teens or early 20s when Khaligraph Jones came into her life. Her young age notwithstanding, the mother of two is the type of lady that does not suffer fools gladly and has shown that she never entertains bullies on her socials. A good example is her case with Jones's ex-girlfriend Cashy whom she dealt with on social media.
Georgina's Ongoing Beef with Khaligraph Jones' Ex
Khaligraph Jones' partner Georgina Muteti has had it with her boyfriend's ex-girlfriend. Before Muteti came into his life, Khaligraph was involved in a six-year-long relationship with fellow artist, Karimi Muriungi, popularly referred to as Ms. Cashy, who is the mother of his first child.
Jones' ex recently engaged in a blitzkrieg of media interview sessions where she made no bones about her feelings for the Kenyan rapper, accusing him of so many unprintable crimes. Cashy called the hitmaker out for being physically abusive during their time together, as well as leveling other accusations of infidelity among many other things.
Since their breakup which was rather ugly, the female musician has continued to paint Jones in a bad light. The image she usually paints suggests a man who is extremely selfish and manipulative.
Muteti refused to take Cashy's continuous attacks on her partner. The mother of two wasted no time in rising to Jones' defense and giving it back to the female singer. According to Georgina, Cashy is just trying to seek cheap publicity, dismissing all her claims as blatant lies. Khaligraph's spouse in a social media post accused Cashy of immaturity, telling her to be very careful of the type of lies she chooses to bring to the public arena as they might backfire. Georgina concluded by calling Cashy a barking dog that never bites who wants to be relevant by using her spouse's name.
Khaligraph Weighed in By Telling Ms. Cashy to "Beat It"
In his newly released track titled "Beat It" which is a part of his 2018 album entitled Testimony 1990, Khaligraph Jones did not mince words when he slammed back at the mother of his first child. According to him, his ex-girlfriend was unfaithful while they were together as she slept with some old men (sponsors). Jones said fame was the only thing that kept her with him while she got busy entertaining those guys. Khaligraph let on that the lady in question dismissed him as being a desperate fool, but that his time has come and he would teach her not to mess with the OG.
In a December 2018 interview, however, Papa Jones denied that "Beat It" has anything to do with his ex Cashy as both the track and the concept of its video were already written and developed a couple of years before their relationship went south.
Meet All of Khaligraph Jones' Children with Georgina Muteti and Cashy
The first time Georgina Muteti surfaced on her partner's socials without concealing her face, she was heavily pregnant with her first child. Even though the rapper chose to keep a low profile on his relationship then, he took to his socials in February 2019 to share the news of his spouse's pregnancy with a video of Georgina having an ultrasound. The Tuma Kitu rapper was overjoyed in June 2019 when his daughter, Amali Jones Ouko, finally joined the family.
June 2020 marked her first birthday and both parents took to their socials to express gratitude to God for the life of their daughter. Georgina for one, shared a post, thanking everyone who played one role or the other in Amali's upbringing, including the father. The OG on the other hand kept things simple by sharing a cute photo of his daughter alongside five emojis.
Amali was, however, not up to one-year-old when Georgina conceived for the second time. Her pregnancy was kept a secret for several months until Jones himself took to Instagram to break the story of his impending fatherhood. In the image he shared, Georgina was clearly seen with a rather heavy baby bump suggesting that she was already in her last trimester and the baby's arrival was imminent. Jones was feeling very proud as he held onto his partner's bulging tummy. The photos prompted a lot of congratulatory messages from the couple's Insta-family as many wished them well with their expectations.
The duo's second child, a son named Lu joined the family a few months later on the 11th of October 2020, however, they chose to keep things under wraps until Khaligraph Jones broke the news via Instagram. He shared a picture of him cradling baby Lu and they make such an adorable pair.
Georgina Revealed That She Went Through Hell Giving Birth To Baby Lu
With everything about her life with the Kenyan rapper all out in the open, Georgina seems to be eager to share more with fans. The mother of two shared a social media post revealing how she battled with labor pains during the delivery of her second child.
According to Jones' partner, her daughter was born through a caesarian section unlike her son Lu who was birthed naturally. The nursing mother said she had to change hospitals a couple of times, switch physicians at the last minute, but in all these, she never stopped believing in herself.
Georgina said she finally accomplished the feat of normal delivery through constant prayers and screaming to douse the labor pains. She made this revelation two weeks after delivery, describing herself as a happy but tired mother.
On his own part, Khaligraph Jones shared a cute video in celebration of the new addition to his family. In the video, he was seen in the company of his children rapping the lyrics of his latest song "Kwenda" with the title, "The Lwanda Magere Legacy." The award-winning rapper gave voice to the excitement he feels about expanding his small circle, hinting that he had been "overworking" lately as all aspects of his life have been expanding; from boosting his music career to growing his cartel.
There Were Rumors She was Expecting Twins With Her Second Pregnancy
When it became glaring that baby number two was on the way for Georgina and Khaligraph, word started making the rounds that the couple was expecting a set of twins. Within a short while, Georgina came out to debunk the rumors with her ultrasound results, confirming that it was just one baby in her womb and not twins.
According to the mother of two, people concluded that she was expecting twins because of her extra-large baby bump which she attributed to Jones' heavy build, and from what is obvious, the baby might have inherited the father's genes.
Jones' Child with Cashy
As earlier mentioned, Muteti's two children are not the only kids sired by Khaligraph Jones. The popular Lwanda Magere hitmaker was previously a father to Ms. Cashy's son Xolani. However, the boy's date of birth is not recorded, thus, we cannot say exactly how old he is right now. The only irrefutable fact is that Xolani is Jones' first child.
With the way Jones is caring and protective of Muteti's children, fans were greatly surprised when his ex called him out for being an uncaring father who doesn't care about supporting the child they had together. Cash took to her socials to let the whole world know that she is all out to fight for the wellbeing of her child.
According to Jones' ex, being a mother means defending your child at all times even when it entails going to war. She said a mother goes the extra mile for her child, doing everything and anything to ensure that you have all their areas of existence well secured in the best possible way. Cashy cited different ways of achieving this; by divine favor or even through legal means.
The female rapper who learned how to fight from her parents as she observed them fighting for her said she cannot be a coward when it comes to her own child. Her Instagram outbursts marked the first time Khaligraph Jones' ex publicly linked him to the birth of her son.
On his own part, Khaligraph urged people to quit asking him after Cashy as the two of them have long gone their separate ways. As for issues concerning Xolani, he refused to comment, saying he had to move on with his life as Cashy is now part of his past.