South African reality television star, MaMkhize, is the owner of one of the finest houses in the country located in the La Lucia area of Durban in KwaZulu-Natal province. This multi-million rand home is more than just a house as it features a teenage entertainment pad, a showroom for an impressive fleet of automobiles, and several other exterior embellishments.
Now, the content of that automobile showroom is a tale worth listening to. Social media evidence shows that it contains the most exotic of rides, from the Rolls Royce to Bentleys, different Mercedes Benz cars, BMWs, and so on.
Where is Kwa MaMkhize's House Located?
The abode of MaMkhize and her family is one of the most magnificent homesteads in all of South Africa. The mansion, which is known as La Lucia Mansion, is viewed in the light of a landmark in the affluent northern Durban suburb of La Lucia. Its worth is said to run into millions of rands. The home is completely out of this world, like something you only get to see in the movies. Perhaps, it will be more apt to refer to it as a settlement with security personnel on guard 24 hours a day, seven days a week. This massive property came into the family when the SA businesswoman was still the wife of Sbu Mpisane.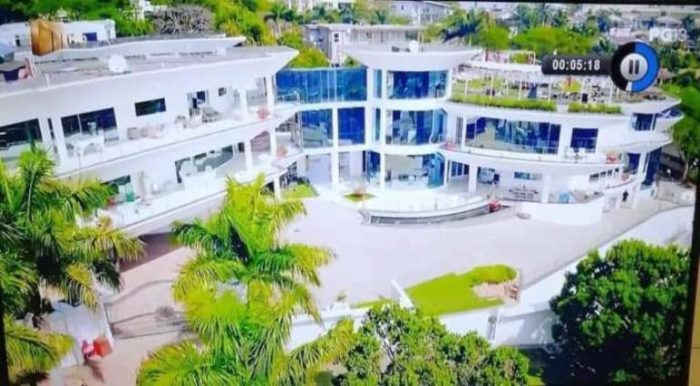 The family became the proud owner of the massive mansion in 1995 when Sunday Times reported about the property changing hands but omitted to mention the worth. Around the early 2000s, when MaMkhize newly came into her great fortune, the house served as a venue for hosting some of South Africa's top celebs for yearly new year's eve parties but not anymore.
How Much is MaMkhize's House Worth?
After purchasing the major property in La Lucia, MaMkhize's family was not satisfied with what they had, thus, they made move to secure additional two adjoining properties to widen their space. The first property was bought in 2007 for the sum of R3.5m following which it was turned into a showroom for their impressive fleet of automobiles.
Seven years down the line in 2014, reports from Sunday Tribune said the Mpisane family paid the sum of R2.9 million in acquiring the second adjoining property to their La Lucia mansion. The 1,611 square meter plot, Sunday Tribune said was worth only R2.5m, but after their discussion with the previous owners, the family had to add an additional R400, 000 to the going price.
The structure on their latest acquisition was demolished in order to erect a teenage entertainment pad for the couple's only son, Andile. Sunday Tribune also reported that building the entertainment pad cost the family an additional R2m in construction expenses. A combination of these three properties is what gave rise to the massive plush abode referred to as La Lucia Mansion.
Fans really got an eyeful of the mansion during Andile Mpisane's 16th birthday party where the youngster got a Mercedes Benz AMG G63 SUV worth R2.3m as a birthday gift. Celebrities who performed at the occasion include Babes Wodumo and Nasty C.
MaMkhize's Has A Garage of Cars Fit Only For Royalty
While a good majority of the South African population can barely boast of a functional ride, MaMkhize and her family splurge around town in some of the most exotic vehicles ever produced in the world. Reports ensuing from MaMkhize family's previous encounter with SARS and the Asset Forfeiture Unit revealed the total number of plush cars in their fleet to be 25 – all of which are worth over R22 million. This was way before she acquired her latest car, a Rolls-Royce Cullinan Black Badge worth a whopping R16 million.
Since the SA socialite launched her Kwa Mam'Mkhize reality television show on Mzansi Magic, fans have been getting more than an eyeful of her garage full of luxury automobiles. The showroom-style garage is located in her family's main residence in La Lucia, Kwa Zulu Natal which is deemed to be larger than many family homes in SA. This garage houses exclusive rides, from Ferraris to Porsches, Rolls Royces, and Lamborghinis. Here are some of the known cars in MaMkhize's fleet.
Rolls-Royce Cullinan Black Badge (R16 million)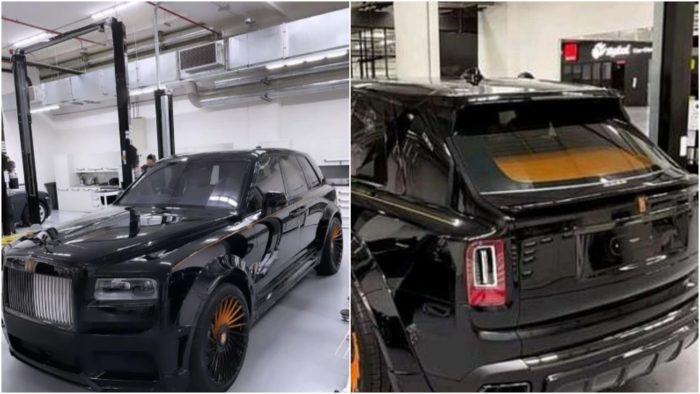 The name Shauwn "MaMkhize" Mkhize has since become synonymous with exotic cars in South Africa as they keep seeing the business tycoon, and her children Andile and Sbahle Mpisane in one plush car after another. However, the reality television star cum entrepreneur left Mzanzi in shock after she graced her already bursting garage with a brand new 2021 Rolls-Royce Cullinan Black Badge. The first time fans were offered a glimpse of this exotic piece was during her last birthday celebration when she was seen in IG pictures fetching the car from the dealer.
Knowing the South African public, many of them did not waste time in searching the net for the current price for the stunning beast and they just had to announce it to the world when the search result came up with a whopping R16 million. This latest acquisition has over-ridden every other car in her fleet and presently, the SUV is the most expensive of her cars.
What's more, a report from Auto Trader said the Rolls Royce is counted among South Africa's most expensive SUVs. The same report also revealed the Rolls-Royce Cullinan to be the British luxury automaker's foremost SUV. In addition to its blacked-out exterior design package, the SUV comes with improved performance relative to its standard siblings.
Ferrari 612 Scaglietti (R3 million)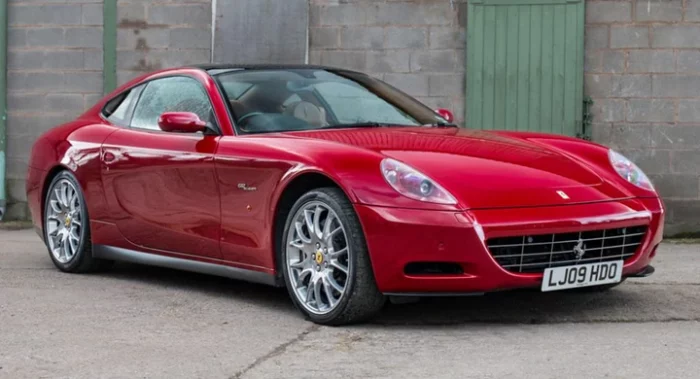 A true 4-seater automobile quite spacious in the rear seats to accommodate adults, the Ferrari 612 Scaglietti was produced before 2010 as a replacement for the smaller 456. No one knows the exact time that this Ferrari joined MaMkhize's fleet but reports said the businesswoman purchased it at the market price of R3 million.
Rolls-Royce Ghost (R4.8 million)
It would appear that MaMkhize and her family are diehard fans of the Rolls Royce brand as they appear to have quite a number. The reality TV star got her Rolls Royce Ghost at the price of R4.8 million and before her latest acquisition, this particular automobile and her Rolls-Royce Phantom ranked as one of the most expensive among her fleet.
Rolls-Royce Phantom (R6 million)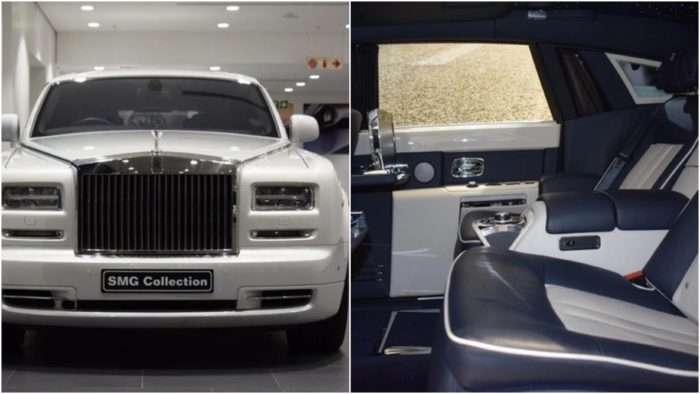 Now, choosing between the Phantom and the Ghost must have been one hell of a difficult choice, perhaps that was why MaMkhize decided to buy the two. Her Phantom according to reports is worth R6 million and has remained one of her most exorbitant acquisitions to date.
Maserati GranTurismo (R1 million)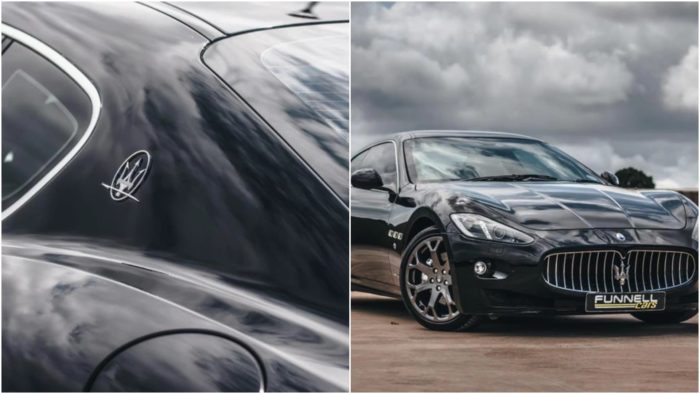 The Maserati GranTurismo may be the most expensive car in someone's garage but with MaMkhize, it is one of her cheapest. The vehicle came at the price of R1 million and the South African businesswoman has been severally spotted cruising around town in it.
Bentley Bentayga (R3 million)
When MaMkhize's reality show had its premiere run, fans were in shock when the businesswoman's son Andile was spotted purchasing sneakers for R87,000. The boy obviously has a taste for expensive items and he has been severally spotted splurging around town in this Bentley Bentayga whose worth is pegged at R3 million.
Lamborghini Huracan (R4.5 million)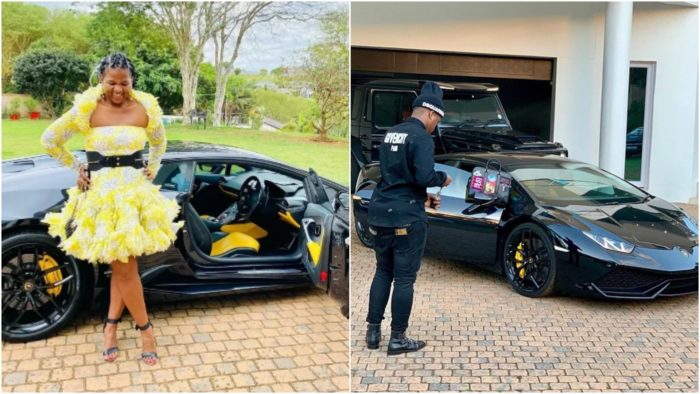 This Lamborghini Huracan is one of the family supercars that MaMkhize's son, Andile, has been spotted in. The luxury car was bought at R4.5 million and the accompanying special features are worth the whopping price tag.
Dodge RAM 2500 Heavy Duty 6.7 L (R1 million)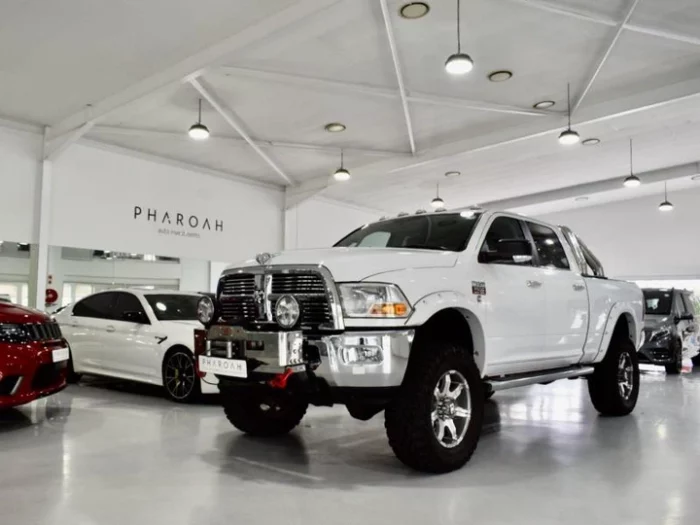 The debut season of the Kwa Mam'Mkhize reality television show featured this Dodge RAM 2500 Heavy Duty 6.7 L. The automobile which is dubbed the family's big bad bakkie is worth R1 million.
Mercedes-Maybach S-Class S650 (R3.6 million)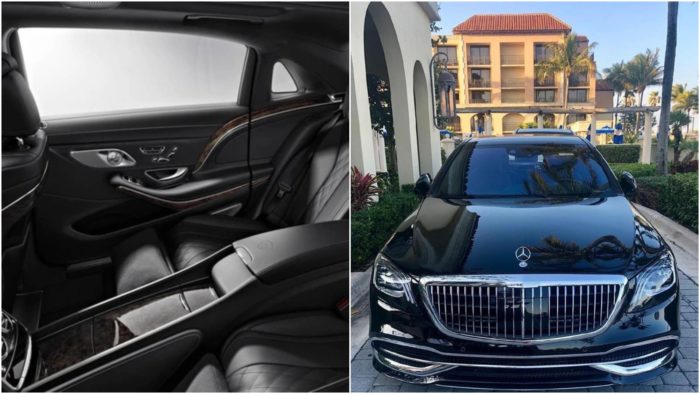 Mam'Mkhize's Mercedes-Maybach S-Class S650 is one car that has featured the most on her social media timeline, thus, fans have dubbed it her favorite. The producer of this automobile, Mercedes-Benz, named it the world's best luxury sedan equipped with superior suspension to soak up any imperfections on the road like bumps. What's more, the interior of this car will give any airplane business class cabin a run for its money. Perhaps this may be why this R3.6 million worth sedan is always featured in the reality television star's timeline and she is often spotted behind the wheels in town.
Aston Martin DBX (R3.6 million)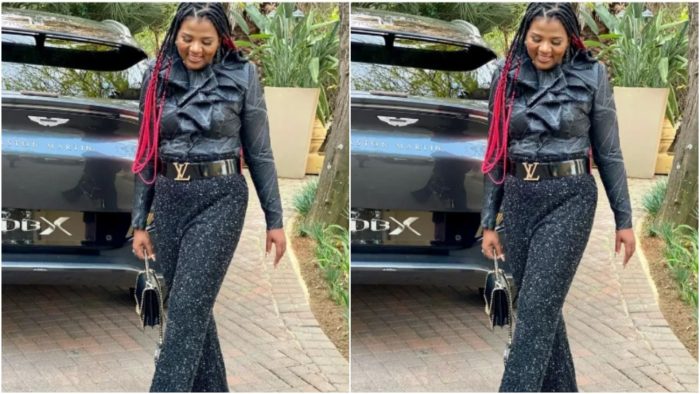 Mam'Mkhize's Aston Martin DBX and Mercedes-Maybach S-Class S650 are worth the same amount – R3.6 million. This automobile is one of the SUVs from Aston Martin that is quite popular among the high and mighty in South Africa.
Mercedes-Benz G63 AMG (R2.4 million)
The reality star's Mercedes-Benz G63 AMG comes complete with an ONYX G7 Widebody kit; this is one of the automobile's distinguishing features, giving it an edge over other G63s out there. Its carbon fiber kit itself is custom-made and is said to be worth about R500k. The market price for the car itself is R2.4 million
2020 BMW 4 Series Convertible (R1.2 million)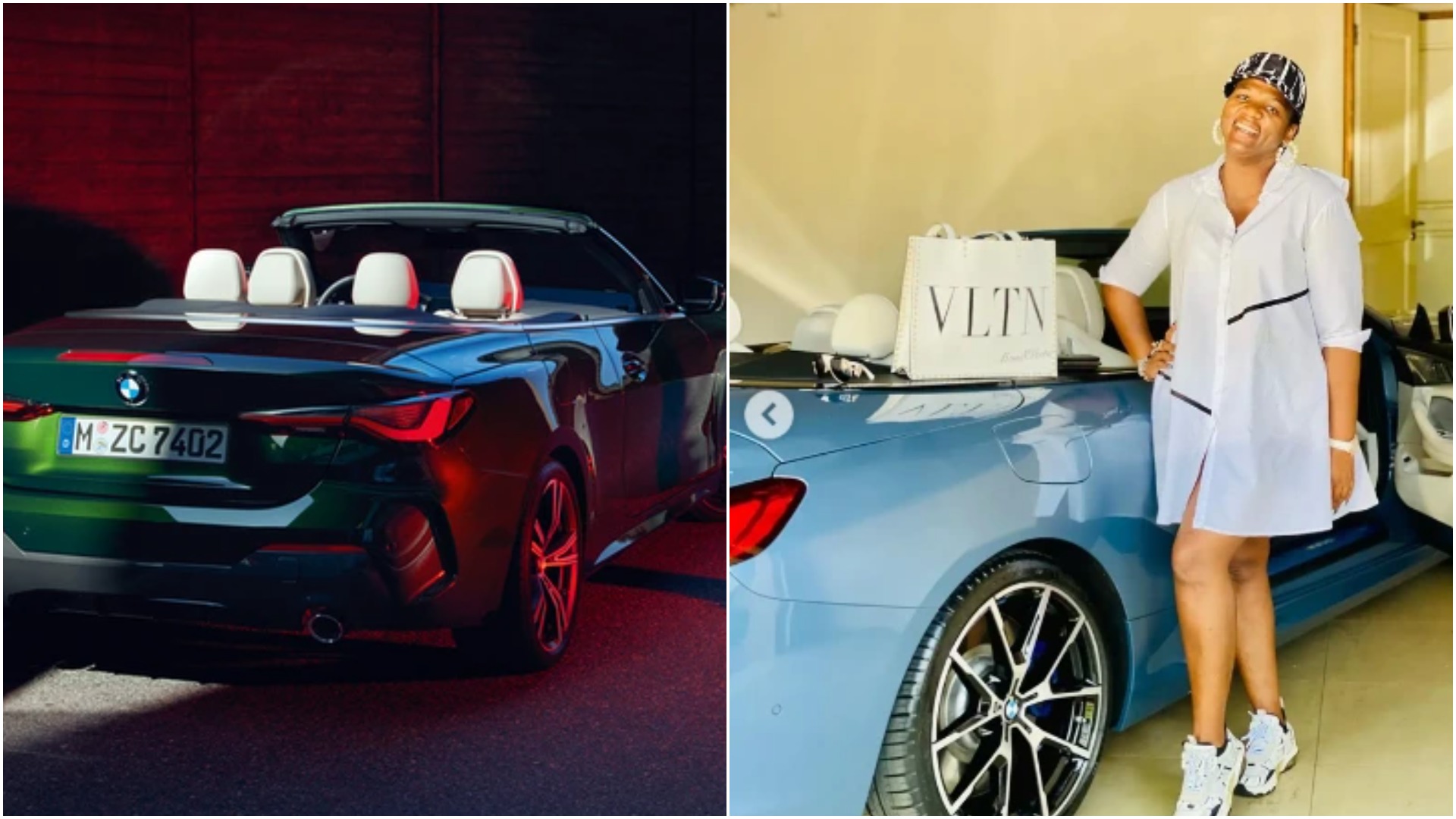 Among Mam'Mkhize's less expensive cars is her 2020 BMW 4 series convertible which comes in handy as a good daily ride for the businesswoman. The car, which is worth R1.2 million, is a convertible very apt for those unbearable summer days in Durban.
Sbahle's BMW
While Mam'Mkhize is busy buying luxury rides, her daughter Sbahle who experienced a near-fatal auto-crash in August 2018 has been receiving expensive gifts in the form of posh automobiles from her boyfriends. A good example is her R1 million worth BMW M4 which was a birthday gift from her ex Itumeleng Khune.
Brandishing her Rolls-Royce Cullinan Bred a Lot of Criticisms for the Kwa MaMkhize Reality TV Show Star
When photos of the reality television star's plush Rolls-Royce Cullinan appeared on the internet space, fans of her Kwa MaMkhize reality TV show received it with mixed feelings. While many celebrated this expensive purchase, expressing how much they are inspired by Shauwn's ostentatious lifestyle, others were quick to condemn the South African show queen. Those who had nasty things to say about MaMkhize slammed her with accusations of corruption, alleging that she accumulated her wealth through corrupt means and still has tons of scores to settle with the SA authorities.
Shauwn neglected all the hate heaped on her person until recently when she was interviewed by TshisaLIVE. Addressing the backlashes, the TV show queen who recently scored a role in the Uzalo soapie described herself as a dark horse that gets questioned whenever she enters any place. Shauwn said she loves it when people glance at her and count her out and even loves it more when they utter negative things about her as she never fails to come up with surprises. That is her nature, said MaMkhize, who stated that she thrives when she succeeds where people least expect her to.
Reflecting on the success she has recorded so far, the SA businesswoman said nobody ever believed that she will come this far at her current age. Shauwn has done so well on social media, her business acumen is applaudable, and when she dared to encroach into what is regarded as "male territory" (soccer and the construction industry) people expected her to fail but she has surprised them all.
Sources of Income For MaMkhize's 
MaMkhize's personal net worth of over R300 million accrued from multiple sources. After she worked in paid employment for a very short while in 1996, the businesswoman decided to try her hands at business and she was not ashamed to start small. Her business empire took off with minor projects from her local municipalities like painting, feeding schemes, and small construction works but today, she has become a force to reckon with in the SA construction industry and has since widened her horizons. Below is a comprehensive list of her sources of income.
Zikhulise Group
During the early 2000s, MaMkhize launched her construction company Zikhulise Group which started accumulating revenue from constructing low-budget RDP houses around 4500 sites within the eThekwini municipality in Durban. The businesswoman owes a lion's share of her wealth to the Zikhulise Group.
Royal AM Luxury & Grooming Pampering Lounge
Alongside her only son Andile Mpisane, the shrewd South African businesswoman owns and runs Royal AM Luxury & Grooming Pampering Lounge. Though not as big as Zikhulise Group, the lounge is equally a money-spinner.
Royal AM Football Club
Another avenue of generating revenue for MaMkhize is the Durban, KwaZulu-Natal based-Royal AM Football Club where she serves as the president. The club, which was formerly called Real Kings, is doing so well that it recently acquired the Bloemfontein Celtic FC which has become part of Royal AM.
Zikhulise Auto Restorers
MaMkhize is also the owner of Zikhulise Auto Restorers – an experienced towing company providing towing service to cars that broke down as a result of electrical or mechanical problems that can't be repaired on the spot. Zikhulise Auto Restorers can boast of more than 10 tow trucks that are always on hand to tow cars to repair spots or the nearest point of safety. Their towing contract portfolio is said to be overflowing and needless to say, this translates to millions in rands.
Social Media
The savvy entrepreneur wasn't even on social media prior to 2020, however, when Shauwn eventually came on board in the early months of the year, she gained an IG following of over one million in just eight months. Before long, she was dubbed "mother of the nation" by her followers and in October 2020, became a nominee for Fag Hag of the Year and Socialite of the Year at the Feather Awards.
The reality star's other companies include Zikhulise Maintenance and Transport, and Inyanga Trading. Since she surfaced on the business scene, MaMkhize has been a source of inspiration to women in South Africa. More so, being instrumental to the breaking of barriers for the female population in the cutthroat corporate environment has been applauded by many.
Acting
MaMkhize made her acting debut in 2021. This came when she began depicting the character of a mysterious wealthy woman on the set of Uzalo. A year before her Uzalo role, MaMkhize's reality television show Kwa Mam'Mkhize premiered on Mzansi Magic. The Hollywood American Prestigious Award of 2020 awarded it Best Reality TV Show.