Famous South African actor and moviemaker Shona Ferguson was married to actress Connie Ferguson for 19 long years before his untimely demise on the 30th of July 2021. Together they have 2 daughters; Lesedi Matsunyane-Ferguson who was born from Connie's first marriage, and Alicia Angel Ferguson who was born in 2002. Shona also left behind a grandson named Ronewa, a.k.a King Ro, the son of Lesedi Matsunyane-Ferguson
Going by what we could sieve from available records, Shona had never been married before he met the actress, and they remained together until his death. Despite the challenges presented by their work in the entertainment industry, the duo overcame to become a goal among fans and the general public. In 2010, they joined efforts to launch Ferguson Films, which is presently one of the best production companies in SA. The outfit takes credit for bringing to life award-winning television shows like The Queen, Rockville, and The Throne.
In their 19 years together, Connie and Shona Ferguson welcomed one child, daughter Alicia Angel Ferguson, to the world. Connie was, however, already a mother of one before her marriage to Shona. The actress was the wife of Neo Matsunyane who sired her first daughter, Lesedi Matsunyane. Even though Shona and Lesedi don't have any blood ties, their relationship was described as very good, akin to the type that can only exist between biological father and daughter. Both Alicia and Lesedi are forging career paths in the entertainment industry and may soon become as popular as their parents.
How Shona Ferguson Met His Lifetime Spouse, Connie
That Shona Ferguson's path crossed with movie actress Connie was a result of pure happenstance. It happened exactly three years after Connie got divorced from her first husband, Neo Matsunyane. In September 2001, Shona went to the actress' Johannesburg house where his sole mission was to drop off some mutual friends of her sister, Lorato. Instead of taking his leave immediately, Shona requested a glass of water and it was in the process of getting the water for him that Connie who happened to be at home then walked into the living room and as they say, the rest is history.
It was a case of love at first sight for the couple as the chemistry was simply too strong to be ignored. Connie, who was already a known personality in the South African entertainment industry thanks to her Karabo Moroka role on Generations, confessed to Drum in 2007 that she initially hated Shona Ferguson's tattoos. However, from what is perceivable, Shona soon got her convinced as she inked a smaller version of the dragon on his right arm on her back within a week of their meeting. According to the mother of two, it was proof of her love for him as she needed the man to know that she saw beyond his tattoos. Connie also described her tattoo as a symbol of their love and togetherness.
In reciprocation of the gesture, the moviemaker and actor inscribed his lady love's name on the rose flower tattooed on his arm. In explanation, Shona said it was to ensure she won't be complaining about not getting gifts of flowers from him. The couple has since appeared on several A-list magazine covers and television shows where they narrated their instant attraction to each other.
Their Wedding Took Place Two Months After They Met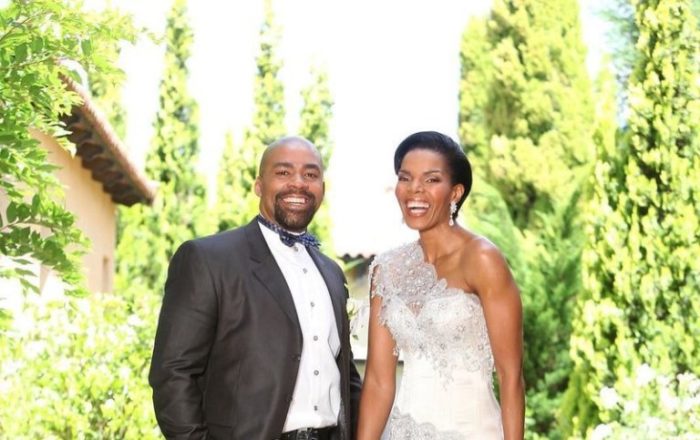 After they met, the celebrity couple seemed in an almighty rush to tie the nuptials as they only dated for a couple of months. In November 2001, the two were joined traditionally but the details were not made available to the public. Shortly after completing their traditional marriage rites, Shona Ferguson and his significant other had a white wedding, an occasion that was covered by several top-notch magazines and tabloids in December 2001. According to reports, it was a showy affair, deemed wordy of 10-page spreads in only the best publications and also considered plush enough to grace so many front pages.
Despite their age differences that sparked a lot of speculations at the initial stage of their relationship, the couple seems to blend well in all aspects of life. A good instance is their professional life where they have collaborated on several business ventures. Their movie production company, Ferguson Films, which was birthed nine years after their nuptials in 2010, grew to be one of the most successful film companies in all of South Africa. Many who initially abhorred their union has drawn inspiration not only from their success in the business world, but they have also come to envy the love and respect Shona and Connie lavished on each other all through the years.
Why Connie's Marriage To Her First Husband Ended
Though Shona Ferguson and his wife Connie experienced 19 years of marital bliss, he was not the South African actress' first husband. As previously mentioned, the mother of two was married to SA native, Neo Matsunyane, who was also part of the entertainment industry as an actor cum movie producer.
The details of their married life are not in the public space but according to the records, they tied the knot in 1993 and after barely five years together, their union ended following a divorce in 1998. Their union produced one child, Lesedi Matsunyane.
A Glimpse Into The Marital Life Of Connie and Shona Ferguson
Shona Ferguson and Connie Ferguson's 19 years of marital bliss did raise the bar oodles of notches higher for other celebrity couples and would-be celeb couples. In addition to their highly successful partnership at a professional level, the South Africa power couple has been described as a match made in heaven. Shona, who was only ever married to Connie, was always overt with his love for the actress and their children even though he projects himself as a private person in other aspects of life.
In spite of the fact that their union was fast inching towards the second decade, Shona seems to have eyes only for Connie. There was one memorable occasion when he visited his wife on the set of The Queen TV series. According to witnesses, his gaze never shifted from his wife which was commendable for a man that had been married for almost 20 years. The movie actor cum producer was never stingy with compliments and was always the first to celebrate Connie's birthday on social media.
In the same manner he showered complements on Connie, Shona Ferguson also spiced their love life up with beautiful gifts. A memorable instance was in 2017 when he gifted his spouse with a Mercedes-Benz AMG63. On receiving the gift, the mother of two wasted no time in voicing her delight on Instagram. No doubt, Connie viewed marrying Shona as a great privilege in her life and the feeling was reciprocated a hundred folds.
While they lasted, the celeb duo proved to be couple goals for everybody on several occasions, demonstrating that celebrity marriages can endure for a lifetime with the love on both sides still firing on all cylinders.
Connie and Shona Ferguson Renewed Their Marriage Vows After A Decade Together
After 10 years of marital bliss in 2011, Shona and Connie Ferguson decided to renew their marital vows. Unlike their wedding details that were sparse in the public arena, everything about the renewal of their vows was made available for public consumption. The affair can be best described as magnificent with 70 guests in attendance to witness the South African power couple at the altar, gazing into each other's eyes like newlyweds. Even with a grown-up child between them, the celeb duo still looked hopelessly in love.
Connie Ferguson nailed it with an eye-catching Biji gown with the top delicately designed with Swarovski crystals, lace, pearls, and silver beads. The gown had a second skin made of sheer ivory sheaths. On his own part, Shona was also a sight for sore eyes, donned out for the occasion in his fresh Fabiani white shirt, topped with a tailored suit, and finished with a matching dark blue bow tie.
The reason why the couple's marriage stood out for 19 long years was far from the fact that they were among the richest celebrity couples that South Africa ever produced. Their success was all thanks to their unflinching commitment to each other; this does not mean that they never experienced relationship challenges but from what is perceivable, the duo has a way of settling their differences without going public with the details.
Their Wedding Anniversary Celebrations Always Made The Headlines
Right from when they said "I do", Shona and Connie Ferguson's marriage was suffused with celebrations. The couple was known to mark birthdays, award wins, and of course, they never missed any of their wedding anniversaries. Among the ones that did make a big bang was their 15th wedding anniversary in 2017 when the South African power couple surfaced in an interview session with Destiny Magazine and featured on the cover.
Speaking, Connie narrated how she felt a palpable soul connection that made her know instantly that Shona was Mr. Right. Their 16th-anniversary was also well documented on their Instagram pages.
Another memorable wedding anniversary for the couple was witnessed in December 2020 and it was their 19th and last anniversary. As if they knew what was coming, the couple was rather loud with their messages on social media. Shona dedicated an Instagram message to Connie and his words were quite touching. According to the South African actor and movie producer, the journey of life has proved very easy with her on his side. The father of one also shared another touching IG post with an image of Connie sitting comfortably on his lap.
On her own part, Connie reciprocated the gesture by taking to the same platform to profess undying love for her spouse of 19 years. She said the fact that her husband can still make her laugh after 19 years as husband and wife is everything she ever prayed for and a whole lot more. Connie ended her message with a declaration of love stating that her love for him increases with the passing days. The SA movie star was also spotted in a previous interview where she described the movie maker as her best friend, soul mate, and baby daddy.
Unfortunately, their 20th wedding anniversary which they planned in a big way never came to fruition as Shona Ferguson died on the 30th of July 2021; the cause of death was reported to be complications from COVID 19. Penning a message to her deceased spouse, Connie revealed their plans to mark the occasion. The movie star also mentioned how they have been dreaming of growing old together.
Shona and Connie Raised Two Children Together
Shona Ferguson's wife, Connie, only had two children in her life. The older one was sired by her first husband while the second one was by Shona.
Lesedi Matsunyane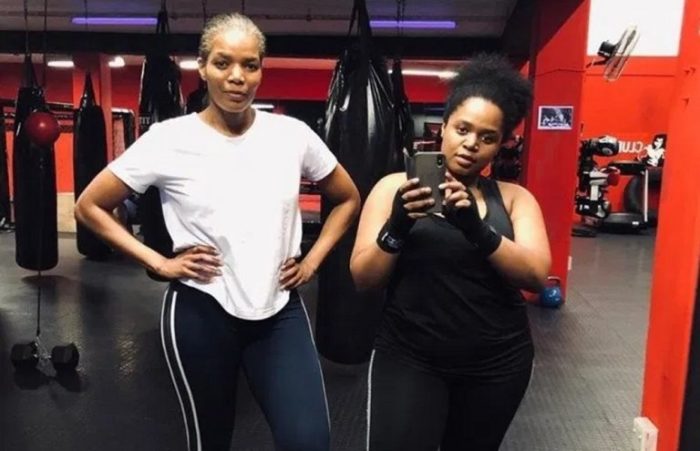 Lesedi Matsunyane is the only child of the marriage between Connie and her first husband, Neo Matsunyane. After their divorce, Connie got custody of Lesedi and she has been with her ever since. Thus, when she tied the nuptials with Shona, her baby girl also came along and according to reports, the moviemaker embraced both mother and child. The type of loving father-daughter relationship that existed between Lesedi and Shona had fans confused as many came to the conclusion that he was her biological father. However, the truth is that Shona just took his step-dad role seriously.
Lesedi, who is an alum of AFDA, took the path of the entertainment industry, working at Ferguson Films with Connie and Shona in her capacity as a content creator, cast coordinator, and performer. During her days as a student of ADA, Lesedi Matsunyane got pregnant but with the help of her parents, she was able to have her baby boy and complete her studies at the same time. Needless to say, this made Connie a first-time grandmother and a glamorous one at that. "The Glamma" as Connie prefers to call herself obviously dotes on her grandson, always sharing his photos on social media platforms.
Alicia Angel Ferguson
After their 2001 wedding, Shona Ferguson and his wife obviously did not waste time in having kids as the only child of that union arrived on the 7th of June 2002. Their daughter, who goes by the name Alicia Angel Ferguson, marked her 19th birthday in June 2021 and also graduated from high school the same year, making Connie a proud mum with her excellent performance.
Right from an early stage, Alicia has always displayed a healthy dose of interest in music and has shown great prowess as an instrumentalist. She enjoys experimenting with the piano and the drums, and she has displayed great moves on the dance floor; a talent that obviously came from Connie. From what is perceivable, Shona Ferguson's only child is just bidding time before making her debut on the entertainment scene.
The Four-Year Age Difference Between Shona Ferguson and Connie Ferguson Sparked a Lot Of Criticism
According to kept records, Connie Ferguson was born in June 1970 and Shona Ferguson's date of birth was reported to be the 30th of April 1974. Needless to mention, there is a four-year age gap between the duo, thus, when their romantic entanglement first went public, it bred mixed feelings among fans. While many who are rooted in the age-old belief that a man ought to be older than his wife saw their age difference as an aberration, there was still a good number that didn't see anything wrong with it.
Even in the midst of much criticism, the couple chose to shun their naysayers and went ahead to cement their love with the exchange of marriage vows. Besides, the fact that they lasted for 19 long years without major marital issues proved many who initially viewed them with condemnation wrong. Connie and Shona's union became a testament that age doesn't mean anything in marriage; it is just a set of numbers that has no bearing on how you chose to run your marriage.
The Duo's Marriage was Besieged By Rumors Of Cheating and Infidelity
Trouble raised its ugly head in the couple's marriage when rumors began making the rounds that Shona Ferguson got Generations actress, Kagiso Rakosa, pregnant. The news threw the tabloids into a reporting frenzy as everyone wanted the scoop on the story, especially as it came with a rider that the South African power couple's marriage was heading towards the rocks with the speed of a tornado.
Shona let the frenzy ride for a while and seeing that it would not go away anytime soon, he decided to burst their bubble with a timely rebuttal. According to him, Kagiso's character of Sharon is the one that is pregnant for her onscreen boyfriend, Samuel, but the real-life Kagiso Rakosa was not pregnant. Speaking further, Shona mentioned he never knew Rakosa one on one; the only thing he knew about the lady was the fact that she worked on the same movie set with his spouse. They were only chanced to hold a conversation at Connie's farewell bash from Generations where they cracked jokes out of the rumors that they were expecting a child together. On her own part, Kagiso also released a statement debunking the rumors.
On whether his marriage was going south, the SA moviemaker said divorce was never on the cards for them as they viewed the rumor as a silly joke from the beginning. In fact, his exact words were that they have never been happier.
A few weeks earlier, we also heard some rumors about Connie's alleged affair with Buyile Mdladla while still the wife of actor, Neo Matsunyane. According to the speculations, Drum Magazine hosted Buyile's ex-spouse on a tell-all expose where the aggrieved woman mentioned her husband's involvement with a Generations star which was later traced to be Shona Ferguson's wife Connie. However, from what is obvious. All these allegations didn't have a single dent in their marriage as they were all proved to be wrong.