Somizi Mhlongo is a South African media personality, TV presenter, actor and choreographer who has an estimated net worth of $5 million. 
Somizi has had a long fruitful career in entertainment. His net worth has grown massively since he transitioned from acting to singing and choreography and it does not seem like he is slowing down soon. In the course of building his prolific career, Somizi has also amassed a lot of wealth for himself, and he does not hesitate to display how wealthy he is.
As of now, Mhlongo is ranked as one of the most wealthy South African celebrities. His cars, houses, and clothes are all proof of the fact that the versatile entertainer has a lot of riches to his name.
The S.A Entertainer's $5 Million Net Worth Funds His Extravagant Lifestyle
Somizi Mhlongo is believed to have a net worth that is close to $5 million – this is a huge feat for a man who prior to 2010 struggled with making money. However, fate smiled on him and as they say, the rest is history as he is living a very affluent life now. For his work, Somizi is best known for his appearance in the 1992 film, Sarafina! from which he went on to establish himself as an actor, choreographer, radio presenter, and media personality. He is currently among the panel of judges for Idols South Africa.
Somizi's many endeavors account for his massive net worth today and like a lot of those who are extremely wealthy, he also knows how to splurge his money on items that appeal to him. In the case of this South African celebrity, his extravagant lifestyle is one that he has put on display for the world to see, particularly the social media platform – Instagram.
The media personality can be seen spending heavy sums to wear the most stunning outfits to occasions and red carpets events. Sometime back, he took to social media to showcase his wardrobe and as expected, it was a very huge one! Some of Somizi's fans have even sent requests to him for his old clothes to which the celebrity gladly obliged.
Somizi's lavish lifestyle also includes him spending a whooping R 25,000 -which is estimated to be someone's annual salary, on a pair of shoes! Well, this is not the first time the entertainer is being quite extravagant as he has doled out R12,000 for Gucci platforms which he was excited to flaunt at one of his many events. More so, Somizi has garnered massive attention for his bold hairstyles which usually come in very loud colors including, pink, purple, green, blue, and orange among others.
He Owns Exquisite Houses
One of the ways that Somizi Mhlongo has shown that he is wealthy is with his houses. The celebrity is the owner of a Johannesburg residence which is located in the Northern part of the country's capital city. The actual cost of this gigantic house is not yet known but from its size and design, Somizi must have spent millions on his Johannesburg residence.
His home boasts of an outdoor shower, a large roomy living room that overflows into a swimming pool, and a bar that has a steady supply of wines. The kitchen in this property that is a double storied one, is fitted with the most modern and expensive kitchen gadgets.
This house also features a lounge designed with authentic leather seats and soft swede couches. More so, it has a large fireplace, and above the fireplace is a grand picture of Somizi Mhlongo.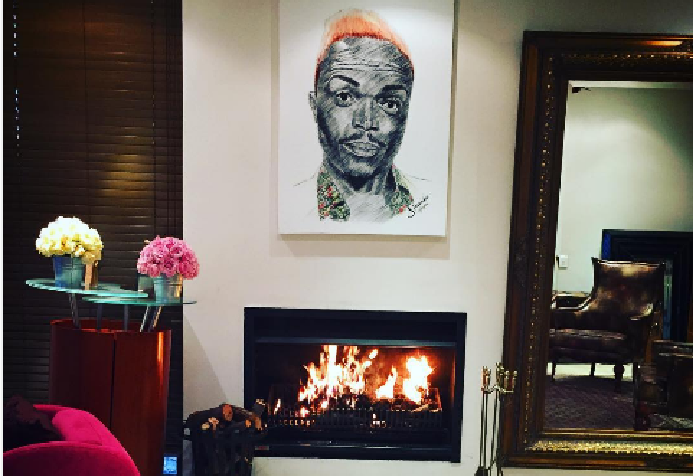 The SA Actor Purchased An Ultra-Modern Home For R6 Million
Regardless of all the comforts that Somizi Mhlongo's house in Johannesburg offers, in July of 2019 he added a new property to his portfolio with the purchase of a home in Zimbali Coastal Resort & Estate located in Kwazulu-Natal.
This home was purchased at the price of R6 million and was designed by celebrity interior designer Donald Nxumalo who ensured that the finishing on the house was as lavish as they were exquisite. The comforts and luxury of this home supersede what he had in his other residence. This just cements the fact that Somizi Mhlongo's net worth is one that is high.
The house has a large sitting room as well, which has high glass walls and comes with a balcony that overlooks well-groomed grounds and a swimming pool. It is not clear how many rooms this house has, but it is undeniable that it is a huge home. It would appear that Somizi Mhlongo has other plans to purchase a new home soon.
Somizi Mhlongo Has A Fleet Of Luxury Cars
Another thing that Somizi Mhlongo has a taste for is cars, the choreographer is known for his love and ownership of high-end luxury cars. Mhlongo has owned a black Range Rover Sport which is a common feature in his pictures. He is also the owner of a BMW Z4 which is red in color. Mhlongo has not revealed the prices of these cars, but such heavy metals obviously cost hefty sums.
This celebrity is also known to own a Rolls Royce, a BMW i8, and a Mercedes Benz G350d. Mhlongo purchased the BMW and the Benz in 2017 within a few weeks of each other for a combined price of R3 million. A white Jaguar, as well as a German Mercedes-AMG E63, is also part of his fleet of luxury car collections.
He Got More Whips In 2020
With such a line up of the best automobiles in his garage, one would have thought that Somizi would close the chapter on his spending spree however, that was not the case. In mid-2020 the South African celebrity purchased a new car- a black Lamborghini Urus on June 14th, 2020.
Great day on set…..something new and huge is coming 2020 you are truly gonna be plenty pic.twitter.com/zyjLfSQDQr

— somizi somGAGA (@somizi) June 16, 2020
The actual cost of this ride has not been made public but it is estimated that it should be between R3 million and R5 million. When he purchased this new car he put it beside his German Mercedes-AMG E63 while making a joke in reference to the social distancing culture that has come with 2020. The picture he put up of him in his new car featured plush leather seats and two Louis Vuitton bags, all echoing Somizi Mhlongo's wealth.